"SEO will only get harder!" And if you agree with it, join in! Many of us always have a start point at something, and if you are beginning with SEO, then it's bingo for you.
Are you looking for an unbiased review of the SEMrush SEO tool? Well, if you are, then read on. Since SEMrush is a popular toolkit of SEO, that is used by over 10 million people worldwide, it is obvious that more people want to know about it.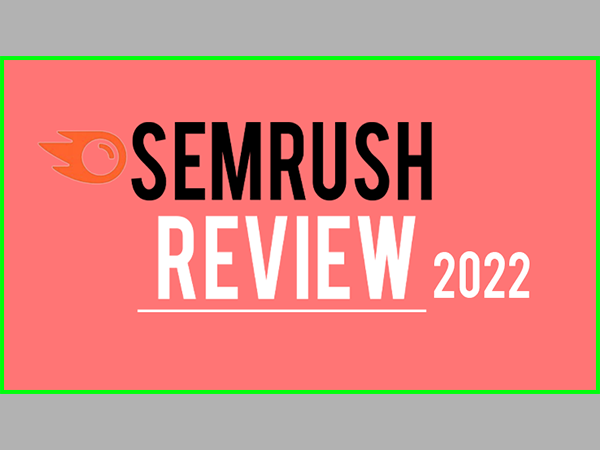 SEMrush generally offers a free trial for 7 days to its newly registered users, and it helps in increasing search engine traffic. But do you want everything from keywords to competitor analysis in one place? Because SEMrush can be the right answer.
In this article, we will discuss all about SEMrush – its use, pros and cons, features, pricing options and plans, different other tools it offers, and much more. So now, let's dive right in and get the ball rolling!
What is SEMrush and its Use?
It might be rare, but not impossible, for you to not have heard of SEMrush! And if you have not, we are here to tell it all!
The layout of SEMrush is pretty straightforward. Offering over 50 SEO tools under one roof, SEMrush is an all-in-one SEO toolkit, just like ahrefs. It is a suite for improving online visibility and discovering marketing insights. The tools and reports of SEMrush are able to help marketers that work in the following services: SEO, Keyword Research, Content Marketing, PPC, SMM, Competitive Research, PR, Marketing Insights, and Campaign Management.
With SEMrush, you can do competitor analysis, and there is important data provided to you in a simpler form. Let's see some things SEMrush has to offer in its SEO Dashboard.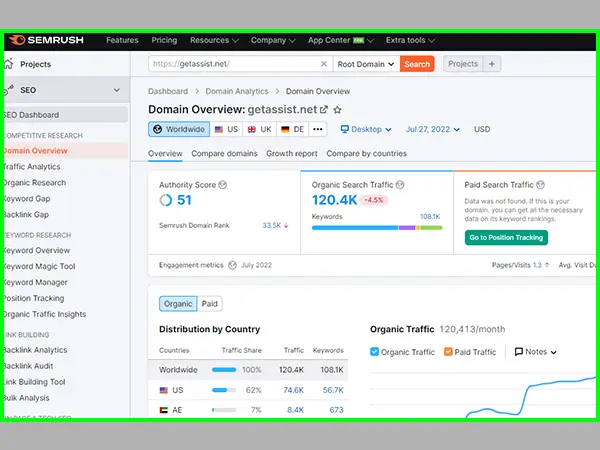 | | |
| --- | --- |
| SEO Dashboard | Toolkits |
| Competitive Research | Domain OverviewTraffic AnalyticsOrganic ResearchKeyword GapBacklink Gap |
| Keyword Research | Keyword OverviewKeyword Magic ToolKeyword ManagerPosition TrackingOrganic Traffic Insights |
| Link Building | Backlink AnalyticsBulk Analytics |
| On Page and Tech SEO | Site AuditSEO Content TemplateOn-Page SEO CheckerLog File Analyzer |
| Local SEO | Position Tracking Site AuditOn-Page SEO Checker |
| Advertising | Market AnalysisKeyword Research |
| Content Marketing | Topic ResearchSEO Content TemplateSEO Writing Assistant |
| Trends, My Reports, Notes | Get Started, Traffic Analytics |
Woah! Those are a lot of things to be included in a single tool. So if you are still digging in to be fully sure about getting the SEMrush SEO tool's subscription or not, then keep reading for more details and information.
Pricing and Plans
SEMrush offers different pricing and plan options with different inclusive tools. As SEO is a pretty vast concept, there are important things that need to be included in the plan. SEMrush basically offers three types of pricing and plan:
Pro starts at $119.95 monthly – SEMrush's starting price point for its Pro plan is $119.95 per month, though you can save some money by opting for an annual plan. To SEMrush's credit, most brands can probably get by just fine at this price tier, making it a very affordable option.
SEMrush Pro Account Features:
Results per report: 10,000
Reports per day: 3,000
Projects: 5
Keywords to track: 500
Pages to crawl: 100,000
Guru starts at $229.95 monthly – The next plan that SEMrush has to offer is Guru plan. There is a good jump in the number of things that the Guru account has, and it even provides 20 PDF reports. Let's see what else is there in the account.
SEMrush Guru Account Features:
Results per report: 30,000
Reports per day: 5,000
Projects: 15
Keywords to track: 1500
Pages to crawl: 300,000
Business starts at $449.95 monthly – And finally, there is the Business plan of SEMrush. If you are thinking that there is just an increase in the price with lesser features, then you may be wrong. It is a good plan for brands or big businesses. Just as the price, the number of features and their numbers have also increased. Let's see how:
SEMrush Business Account Features:
Results per report: 50,000
Reports per day: 10,000
Projects: 40
Keywords to track: 5000
Pages to crawl: 10,00,000
So this was the pricing with different plans that SEMrush has to offer. However, you don't have to take a subscription to the plans if you are not sure yet. There are also free trials that SEMrush provides if you want to get a taste of its SEO dashboard. Let's see what those are and how you can get them.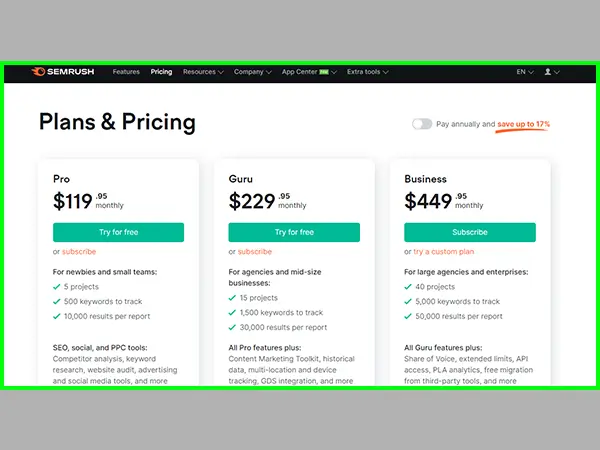 How to Get SEMrush 30 Days Free Trial?
If you think that after all your research, you have decided to take up and go ahead with the subscription of SEMrush, but want to test it first, then worry not. SEMrush offers a 30-day free trial for its new users with the features of the subscription plans that they want to go for. If you are looking for how you can get the SEMrush free trial, then click here.
How to Get SEMrush 30 Days Free Trial of Guru Account?
Depending on individual users and small organizations, to bigger brands, SEMrush has a variety of plans to offer. As discussed earlier, it's a 30-day free trial, there are basic features that get covered in it, however, in the case of Guru Account, SEMrush offers a 7-day free trial. So, if you want to know about the Guru account's free 7 days trial, you can read more and learn about it here.
Keyword Research and User Experience
Having an easy-to-understand and straightforward dashboard, the first thing you see is a snapshot of Domain Analytics, showing a quick breakdown of current keywords and traffic coming from organic and paid sources. There are widgets below that for each facet of your most recent SEO project. While tools like Ahrefs also integrate with social media sources and conduct brand monitoring and mention tracking, SEMrush is the only SEO tool that can also double as a social listening platform.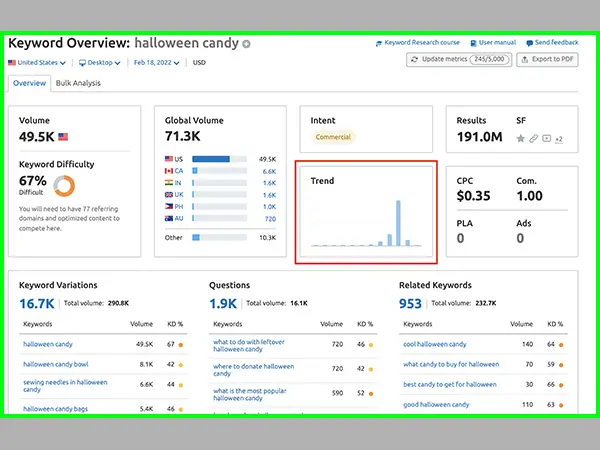 SEMrush's left-hand navigation bar has five main tabs: Domain Analytics, Keyword Analytics, Project, its Lead Generation Tool, and My Reports. The waves of these reviews are primarily focused on ad-hoc keyword research because that's what business users will find themselves using most often when identifying the best possible search engine results pages (SERP) to target with a rank optimization strategy.
Now let's get to the pros and cons, which come in pretty handy to understand something better before getting it. This can help you with your decision-making and tell whether the tool is suitable for your tasks or not.
Pros and Cons of SEMrush
Now let's get to the good and the most important part – the advantages and disadvantages. Before getting anything, we always check out what will be the gains and losses for it. And so, to make it easier for you to make a decision, we are here with the pros and cons of the SEMrush SEO tool.
| Pros | Cons |
| --- | --- |
| It's an all-in-one SEO tool, and you can save a lot of money by choosing it. | SEMrush sometimes lacks keyword list management. |
| Provides you keywords volume data with high accuracy. | Even though its interface is easy to use, it will take the users some time to get used to SEMrush. They may have to watch some of their training videos or read tutorials to get a good feel of it. |
| It is easy to find high-potential keywords. | |
| You can simply use their site audit tool, to know how good or bad a website is performing on Google and get all the site issues. | |
| With 21 billion keywords, SEMrush has the largest keyword database in the world, and it gets frequently updated. | |
| SEMrush is a widely used and trusted brand in the world that is used by over 10 million people. | |
| You can quickly find and easily estimate the traffic of any site. | |
| You can track your keyword rankings. | |
| SEMrush can also be used to perform site audits to find and fix your site's technical and SEO-related issues. | |
| It has incredible competitor research. | |
| It offers excellent SEO reports. | |
Now we will be discussing briefly the functions and features of SEMrush for better clarity.
Projects and Reports
SEMrush does offer quite a bit of organization functionality and built-in reporting, particularly through its Projects feature. As shown earlier in the table of what features SEMrush has to offer, clicking on the Projects tab in the left-hand nav brings the user to a dashboard focusing all the domain data on the user's site, including a current "health score" based on SEMrush crawling data, position tracking information for ranking on particular keywords, and maybe the most useful feature in SEMrush – SEO Ideas.
The significance of an SEO tool's ability to offer proactive suggestions and optimization recommendations can't be overstated. The SEO Ideas feature allows users to enter all keywords and associate them with specific landing pages on my site that the user wants to optimize in those particular search results. After running an analysis, that takes a minute or two, SEMrush gives a number of ideas broken down into different categories: Strategy Ideas, Content Ideas with on-page content and keyword suggestions, Technical SEO Ideas, and Backlink Ideas. Not just that, but SEMrush also integrates with both Google Analytics and Google Search Console, and allows you to pull specific landing pages from both of those sources.
SEMrush for Competitor Analysis
For bloggers, one of the most important reasons to use SEMrush is to do competitor research. If you are performing well, our competitors already spy on you for a few keywords on Google. Now maybe it's about time for you to spy on them too!
You can totally rely on SEMrush to find the best-performing keywords that bring the majority of the search traffic to your competitor's websites. The single biggest success factor that makes a huge difference between a successful blog and a normal blog is Competitor Analysis.
You will be able to better understand how to compete with your potential competitors strategically if you know their weaknesses and strengths. So this can be where the SEMrush Pro account helps you do thorough research on your competitors.
Using SEMrush for Keyword Research
You can find the best performing and unused keywords for your blogs to increase your search traffic by using SEMrush.
Are you worried about having to struggle in finding the best keywords to increase your overall website search traffic? Fret not, as SEMrush can be the right tool to find the most profitable keywords in any niche. What's even better is that it doesn't matter whether you want to find better keywords for PPC ads, AdWords, Bing Ads, or simply for your own blog content, Semrush is the right keyword research tool.
All you have to do is just enter any keyword related to your blog's topic, and Semrush gives you the most accurate data about the keyword you enter. In the results, you can see the volume of the keyword along with the CPC distribution and trend for the blogging tips keyword.
With the help of these details, you can easily decide whether the keywords you enter are a perfect match for your site or not. Not only that, but Semrush also gives you a list of all the Phrase Match keywords, related keywords, and question-based keywords that you can use to increase your blog traffic.
SEMrush Backlink Checker Tool
And now to one of the most important parts of SEO – Backlinks. Backlinks are like the backbones of any site that get more organic traffic. If you have a new website where you wish to share articles and drive good search traffic to the blogs, tap more backlink opportunities to boost your traffic.
We know one thing: 90% of the backlink checkers online won't give you accurate results, as most of them are free and are not updated frequently.
On the other hand, SEMrush is an advanced marketing tool that helps you analyze the links of any website that you enter. SEMrush gives you accurate results, and you can use that data to uncover link-building strategies.
Let's say, by knowing who is linking to your favorite blog or competitor's website, you can reach out to them and ask them to link to your sites too. And that's where the SEMrush Pro free account comes in handy. After you enter any of your competitor's website URLs in the backlink section on SEMrush, it gives you the titles of the backlinks, details of the Page Score that is the latest launched feature, and URLs of the source along with all the additional details like Anchor text, External links and Internal links to the URL you enter.
SEMrush PPC Keyword Tool
Semrush's PPC Keyword Tool gives users the ability to monitor, manage and implement all changes needed for their PPC campaigns. The users can basically customize things according to the requirements of their business and work. Like organize the needed keywords at the campaign and ad group level, set up effective negative keywords, and export all of their planned-out data seamlessly into your Adwords account.
Simply say, you can build a perfect keyword list for your PPC campaign.
You can collect keywords in different ways.
Manage and optimize keyword lists.
Say no to cross-negatives.
Polish your keyword list with recommendations.
Brand Monitoring Tool
With the help of SEMrush's brand monitoring tool, you can track your online reputation as a brand and get an idea of what your targeted audience or public thinks of your brand.
There are a lot more things that you can do for your brand with the help of SEMrush's branding tool. It also varies and differs from plan to plan and which tools are included in the pricing that you paid.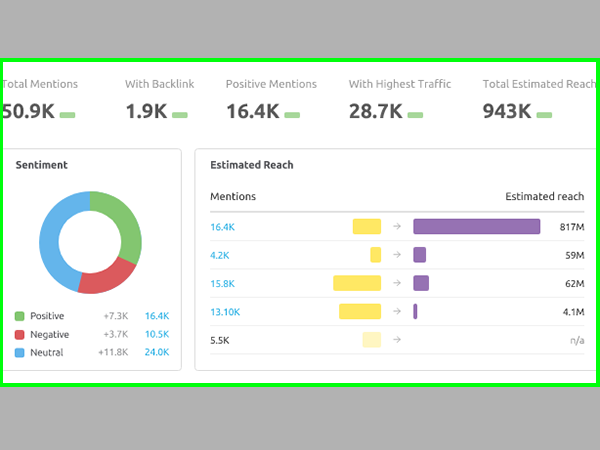 Using SEMrush for Keyword Tracking/Positioning
For those of you who don't know, Position Tracking, also known as rank tracking or SERP tracking, lets users track a website's daily rankings for a custom set of target keywords. With the help of Position Tracking, the users can set to watch any specific geographic targeted location and any device type (mobile phone, tablet, or desktop). This tool comes with many useful features like filtering, tagging, sorting, and exporting reports that make it easy for marketers to find exactly what they're looking for in their website's SEO or PPC performance.
Ability to track any keyword and domain – even those not in the main SEMrush database.
A Featured Snippet report is provided to look for featured snippet opportunities.
A simple PDF report to share results with the team and clients.
You can track and compare multiple geographic locations or device types in a single project.
There is easy local SEO tracking and local competitor discovery.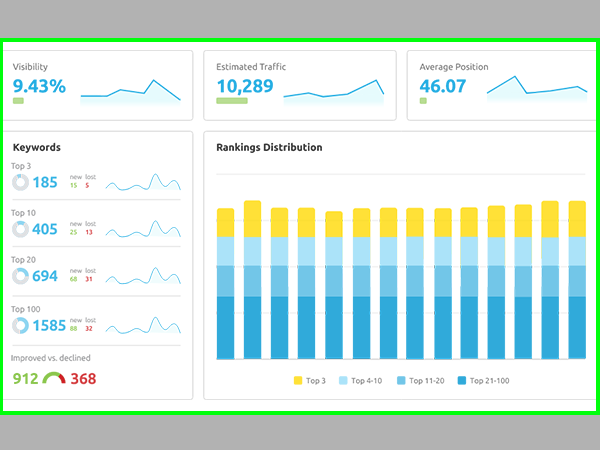 Detailed Competitor Analysis
There are a lot of things that you have to pay attention to before getting an SEO tool for yourself or your brand. If you think that bringing traffic to your website is a hard task, then you have to check out what all the SEMrush SEO tools are capable of.
Perform deep organic research.
Spy on your competitor's traffic stats.
Find keyword competition.
Assess SERP competition strength.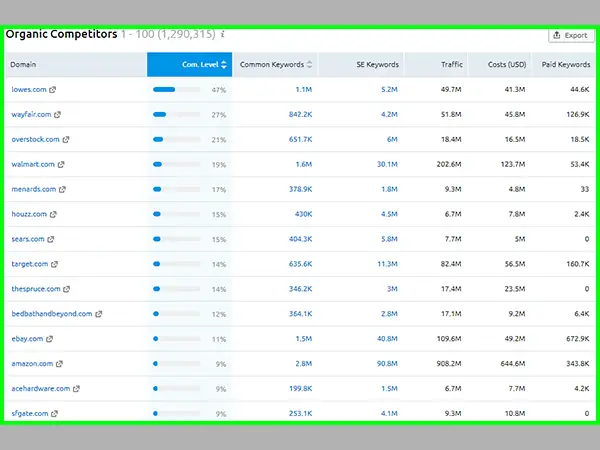 Effective Ways to Use SEMrush Competitor Research Tool
Another important feature that is provided by SEMrush is its Competitor Research tool, which helps a lot of businesses in finding out what strategies their competitors are using. So now we will let the boring part off the hook and proceed further with how you can use SEMrush more effectively. All you have to do is use the following tips, and you can easily find ways to increase your overall site's traffic.
Look for a competitor website in your industry that is getting a good amount of traffic from search engines, particularly.
Make sure to analyze your competitor domain in the Organic Research Tool using Semrush
Check their traffic and Keywords Trend.
Also check out their Pages section, and filter the URL for which the competitor domain is ranking.
Find out the number of backlinks and the sources of backlinks. This way, you can use different link-building strategies to achieve those links.
You can simply click on the keywords to come up with a BIG list of keyword ideas under the Page sections, including long-tail keywords for which the site is ranking.
Note: You can keep an eye on the website trends graph and if the graph is declining, then it means that they are not monitoring their lost backlinks. This way you can outrank in search results by acquiring such links through guest posting, email outreach, skyscraper technique, etc.
So now, let's discuss how you can save money on SEMrush plans.
How you can Save Money on SEMrush Plans?
We must say, SEMrush is the only tool you need to take your website search traffic to the next level.
So if you're finding ways to save money on SEMrush, go with their annual pricing plans, as you can get a FLAT 16% discount on ALL their pricing plans.
These are the discounted prices if you go with their annual plans;
Pro Account for 12 Months: Pay $99.95/mo
Guru Account for 12 Months: Pay $191.62/mo
Business Account for 12 Months: Pay $374.95/mo
And now to the final question of the article, whether we recommend SEMrush SEO tool or not? Well, keep reading to know what our answer and final conclusion of the review is.
Do we Recommend SEMrush SEO Tool?
Well, we have to say that we absolutely recommend SEMrush.
And since you're going through this detailed review, you might already have got an idea of SEMrush. It's perfect for people who aim to surpass their competitors efficiently and dominate Google SERPs. However, you don't have to use it if you want quick results. After all, SEO is a long-term game, not a one-time thing.
So if you have made up your mind about getting it, do it now and grab this top-notch SEO tool's FREE trial for 30 days. Then start using it seriously and if you like the results, go ahead and get their account.
Is SEMrush Competitor Analysis Tool Right for you?
If you want to find out the keywords your competitors are using, this tool is the best fit for you. You can also find out the best-performing keywords along with the backlink analysis. SEMrush gives you almost accurate results to estimate the traffic of any website. Although there are a lot of tools out there to check website traffic, this is the trusted source as it has advanced options to give accurate results to the users.
The SEMrush SEO tool is for you if you want to increase your income by promoting the right affiliate products or increase your website organic traffic by using the best keywords that your competitors are using. To increase their website's search traffic & make more sales, many bloggers post articles on their blogs these days and aim to get increased revenue as their passive income. If you are also one of them, SEMrush is the best tool for you, where you won't regret paying around $70 to grab the best rewards from your SEO efforts.
Similar Products and Tools
There are some similar tools and strong competitors of SEMrush, let's discuss a good lot of them here:
Ahrefs – Ahrefs boasts excellent internet-wide and site-specific crawling capabilities, as well as robust features like keyword management and competitive analysis. Although its interface can seem confusing, it's an authoritative option for professional marketers. Lite plans for 1 user start at $99/month, plans steadily increase depending on the number of users and projects, with a full-blown agency plan costing $999/month. Yearly plans come with discounts.
Moz – Another big name in the SEO world, you might have come across Moz already through their leading digital marketing blog.
Moz Pro is a solid all-rounder SEO platform that combines the best of keyword research, competitive analysis, and content marketing. Easy to navigate, Moz's clear layout makes it a practical and user-friendly option. $99/month for their standard plan, with other plans ranging in price up until premium costing $599/month. Annual plans offer discounts. Many of Moz Pro's features are accessible with limitations for free.
Serpstat – Serpstat is a budget-friendly SEO platform with a strong emphasis on its easy-to-use and in-depth keyword research tool for both your own site and competing domains.
Providing information on 180 million domains, it has a significantly smaller database compared to SEMrush, which has data from 816 million domains. However, Serpstat's domain database is still large in its own right. Monthly plans start at $69 and steadily go up to $499.
SE Ranking – ‍SE Ranking is an all-in-one SEO software that promises to make your life simpler when it comes to streamlining your site's SEO strategy. With just over 300,000 users, SE Ranking is a promising newcomer when it comes to SEO platforms.
With cloud-based software, you won't need to worry about any desktop installations or time-consuming software updates. SE Ranking uses a flexible pricing model based on how many keyword rankings you want to check, how frequently, and the duration of your subscription. Plans start at $23.40/month and steadily increase up to $189/month.
SpyFu – Just like the name suggests, SpyFu focuses on spying on your competitors' sites. While SEMrush offers similar metrics, SpyFu has more comprehensive and diverse competitor analytics. Cleanly presented, don't let the simple user interface fool you – SpyFu tracks 80 million domains and 5 billion results. The lowest-priced monthly plan is $39. A professional monthly plan is $78 and the top tier team monthly plan is $299.
And that was it! We hope that this review helped you, and you will be able to make a decision about SEMrush now.
FAQs
Ans: There is pretty much everything included and covered in the free trial account of SEMrush as in the premium account. You get to experience the features like keyword research, backlinks, competitor analysis and much more. This means that during the time period of your free trial account of SEMrush, you can try anything you want within the given time.
Ans: In order to cancel your SEMrush subscription, all you need to do is follow these steps:
Open your email and compose a new one.
Write a cancellation request email to [email protected].
They will cancel your account for you within 24 hours.
Ans: According to SEMrush, they collect public information such as likes, number of followers, retweets, hashtags, video views, number of comments, and more from the pages that the users choose to analyze the top 20 search results for each keyword in their database, which features over 100 million keywords and 45 million domains.