Time management is often cited as one of the most important skills in a professional's toolkit. This is true to a large extent. Time is money, as the age-old saying goes, and using social media to its fullest extent is even more money. But how do you do it? How does one find the time to find posts worth sharing and then find the time during the day to do so? Consistently, at that.
The answer is that you need a schedule. Keeping a social media schedule keeps you accountable and makes sure you never miss a single deadline. So, if you want to create posts keeping in mind your rewards like Facebook ads size and click-through rate, then you are in the right place. However, let us first define what exactly a social media schedule is.
What is a Social Media Schedule?
A social media calendar is just that. It is software that allows you to plan out your posts days or weeks and sometimes even months in advance, helping you keep track of when to post what and find the most optimal times and dates to do so.
Its main advantage is that it allows you to hype up things that are yet to come because you know exactly what you have coming in the pipeline.
Schedule social media posts with Circleboom Publish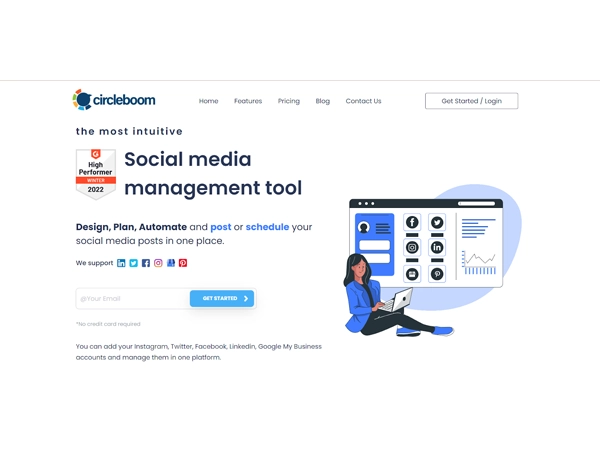 Circleboom Publish, as the most comprehensive social media management platform, allows users to schedule pictures, videos, reels, polls, events, and offers on Twitter, Facebook, Instagram, Pinterest, LinkedIn, Google My Business, and TikTok. Easily and quickly.
You can manage multiple accounts from these supported platforms on Circleboom. Thanks to its built-in tools: Canva, Unsplash, and Giphy, you can design social media content with ready-made templates, filters, effects, pictures, gifs, animations, stickers, emojis, etc.
You can automate your social media posts thanks to the RSS Feed connection and Queue scheduling feature. You can add your RSS Feeds and automatically share your blog posts, newspaper, and magazine articles. Or, you can set time intervals and adjust your queue. Then, you can automatically and continuously your posts within these intervals.
Key features:
Multiple account management
Twitter thread scheduling
Instagram Reels scheduling
Hashtag generator, location tagging, grid post maker
LinkedIn poll scheduling
First comment option
Advanced Google Business Profile posts with CTA buttons
Facebook Group and Facebook Page management
LinkedIn Company Page tagging
RSS Feed Connection
Queue scheduling feature
Consistency is King
On social media, consistency is crucial. Regular posting keeps your name in front of your customers. Consistency will increase your fan base and enhance your engagement levels over time. The main issue is that posting consistently without a plan is quite tricky.
A social media calendar allows you to know when you should post and allows you to gather material ahead of time! It's critical to stay active and involved on social media if you're running a business.
Curate Content to Post Ahead of Time
Procrastination is often the cause of downfall for many enterprising individuals. You wait until the last possible moment to discover that you haven't determined what to put on your social media profiles. Not only does this cause you tension, but it also lowers the quality of your writing.
You'll have plenty of time to uncover the best pieces for your audience if you start looking for material weeks in advance. The more time you give yourself, the better a position you'll be in. Then you can populate your schedule or calendar as per your plans and requirements to make sure you never miss.
Keep Track of Audience Engagement
Yes, you can scroll through your previous posts and look at the number of likes and comments and shares, and that's fine, but you only start to discover what your audience likes and wants when you begin employing scheduling tools and dig into the analytics of every post. The software you use is going to give you all the data you need.
Measuring the success of each article is crucial to developing a stronger content strategy. Consider the following scenario: you own a health-related company. If you make a post about potatoes and how certain recipes can help your health, and it does well, then you know that your audience is hungry for the tater content.
Knowing what your audience likes will show you what they want to consume from you, and then you can give them just that.
Reuse & Recycle Your Top Posts
Do you have to locate a piece exactly like it to post again if a piece of content does well? No, not at all. Instead, consider simply recycling the previous article! This may appear to be cheating, but it's a useful technique for posting a tried-and-true piece of information.
Because a social media calendar allows you to assess a post's performance, it also lets you know when to recycle or repost your greatest material. Social media scheduling tools give you fast access to past postings for recycling them later.
Know the Right Time to Post
There is no one-size-fits-all solution that can solve all your problems for you. You'll have to do the work yourself. Find out when your audience is online with tools like Facebook Insights and Twitter Analytics. Once you know who you're marketing your content for, you'll have a better chance of getting your message in front of your audience if you post right before they log in.
Conclusion
It's difficult to keep up with today's fast-paced social media environment. There's always something new to read, something new to publish, and more people to interact with. Select your times and frequency with care, and always remember to keep testing and tweaking your approach and style until you find the right balance for your audience and you!