If you have ever had to pay to repair iOS devices, you'll agree that they often take significant bucks. Whether we like it or not, there are certain series of issues associated with the iPhone, iPad, and iPod touch. In other words, Apple devices can also be compromised like any other devices.
However, there is good news; the majority of the issues can be repaired using a simple software – FoneGeek iOS System Recovery. Among all the iOS repair solutions, FoneGeek appears to be the most cost-effective, versatile, and easy to use. Let's find out why in this FoneGeek iOS System Recovery Review.
What Can FoneGeek iOS System Recovery Fix?
With FoneGeek iOS System Recovery, users can resolve common issues that often happen on iOS devices. These include, but are not limited to:
Stuck iPhone devices during recovery/DFU mode.
Stuck iPhone devices at the white Apple Logo.
Stuck iPhone devices in headphone mode.
Disabled or frozen iPhone screens.
Blued or blackened iPhone screen.
Failure of boot loop screen or iOS update.
Restore error or iPhone activation issues.
Other issues such as bricked iPhone, locked iPhone, stuck iTunes, or errors associated with iTunes connection.
How to Fix iPhone Using FoneGeek iOS System Recovery
Data loss is arguably the biggest issue that may arise when an iPhone device gets stuck. Even if you have data backup stored on the cloud, it will take some serious effort to retrieve them. Also, they are usually not the same as it was on your device.
Are you in need of funds to fix your iOS device? Your financial needs can be met with a loan from KashPilot.
But you can save yourself from such troubles using FoneGeek iOS System Recovery. The software solution ensures no data loss while fixing iOS devices. In other words, it repairs iOS system issues without leaking, losing, or changing your data on the device. This only applies to standard Apple device issues.
Repair Modes: Standard and Advanced
On the FoneGeek iOS System Recovery tool, users may choose between Standard and Advanced modes. This depends on the severity of the issue.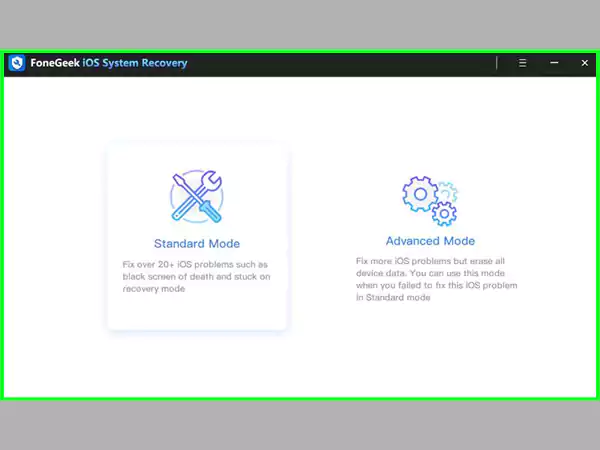 Using the software is easy, regardless of the symptom of your iPhone issues. All you need is to launch the software and choose the ideal repair mode for your device's recovery. Sit back and wait for the software to fix the issue.
FoneGeek iOS System Recovery tool fixes iOS issues in a similar way to how Apple's repair office will handle them. So far the issue is not associated with a hardware problem, the FoneGeek repair tool can handle it. Additionally, the software can upgrade your device's iOS to the most compatible version. A simple upgrade doesn't lead to data loss.
Please note that running the software on Windows PC requires installing the most recent version of iTunes on your laptop. Additionally, ensure that it is closed while using the FoneGeek iOS System Recovery tool. Don't forget to close your system tray as well.
Users will find the recovery process to be straightforward. Download the FoneGeek iOS System Recovery tool, then choose your preferred mode. At this stage, it will download the firmware package and commences the device recovery process. Find the step-by-step process below:
Step 1: Launch the FoneGeek iOS System Recovery tool, then connect your iPhone or iPad to the computer using a USB cable. Ensure it has sufficient charge.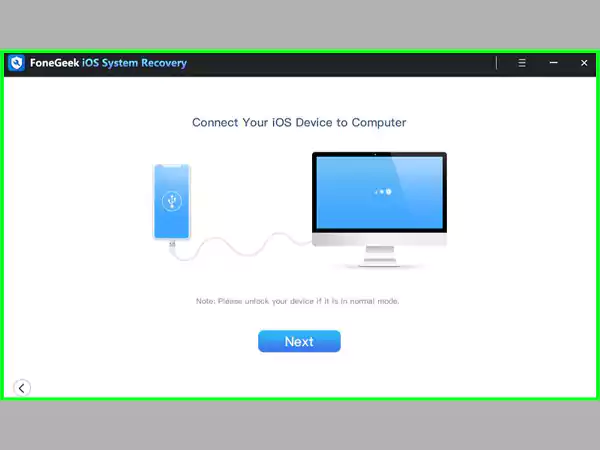 Step 2: Choose the repair mode (Standard mode or Advanced mode) once the software recognizes the iOS device.
With the Standard model, users will not lose any data. Contrarily, the Advanced mode may require backing up your data as it will erase them. However, Advanced mode resolves complicated issues, including screen lock. Regardless of the password used for protection, it will get access for you.
Step 3: The software will start the downloading and verification processes of the iOS firmware package. Simply click the "Download" option to start.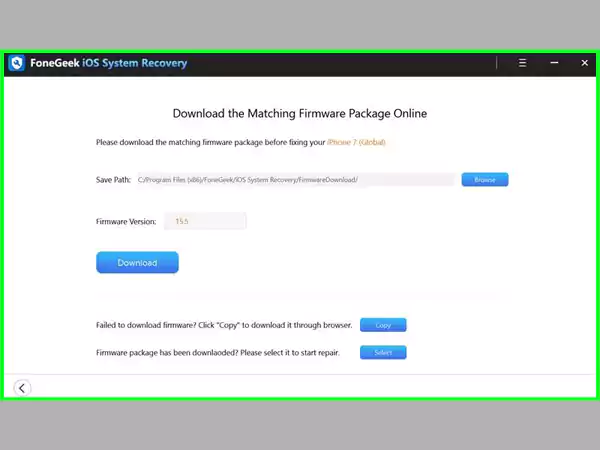 Step 4: After a successful download of the firmware, tap the "Fix Now" option to repair the issues affecting your Apple device.
With the simplicity and cost-effectiveness of FoneGeek iOS System Recovery software, it appears to be the best solution for Apple device issues right now. Also, it saves you the time of traveling to an Apple service center or replacing your device, which could also cost a lot.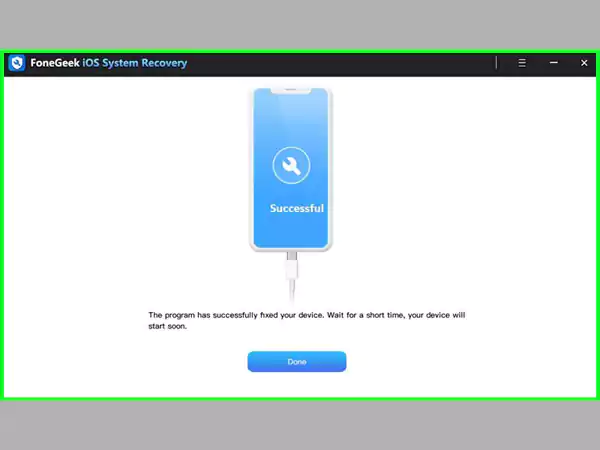 Other Features of FoneGeek Ios System Recovery
Recovery is not the only solution being provided by the FoneGeek repair tool. It is also capable of the following services:
Fix any problem that develops while restoring or backing up an iPhone or iPad using iTunes.
Change between recovery modes easily, which is useful when Apple devices get stuck.
Downgrade the iOS version to the previous version. This is especially useful when you don't like your existing Apple device OS.
Allows users to choose the device, OS version, device version, and firmware model while downloading a firmware package. Users may also copy the download link or save it on the PC, even though you shouldn't encounter any issue during the download process. For those who might be doubtful about their choices, consider checking your device guide to make the right decisions.
Users are encouraged to be meticulous when selecting their firmware manually. Otherwise, you may end up choosing the wrong version.
Conclusion
From experience, the FoneGeek iOS System Recovery tool is completely safe and compatible with multiple iOS versions. This includes the most recent iOS 16. Also, it works superbly for all iPhone, iPad, and iPod touch models. All you need is to have a paid package of the software. If you ever find out that the software is not the best option for you, a 30-day money-back guarantee is available. Hence, you have nothing to worry about.
---