Data is oil but can also be uranium, argued Forbes in a 2022 opinion piece. It reflects the two contrasting beliefs within the corporate world. For some, data is the modern equivalent of oil owing to the obvious financial benefits it promises. For others, it is uranium with enormous fines and reputational losses for those unable to handle it appropriately.
In either case, data remains an invaluable asset for an organization. Whether or not its benefits can be maximized depends squarely on how well an organization manages it. On a grander scale, this very ability can determine an organization's survival or demise in the modern tech-regulatory environment.
What is PrivacyCenter.cloud?
Fully functional in minutes, PrivacyCenter.cloud enables businesses to meet regulatory compliance while building customer transparency and trust. With an elegant frontend and fully-automated backend, Privacy Center helps you take care of all the complex aspects of data privacy, has built-in logic to adapt to global privacy regulations depending upon the region dynamically, and provides a comprehensive backend orchestration and integration with your data systems or app.
With an organization more than likely to be subject to multiple privacy regulations and the obligations and requirements these regulations place on them, the PrivacyCenter.cloud is an ideal centralized solution to comply with them all.
What are the Features of PrivacyCenter.cloud
Cookie Management
Cookies are a contentious subject in the modern privacy landscape. Since cookies are the primary mechanism that most organizations deploy in processing and collecting users' data online, it makes sense that there are often strict obligations placed on organizations regarding their cookie management in various data regulations globally.
While first-party cookies are much easier to handle and govern for organizations, the third-party cookies used for analytics and advertising can often cause the most strain on resources.
PrivacyCenter.cloud ensures that an organization has all the necessary tools equipped to handle its cookie consent management in a compliant manner. Whether via customized cookie consent banners, categorization of all cookies on the website, auto-blocking of unwanted cookies, or a centralized dashboard to oversee your entire cookie management infrastructure, the PrivacyCenter.cloud has it all.
Individual Data Requests
This may arguably be the most critical functionality of the Privacy Center tool for most websites. As explained earlier, there has been a proliferation of data privacy regulations globally, with more countries expected to draft and adopt similar regulations in the future. Data subject rights are a few common elements in almost all major data regulations.
These data subject rights empower users to exercise their rights over any information processed while organizations are required to make it as easy as possible for users to do so. However, implementing a mechanism, both easy to use and effective can present a slew of problems.
However, Privacy Center makes things easier for both users and organizations. From identity verification to comprehensive insights into the eventual fulfillment of individual data requests, the entire process is automated for maximum efficiency.
Do Not Sell or Share
This feature is particularly useful for organizations subject to the CPRA in the United States. The CPRA contains a provision that requires all websites subject to it to have a link on their homepage, allowing users to opt out of having their data sold or shared with third parties.
Previously, under the CCPA, this was limited to letting users opt out of the sale of their data. In any case, it is an obligation for websites to display a prominent "Do Not Sell or Share My Personal Information" link across their web pages.
Privacy Center empowers websites to comply with CCPA Do Not Sell requirement by giving them the tools to customize how such a link would appear.
Privacy Notices
Organizations need to realize the potential of a transparent and well-written privacy notice. While it may seem like an obligatory piece of text that attempts to give users an understandable idea of how their data is used, if used properly, it is one of the most effective tools at an organization's disposal.
How? It is the perfect way for organizations to communicate with their users. A privacy notice that doesn't exist solely to tick off boxes but to genuinely give users a better grasp of why a website needs to collect their data is more likely to make users more willing to consent to data processing.
Privacy Center provides organizations access to many privacy notice templates that fully comply with the relevant privacy regulations while being available to be updated in real-time. Furthermore, thanks to several in-built integrations, other dynamic changes related to consent and individual data rights can be accommodated just as efficiently. The result? Better and more transparent communication between the website/organization and its users.
Preference Center
The Preference Center can greatly help organizations that digitally gather and record consent from multiple locations, such as websites, SaaS applications, web forms, and consent databases.
Preference Center makes it easy to handle and keep track of users' consent revocations from offline and non-primary channels and update it automatically via the consent compliance audit trail. Doing so ensures that your data practices on an individual scale are fully-compliant at all times.
More importantly, you gain access to several pre-built consent workflow templates to sync consent statuses across third-party systems and integrations such as Salesforce, MailChimp, MixPanel, Microsoft Dynamics, and Marketo, to name a few.
How to Setup PrivacyCenter.cloud on Your Website
Not only is the Privacy Center incredibly easy-to-use, but it is also just as easy to sign up for and deploy to your site. There are excellent options in terms of modules that can be personalized per the needs of each user. Here's how you can register for and deploy the Privacy Center to your website:
Head over to the main Privacy Center page;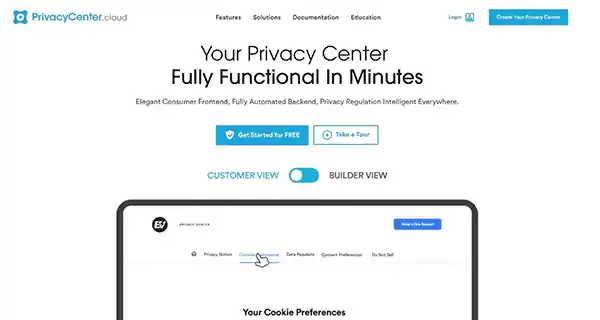 Select your preferred pricing and plan (Remember: You can always upgrade or customize the plan as per your needs and requirements);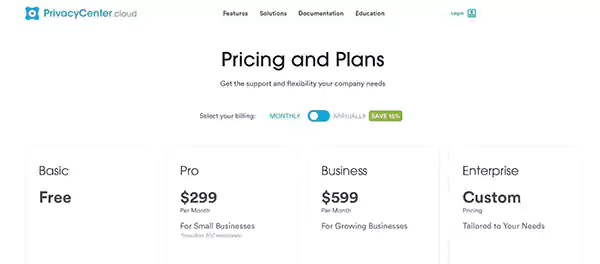 Insert the relevant details such as your website URL, phone number, email, etc.;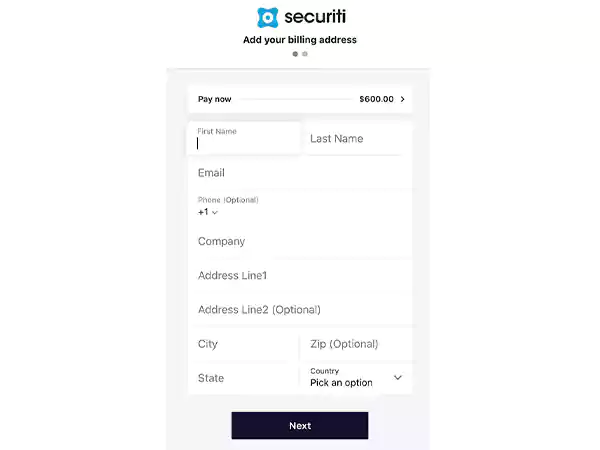 The Cookie Consent module within the Privacy Center then scans the website and sets up your Privacy Center;
Now, you can edit the modules as necessary, make relevant changes per your needs, preview these changes on desktop, mobile, and tablet views, and publish when ready. You can use and deploy modules such as Privacy Notice, Cookie Preferences, Individual Data Requests, DNT, and Consent Preference from your custom Privacy Center based on your needs;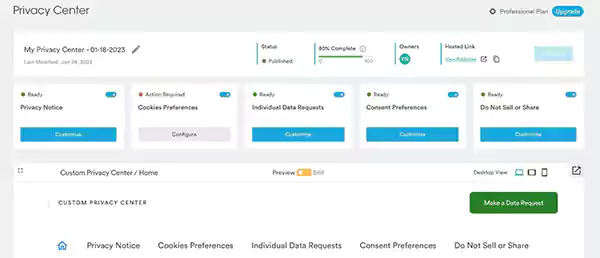 Publish the Privacy Center from the Dashboard once done.

The generated embed link can be added to your website's footer/sidebar.
PrivacyCenter.Cloud Pricing
Regarding the pricing aspect of the Privacy Center, there's something for everyone. Literally, everyone.
Firstly, the Basic plan is available for free. However, users can access only the cookie consent and privacy notice management modules with it.
Secondly, the Pro plan, which is available for $299 monthly, has been specifically designed for small businesses. With cookie consent, first-party consent, individual data requests, and privacy notice management modules, it has everything a small business may need to comply with its regulatory obligations.
The Business plan, which is available at $599 per month, will be particularly attractive for expanding businesses. The aforementioned cookie consent, first-party consent, individual data requests, and privacy notice management modules are all included in addition to live data mapping and no-code orchestration.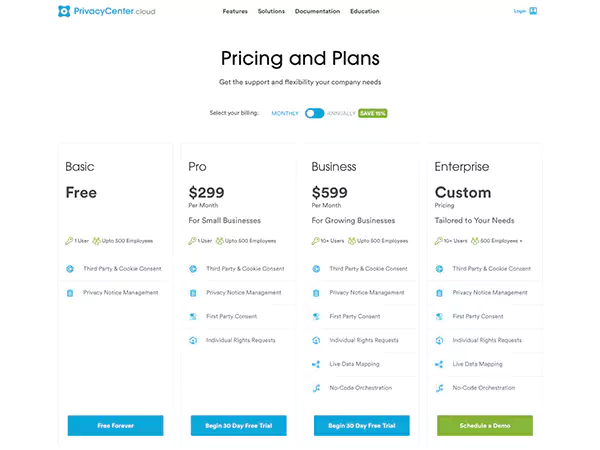 And lastly, for a business that wants a completely tailored suit for their specific needs, Securiti offers an Enterprise Custom option. You can also acknowledge and assume other plans at Securiti's Privacy Center Pricing Page
PrivacyCenter.cloud vs. Other Cookie Consent Management Platforms
The PrivacyCenter.cloud is ​​more readily accessible and robust than any of the traditional alternatives. It consolidates all necessary privacy resources in a centralized platform making compliance with all major regulations both easy and efficient for organizations.
Feature Comparison
| | | |
| --- | --- | --- |
| Feature | PrivacyCenter.cloud | Other Platforms |
| Cookies & GPC Preferences | Yes | Limited |
| Preference Center | Yes | No |
| First Party Consent | Yes | Limited |
| Privacy Notices | Yes | Limited |
| Privacy Policies | Yes | Limited |
| Individual Data Requests | Yes | Limited |
| Do Not Sell | Yes | Limited |
| Do Not Track Signal | Yes | Limited |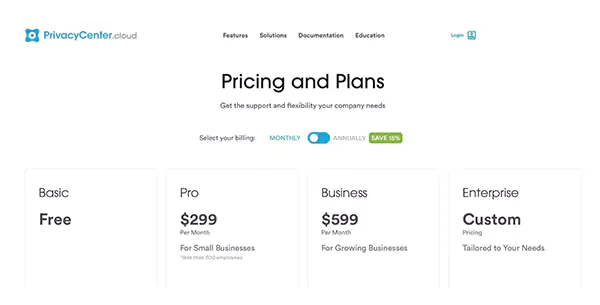 As mentioned earlier, Securiti offers fairly simple and straightforward pricing plans.
However, the Enterprise Custom plan truly sets itself apart from the rest of the competition. It doesn't matter what your budget is Securiti can create a personalized, tailor-made plan for you based on your organization's unique privacy needs.
Conclusion
Transparency will carry tremendous value in the years to come. Today's users are more educated, aware, and informed about their data rights and the responsibilities of an organization collecting their data.
Naturally, an organization that undertakes appropriate measures to ensure the users' data is appropriately protected and handled will have a much easier task of cultivating trust. And that is ultimately the primary reason any organization should opt for Securiti's Privacy Center. It helps them perform their obligations and responsibilities towards their users in a definitively more efficient and effective manner.
---