Are you a fan of music? Someone, who always has their headsets on and is vibing on their beats even in public? Well, on some level, I feel we all want at least a 30 minutes break in a day when we can just relax and listen to our beats without any interruptions. Most of you might have purchased the premium version of the top music apps like Spotify.
The thing with the Spotify app is that here, you can have innumerable genres of music and music from literally any era. Maybe this is why more and more people are opting for Spotify, plus the premium version of it isn't that costly either, then why not? Why bear with the interruptions with your music?
Well, these were all the basic things that we expect from a music streaming app, but there's one thing that we may not get from one single app. Do you ever wonder that you always have to first launch the music app and then you are supposed to play the music? Even when you have the premium version of it and you have the music downloaded on your app? Still, you will first have to launch the app, and then only you'll be allowed to play the music. So, what if you want to transfer that downloaded music to another device? What if you want that music in MP3 or any other format on your mobile device? Well, unfortunately, you can't do that. I don't think there's any music streaming app that gives you this benefit. No matter how costly your premium version of the app is, you just cannot download the music on your device or even transfer it to any other device. For that, you will have to download the music in some other format.
But wait, here's the interesting part, what if we tell you that there's an app that can offer you this feature of downloading and transferring music on your device with or even without the premium version of Spotify? Sounds impossible right? But it's true. Pazu Spotify converter allows you to download and convert the music in MP3, M4A, AAC, FLAC, WAV, and AIFF formats.
With Pazu, you are allowed to download not just the song separately, but the entire playlist and album too. But wait, that's not even the best part, the best part, with Pazu, you don't need the premium version of Spotify, you can also download the music from the free Spotify account. Isn't it something we all have been wanting for a long time? Of course, it is and with Pazu, it's possible. So let's have a look at some features of this amazing app:
Features of Pazu Spotify Converter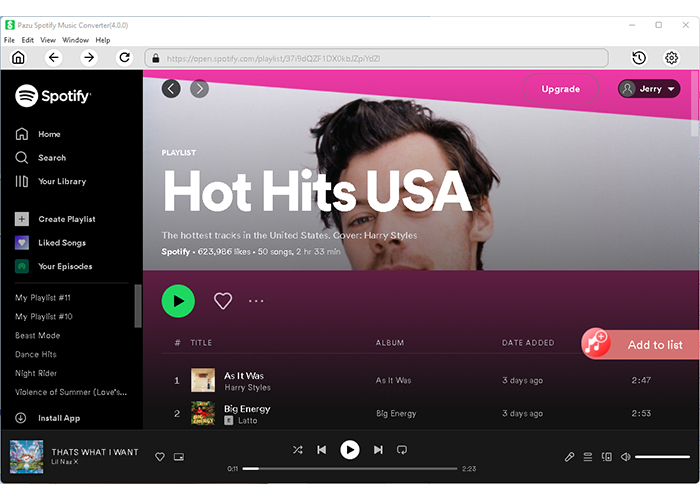 There are not just one, but multiple features of this exceptional app. Let's have a look:
The Spotify converter comes with a very high speed of downloading, which means, unlike any other app or site, you won't have to wait for quite a long time to get your playlist downloaded.
Did you notice that on Spotify, the song is provided with all of their related information, the name of the artists, lyrics, album's name, etc.? when you download or convert music from Pazu, you will get the same format with ID3 tags, just like they appear on the Spotify app.
You can simply set Pazu to automatically sort downloads, where all the albums or the playlist will be downloaded automatically to your device in the format you selected before.
The audios are downloaded in 100% original sound.
There's a built-in Spotify web player, so you won't have to switch through the app while downloading or locating the music.
You can keep all of your metadata with the app, as it is, as it came with the Spotify app.
Not just the app itself is amazing, but downloading or converting the music from the app is incredibly easy too, let's have a look at how it is done.
Downloading or Converting Music from Pazu
Pazu lets you download or convert your Spotify music into various formats so that you can share it to another device too, plus you don't require a premium Spotify account for this. Let's learn how is it done:
Download and install the Pazu Spotify music converter on your Windows or Mac device and log in to your Spotify account.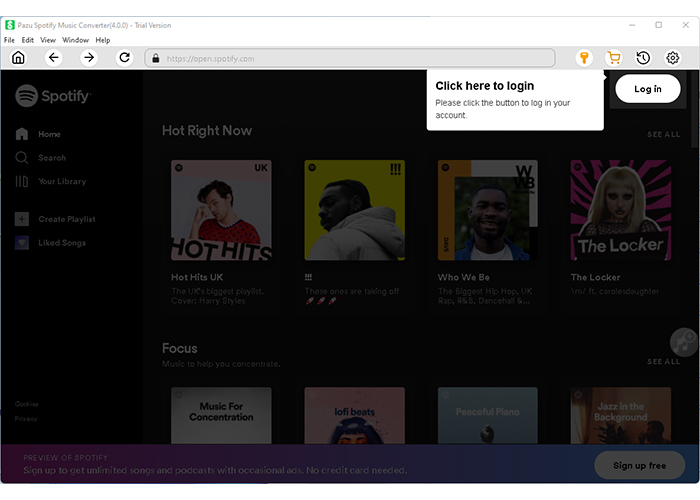 The app itself has a built-in Spotify web, so you don't have to download or launch the Spotify app separately.
Next, you will have to select the format in which you want to download the music, the default music format of Pazu is M4A. to do so, click on the setting icon in the top right corner of your screen.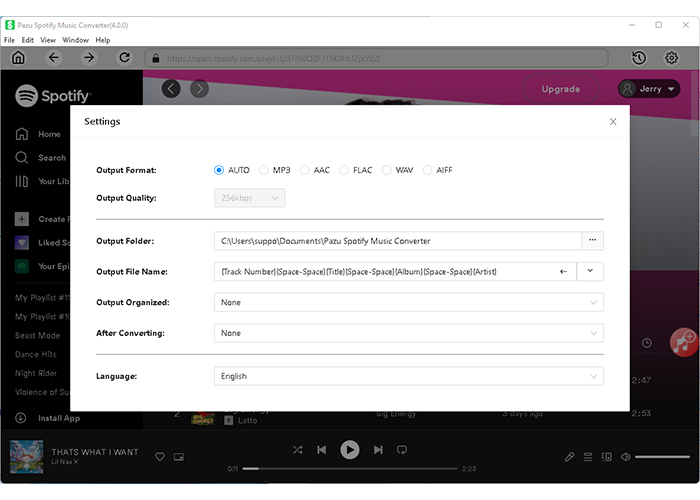 And then finally, look for the songs, albums, or playlists from the built-in web only, you want to download.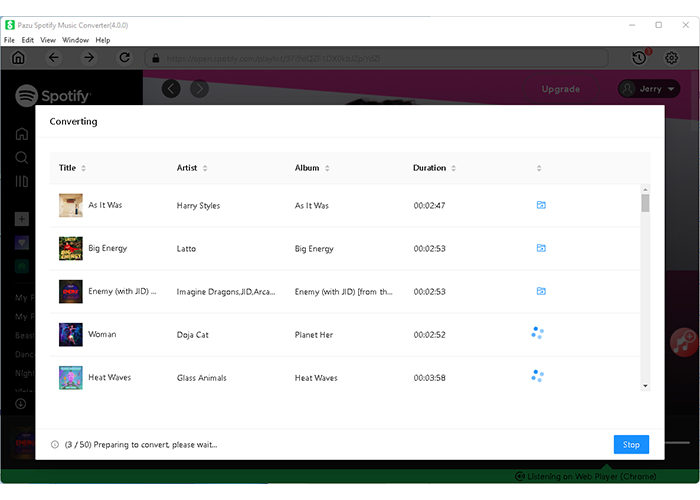 Pazu Spotify Converter is a professional app that most people prefer for downloading or converting their Spotify music. There are multiple formats available here that you can use for downloading the music, plus the download speed is 10x faster than any other website or app. No doubt, the Pazu Spotify converter is an exceptional app.
Also Read: Take your social media skills to the next level with the right music.
---