Microsoft has designed a cloud-based intelligent service that helps businesses work with their best Microsoft 365 apps plus advanced security. Interestingly, this plan can be installed on up to five PCs or Macs, five tablets, and five mobile devices. Microsoft Surface Pro, a hybrid window device counts as a PC or a tablet.
Its application has impressed a wide array of users. One can use Microsoft 365 apps such as Word, Excel, PowerPoint, and Outlook offline too. Even the file storage can be accessed offline on the OneDrive.
Even Though Microsoft provides SaaS solutions to businesses in the cloud, it doesn't include built-in enterprise backups for your SaaS data. One can quickly get these Office 365 Backups from a plethora of services present online.
In this article, we will explore the application of Microsoft 365 and Office 365 Backup and their respective applications.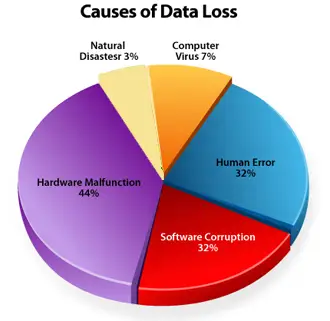 Key Takeaway: Microsoft works in a shared responsibility model so even if it is providing the physical infrastructure and data center security, a person's data is still his/her responsibility.
Microsoft 365 and Its Responsibilities
It is a powerful Software-as-a-Service(SaaS) solution that provides various service solutions to businesses to consume in the cloud. Various businesses use it today as a physical data center, host, network, and much more. This innovation has helped small and medium businesses to flourish using collaboration tools. These subscription services also provide regular updates for users to its services. Also, with the advent of this Microsoft dynamics, certain positions are in demand for 2023.
There are various subscription pages offered by Microsoft 365, for example with Office 365 Home, one can share the service with 6 users with access to 1 TB of OneDrive cloud storage. Office 365 Personal is for individual use only where the user also gets a complete storage support of 1 TB.
The Office Home and Students 2019, subscription is a one-time limited service including Word, Excel, and PowerPoint. One doesn't get any OneDrive cloud storage options.
Do You Know: Currently there are more than 11 Million small and medium businesses that rely on Microsoft 365 solutions.
Here are some brief applications about the use of Microsoft 365.
It also does provide security for the Microsoft 365 cloud services.
It provides free business resources, tech training, and guidance for help in thriving growth.
It helps with essential data retention with limitations.
It provides the basic compliance requirements.
These were some of the applications of Microsoft 365. Next, let's acknowledge ourselves with the Office 365 Backup.
What is Office 365 Backup?
Microsoft 365 gives a SaaS solution to the business and also provides security in its service but it is a user's responsibility to shield the data that is remaining in service. Even if Microsoft provides the physical Microsoft 365 infrastructure, a user's data is its responsibility.
It is imperative to protect the data beyond the retention periods of Microsoft 365 and understand the security controls and legal requirements. They should align with the user's business ideas. Office 365 Backup takes up all the responsibility for securing the data by providing a backup and hence is a secure shield even if Microsoft 365 data loss occurs.
Why to Have an Office 365 Backup
There are various advantages of having an Office 365 Backup services subscription. Some of them have been listed below.
It provides a shield from any Microsoft 365 data SaaS loss.
Various ransomware variants are available to Target the cloud SaaS environments. A secure backup can keep you protected from these troubles. Although it is possible to protect against ransomware in Microsoft Office 365, it is speculated not to be much more secure or worthwhile.
One cannot wholly depend on cloud infrastructure as it may fail and lead to huge data loss.
Although Microsoft 365 offers excellent service solutions, giving a built-in enterprise backup is not in it. Therefore, Office 365 Backup is essential to have.
Having an Office 365 Backup one can protect their business OneDrive securely.
These services protect Microsoft 365 contacts and even backup calendar events so that one would never lose essential details.
These were some of the reasons why one should consider the use of Office 365 Backup and have its subscription to get a sorted backup environment.
Management, Monitoring, and Security with Office 365 Backup
Here are listed some of the flexible, wide range of options and robust management that Office 365 Backup does for its users.
Backup Microsoft 365 Services: The Teams Data, OneDrive for business, and various other services provided under Microsoft 365 services array would get a backup.
Flexible Data Storage Options: Users get the freedom to choose between the data storage options in the cloud or the premises.
Gives Ownership of Backup Data: One gets the ownership of backing up the data in the cloud or premises according to the business or security needs.
Target Wide-Range of Cloud Object Storage: It creates a backup of your business-critical backup storage into cloud object storage.
User Determine Retention: The data retention settings go according to the use and not the cloud provider.
Data Encrypted Security Backup: it provides a robust security backup using data encryption for example AES 256-bit encryption.
Monitoring and Visibility Reports: Detailed reports regarding one's business data protection are available for making the whole process very transparent.
Above were some of the various reasons why one should consider Office 365 Backup as a flexible data recovery option.
Conclusion
Although the installation, purchase, and activation of Microsoft Office 365 are easy, there are still some storage backup pivotal issues for which users must have Office 365 Backup.
For example, Microsoft 365 does not provide data protection features like Data loss prevention, data sharing, Litigation hold, and much more hence it is the user's responsibility to take care of the business data itself like Office 365 Backup.
These services are credible and provide several incentives to users from choosing the storage options to determining the retention limits to keep a vigilant eye on our pivotal business data.
---