There are so many trendy ways you can wear coffin nails. The ideas are based on different colors, arts, and designs. And as long as you are creative enough, you can get an idea of your own for a signature look.
However, if you are not creative enough to bring up your idea or don't have enough time to come up with the idea, you can always choose from already discovered ideas. The following are some best ways you can wear coffin nails.
If you plan to visit your saloon in the coming few days, nail designs should be on top of your nail designs list. There are so many reasons why they should top your list. First, designs are currently the talk of the town, thanks to their boldness and sophistication. They are the best choices for professional women.
Elegant, Glitter Nails
This design is created by using a base nail polish color of your choice and carefully adding some glitter art on top. The glitters are very beautiful, and you can spice up the look with some additional French manicures on the tips.
It is a favorable nail design for a wedding but can also be worn for any other occasion. This nail design is simple, especially if a less bright color is used on the base.
You can recreate the look over and over by designing the glitter art differently every time you wear this design.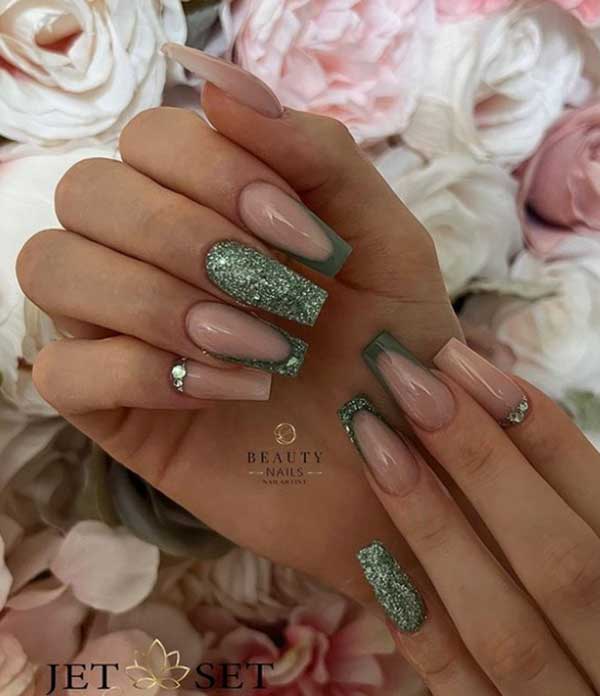 Short Coffin Nails
If you don't like the limited activities that come with long nails, you can have your coffin nails short. This design is simple yet elegant as it involves polishing your short natural or acrylic nails with the color of your choice.
This nail design can be worn for parties and offices, too and makes it easy to do all your work conveniently if you are so active with your hands.
Chrome Nails
If you love bright nails, this is the idea for you. The chrome coffin nails are bright and make a statement about your style.
This idea is created by blending white chrome, pink glitter, and an ombre glitter alternatively to create the final look. You can get inspired to use this combination and come up with any different nail design that best fits your personality.
The idea needs some creativity to come up with the perfect final look. The three-in-one aspect of this design makes it so outstanding.
You can also have fun experimenting with this design with different colors you love.
Bold Nails
This idea features a single bold color, and you don't need to add extra designs on top of the color you choose. Bold coffin nails look great on short nails than on longer nails.
The design is beautiful and can be worn for casual and formal events. It is easy to wear bold nails because it involves using a single color, and no additional art is needed. It does not take long to wear these nails, making it a good choice if you are a busy woman.
These nails can also be worn for any occasion and outfit from your wardrobe.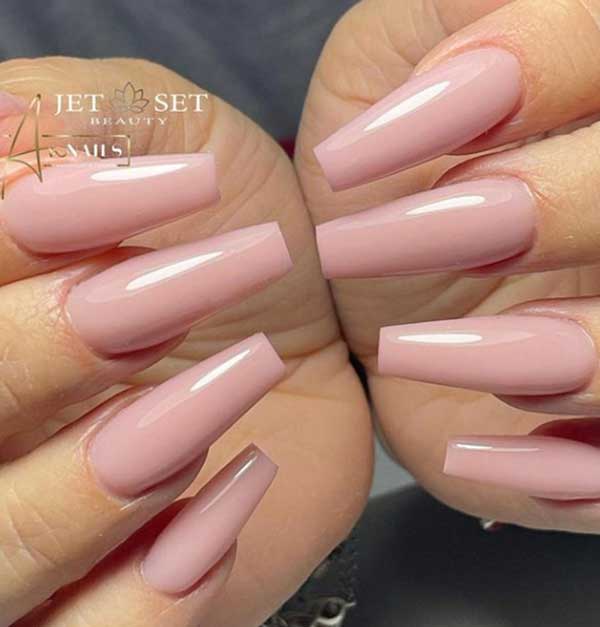 Natural Coffin Nails
It is a simple idea that only takes shaping natural long nails like coffin nails.
Matte Coffin Nails
From ombre to dark colors, almond toe stiletto to coffin nail shapes, NailDesignsJournal has searched the internet and collected the most beautiful and flattering matte nail designs for ladies this year. Take a look and be inspired during your next trip to your beauty parlor.
It includes using black and white matte polish to create a cute floral design. A few dots and diamontes are also added using a special tool. The sharp claws add something extra to your look. A green matte polish and reflective silver will give you a dreamy accent.
If you want to give your manicure a stylish upgrade, go for coffin-shaped claws. Giving them a baby pink matte finish will help you achieve an outstanding look.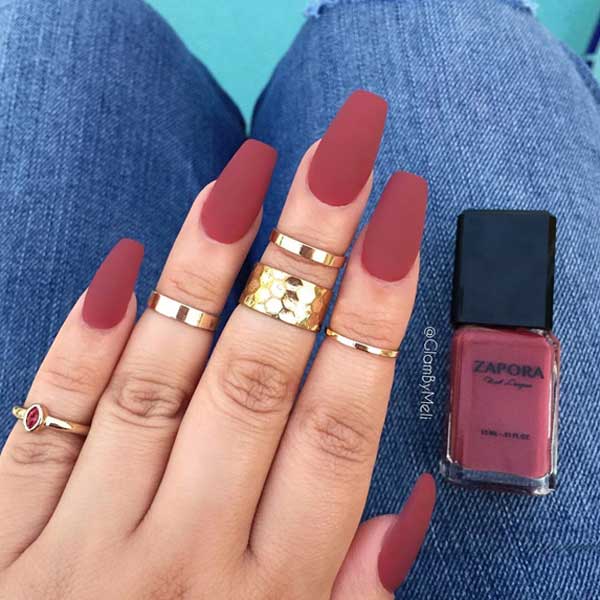 Colored Coffin Nails
● Nude Nails
Nude nails are pretty, and applying some glitter with their polish makes them outstanding. These nails are compatible with every occasion and outfit, making them an excellent choice.
● Glitter Nails
Glitter nails do well when done with black polish. Silver and gold glittery accents are added to the manicure to give a double-toned look.
● Black Nails with Gold
The standard black is adorned by adding some gold stripes and a shiny finish at the tips. This manicure is ideal for wearing during parties.
---