For topics that are written on a frequent basis, Jasper AI seems to get the job done. Jasper AI can give you a good shot at the creativity and the best of both worlds. But is it the best tool for copywriting? Let's find out and see if it is the real deal.
Are you looking for ways to save time on writing? Or struggling to write content on a regular basis? Sit tight, because we are going to cover an in-depth and fully-tested review of the writing tool, Jasper AI.
We will be testing the AI writing tool Jasper AI and give you an honest review about it. If you want to write quick and original content in lesser time on a regular basis, Jasper AI might be the tool for you.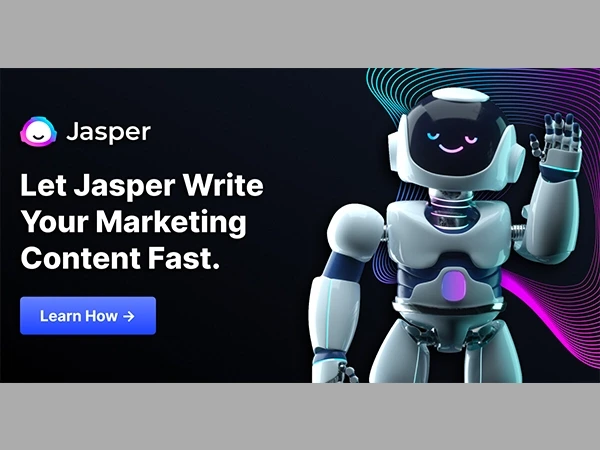 Writers and businessmen all over the world have invested what-not in making the perfect content. But to get it done in no time may sound nearly impossible, right? In this article, we are going to do a detailed review of the content-generating AI tool, Jasper AI. Read on to know more and worry not, this review is not written using Jasper AI.
What is Jasper?
Those who still think that it isn't possible to have an AI tool write for them and get the work done, welcome to the blog. Jasper AI (formerly known as Jarvis AI) is an artificial intelligence tool that works as a robotic writer, powered by excellent AI technology. Apparently, it works around 10 times faster than the average human writer and 5 times faster than its competitors.
It can generate blog posts, emails, social media posts, and more copywriting tools over 60+. So if you are one of the people who are looking for such a tool, hop on!
Jasper AI writes original and SEO-friendly content and works just fine if you want to attract sales and pitches as well. Now, let's get started with the review, so you can get a clearer idea of what it is all about.
Features of Jasper AI
There are a lot of features that make Jasper AI stand out from its competitors in the market. So now, we are going to cover some notable features of it.
Base Generation Limit of 50k Words
If you are thinking that you won't be satisfied with the content generated by Jasper, you can re-run the output several times as it is crucial to achieving the optimal content results. In the Boss Mode plan of Jasper AI, you can write up to 50K words and press the 'compose' button for running the GPT-3 content generation request as many times as you'd like.
Unlimited Workspace Documents and Project Folders
In Jasper's Boss Mode, users get unlimited project folders and workspace documents, which can help them in keeping their account organization nice and clean between their clients or websites without worrying about going over any account limitations.
2K to 3K Character Lookback
If you're wondering what this means, this character count refers to the amount of text that Jasper AI can take into consideration when formulating new text. Even though Jasper AI references the GPT-3 data while generating new content, it will still take the existing content of your document into consideration and can reference up to 3000 prior characters of text. This also helps in ensuring that the generated result flows well with the previous context and that Jasper AI isn't repeating content.
Writing Long-Form Content
The users can write up to 3,000 characters/output with Boss Mode in Jasper AI, and also gain access to the long-form editor, which is more open-ended for usage and also has further tool integrations than the copyrighting templates. With the help of this functionality, it is ideal to write entire blog posts or generate copy for landing pages, starting with a blank page for the content creators. Within the long-form assistant, the users can command Jasper AI to produce content with different output lengths. In the lower plan, users are capped at only 600 characters of output per generation using artificial intelligence. This maximum output limitation per run is raised all the way up to 3000 characters in Boss Mode, which allows Jasper to create quality content more efficiently & faster.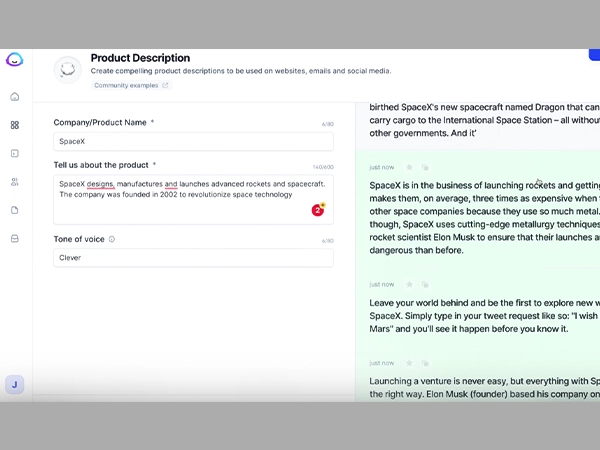 Tone of Voice can be Customized
Apart from the rest of the functions and features in Jasper AI, this is one of the coolest elements integrated. The use of built-in GPT-3 data refers to the ability of the tool to understand a tone of voice and mimic an existing one to match the user's content generation.
This can recognize adjectives and people (even fictional characters in some cases) and is pretty open-ended. Some of them to use include MKBHD (a popular tech YouTuber), Tony Robbins, and Gary Vaynerchuk.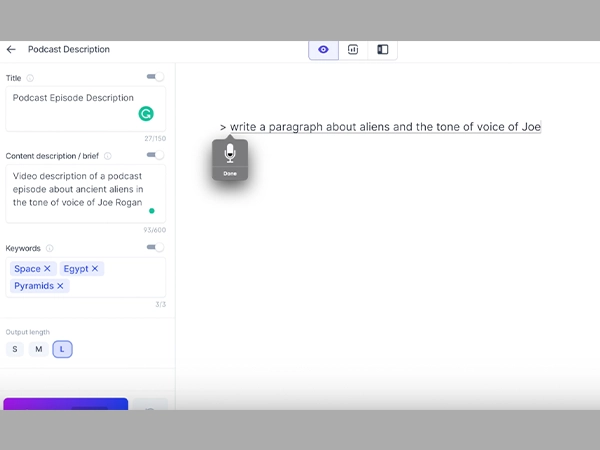 50+ Short Form Copywriting Templates
Jasper AI offers 50 short-form copywriting templates in every plan. This allows users to accomplish a variety of everyday copywriting tasks like AI templates to write content for the categories such as emails, frameworks, websites, blogs, ads, eCommerce, social media, Google, and SEO.
We will be discussing different templates of Jasper further in the article.
The feature of Paragraph Generator in Jasper AI uses its GPT-3 AI to generate paragraphs that are captivating and engaging. It is without a doubt incredibly powerful and useful. All the user has to do is provide a prompt and some keywords they want to include, and their AI will then do the rest. It's an amazing tool that can help anyone improve their writing skills and produce paragraphs on even the toughest topics. And so, you can certainly rely on it.
Surfer SEO is an incredible tool known as one of the most powerful on-page SEO tools. For internet marketers who are looking to create blog articles or content for the web which they are trying to rank on Google, it works the best. They determine their content recommendations by scanning competing pages and running correlations, as well as natural language processing.
Even though you can create content using Jasper AI and later paste it into an SEO tool, Surfer SEO directly integrates with the Jasper AI long-form assistant and allows you to create SEO-optimized content. Or blog posts/content with the help of AI easily.
While doing the testing of Jasper AI, we thought just like you do – Jasper AI only supports one language. But, that is not the case! Even though our experience with Jasper AI was to write content in English, they have expanded the tool to offer support for more than 25 languages in total. Therefore, this allows the users to produce content for other countries or demographics. Pretty cool, right?
Another big factor that plays a big role in deciding whether a user should get a particular tool or service or not is their chat support. This helps to decide whether it is worth spending and gives the users' customer satisfaction. What really makes Jasper AI stand out from the crowd compared to other tools is that they offer excellent chat support as well as hands-on documentation, training videos, and live webinars. This includes explaining how to use their tool, offering best practices, and discussing generally related topics like search engine optimization or marketing copy. Beyond making money, the team behind Jasper AI certainly seems to be quite passionate about creating a valuable software tool that gets better over time while also making its customers have the best experience of achieving the best results when they are using the tool. Hence, they do take customer satisfaction as a priority.
These were some important features of Jasper AI that needed to be highlighted so that potential users could have a better understanding of the tool. We will also discuss Grammar, Accuracy, and Plagiarism in brief further in the article. As they play an essential role in the tool and show how well it can work for people.
Pricing and Plans
Now let's head over to one of the important parts of the review which will help you in shaping your opinion about the tool – its pricing and plans.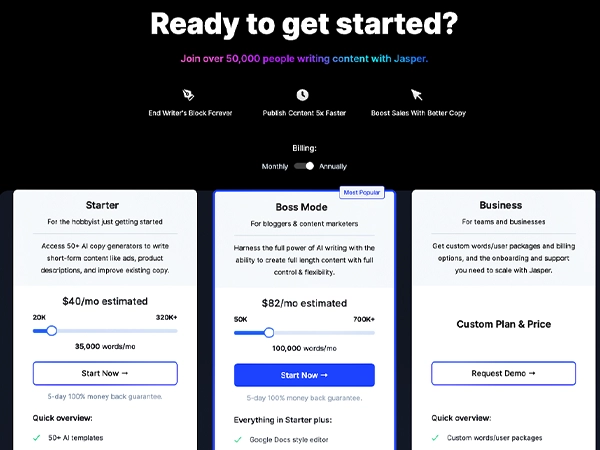 Basically, Jasper AI offers three plans – Starter, Boss Mode and Business. The plans start from $49/month as the lowest to any maximum limit as per the customization in the Business plan. To know more about them in detail and the features each plan offers, read on.
JASPER AI's MONTHLY PLANS:
Plans
Pricing
Features
Starter
$49/month estimated
5-day 100% money-back guarantee
1) Up to 35,000 words a month
2) Up to 5 users
3) 50+ AI templates
4) Chat support
Boss Mode
$99/month estimated
5-day 100% money-back guarantee
1) Up to 100,000 words a month
2) Increased limits on templates
3) Compose and command features
4) Google docs style editor
5) Maximum content lookback
6) Priority chat support
7) Grows with your team
Business
Custom Plan & Price5-day 100% money-back guarantee
1) Dedicated account manager
2) Manage limits per user
3) Custom user packages
4) Flexible billing options
5) Training and onboarding sessions
6) Premium technical support
JASPER AI'S ANNUAL PLANS:
Plans
Pricing
Features
Starter
$40/month estimated5-day 100% money-back guarantee
1) Up to 35,000 words a month
2) Up to 5 users
3) 50+ AI templates
4) Chat support
Boss Mode
$82/month estimated5-day 100% money-back guarantee
1) Up to 100,000 words a month
2) Increased limits on templates
3) Compose and command features
4) Google docs style editor
5) Maximum content lookback
6) Priority chat support
7) Grows with your team
Business
Custom Plan & Price5-day 100% money-back guarantee
1) Manage limits per user
2) Custom words and user packages
3) Dedicated account manager
4) Flexible billing options
5) Premium technical support
6) Training and onboarding sessions
These were the monthly and annual plans that Jasper AI has to offer. If you wish to know more about them in detail, you can visit their pricing and plans on their official website.
Pros and Cons
And now we've come to THE part where you can get an idea of what is good and the bad that comes out of Jasper AI. So if you're stuck on deciding whether you should get Jasper AI or not, give the following pros and cons of the tool a read.
Pros
It is five times faster than its competitors.
You can easily create plagiarism-free content.
There are new features, templates, and functions that get introduced on a regular basis.
You can work on both long and short forms for content generation.
The user can create plagiarism-free content with ease.
For those working on international content, it supports 25+ languages.
Creating blog posts can be done in a matter of a few minutes.
Jasper AI types a hundred times faster than humans.
There is integration with Surfer SEO for optimized blog posts, which is excellent.
A lot of content generation is provided in Boss Mode for a reasonable monthly fee.
Allows users with the option of purchasing Jasper Art for DALL-E style image generations.
Cons
Sometimes the tool provides irrelevant content.
There is no surety of full accuracy.
You can sometimes notice the repetition of words.
As of now, there is only a desktop version available for the tool.
It gets a bit confusing for newbies, however, over time it can get easier to explore.
Expensive for the entry-level crowd, but reasonable for the professionals. 
Not capable of generating long content without the help of human editing.
Newly registered users are no longer provided unlimited plans.
So these were the pros and cons of the Jasper AI tool. If you're planning to go ahead with getting the tool but want to get an idea of it first, stop right here! If you're wondering whether it provides any trial to the users before they get any plan, read the next part.
Does Jasper AI Offer A Free Trial?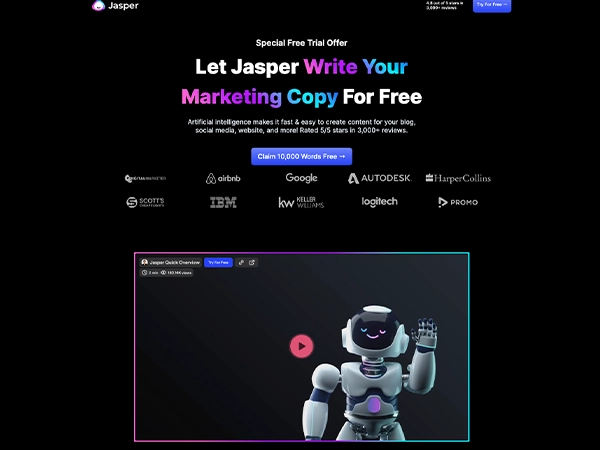 Well, to put it simply, Jasper AI doesn't exactly provide a demo where you get to use all the tools in it without providing your payment information or being charged. But, the company does offer a 5-day money-back guarantee offer in which below 20k words can be generated through the service.
By taking this demo offer, you will have plenty of time to explore ad experiment with the tool and check out the AI copywriting tool in-depth. You can also confirm whether it fits the requirements for your content generation. Even though it is not exactly a free trial or demo that Jasper AI has to offer, you surely won't lose anything either.
Functionality and Performance
There is usually a misconception about AI content generation tools that they can't be fully relied on. Like blog posts, creating landing pages, or ad copy, which are ready to be posted in just a click or two from a blank document. There are some key features of Jasper AI that we would highlight and talk about below:
Generate blog posts, stories, etc.
Improve existing content with the help of Content Improver.
Create social media posts
Write emails along with subject lines.
Create scripts for videos, etc
Offers a plethora of content frameworks, including AIDA
Apart from these, there are many more important features of Jasper AI. Now, let's move on to its spelling and grammar part to see how it does there.
Spelling and Grammar
Even though there has been a lot of work put into enhancing and making the machine learning algorithms better to generate natural-looking content with a more personal or human touch, it is still not accurate enough. However, there has been significant growth over the years.
A good and known example of this is Grammarly. In recent years, Grammarly has shown big growth as a writing and grammar tool. It works just fine in detecting grammatical or writing errors in your content. It flags and shows the correct output for the mistakes it marks for you.
We tried to write content using Grammarly to compare it with Jasper AI and other AI tests. There were around 300 words written, and the content received 86, which is average compared to other tests that we did.
For content quality, Grammarly isn't the best judge, but if you're familiar with the tool or have used it earlier, you'll know that this generally indicates that the text is acceptable. It may only take a few tweaks to put it in your voice or adapt it to your chosen writing style.
Plagiarism
We got some content written with the help of the Jasper AI tool and then had it checked through Grammarly. There was around 20% plagiarism spotted in the AI-generated content by Jasper AI, which is a bit excessive if someone is used to evaluating longer blog entries for plagiarism.
We have found that these usually have a 1% or 2% plagiarism rate (which is mostly from totally unrelated content). Accuracy and integrity can be significant difficulties with AI-generated text.
For instance, if you are using Jasper AI to write about knives in the kitchen, but instead the tool writes about survival knives, it is going to be a problem due to the inaccuracy and wrong context.
Jarvis AI has Rebranded to Jasper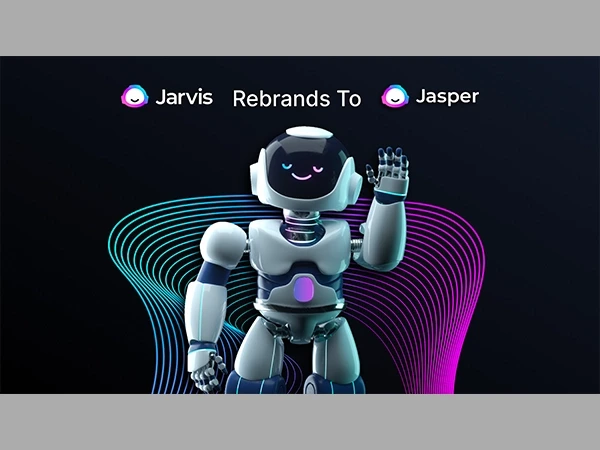 Well, some of you may know Jasper by Jarvis AI (Jasper's old name) only, which was then changed to Jasper. There is a reason behind that. If Jarvis sounds familiar, does Marvel ring the bell?
For the Marvel fans, there was a big fuss about why a content generation writing tool is named Jarvis. For those of you who don't know, Jarvis is the name of Tony Stark's (Robert Downey JR.) AI Assistant.
And so, as time passed by, Jarvis became super known. After this, the Marvel fans went into a frenzy and Jasper AI heard from Marvel's lawyers, they decided to change their name from Jarvis to Jasper AI after a lot of brainstorming.
Even though it was a big decision, Jasper AI decided to go ahead with the thought of making things more innovative instead of spending their time and money in court fighting against Disney.
Different Content Templates of Jasper AI
There are a plethora of content templates that are designed by the Jasper AI team, as Jasper AI is all about exciting themes and features. The user can effortlessly make use of content templates in Jasper. All you have to do is pick a template in Jasper AI and that's it. So now, we are going to talk about the different types of templates that Jasper AI offers.
Blog post topic ideas: You can stop squeezing your creative juices because this template will list several sets of prompts that will rank at the top.
Content improver: It can be referred to as a way to enhance your content instantly.
Text summarizer: You can instantly drop the keyword and get quality content in a summary within seconds.
Blog post outline: You can let Jasper AI compile an effective outline for the desired content. In fact, you can also curate a compelling list.
Persuasive bullet points: This is close to the general bullet formatted content that you use, yet it can make the workflow easier since it is already designed.
Feature to benefit: Instead of simply naming and labeling the features of the desired product, you can enhance the content by converting it into benefits.
Creative story: Dealing with creative blocks can be tricky. That's when Jasper AI can come in handy with the creative story template that writes efficiently.
Sentence expander: As obvious as it sounds, you can get your content expanded without superficial words, which means you get long, engaging content that adds value and quality.
PAS framework: The best part about this template is that it can resolve arising problems via good copywriting.
AIDA framework: Jasper AI ensures to tick all the boxes in AIDA, resulting in better engagement for social media and blog posts quickly.
Video description: Although you might have written good copies for the title, ads, and even thumbnails, Jasper AI can take care of the video copy.
Blog post conclusion: At times, you might forget to complete your content, so Jasper AI can do it with a compelling conclusion on the end note.
So these are the content templates that are available on Jasper AI, and new ones continue to emerge. Now let's have the final verdict and get over with the decision.
If you have made it this far in the review, you may have already got an idea of what all Jasper AI has to offer. So if you think that it fulfills the requirements that you're looking for, you can go ahead with using it. If you're having a hard time or struggling to write content on a regular basis and on short notice, Jasper AI can be the right tool for you. In the end, it is your decision and completely up to you to make the choice of going ahead with Jasper AI or not. As per our review, it pretty much fulfills the needs that busy writers look for and can also take up the role of an intern for a copywriter.
Do We Recommend Using Jasper AI?
Jasper AI is undoubtedly a powerful and innovative GPT-3 software for generating content that can be used in a variety of ways and at scale. As you may have already read the review, Jasper AI may not be the cheapest writing tool in the market, but its features, high-quality and competitive potential keeps it at a good value. Especially for those who are looking to write and copywriting in bulk. If you are thinking of completely relying on Jasper AI, you need to rethink. Even though Jasper AI is a tool that writes 5 times faster than a human copywriter, there is a lot of difference in the accuracy and the preciseness of the content if we compare the two. And it is too soon to say that an AI writing tool can replace professional and experienced writers.
Jasper AI Alternatives
Apart from Jasper AI, there are other similar tools that function similarly. So now, for a better choice and decision-making for you, we are going to do their comparison with it.
CopySmith: CopySmith is a good alternative for Jasper AI only if the user is in e-Commerce and big marketing teams. Using CopySmith the marketers and content creators can do a lot of repetitive work in a short time.
WriterSonic: WriteSonic is a website content writing software that mainly focuses on writing marketing copy, articles, and product descriptions.
Frase.io: You can expect engaging AI templates from Frase.io, as it is not a dull student, but a creative AI one.
Anyword: It is another AI content generating tool which provides the content to you as per your need. Anyword AI is an AI-powered copywriting software that's focused on ad copies. It also writes marketing-related documents such as blog posts, landing pages, email subject lines, etc.
FAQ
Is Jasper AI good for SEO ?

There is no doubt that Jasper Al can be a great tool for SEO if it is used in the correct manner. Before the posting of your content, the errors in it will be pointed out by Jasper Al. You also won't have to worry much about typing errors or mistakes from Jasper Al's end.
Can a book get written using Jasper Al ?

Yes, just blog posts, stories, new marketing ideas, and SEO-optimized title tags, you can also write a book using Jasper AI without any writer's block.
What type of Al is Jasper ?

Jasper uses several artificial intelligence techniques, that include natural language processing, speech recognition, and reinforcement learning, written in Python, PHP, and Objective-C.
Is the content created by Jasper AI original ?

Most of the content written by Jasper AI is plagiarism-free. The content you create using Jasper AI is not plagiarized.
Does Jasper Al offer any money-back guarantee ?

Yes, there is a five-day money-back guarantee that comes with Jasper Al. If you're not satisfied with Jasper Al'S service within this time period, you can send them a mail about it, and they will give you a full refund.