It can get really frustrating when you purchase a pre-owned iPhone or iPad with an activation lock. It gets even worse when you can't open it, and it becomes almost a nightmare for you when you do not have any contact with the previous owner. The mobile handset basically becomes useless. You can't use it until you sign in to the iCloud account, which is not possible without the previous owner's Apple ID and password. So, is there a way out of this? Can you get rid of the activation lock even if you are not in contact with the previous owner? Fortunately, there is a way.
In this post, we'll show you precisely how to remove the activation lock without the previous owner so that you're able to experience your new iPhone. We'll share 3 proven ways that you can use to accomplish this.
How to Remove iCloud Activation Lock Without the Previous Owner
As told, there are 3 ways to open your device activation lock without the need of its previous owner.
By removing the iCloud activation lock using a professional tool
By using the DNS bypass method
By asking Apple to remove the lock
Let us teach you how to remove the activation lock each way.
Remove iCloud Activation Lock Using a Professional Tool
FoneGeek iPhone Passcode Unlocker is a professional iCloud activation lock bypass software that can get rid of the activation lock on iPhone/iPad/iPod Touch/Apple Watch without a password. In case you purchased an iCloud-locked iPhone/iPad, or your device is locked by the owner, the easiest way to reactivate it is by using this FoneGeek bypass tool. With it, you will be able to reactivate any locked iPhone without requiring the iCloud ID or password of the previous owner.
Features of FoneGeek iPhone Passcode Unlocker Bypass Tool:
Removing the activation lock screen takes just seconds without using the previous owner's password.
Use any Apple ID to easily access your iPhone or other iDevices after unlocking.
Stop the previous owner from ever tracking your device.
Stop the previous owner from erasing or blocking your device using their iCloud account.
Compatible with most iPhone models (iPhone 5S up to iPhone 14) that run iOS 16 and the later versions.
Steps to use FoneGeek iPhone Passcode Unlocker to remove the activation lock on iPhone without the previous owner.
Download FoneGeek iPhone Passcode Unlocker.
Install it on your computer, and launch it.
Click on "Unlock Apple ID" to begin the process.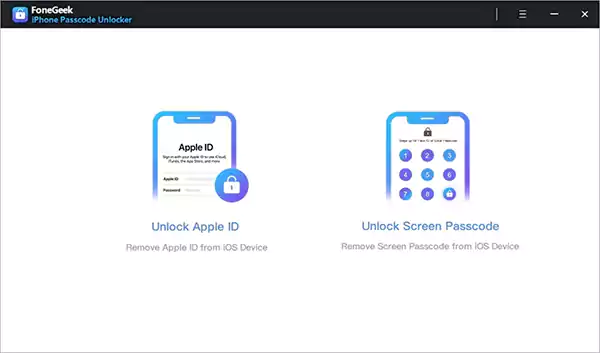 Connect your iPhone and computer with a lightning cable.
You'll first need to jailbreak the iOS device before proceeding.
[If it's a Mac you're using, just follow the instructions provided by the program to do that.]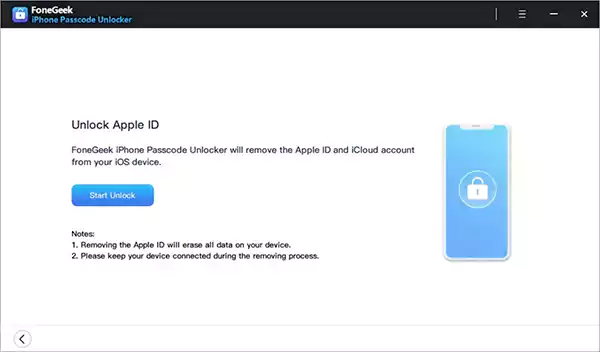 Confirm your iOS device information shown on the screen and then hit the "Unlock Now" button to begin removing the activation lock on your iPhone without a previous owner.
When it's done, it will display a Successfully Bypassed notification. From there, you simply click on Done to finish up and exit the page.
Use the DNS Bypass Method
Changing the DNS settings of your Wi-Fi network is another way you can bypass the activation lock. But first, we have to get a better understanding of what DNS actually is. DNS basically stands for Domain Name System. It's a system that translates human-readable names, otherwise known as domains, into unique numeric IP addresses.
Through manipulation of the DNS server, also referred to as iCloud DNS Bypass, it's possible to circumvent an iCloud lock. This is achieved by rerouting your iPhone's activation route away from the Apple servers and directing it toward your chosen third-party iCloud bypass servers. Generally, this iCloud DNS bypass method can be of great help when you have a pre-owned iPhone/iPad that you need to unlock, but you don't know or can't reach the previous owner to retrieve the login information. It's helpful, too, if you've forgotten your credentials for Apple ID.
Here's how to remove the activation lock without a previous owner for free using the DNS bypass method.
Power on your iOS device or Restart it again if it's already on.
Follow the setup process until you get to the "Choose WiFi network" part.
Select "More WiFi Settings" and
Tap the "i" symbol that's beside the WiFi network.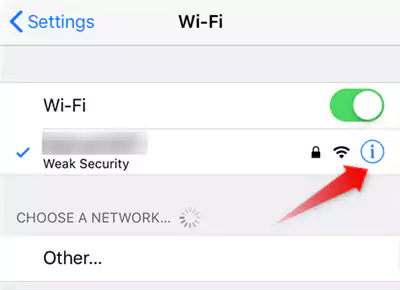 When "Configure Menu" shows up, select the "Manual" option.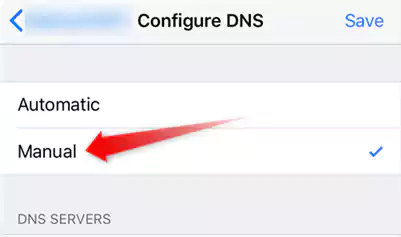 Head to the "+Add Server" button and tap it.
Type in the Server Address (should correspond to your location).
You can connect to the servers using the following:

104.154.51.7 – for USA
35.199.88.219 – for SAT
104.155.28.90 – for Europe
104.155.220.58 – for Asia
35.189.47.23 – for Oceania and Australia
78.100.17.60 – for Others
Return to the WiFi page once you're done.
When the device connects to the iCloud DNS bypass server for your region, you may stop tapping "Next" and "Back" until your device gets set up with your own Apple ID.
Although the DNS method does work, it has some limitations, like:
There's no guarantee that your device will get successfully unlocked by the service.
The process might be a bit challenging for non-technical users.
Once you unlock your iPhone, you may not have access to all its capabilities.
It's not effective for most devices, especially those that run on iOS 10 or later.
New iPhone or iPad models may not be compatible with the procedure.
The best way to overcome these limitations of DNS Bypass is to use the FoneGeek iPhone Passcode Unlocker to easily remove the activation lock. It's the FoneGeek software developers that designed and developed the iCloud activation lock bypass software, and they guarantee that the tool is effective at removing the iCloud activation lock without the login details of the previous owner.
Ask Apple to Remove the Lock for You
Besides the DNS Bypass, this is another method you can use; although it may not be as effective as using the FoneGeek iPhone Passcode Unlocker professional activation lock bypass tool, plus, it has its own set of disadvantages too. This method involves placing a request to Apple's customer support to have them remove the lock instead.
If you follow this way, you have to prove that you did purchase the locked device and that you're now the actual owner. This means you'll have to submit all the purchase documentation of the iPhone.
To ensure that the verification process goes smoothly, you should visit your local Apple store, where the employees can assist you with all the paperwork. However, if that's not possible, then you can directly call or contact Apple customer support to help you out. Follow these steps to do so.
Head to the "start a support request" option and click on it.
You'll get directed to the page with the terms and conditions. Read them carefully and then click on "I Agree".
Now type in your email ID plus the serial number, IMEI, and MEDI.
Once you do that, Apple will send you a confirmation link.
Disadvantages of this method.
It's not convenient if you've purchased a second-hand iPhone. Calling Apple Support or going to your local Apple store may not yield any results.
The biggest disadvantage is that Apple doesn't cover iPhones bought from second-hand vendors at all.
How to Remove Activation Lock Without Previous Owner for Free via the iCloud Web
If you're in touch with the previous owner but can't reach them, you can still have them unlock your iPhone remotely. There are a set of instructions they can follow to do this. The entire process can be done remotely via the iCloud web. The previous owner of your device can help you with the process if they cooperate.
Here's how to remove the activation lock without the previous owner through the iCloud web. Share these steps with your device's previous owner to unlock it.
Visit the iCloud website on your browser.
Log in to your existing iCloud account that you used with the locked iPhone.
When you're signed in, head to the Find iPhone option and click on it.
Once your previous owner reaches this point, they can remotely perform the following actions on your phone.
From the drop-down menu, click on All Devices and select the particular locked iPhone.
Now click on Erase iPhone to remove the activation lock.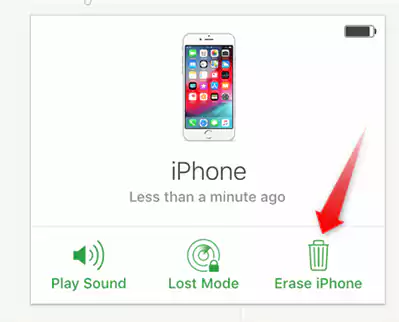 Bonus Tip. Easy Way to Avoid Getting Stuck on Your Phone's Activation Lock Screen
Now you know exactly how to remove the activation lock without contact with the previous owner. If you want the transition from your old iPhone to your new iPhone to be smooth, you should deactivate the Find My iPhone feature. Once the Find My iPhone is disabled, your iPhone will now become a totally new device, plus there won't be any hindrances caused by iOS locks like iCloud Activation lock, Screen Lock, Screen Time lock, or Apple ID lock.
You can turn off the Find My iPhone feature in the Settings app if you can remember the Apple ID password by following these steps:
Open the Settings app. Go to the top part of the screen and tap on the Device Name.
Select the Find My option.
Next, tap on Find My iPhone right at the top.
Now disable Find My iPhone by typing in the Apple ID password.
So, this is almost everything that you need to know about deactivating Apple's Activation lock. It is time for us to conclude our today's discussion.
Conclusion
If you want to know exactly how to remove the activation lock without the previous owner, we believe you now have some clue on how to do it. The methods we've highlighted above can help you remove or get past the activation lock. Unfortunately, most of them are not that effective and may not even work for some devices. That's why we strongly recommend using FoneGeek iPhone Passcode Unlocker.
This professional activation lock bypass tool offers the easiest, safest, and fastest way to remove/bypass the iCloud activation lock on any second-hand iPhone without help from the previous owner. It's more effective and more reliable than any of the other methods, plus it can remove all the other iOS locks. So, download it and try it out.
---