With the rise of online tracking and data breaches, privacy has become a growing concern for internet users. Incognito mode is a feature that can help users keep their browsing activity private by not recording their history, cookies, or other personal data.
Even while this feature has its uses, there may be instances when you'd want to turn off incognito mode. For instance, you could want to block someone else from utilizing the incognito mode on a shared device or save a copy of your browsing history for later use.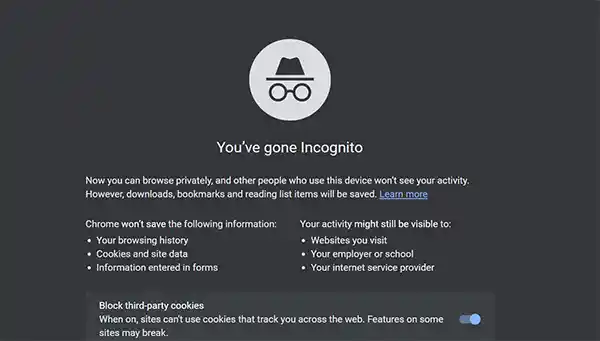 Fortunately, turning off incognito mode is a quick and easy process that only requires a few simple steps. Privacy is a universal right, and this guide will assist you in taking control of your browsing history and safeguarding your personal information. You can find a step-by-step tutorial on how to turn off incognito mode in this blog post.
How to Turn Off Incognito Mode on Chrome?
On a Windows computer, a Registry addition can completely disable Chrome's Incognito Mode. It sounds very complicated, but it's absolutely easy:
Close the Incognito browser window if you've entered incognito mode and simply exit it to resume regular browsing. Chrome will normally launch in public browsing mode after you restart it.
Choose Start, then enter "CMD" in the search field.
Run as Administrator can be chosen by right-clicking Command Prompt.
Type REG ADD HKLMSOFTWAREPoliciesGoogleChrome /v IncognitoModeAvailability /t REG_DWORD /d 1 in the Command Prompt window and hit Enter to complete the operation.
How to Turn Off Incognito Mode on Firefox?
Firefox's built-in feature isn't known as Incognito Mode. Instead, it's Private Mode, though you can still turn it off.
At the top right, click the Hamburger Menu, then click Add-ons.
In the search bar at the top of the page, type "private begone".
From the search engine results, choose Private Begone. With this add-on, Firefox's Private Browsing will be completely disabled.
Choose Add to Firefox.
Select Add if the option labeled Add Private Begone pops up.
Select "Okay, Got It" to finish the installation.
Restart Firefox after shutting down any active instances of the browser. You shouldn't be able to launch Firefox in a private window any longer.
How to Turn Off Incognito Mode on MS Edge?
The name of incognito mode in Microsoft Edge is "InPrivate mode" and you will see this term in the browser.
Click on the blue "InPrivate" label in the top-right corner of the browser to close an open InPrivate window on Windows, Mac, or Linux.
Choose "Close InPrivate Window" from the menu that appears.
After turning off InPrivate browsing, your browsing history will be saved in Microsoft Edge.
How to Turn Off Incognito Mode on Mac?
To turn off incognito mode on a Mac, follow these steps:
Utilities can be selected from the Go menu by clicking the Finder icon in the Dock.
Click to launch the Terminal app.
Run the command line: defaults write com.google.chrome IncognitoModeAvailability -integer 1
To make the changes effective, restart your Mac.
How to Turn Off Incognito Mode on Android?
On Android, you can use the steps below to disable Incognito Mode:
Launch the Google Chrome app.
In the top right corner, click the settings icon with three dots.
To open a new tab, select "New tab" from the drop-down menu.
To see all open tabs, tap on the square icon at the bottom right corner.
Next to the Incognito Mode tab, tap the icon with three dots.
Choose "Close Incognito tabs" from the drop-down menu.
If you want to close the Incognito Mode tabs, a prompt will ask you to confirm your decision. Tap "Close tabs" to confirm.
How to Turn Off Incognito Mode on iPhone/iPad?
Follow these steps in order to disable Private Browsing on an iPhone or iPad:
On your iPad or iPhone, launch the Safari app.
The "Tabs" icon can be found in the lower right corner.
Click on "Private" at the bottom of the screen.
Press on any of the open tabs and press "Close other tabs" to make sure that you turn off incognito mode effectively.
Your browsing history will be saved in Safari on your iPhone or iPad after you have closed all private tabs and turned off Private Browsing.
How to Set Up Parental Controls to Disable Incognito Mode?
You can adhere to these general steps to configure parental controls to turn off Incognito mode on a shared computer:
Make a user account for your child: By creating a unique user account for your child on the computer, you may configure parental controls exclusively for that account.
Enable parental controls: Enable parental controls and configure the desired restrictions for your child's account in the computer's settings or control panel. This usually entails limiting access to particular websites or applications, imposing time constraints, and blocking offensive content.
Disable Incognito Mode: There may be a setting that allows you to specifically disable Incognito mode in some parental control software or web browser settings. To stop your child from using Incognito mode while browsing the internet, enable this option.
Check the settings: To make sure the parental control settings are functioning as intended, log into your child's account and test them.
Conclusion
In conclusion, disabling Incognito mode might be required in some circumstances, like on shared computers or for parental control reasons.
Although Incognito mode might be a helpful tool for private browsing, it's crucial to bear in mind that it does not entirely ensure privacy or anonymity, so you may need to take other precautions to secure your online activities.
FAQ
HOW does incognito mode work?

Your web browser "forgets" that you ever had a browsing session when it is in incognito mode. Cookies are removed, and your web browsing history is completely erased.
Can I disable Incognito mode on a shared computer?

By changing the browser settings or utilizing parental control software, you can disable Incognito mode on a shared computer.
Why would I want to turn off Incognito mode?

If you share a computer with others and want to prevent them from seeing potentially improper or sensitive content or if you want to monitor their browsing habits.