In the big world of gadgets, where new ones keep coming frequently, Google joined in the bunch and launched its "Google Pixel Slate M3" model. And let me tell you, as the "slate" in its name suggests, it is not just a laptop, but more than that. And "More" here means a tablet.
Apart from that, it also comes with a useful Pixelbook pen. But only if you want to, because it is completely optional to purchase. If you plan on purchasing the Google Pixel Slate M3, there are a number of points and factors that you may need to consider and go through before getting it.
So let's get started with a thorough and honest review of the Google Pixel Slate M3 without further ado!
About 'Google Pixel Slate M3'
Joining the tablet-laptop hybrids, Google Pixel Slate M3 is Google's latest entry (hopefully not the last) into this category. After the giant launched the Pixelbook, its own expensive Chromebook, the Google Pixel Slate is its next chapter of ChromeOS.
With borrowed interface features from Android and new added tricks like natural writing recognition, it brings a good big screen for a tablet and an even better bunch of added accessories. However, there are some Android apps that don't work quite right with the Pixel Slate and also include some bugs, but this might be fixed soon.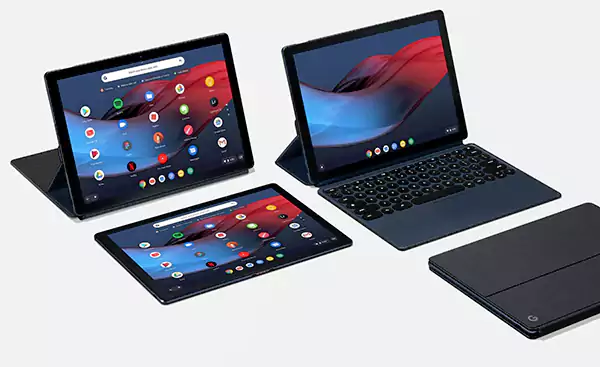 So if you are planning to get the Google Pixel Slate M3 or want to know about it before making the purchase, give the following unbiased and in-depth review a read. Let's fasten the seat belts and get started with the ride!
Pros and Cons
Before getting any product, one must be sure of the benefits and disadvantages that come along with it. So let's head over to one of the most important parts of the review, the pros and cons of Google Pixel Slate M3.
Pros
1. Attractive thin and sleek modern design
2. Vibrant and sharp screen
3. Fast performance
4. Large display
5. Powerful battery life of nearly 10 hours
6. Good and loud audio
7. Well-designed keyboard
8. Premium metal build
9. Useful Pixelbook pen
10. Optional keyboard is comfortable with various angles
11. Handwriting recognition is good
12. The fingerprint sensor is fast
Cons
1. Annoying Bluetooth problems
2. No headphone jack
3. Non-expandable storage
4. Limitations of Chrome OS
5. Exterior gets dirty easily
6. Overpriced
7. Additional cost of accessories can add up fast
Pricing
Another important aspect while planning before getting a product is its price and whether it is worth it or not. Google's Pixel Slate M3 is surely a good product that has adequate hardware and versatile ChromeOS.
However, if we talk about its pricing, it is confusing but surely pricey. It is available in two models – the base model and the mid-tier. You can also add accessories and buy models with upgraded processors in specifications. The prices with other information are given below accordingly.
(The price and other details are exclusive of other accessories like the keyboard, the pen, etc., and as per the time of writing the article.)
| | | |
| --- | --- | --- |
| Models | Price | Specifications |
| Base Model | $599 | Intel Celeron processor, 4 GB RAM, and 32 GB Storage |
| Mid-Tier Model | (Additional $100 for RAM and Storage) | Intel Celeron processor, 8 GB RAM, and 64 GB Storage |
| High-End Model | (Core i5 $999, Core i7 $1599) | Intel Celeron processor, 16 GB RAM, and 64 GB Storage |
So out of these variants and added accessories with a different price range, you can decide which one goes as per your requirements. Now let's discuss the specifications that you get to have in the Google Pixel Slate M3.
Google Pixel Slate M3 Specifications
If you have now got an idea of Google Pixel Slate M3's pricing and have made a decision to purchase it, you can go ahead with its specifications now. Let's have a look at the basic specifications of the Google Pixel Slate M3.
| | |
| --- | --- |
| Manufacturer | Google |
| Product Type | Laptop and Tablet Mod |
| Model | Pixel Slate |
| Operating System | Chrome OS |
| RAM Memory | 8 GB DDR4 |
| SSD | 64 GB eMMC Flash |
| Processor and Chipset | 8th Gen, Intel Core M3-8100Y,1.1 GHz Up to Max Turbo Speed 3.4 GHz |
| Weight | 1.6 lbs (731 g) |
| Keyboard | Accessory Connector for Pixel Slate Keyboard |
| Dimensions | Length: 290.85 mm (11.45 inches) Width: 202.04 mm (7.95 inches) Height: 7.0 mm (27 inches) |
| Security Features | Pixel Imprint Fingerprint CensorMicro Controller for on-device Security |
| Color Options | Midnight Blue |
| Material | Aluminium Corning Gorilla Glass 5 |
| Manufacturer Warranty | 1-Year Warranty |
So these were the basic specifications of Google Pixel Slate M3, and if you're planning to get it, make sure that this information meets or fulfills the requirements you're looking for.
Software
Now coming to the powerful yet lightweight Chrome OS, Google went with it rather than implementing Android. And that makes it accessible to every app on Google Play. The software of Pixel Slate has been optimized in such a way that it functions just fine as a desktop and tablet as well.
While the desktop UI is the same as every other Chromebook, the Chrome OS goes into the tablet UI with a multitasking button appearing in the bottom right corner. The split-screen multitasking feature is supported in both UI modes.
What's better in a Pixel phone? If you have one, you can receive and send texts on the Pixel Slate. It may sound familiar and nothing new to macOS users, but it is a piece of good news for those who use Pixel phones. As this will help them in synchronization and have it all in one place.
Hardware
While unboxing the Google Pixel Slate M3, there, it surely leaves a wow factor. But, we can't surely say for how long. Being the largest tab built by Google, with a 12.3-inch screen, Pixel Slate is a pretty powerful gadget, yet lightweight and thin as well. Its specifications are a Y-series Core i5 processor with 128 GB of storage and 8 GB of RAM.
Its hardware may not be as well engineered as the iPad Pro with a 12.9-inch screen, but its screen is still an important part. The 3000 × 2000 is pixel-dense and bright compared to most of the other tablets. Be it swiping through notes, lists, Chrome, or web apps to keep the conversations intact, the Pixel Slate does it all. It is responsive and smooth, but there isn't much about it apart from its display.
The fingerprint sensor, which gets hidden by the lock button, is reliable and fast. This makes it much easier to unlock the Pixel Slate, just like in the MacBook 2020 and later series. And when it comes to the simple gray-blue color choice, it can be considered pretty decent.
Design
Google's approach to Pixel Slate's design is pretty, sleek, and simple. Its body is made of anodized aluminum, coated with strong midnight blue. But if you are looking for different colors for this model, that can't happen. The Google Pixel Slate M3 is designed in only one color.
The appearance of the Google Pixel Slate is sleek, with only the G logo of Google at the back with a rear-facing camera at the top right. Its metal build is brawny and well-built with a weight of 1.6 lbs. The tablet is 7 mm thick and has rounded corners with curved edge glass and sides, which makes it comfortable to hold.
Display
One of the prominent parts when we talk about the design of a laptop is its screen or display. So let's look into the details of the Google Pixel Slate M3.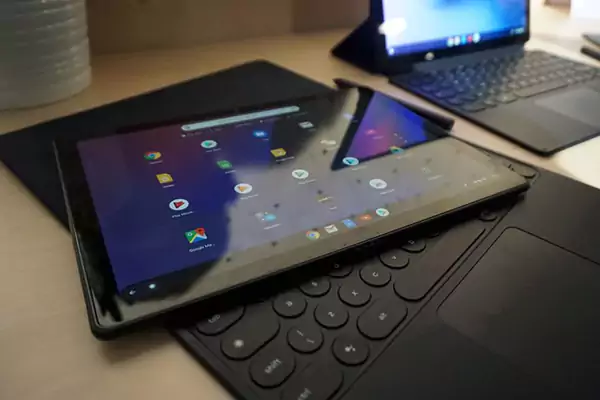 | | |
| --- | --- |
| Screen Size | 12.3 inches (31.24 centimeters) |
| Resolution | 3000 × 2000 Pixels (293 PPI) |
| Screen Type | QHD LCD Touchscreen DisplayGoogle Pixelbook Pen (Optional) Support 72% NTSC Color |
| Graphics | Intel HD Graphics |
| Touchscreen | Yes |
| Multitouch Screen | Yes |
| Backlight Technology | Yes |
Ports
If you are not a Google user (device or other Google products owner), you will know the importance of ports. And if you are concerned about whether it will work with your current device in synchronization, it is only natural. So to find out and confirm it, read the details for interfaces and ports of Google Pixel Slate M3.
| | |
| --- | --- |
| USB | Two USB-C Type Charging Ports4K Display Output Quick Data Transfer |
| HDMI | Yes |
| VGA | Rear: 8MP, f/1.8. 1.12 µm pixel size, Autofocus, Front: 8MP, f/1.9, 1.4 µm pixel size, Wide FOV. |
| Audio | Dual Front Speakers, 2 Mics for Noise Cancellation |
Keyboard
Google Pixel Slate M3 has a backlit keyboard, which is completely optional and comes at a price of $199. But, if you want to fulfill your productivity purposes, you can go for the additional keyboard. Even though it is not cheap, it serves just more than a detachable keyboard. It is smooth and works just fine for those who have work typing.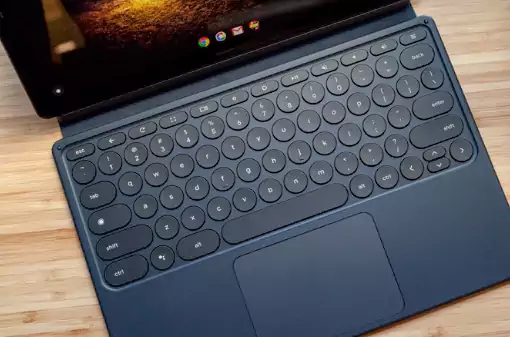 The Google Pixel Slate M3's keyboard is 4.0 × 2.8-inch tracks the input accurately and provides smooth scrolling as well. One can also use the three-finger swipe gestures to view all open windows. Apart from being a detachable keyboard, it also works as a protective case for carrying the Pixel Slate around. There is a soft, gripped texture that doesn't get any fingerprints and makes it easier to hold.
What's interesting is that the keyboard draws its power from the tablet itself, so you don't have to worry about the charging part as well. There is no Bluetooth or other connection stuff required, either.
Just plug in the keyboard to the tablet via the copper connection points and magnets will hold them just right in place. The reclining folds in Pixel State's keyboard allow far more positions as compared to other folding folios.
Battery Life
While looking for a laptop or planning to purchase one, the most significant factor to consider is its battery life. And if the battery life isn't good enough, there is no point in getting that product.
So make sure that the battery capacity and life of the Google Pixel Slate M3 meet the specifications you are looking for in a laptop or not.
| | |
| --- | --- |
| Type and Capacity | Lithium-ion 48 WH Battery |
| Battery Duration | Use time: Up to 12 hours, Fast Charging: In 15 minutes of charge, up to 2 hours. |
| Power Supply Watt | USB-C 45 W Charge Adapter (5 V/3 A, 9 V/3 A, 15 V/3 A, 20 V/2.25 A) that works with Pixel Mobiles as well. |
The battery life and fast charging are plus factors when it comes to the Google Pixel Slate M3. There is a full course of 12 hours of work without a need to recharge if you are using
Webcam
The Google Pixel Slate M3 has front and rear-facing cameras, both 8 megapixels. The front camera is named "Duo Cam" due to its wide-angle view and gets the job done when it comes to video calls and taking selfies.
Even though there is not much to offer as extra camera features, the video goes up to a max resolution of 1080p.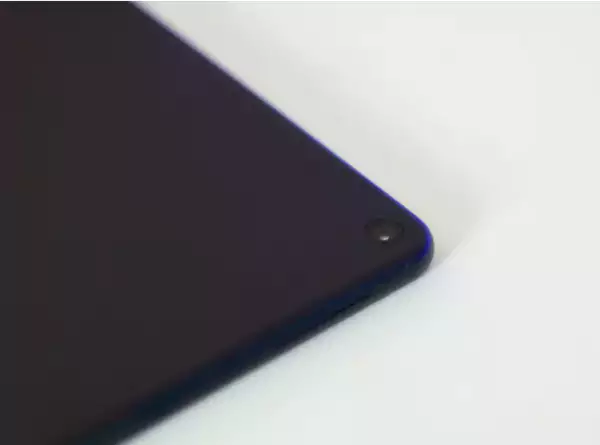 While many would use these cameras for video calling or Snapchat (due to the iPad-like performance that the portability of the tablet will provide), there aren't Pixel 3 camera features.
However, the same machine learning algorithm is used by Google for portrait mode pictures as in the Pixel 3 phones.
Performance
Regardless of the model, the Google Pixel doesn't offer expandable storage even with configuration. And the performance of the Pixel State surely varies from model to model.
However, what we managed to find in common is that since it is a Google device running ChromeOS, the Pixel Slate is surely designed with Google's apps for free productivity like Google Docs and Google Drive.
Even if you have a bunch of Chrome tabs open, jumping back and forth between Android apps, there won't be any signs of slowing down from Google Pixel Slate's side.
As per Google, with its 48WHr battery, the Pixel Slate can easily get up to 12 hours of battery life, which is close to the 10 hours we discussed in the battery life section. However, this can be different for others as the work can vary from person to person's work.
Notes
As of 2021, the Pixel Slate has been discontinued and replaced by the clamshell Pixelbook Go as Google will no longer be making another Pixel Slate, tablets, and detachable
Is It Worth Buying?
Now that you've read the in-depth and thorough review of the Google Pixel Slate M3, you may have come to realize its features and specifications. Even though the functionality and performance can be different for everyone due to differences in their tasks and the variant of Google Slate M3, you probably may already have got an idea of how it will work for you.
Looking at the pros and cons and taking other factors into consideration will help you in making the right decision. At the end of the day, you are the one who will invest in the purchase and make use of the Google Pixel Slate M3.
You might also like
Google Pixelbook i7 Review: A Chromebook Like No Other
FAQs
Ans: With an extremely versatile Chrome OS and well-performing hardware, Google Pixel Slate M3 is surely a good choice to go for. However, those who don't consider it as pricey can go for it.
Ans: For Pixel Slate, Google's Auto Update Expiration Date is in June 2026.
Ans: No, there is no headphone jack in the Google Pixel Slate M3.