ExpertBox is flexible, web-based, all-in-one practice management software that empowers businesses to deliver high-quality, professional services to clients online. It provides comprehensive functionality for expanding your business through flexible automated scheduling and booking, appointment management, secure HD video calls, automated payments, and HIPAA compliance.
What is ExpertBox?
ExpertBox is reliable, all-in-one practice management software that helps professionals grow their online business, gain more clients, and improve client satisfaction. ExpertBox covers every step of your online interaction with clients: booking a meeting, collecting information, signing documents, receiving payments, managing clients and teams, holding video meetings, collecting client feedback, and more.
With ExpertBox, you can set your availability and services and let your clients choose an appointment time that's convenient for them from a booking widget.
Next, you can collect all the needed info via intake forms or offer your clients esign consent forms via ExpertBox. Using CRM, you can gather and keep all client data and communication in one place.
Let your clients pay for your services easily and conveniently via their chosen billing method (Stripe, PayPal, cash, bank transfer, etc.)
Provide quality online services at any time, place, and device, and stay in touch with your clients via HD video and secure messenger.
After the end of the session, you can get feedback by customizing questionnaires and client surveys to help uncover bottlenecks and improve your services.
What are the Benefits of ExpertBox Practice Management Software?
ExpertBox practice management software is a comprehensive solution that provides you with everything you need to deliver services online in a seamless manner. It helps you cut down on administrative tasks, devote more time to your clients, go paperless, organize your client base, automate managerial processes, and maintain an optimal workload.
ExpertBox Features
The top ExpertBox appointment management system features are:
Automated Scheduling
Simplify the booking flow for yourself and your customers
Have full control over your own and your team's schedule
Adjust your personal or your team's daily and weekly availability in one click
Set a minimum scheduling notice and future appointment limits to protect yourself from last-minute bookings
Assign specific specialists to particular services
Decide how far in advance clients can reschedule their appointments
Send appointment confirmations and reminders to reduce client no‑show rates
Sync with Google Calendar
Advanced Booking Functionality
Customize your widget style and layout for seamless integration with your online platform
Integrate ExpertBox either by adding an ExpertBox widget button or a custom widget link as a menu item or anywhere on your website
Provide clients with multiple channels to book appointments with you, either directly from your website, social media account, or via an email link
Telemedicine
Provide top-notch online treatment using HIPAA-compliant medical management software with HD video calls and chat
Share your screen, take notes, and exchange messages, files, and images during your video appointments
Store appointment records in the cloud after video sessions
Get seamless video stitching in case there are any interruptions
Store all patient healthcare records securely in the cloud
Automated Reminders and Notifications
Reduce client no-shows
Automate meeting reminders and confirmations via ExpertBox
Receive appointment reminders at set times before the appointment
Specify via which channel you want to be notified
Be aware of each appointment status to avoid missing any significant changes related to the scheduled appointments
Payments & Refunds
Embed a payment portal into your booking panel
Offer recurring billing and automated invoicing
Provide clients with multiple payment options (Stripe, PayPal, cash, bank transfer, etc.)
Issue refunds with automatic credit notes
Set prices depending on the service and team member
HD Video Calls
Provide high-quality video calls without third-party programs or app installation
Get one-click access to secure video conferencing with HD video and SSL encryption
Send messages and files during the appointment that will be saved in your chat history
Offer group calls to interact with clients from multiple locations at the same time
Client Management (CRM)
Use a secure, searchable client database
Create a new or import a third-party CRM database in CSV format
Manually fill in client data or import an existing database
Create tasks with due dates and connect them with specific client profiles
View every client's chat and action history
Access all information about the client's current and previous scheduled appointments, uploaded files, and documents
Client Portal
Clients can get instant access to their encrypted chat history and shared files
Clients can join online meetings and view past and upcoming appointments
Clients can schedule, reschedule, or cancel meetings on their own
Clients can view, receive, and send messages, files, and documents
Service Management
Provide detailed descriptions of your services
Assign services to specific specialists
Add service prices and duration
Highlight your professional background, expertise, and qualifications regarding the services you provide
Organize your services into categories to make client booking easier
Team Management
Create a team workspace
Manage your team members' roles and responsibilities
Delegate services and reduce your workload
Watch video recordings of any team appointment
Manage access to the client database
Intake and Feedback Forms
Create and customize automated online intake forms to reduce paperwork
Send surveys and questionnaires to gather client feedback
Get all client information upfront
Create feedback forms for specific services, and send them to your clients
Publish client ratings and reviews
Messenger
Communicate securely with your clients and colleagues at any time and place
Use chat to send documents and files and provide consultations
Invite new chat participants
View chat history
Send voice messages
Service Agreements
Use ExpertBox form builder to create legal documents that comply with industry-specific regulations
Customize official legal documents, and send them to your clients
Let clients e-sign documents within ExpertBox
Receive a signed legal agreement once a client books an appointment
Access the client's document history in the client's profile
Notes and Documents
Create notes and documents, and exchange them with clients
Keep your records secure with SSL encryption
Comply with GDPR and HIPAA rules
Create shareable materials with your clients and team members
ExpertBox Pricing
The plans start at $29.95 a month. You can choose between two pricing options — one for individuals and one for teams. Each option has its own unique pricing plans according to what you need. It is also possible to opt for a white-label solution.
Here is more detail on ExpertBox pricing plans: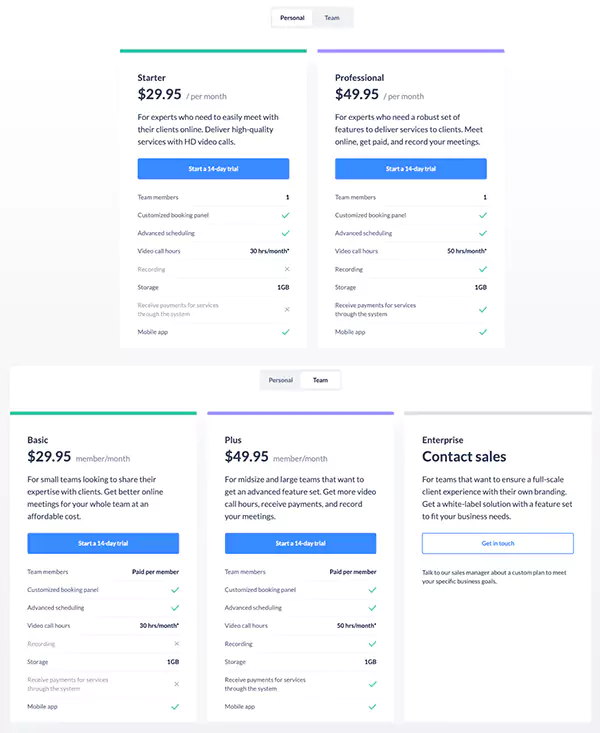 Support Details
We offer a comprehensive knowledge base for professionals and their clients with product manuals and quick access to technical support. In addition, you can send in a request, and the support team will get back to you as soon as possible.
What is Unique About ExpertBox?
ExpertBox helps automate your workflow and administrative tasks so you could concentrate on delivering high-quality services. This tool is flexible and can meet the needs of psychologists, physicians, clinics, coaches, nutritionists, financial consultants, consulting firms, lawyers, and other specialists.
Technical Details
ExpertBox can be used on all browsers, is available on desktop, tablet, and mobile devices, and is available in English.
With ExpertBox, you can securely exchange information with your clients and colleagues and ensure data integrity and confidentiality in a HIPAA- and GDPR-compliant and SSL-encrypted environment.
What Customers are Saying About ExpertBox
"With business coaching software by ExpertBox, I started devoting more time to my clients. I can easily hold my coaching sessions via video, get payment for my services on time, and plan my workload. Besides, file sharing in the chat is awesome" – Mia Hallway, Professional trainer & coach, Self-employed
"I've been using ExpertBox to streamline my workflow and reach a high level of client satisfaction with telemedicine. As a result, my clients are happy — they're getting medical service in a faster and more secure manner." – Jerry Schafer, Psychologist, Self-employed
"I've used about five different medical management software. When I found that ExpertBox had it all, I switched to it. I haven't had any cancellations since I started using ExpertBox. The online booking feature is paying off — I started earning more since it's intuitive and simple to book a session with me! Goodbye, double bookings and lost opportunities!" – Victoria McCloud, Trichologist
"The best thing about ExpertBox is that it has everything we need to provide excellent healthcare services to our patients in one place. Previously, our patients and I had to contact each other to agree on a consultation date and time. Multiple consultations were canceled just because people forgot about them. With ExpertBox's automated reminders, we got rid of this problem. Thank you for your helpful platform." – Safiya Mccarty, Therapist at Health Bloom"I was looking for a solution that could meet all my needs. ExpertBox is much more than that; it's a platform that offers a full range of tools to use, from video conferencing to chat, document sharing, and booking. It's definitely 10 out of 10." – Chelsea Williams, financial consultant
---