Many individuals are switching from visiting physical stores to using the web to buy goods and services. The ease of this buying strategy has led to its wide adoption. Customers all across the world now can purchase from the convenience of their homes. Besides, an online store, as opposed to a traditional physical store, is open every day. And on top of that, online shopping is available to people 24 hours a day.
Market-savvy businesses that join the e-commerce revolution will not only maintain competitive advantage but also create new sources of income. Due to the rapid growth of e-commerce, firms are now making even more money than they would from a single physical store. By showing a product at its finest and making it simple to purchase, a well-designed e-commerce site may influence consumers' buying decisions. 
Understand the concept of ecommerce to Choose the Best Merchant Service Provider for Your Business.
Being a small business is a major accomplishment in a world where Amazon, eBay, and other retail giants exist. Not to add that 99.9% of all U.S. companies are small enterprises, which means there is a lot of competition.
The chance for company owners to acquire a competitive edge and develop their enterprises online is incredibly high with the help of e-commerce development companies.
eCommerce Development Services
A competent eCommerce development company may offer services that enable small businesses to compete online and boost their profitability. Contrary to popular belief, there are many IT firms that can offer reasonably priced eCommerce development services, including the following:
Development and design of an e-commerce website, which means making user-friendliness, high performance, and security possible by employing the most up-to-date tools.
Optimization for search engines leads to increasing the internet exposure of your e-commerce website to boost engagement and revenues.
Setting up payment gateways: adding well-known mobile wallets, and payment gateways to your website can provide customers with more ease and better security.
PPC Marketing ensures sales growth through data-driven PPC advertising.
Integration of chatbots, which means incorporating a cutting-edge AI chatbot into your website to offer consumers support around the clock.
Analytics of data, which is determining methods to increase or optimize performance based on KPIs on your website to make sure it operates well across devices.
Naturally, not all businesses provide all of these services (and, you may not want all of them). You must decide what would work best for your firm and partner with a company that can match your demands. Check out some of the best options below!
10 Best Ecommerce Development Companies in Florida – 2023
Kanda Software
Kanda Software is a reliable solutions provider that supports businesses in resolving regulatory and development issues. They have the essential industry expertise, in-depth understanding of security, high development standards, and compliance needed to create excellent solutions.

Their tried-and-true methodology has been honed over the course of countless projects and successfully guides the team through every stage of the process. Regular updates to the customer ensure that the project is progressing as planned.
IT Delight
For over 12 years, IT Delight has been offering e-commerce development services to customers from all over the globe. Their diverse clientele spans several business sectors, including healthcare, fashion, and automotive eCommerce. IT Delight provides each customer with tailor-made solutions designed specifically to meet their needs.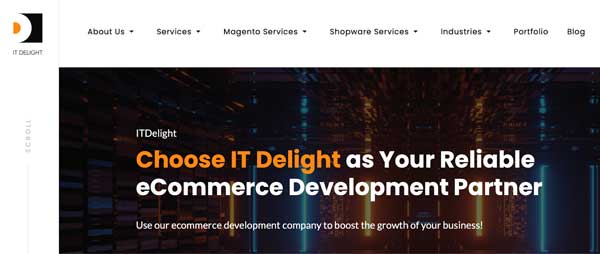 Some of the key services offered by IT Delight are Magento online store development, maintenance and implementation, extensions and integrations installation, testing, consistent support, and consulting regarding online stores. Being official Magento and Shopware Bronze Partners, the company guarantees top-notch services to maintain its great reputation.
Evestar
Evestar has a diverse staff with years of combined expertise helping to quickly expand companies engaged in eCommerce. Whether you run a billion-dollar business or a new brand, you can rely on a company's tailored strategy that produces outcomes and profits.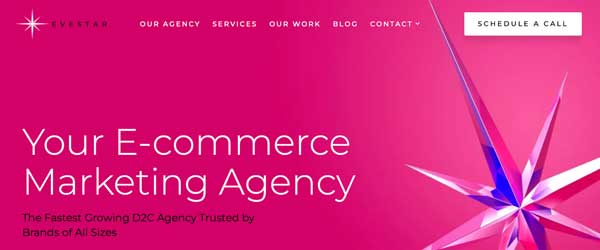 The services provided by Everstar include eCommerce development, web design, SEO, digital marketing, graphic design, and many more.
Lounge Lizard
In the online design and development sector, Lounge Lizard is one of the most well-known organizations. Since 1998, Lounge Lizard's specialists have been the "best of breed" because they are imaginative, tech knowledgeable, and passionate about developing eCommerce platforms for both new and established customers

Alongside web design and development (E-Commerce, Laravel, Magento, Shopify, WordPress), Lounge Lizard creates brand and marketing strategies and offers SEO services.
Dotlogics Inc.
Dotlogics Inc. is a web design company with awards to its name. They create exceptional websites for well-known international businesses like McDonald's and Costco. Dotlogics provides expertly built solutions that beautifully combine great look, cutting-edge technology, and particular business objectives into one Website.
Their services include custom software development, performance improvements, third-party integrations, platform migration, ongoing maintenance, and more.
SumatoSoft
SumatoSoft is a software development company that aids in the digitization of organizations by addressing the unique problems, demands, and pain points of each customer and developing custom software to assist them to achieve their organizational objectives. The company appreciates open, honest communication and actively encourages client involvement throughout the course of a project's development.

Its services include business analysis, frontend and backend development, QA and testing, code review, and rescue missions.
Digital Silk
Improved conversion rates, brand awareness, and customer loyalty are all results of Digital Silk's innovative digital experiences. Superior digital experiences and outstanding outcomes are the consequence of the company's ability to identify successful brand strategies while providing custom web development. This organization stands out for the way they manage client projects and regularly evaluates results.

Whether it's greater website interaction, higher sales, or greater brand awareness, Digital Silk develops big ideas from the beginning, executes them perfectly, and keeps a laser-like focus on success metrics long beyond the launch.
SmartSites
Any and all of your website service requirements may be met by SmartSites services. The company offers online hosting, domain registration, branding as well as site design and development. Their website design team, which has won several awards, can build a site that beautifully represents a company in any niche.
SmartSites offers such services as WordPress website development, eCommerce web design, Magento development, eCommerce marketing, and many more.
Rootstrap
Rootstrap uses a process-driven approach to software development that incorporates both improvisation and applied mathematics. They have skilled team members that are prepared to provide the outcomes that matter to you, whether you need a brand-new app created, a rescue mission for a product, or some extra development power for your internal initiatives.

Rootstrap's services include UI/UX design, eCommerce development, app, and website development, etc.
Bilberrry
Bilberry partners with large B2B and B2C companies to provide them with commerce solutions that are adaptive, smart, and cross-channel. Their engineers, strategists, and designers are independent and assertive, and they like what they do.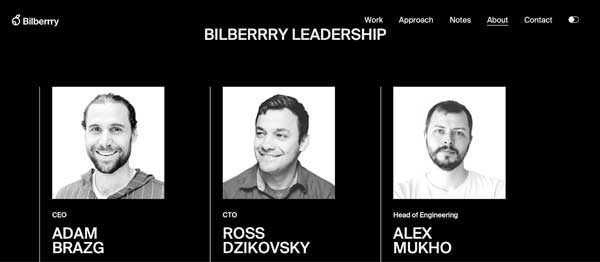 The company's services include web design, eCommerce development, mobile app development, Magento development, and many more.
Final thoughts
Clicking an item, adding it to a virtual shopping bag, and then paying for it online are only the beginning of what makes for a successful e-commerce website. If you don't provide a top-notch experience for your users, someone else surely will. Therefore, it is crucial that you choose an experienced eCommerce development company with extensive competence in both the design and technical components of development.
---