In this fast-paced world of video content creation, poor sound quality can be a major downfall, as it can overshadow even the most stunning visuals. While there is no shortage of places to use high-quality cameras today, most of these places aren't suitable for recording as the audio quality suffers.
If you've relied solely on your action camera's built-in microphone, chances are you've encountered frustrating audio moments. This is because most action camera technologies lack dedicated microphone inputs, which presents the challenge of integrating the best microphones to upgrade their audio capabilities.
However, simply using a microphone attachment is the ultimate solution for stepping up your audio game.
With the ability to reduce wind noise and ambient disturbances, Microphone attachments significantly enhance the clarity of voice recordings.
Whether you're shooting with a GoPro, Insta360 or DJI Osmo, external microphone attachments are the preferred choice for effortlessly capturing high-quality sound.
However, the ultimate question remains 'Which microphone attachment for action cameras is the best to use in 2023?
If you're also thinking the same, luckily, you have come to the right place. In this post, we embark on an exciting quest to find the best action camera microphone attachment models of the year.
So, let's dive in to explore the best action camera microphone attachment models of 2023 that will improve your action camera audio and revolutionize your video content—
List of 9 Best Action Camera Microphone Attachments
Say goodbye to audio compromises with these top-notch action camera microphone attachments of the year—
Rode Wireless GO II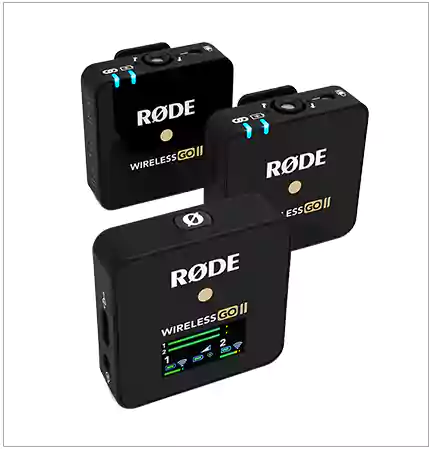 Price: $299.00
The Rode Wireless GO II is the second generation of the hugely popular Rode Wireless Go and one of the best wireless GoPro microphone attachments out there.
While the first version was excellent, this latest second version adds some useful features, like the Rode Central app to remotely control the sound settings, making it even more useful for recording high-quality run and gun-style audio.
It comprises three units: two tiny transmitters and a dual-channel receiver – all weighing 31 grams. While the transmitter measures 44mm x 45.3mm x 18.5mm, the receiver measures 44mm x 46.3mm x 18.5mm. If you want to use this rode mic for GoPro or any other action camera, you can clip the transmitters on and use them as is or with a Lavalier microphone.
To mention more, it has built-in internal storage for up to 40 hours of audio and includes two small, furry wind muffs.
All in all, the perfectly compact clip-and-go wireless design of this device makes it incredibly versatile and easy to use.
Pros
Affordable shotgun microphone option.
Dual-channel receiver for recording two separate sources.
Compact design.
Extended transmission range.
Compact and easy to use.
Cons
Build quality may not be as durable as high-end shotgun microphones.
Battery lacks overcharge protection
Rode VideoMicPro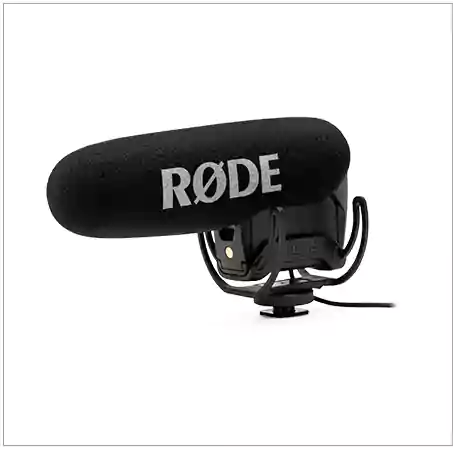 Price: $199.00
The Rode VideoMicro is one of the excellent choices as an action camera microphone attachment due to its lightweight. It weighs just 42g and measures a mere 21mm x 21mm x 80mm. So, its compact design makes it perfect for use on the go.
The microphone features Rycote® Lyre® shock mounting, and not only that, it also includes a vented windshield to effectively isolate outside noise.
Furthermore, the best part of Rode Video micro is that you don't have to worry about changing batteries or recharging it, as it draws power from the action camera itself.
Overall, this condenser directional microphone offers superior sound quality for outdoor recording and is also compatible with action cameras and even smartphones that support external microphone input.
Pros
Affordable shotgun microphone option.
High-quality audio recording with low self-noise.
Battery powered for long recording sessions.
Cons
Build quality may not be as durable as high-end shotgun microphones.
Slightly costlier than other options.
The larger size may be less suitable for compact setups.
PowerDeWise Lavalier Clip-on Microphone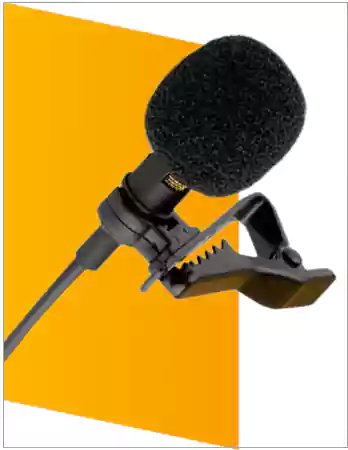 Price: $19.99
The PowerDeWise lavalier clip-on microphone is another excellent microphone attachment option. Its discreet design allows you to record audio in a variety of settings without having a bulky microphone in front of you.
It features a 79'' long cord length, with which you can easily adjust the distance between you and the camera.
Although this camera microphone attachment is not a professional-grade mic, it still offers better performance than a built-in microphone.
Also worth mentioning is that the latest 2022 version of this microphone attachment includes a deadcat windscreen to reduce background noise, which is especially beneficial for omnidirectional mics.
Pros
Affordable shotgun microphone option.
Best for recording interviews and vlogs.
Reasonable choice for best audio quality.
Cons
Build quality may not be as durable as high-end shotgun microphones.
May make a rustling sound if not fitted properly.
Sennheiser Professional MKE 200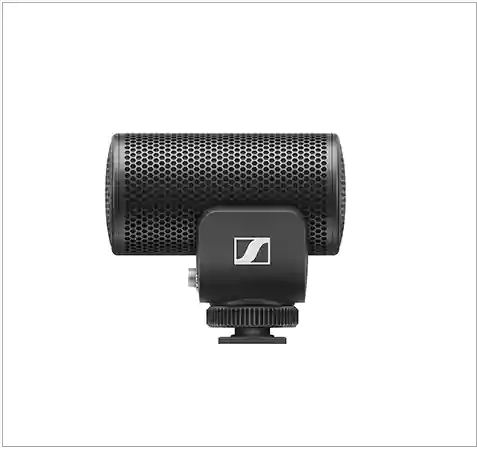 Price: $99.95
The Sennheiser Professional MKE 200 Mic is a compact yet powerful microphone. It pairs perfectly with GoPros when the right adapter is used. It provides directional audio and includes an internal suspension shock mount to reduce handling noise.
To mention more, this battery-free microphone is an excellent choice for vlogging with action cameras, as it excels at capturing sound from an arm's distance.
Overall, this small, lightweight shotgun mic features a highly-directional super cardioid pickup pattern that effectively reduces background noise and enhances audio in the camera.
Pros
Affordable shotgun microphone option.
Built-in shock mounts to reduce handling noise.
Nice directional pickup pattern.
No batteries are required.
Cons
Build quality may not be as durable as high-end shotgun microphones.
Some may find the audio quality a bit lacking compared to high-end microphones
Requires USB adapter to work with many action cameras.
Movo VXR10 Universal Video Microphone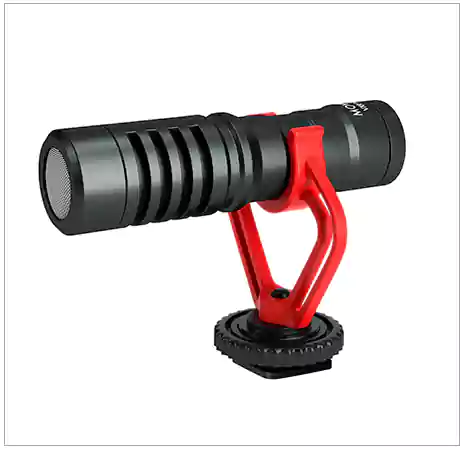 Price: $39.95
The Movo VXR10 Universal Video Microphone stands out as a shotgun mic. It comes in a durable aluminum casing with an internal shock mount.
Despite its power, this external microphone boasts a compact size, which is roughly the size of your middle finger.
Its plug-and-play design ensures hassle-free setup and use. Moreover, it comes with a comprehensive set of accessories, including a convenient carrying case like 3-Point Slinger for camera, a deadcat windscreen, and two adapters (referred to as TRRS and TRS) to ensure compatibility with both mobile devices and high-quality cameras such as DSLRs.
Talking about the best part of the microphone, it has a cardioid polar pattern that focuses the subject's sound while reducing background noise and delivering impressive audio quality.
Overall, it provides crystal-clear audio recording to make itself ideal for professional videography, vlogging, and content creation.
Pros
Affordable shotgun microphone option.
Comes with a shock mount and windscreen.
A complete set of accessories.
Suitable for both camera and smartphone.
Cons
Build quality may not be as durable as high-end shotgun microphones.
Does not handle loud noises well.
May not be ideal for professional-level recording.
Drift Ghost 3.5mm External Microphone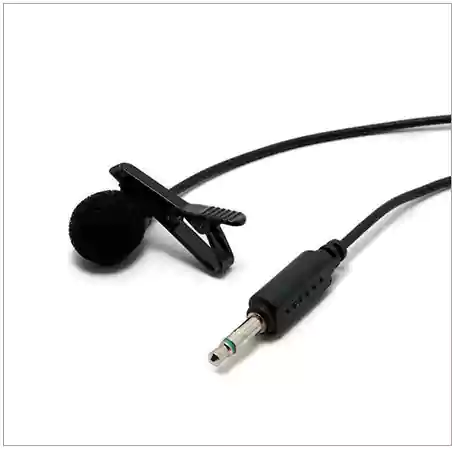 Price: $29.99
Next top contender on the list is the Drift Ghost 3.5mm External Microphone.
While drift brand action cameras have many uses, they are especially popular among motorcyclists because helmet cameras present challenges with wind noise and external microphones.
To put it simply, this microphone proves invaluable as it fits inside your helmet, canceling out wind noise and enabling commentary while driving.
Moreover, remember that while the Drift Ghost XL is compatible with most Drift cameras, you will need the dedicated Drift Ghost XL microphone adapter for optimal functionality with the Drift Ghost XL model.
Overall, it is worth mentioning that the Drift Ghost 3.5mm External Microphone provides high-quality audio capture and enhances the overall video recording experience with clear and crisp sound.
Pros
Affordable shotgun microphone option.
Specially designed for Drift Ghost Action Camera.
Good audio quality for recording action sports.
Significantly reduces wind noise.
Cons
Build quality may not be as durable as high-end shotgun microphones.
Cannot provide as good sound quality as specialized external microphones.
Adapter needed if you have a Drift Ghost XL.
BOYA BY-MM1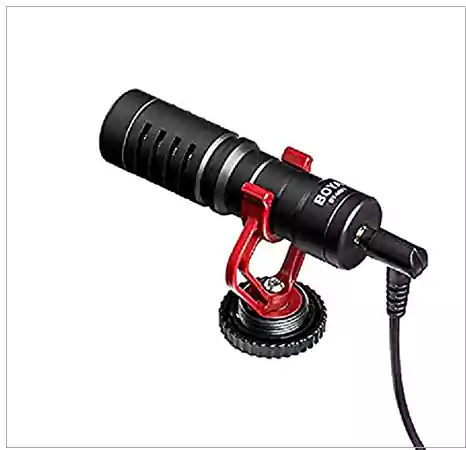 Price: $29.95
The BOYA BY-MM1 is an excellent budget shotgun microphone. It is ideal for mounting on stable platforms such as tripods.
Like any other digital microphone on the list, it's compatible with action cameras, provided you have the appropriate adapter.
The best thing about this compact Lavalier microphone is its versatility. Moreover, thanks to its included adapter cord, the microphone works seamlessly with mobile devices and DSLR cameras as well. Not only this but considering its price, the BOYA BY-MM1 provides excellent directional audio.
The frequency range of this clip-on condenser mic extends from 65Hz to 18KHz. With a maximum audio sensitivity of 30 db, the BOYA BY-MM1 works as a great lapel or collar mic for streaming and vlogging purposes on a variety of devices, i.e., from camcorders to smartphones.
Pros
Affordable shotgun microphone option.
Works with a variety of devices, including cameras and smartphones.
Long cable cord.
High-quality condenser.
Excellent noise-cancellation.
Universal Compatibility.
Cons
Build quality may not be as durable as high-end shotgun microphones.
The build quality may not be as durable.
Susceptibility to breakage.
Rode SmartLav+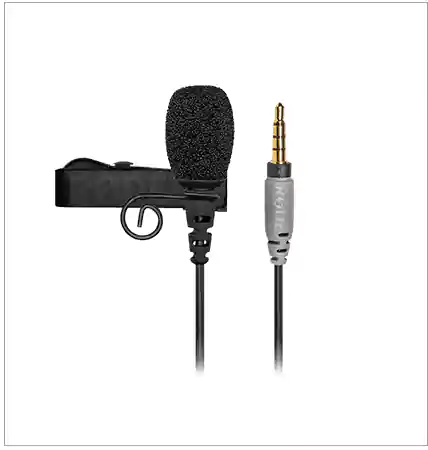 Price: $79.00
The Rode SmartLV+ is an omnidirectional lavalier microphone. It has an incredibly lightweight and compact design with an easy clip-on system.
The upgraded version of this mic offers better sound quality than the original SmartLav, which is easily recognizable by its gray connector. Since it is worth upgrading, all you need to do is connect the latest version to your smartphone or action camera and register the audio signal to enhance the voice recording in the video.
Also, it's worth mentioning that while you can download the Rode app to your smartphone, the Lite (free) version doesn't give you access to advanced settings, and it offers fewer file formats for registration. However, the Pro version has all this; it is paid and a bit expensive.
Most importantly, it should be noted that for some action cameras, the 6m long SC3 adapter is necessary for using the Rode.
Pros
Affordable shotgun microphone option.
Discrete design.
Great option for recording interviews or videos on the go.
An omnidirectional pickup pattern captures sound from all directions.
Cons
Build quality may not be as durable as high-end shotgun microphones.
The audio quality may not be as good as that of a standalone microphone.
Takstar SGC-589
Price: $26.00
Last but not least on our list is the Tacstar SGC-589. For those who want the versatility of using the same mic for both their GoPro or DJI and their DSLR camera, the Takstar SGC-589 is considered one of the best action camera microphones out there.
It's a versatile video microphone with a unidirectional polarity pattern and a hot shoe mount that fits both DSLRs and action cameras with an adapter.
To mention more, it offers an impressive 100 hours of battery life with a low power indicator.
In its package, the Tacstar SGC-589 includes a carry bag and a foam windscreen for better noise reduction.
Overall, with a lightweight design of only 154 grams, this action camera microphone attachment is a perfect match for DSLR cameras without adding unnecessary bulk.
Pros
Affordable shotgun microphone option.
Works best for DSLR cameras and camcorders.
Lightweight.
Good audio quality for the price.
Cons
Build quality may not be as durable as high-end shotgun microphones.
Battery operated.
Not able to perform in a noisy environment.
Unveiling the Price, Features, and Unique Selling Points of These 9 Best Action Camera Microphone Attachments
Action Camera Microphone
Price
Features
Unique Selling Point (USP)
1. Rode Wireless GO II
$299.00
Dual-channel wireless microphone
3.5mm TRS and TRRS output options
Rechargeable batteries
Versatile wireless audio system with compact receiver
Two transmitters can be used simultaneously
Ideal for dynamic and mobile recording setups
2. Rode VideoMicPro
$199.00
Directional condenser microphone
3.5mm TRS output
80Hz high-pass filter
High-quality audio capture
Raikot Lyre shock mounting system for stability
Compact and lightweight design
3. PowerDeWise lavalier clip-on microphone
$19.99
Clip-on lavalier microphone
3.5mm TRRS connector
6-meter cable
Hands-free and discreet audio recording
Ideal for interviews and vlogging
4. Sennheiser Professional MKE 200
$99.95
Compact and lightweight design
3.5mm TRS and TRRS cables included
Directional condenser capsule
Built-in wind protection for outdoor use
High-quality audio with low self-noise
5. Movo VXR10 Universal Video Microphone
$39.95
Compact shotgun microphone
3.5mm TRS and TRRS output options
100Hz-20kHz frequency response
Integrated shock mount minimizes handling noise
Foam and feather windscreen to reduce wind noise
6. Drift Ghost 3.5mm External Microphone
$29.99
External microphone for Drift
3.5mm TRS connector
Compact and portable design
Enhances audio quality for action footage
Designed especially for Drift Ghost action cameras
7. BOYA BY-MM1
$29.95
Compact shotgun microphone
3.5mm TRS and TRRS output options
Affordable and budget-friendly option for great audio
Includes foam windshield for outdoor use
8. Rode SmartLav+
$79.00
Professional-grade lavalier mic
TRRS connector
Designed for smartphones and other mobile devices
Great for content creation, interviews, and podcasts
9. Takstar SGC-589
$26.00
Shotgun microphone with shock mount
Super-cardioid pickup pattern for focused audio capture
Cost-effective option for enhanced audio in action videos
Now that you're aware of the best camera microphone attachments available in 2023 to provide you with tons of options to suit your specific needs; it is ultimately your decision as to which of them best matches up with your needs. However, to assist you in making an informed choice, the next section covers some of the factors you may want to consider!
How to Choose the Best Microphone Attachment for Action Cameras?
In choosing the best microphone attachment for an action camera, it is important to consider several key factors so that you get the right accessory for your needs. Keeping this in mind, here are listed some important tips to help you make an informed decision—
Ensure the compatibility of Mic with your action camera.
Select the correct microphone type (listed below).
Consider the directionality of the mic (omnidirectional or directional).
Look for features that reduce wind noise.
Check the mounting options for the mic.
Make sure it is budget-friendly.
Choose mics from reputed brands.
Check the connectivity options of the mic.
Consider the size and weight of the mic for portability.
Verify the good audio quality of the mic through reviews.
What Are the Types of Action Camera Microphone Attachments?
It is noteworthy that microphones can be classified based on their audio recording method, connection type, polarity pattern, shape, or use. So, here's a brief overview of the types of mics compatible with action cameras—
Lavalier Mics: Lavalier mics are often called lapel mics or clip-on mics because they are designed to be worn on the broadcaster's clothing or attached directly to their body. So, they are mostly used in broadcast and film production for capturing dialogue with remarkable clarity. Moreover, the beauty of these clip-on mics lies in their compact and lightweight design, which allows for easy voice recording in a moving car or while on the go. When using them, it is recommended to hold the lavalier approximately 20–30 cm away from the mouth or sound source to obtain optimal audio quality.
Dynamic Mics: This class of microphones uses electromagnetism to convert sound waves into electrical signals. Especially renowned for their exceptional versatility, these microphones stand out as the most flexible and adaptable option. They are budget-friendly and this adds to their appeal and makes them an accessible option for a wide variety of users. Moreover, they do a really great job of delivering excellent and accurate performance when it comes to studio setups.
Condenser Mics: Compared to dynamic mics, these microphones offer better accuracy and audio quality but at a slightly higher cost. However, it should be mentioned that most of these microphones boast of unidirectional or bidirectional pickup patterns which allow them to capture sound from all directions or specific front and rear angles.
Shotgun Mics: Shotgun refers to both the distinctive polar pattern and the elongated, thin shape of the microphones. They are usually attached to cameras and are best for isolating desired sound sources from environmental noise. However, to improve sensitivity selection, one should consider pickup pattern options, which may include hyper-cardioid, super-cardioid, or ultra-cardioid.
Handheld Mics: Last but not least, there are Handheld mics. Although some action cameras come with built-in handheld mic attachments, this is relatively uncommon. However, there are workarounds to get a similar handheld effect and that is, by simply selecting a lav mic or shotgun microphone. With this, you can easily turn them into a handheld mic. This versatility enables you to adapt to a variety of recording situations and capture clear, crisp audio on the go.
These are the different types of microphone attachments for an action camera, and since each type serves different purposes, consider your intended use and the desired audio quality before making a choice.
Conclusion
That is all. Hopefully, this article has given you the clarity to choose the best action camera microphone attachment for getting top-notch audio in your video footage.
While modern action cameras are excellent at capturing high-quality video, it is equally important to improve audio. Therefore, by considering the external microphone attachment recommended in our guide, you can significantly improve the overall audio quality of your videos.
With that said, let's not waste time and try one of these microphone attachments to take your action camera recording to the next level!
FAQs
Ans: Yes, You can connect an external microphone to an action camera. However, depending on the camera, you may need a microphone adapter. For instance, if the camera microphone attachment has a 3.5mm audio jack and the microphone has a matching jack of that size, you can plug it in directly. For other cameras with different ports, such as USB Type C, you need to use an adapter cable.
Ans: For attaching action camera microphones, locate the camera's external audio input port (usually a 3.5mm jack or USB port) > securely connect the microphone's cable to the corresponding port > ensure a comfortable fit > test recording audio to confirm the successful attachment.
Ans: To attach an external microphone to your GoPro HERO3 or HERO4 action camera, you'll need a 3.5mm to USB Mini B adapter. However, don't let its simplicity deceive you; this unsophisticated dongle has the power to allow seamless connectivity between your GoPro and external microphone. Furthermore, for the GoPro HERO5/6/7, there's a dedicated adapter that easily attaches to a USB C socket, giving you access to both the 3.5mm audio port and an additional USB C port. And, for the rest of GoPros, you can use the Media Mod, which has a 3.5 jack for an external mic as well as a built-in microphone.
Ans: To determine the correct mic adapter for your action camera; check its specifications to see what type of audio input port it supports (for example, 3.5mm TRS, Micro-USB, USB-C) > Find a compatible adapter and plug it into your microphone's connector (for example, 3.5 mm TRS), USB) > consult the camera's user manual or manufacturer for assistance, if necessary.
Ans: Although the right mic adapter for your action camera depends on the camera's audio input port and the microphone's connector. But here are listed some common types of mic adapters for action cameras—
3.5mm TRS to TRRS Adapter
USB to 3.5mm Adapter
Wireless Microphone Receiver
Proprietary Adapter
Ans: To improve the audio quality of your action camera, consider using an external microphone that best suits your needs and camera model.
Ans: No, GoPro cameras have built-in microphones for recording audio.
Ans: Yes. The majority of the action cameras as well as 360 cameras, come equipped with a built-in microphone for recording audio. However, if you want to improve the sound quality, you may want to add an external microphone.
Ans: Well, it depends on the action camera model. On the one hand, some action cameras have a USB port that may support an external microphone, while others may not have this capability. Therefore, check the specifications of your camera to confirm whether it supports USB microphones.
Ans: An alternative to the microphone attachment for an action camera is to use a digital voice recorder. This way, you don't need a microphone adapter or microphone attachment, rather, you just hold the voice recorder near the source to capture audio.