The most crucial tool in your arsenal for cybersecurity is a VPN. With a VPN, you can hide your identity and protect your browsing data. This review will closely look at one of the top VPN providers, AstrillVPN.
Overview
AstrillVPN is one of the world's most impressive VPNs. It is unquestionably a product worth your consideration, given the positive evaluations and feedback, it's received online. The reviews generally emphasize the platform's fast speeds, online security tools, ability to stream and torrent, and web browsing facilities.
Astrill was established in 2009 in response to the rising demand for personal VPN services among travelers and home users. They are a registered Liechtenstein corporation that caters mostly to tourists and expatriates who use the Astrill VPN service to access the Internet anonymously and unrestrictedly wherever they are.
With the help of a skilled group of programmers and cryptographers, Astrill expanded to the US and EU markets. As a result, Astrill currently holds the top spot in the worldwide personal VPN industry and aids millions in maintaining their online safety.
Currently, AstrillVPN is providing hundreds of VPN servers in more than 50 countries with diverse VPN technologies and compatibility on over 10 platforms.
| | |
| --- | --- |
| Offered Protocols | OpenWeb, WireGuard, OpenVPN, StealthVPN |
| No Logs Policy | Yes |
| Unblocks Streaming Services | Yes |
| No. of Servers | 3000+ servers in 57 countries |
| Simultaneous Connections | 5 |
| Works in China | Yes |
| Ad Blocking | Yes |
| Kill Switch | Yes |
| Pricing | $15 per month |
Pricing and Plans of AstrillVPN
Given its current configuration, Astrill VPN is undoubtedly one of the most economical options. In addition, a guarantee is included with every purchase, which is more than enough to test the product and determine whether it meets your needs.
The following premium packages are offered depending on the duration of the selected subscription: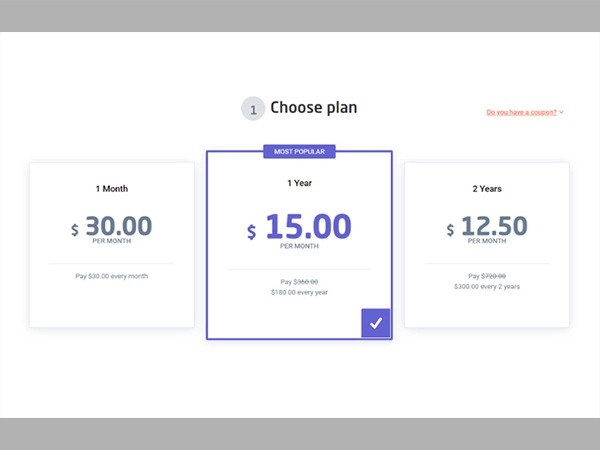 Pros and Cons of AstrillVPN
Although AstrillVPN is a foolproof tool for your online security, like every product it has some flaws too, albeit the pros overcome them.
Pros:
Uses WireGuard VPN technology
Multi-hop, and split tunneling
Many server locations
Strong stance on customer privacy stance
User-friendly
Extra tools
Cons
Astrill normally only stores logs while a VPN connection is operational which is not ideal. This data is momentarily retained before being deleted when connected to the VPN. However, this keeps the app from going offline while maintaining your personal security.
AstrillVPN's Features
Following are some of the instrumental specs and features of AstrillVPN that take it to the top among the best VPN services in the world:
One-click Connectivity
The Astrill VPN has a user-friendly interface with a single large ON/OFF button. All settings fit neatly into a compact window, making it very simple.
Smart Mode
When you use a VPN, your computer typically receives a foreign IP address, which can slow down your Internet. Moreover, institutions and governments can block IP addresses if they discover you are using a VPN. Astrill's Smart Mode enables you to utilize the Internet with local IP addresses while maintaining fast Internet connections and avoiding suspicion.
Smart Mode gives customers access to high-end security and stealth that is very difficult to detect. It implies that you can use all the services and browse the Internet with utmost confidence and privacy.
Application and Site Filter
Some users may want to use a VPN with specific apps, such as Skype, Messenger, eBanking, or torrent clients, rather than general web browsing. Others might want the ability to tunnel everything and the choice to reject specific apps from the VPN service (e.g., your business email service).
Astrill has a special function that allows you to pick between tunneling all apps, only selected apps or excluding specific apps to cover both scenarios. (With Astrill software, this capability is only accessible in the OpenVPN, OpenWeb, StealthVPN, and Wireguard protocols.)
In simpler words, Astrill lets you take control over what traffic goes over the secure VPN connection and what gets directly routed through your residential IP.
Private/dedicated IPS
Using OpenVPN, StealthVPN, and Wireguard, all ports can be routed to your device connected to the Private IP on selected servers (denoted with a star). Private IP is not shared with any other users. Certain VPN servers permit the assignment of dedicated IPs (private IPs). You alone, and no other Astrill clients, use such an IP.
WireGuard Protocols
The handshake process for common VPN protocols like OpenVPN and IPSec is slow. This is primarily due to the overwhelming number of configuration options that must be chosen by the client and server. In WireGuard, crypto versioning is used.
For example, suppose a catastrophic cryptographic attack is found against one of the primitives that make up WireGuard. In that case, a new WireGuard protocol will be developed as a whole.
With virtually little overhead, WireGuard® provides a lightning-fast VPN connection while upholding security with modern cryptography. As a result, it has the potential to provide a VPN that is less complicated, safer, more effective, and simpler to operate than current solutions.
Privacy and Logging
Without a VPN, our internet service providers receive the details of our web traffic that they can share with marketers, authorities, and other third parties. When we configure a VPN, our internet service provider no longer has access to our information, but the VPN does. Therefore, it's crucial that the VPN doesn't log any more information than is necessary.
Fortunately, Astrill does not log the URLs we visit, the software we use, the files we download, our IP addresses, the duration of our VPN sessions, or the amount of bandwidth we consume.
However, it logs some data, including our signup email, payment information, the timestamps of our most recent session statuses, and customer support data. But this is typical and required to keep our account active.
To further enhance the user experience, the business also monitors how we utilize the VPN software. The good news is, since this information cannot be utilized to link our web activity back to us or the devices we use, we have no issues with them.
As for privacy, Astrill ensures that it is completely maintained when you are using their VPN. They have added tools in their package that make it a unique and powerful product for the users. These tools are:
What is my IP identifies and tracks your location if it is not secured.
Password leak test ensures the security of your passwords and data.
VPN Leak Test ensures your online anonymity by testing that there are no DNS, WebRTC, or IPv6 leaks.
Port scan checks and keeps you updated about the available, accessible ports on your IP. It ensures that you are not vulnerable to cyber threats.
IPv6 leak test keeps regular checks to keep you safe from any Internet traffic leaks over the regular connection when connected to a VPN.
DNS leak test keeps you informed of possible leaks so a timely countermeasure can be taken.
Origin and Jurisdiction
Astrill has its headquarters in Seychelles and is not a member of any significant intelligence-sharing coalitions like FVEY (5/ 9/ 14 eyes). It makes Astrill's claims of user privacy and confidentiality more credible.
The straightforward approach of Astrill VPN will put those worried about privacy at ease. Despite having a "strict no-logging policy," it stores some user information and connection logs to keep things running smoothly.
Astrill normally only stores logs while a VPN connection is operational.
All VPNs must collect this information, but Astrill needs it to restrict the number of connectible devices to a single Astrill account.
How Fast is AstrillVPN?
Astrill makes significant investments in its infrastructure, which comprises strong, dedicated servers. Dedicated bandwidth links each server to a 1 or 10 Gbit connection. Modern CPUs that support AES encryption offloading are built into servers. The majority of servers feature many CPUs, each with numerous cores.
Encryption of VPN connections requires a lot of processing power. When several clients are using the VPN service at once. But Astrill's powerful dedicated gear overcomes the flaw and delivers excellent performance and speed.
You can use an incredibly fast network of VPN servers with an Astrill VPN membership. In order to find problems quickly and keep things running smoothly, they test their servers daily using speedtest.net.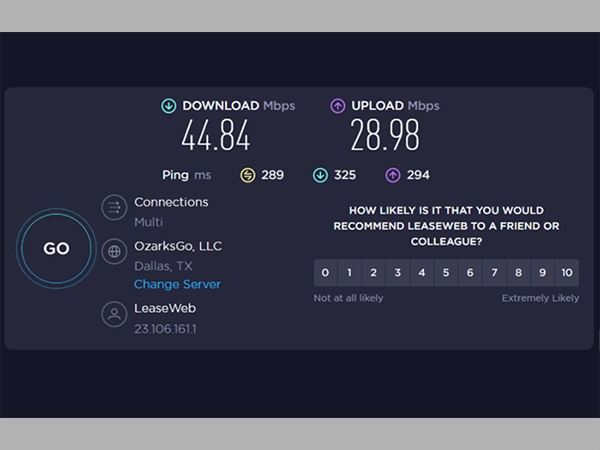 Keep in mind that all of these results come from servers that are being actively used. It means everyone could access more than adequate bandwidth without experiencing speed limitations. The fastest VPN connection is what Astrill VPN offers, so choose us.
AstrillVPN Servers Locations
Astrill's VPN servers are systematically placed in 107 cities across 55 countries to ensure that your service is always lightning-fast. OpenWeb, StealthVPN, OpenVPN, and Wireguard protocols are supported by all servers. In addition, regular additions of new VPN servers and IP addresses are provided without charge.
Is AstrillVPN the Right Tool for you?
Astrill VPN is a solid option if you're trying to safeguard your private internet behavior. For example, suppose you need to access insecure or inaccessible websites, utilize open WiFi, or want to ensure that your browsing history and online data are protected. In that case, Astrill VPN is just the right tool to use.
Additionally, Astrill VPN also offers business-centric subscriptions that make it simple to encrypt every team member's account through a single portal. Every device that is connected to your network will be safe. Astrill offers a practical option if privacy is important to your business and you have a staff of several individuals.
Do We Recommend Using AstrillVPN?
When it comes to security, Astrill VPN is among the best VPNs available. Among other VPN protocols, this provider uses OpenVPN. Many cyber security professionals believe this encryption technique is currently the best secure VPN protocol available. In addition, the no-logging policy offers the maximum level of privacy. Last but not least, Astrill provides a number of additional security measures, such as a kill switch.
This VPN provider has my highest endorsement. No matter the reason you require a VPN, Astrill will satisfy your needs
---