Rackspace, an American cloud computing company, started their business in 1998 to help businesses get the maximum out of their public cloud deployments. At the time it was launched, there were many IT hosting firms offering single-tenant server access on the internet but what they lacked was they didn't offer a comprehensive customer management service. But rackspace.com was the one who included the notion of comprehensive customer management. Heading to the same goal, they created a niche for themselves even though there were top telecom companies running the market.
www.rackspace.com leads the list when it is about 'Managed Cloud' as it offers specialized, automated cloud technologies services to players in both the private and public sector.
In the year 2007, they even introduced an email hosting service that included more than 100,000 companies. Since then, Rackspace's webmail service has helped most small businesses in the U.S. to get the top email hosting and productivity services.
Some Highlighting Features Of Rackspace Email
25 GB mailbox
Supports POP3, IMAP, SMTP
Email attachment limit- 5 MB
Protection against spam, virus, and phishing
Shared calendaring
Attach files from Dropbox
Tasks and notes
Email "undelete"
Company directory (GAL)
Advanced message-filtering
Instant Messaging (Chat)
Out of office auto-responder
SMS password reset
Multiple identities and signatures
Technical support is also available round the clock.
If you have created an account at app.rackspace.com, you can easily avail all the perks by simply logging into your account and if you need help with that, here you will get all the information you need for a successful 'apps.rackspace email login'.
Easy Steps to Rackspace Webmail Login
Rackspace Email lets you check and manage your email online using the webmail interface. This way you get direct access to your email and this will not need any additional software. Using the webmail portal, you can enjoy a lot of features like sending and receiving emails, signatures, email forwarding, and so on.
The messages that you send or receive using webmail stays on its portal until the next time you sign in.
To login to your Rackspace webmail account, you will need to open a browser on your PC and then follow the given steps:
Go to the link https://apps.rackspace.com/ to go to the 'Rackspace Webmail Login Email Apps' website.
Once you are on the Rackspace webmail login page, enter the following information there:
In the Email Address field, enter the Rackspace email account ID
In the Password field, enter the Rackspace email account password.
Finally, click on 'Log in'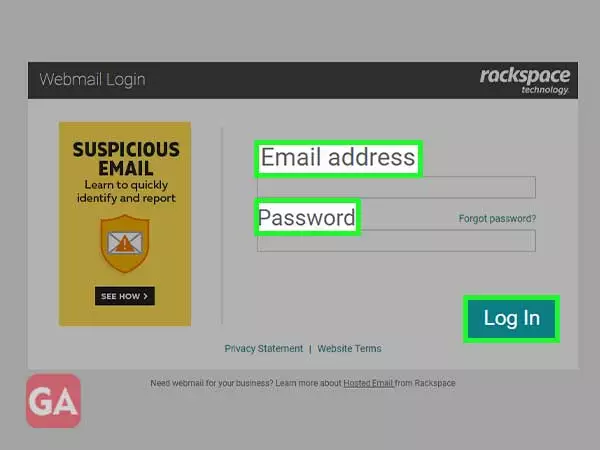 That's how you can simply log in to your apps.rackspace account
Before you will be directed to the homepage of your Rackspace email account, you will need to select the following two options:
'Remember this Info'— Select this checkbox if you want the server remembers your Rackspace account's login information and auto fills the same every time you sign-in to your Rackspace email account.
'Use SSL'— in order to encrypt your data when you log in, you have to click on this checkbox and enable the 'Secure Socket Layer.'
Rackspace Email Plus is one premium service offered by the same brand and if you want to use premium service, you can go to this link https://apps.rackspace.com/rackspace-email-plus and get yourself upgraded.
With Rackspace Email Plus, you get Mobile Sync to keep all your data such as email, calendars, and contacts synchronized with Rackspace Webmail on your iOS, Android, or Windows device.
Rackspace Email Login Issues
Although the Rackspace login process is easy through the mobile app as well as through its website apps.rackspace, there can be several instances where you may face difficulty in logging into your Rackspace email account. For instance, you have forgotten your password or the email account has been hacked. If that is the case, you can simply try to reset the password of your Rackspace email account through mobile or web and then try to log in again.
Also, if you have set up your Rackspace email account on a third-party email client, you need to use the correct mail settings otherwise you are going to face login issues.
To use your Rackspace account on a third-party email client or on desktop, you will need the following incoming and outgoing mail server settings:
Incoming mail (IMAP) server name- secure.emailsrvr.com
Outgoing mail server (SMTP) name- secure.emailsrvr.com
Incoming mail (IMAP) secure incoming port: 993
Outgoing mail (SMTP) secure outgoing port: 465
This server requires a secure connection: SSL