Wireless mesh system WiFi systems are becoming largely familiar with the world. With extensive workspaces comes the inevitable network issues in every corner, and through an efficient WiFi meshed system, users get empowered with technology that has got a wide range of connectivity.
Amazon Eero Pro 6 is a capable tri-band WiFi meshed system with a wireless connectivity range of up to 6,000 square feet. With easy installation, users get the smart home automation hub through its inbuilt Zigbee feature. This amazing product has many positive tales around and is also believed to carry some drawbacks in its functioning too. Its managing feature helps in viewing the WiFi router's history by measuring download speed, knowing the client's connectivity details, bandwidth activity, fixing parental control features, and much more.
In this article, we will be learning the outstanding features, pros & cons, customer reviews, comparison, and drawbacks of this wireless coverage WiFi router system. Without any further ado, first, let's begin with the features table of Amazon Eero 6.
Specification Table of Amazon Eero Pro 6
This WiFi router is rated highly by its user and reviewed as a fast and reliable wireless WiFi system. The table below will give a brief idea of the features and specifications of this product.
| | |
| --- | --- |
| Features | Specifications |
| Brand | Eero |
| Model Name | Pro 6 Mesh-WiFi |
| Feature | WPS |
| Frequency Band Class | Tri-Band |
| Frequency | 5GHz |
| Connectivity Technology | WiFi |
| Color | White |
This wireless WiFi mesh system has got various high-grading features, including WiFi 6 technology, Tri-band connectivity for up to 75+ devices at a time, and Gigabit speed support.
After going through the specification table, let's head toward the fascinating feature of this wireless router.
High-Performing Features in Amazon Eero Pro 6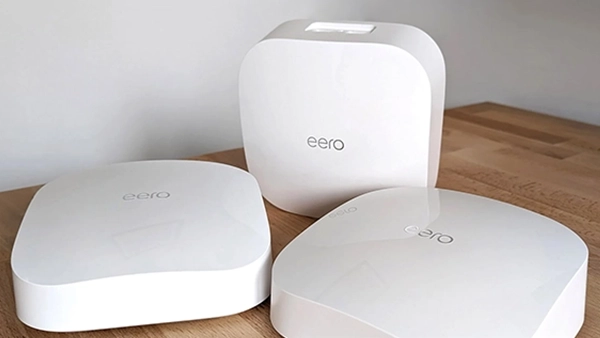 Eero Pro 6 manages to provide connectivity within a large range of up to 5,500 square feet of coverage using the WiFi 6 system. Let's dig more to know the high-performing features of this smart Alexa-compatible smart hub system.
Wireless mesh WiFi systems were introduced to bring internet connection to wide spaces with many wall hindrances, Amazon Pro 6 came as Amazon's first wireless meshed system with a wide-range capability of up to 6,000 square feet. The $599 Eero Pro 6 system provides three stylish nodes which are capable of providing the best wireless network coverage up to 2000 square feet.
Malware and Parental Controls
Keeping malware away is one of the ways to protect your computer, and with various Eero secure plans, users get access to anti-malware and parental control. The tools that filter unwanted sites, content, and advertisement for a smooth internet experience. It also scans the user's visited sites to prevent the user's system from any harmful attack. These tools are highly effective for dealing with children phishing encounters or other unwanted content and sites.
Interestingly the Eero secure plan charges an individual user about $2.99 per month to $29.99 per year, which is affordable. Well, another Eero plan of $9.99 per month to $99.9 per year allows the user to access every Eero secure feature, from malware protection to password management.
We all are acquainted with the idea of smart homes where devices like fans and LED lights are controlled through application commands. The Zigbee feature introduces this compatibility in smart devices. This feature must be present in both the working smart device and the controlling device. Amazon Eero 6 presents its user with an in-built Zigbee feature that commands smart home devices according to the user's demands, thus creating a smart home hub.
The Eero Pro 6 system comes with three stylish nodes which can be used as per the user's needs. For example, if you require a WiFi router for a small space, a $229 single Eero Pro 6 system would be enough, while with large spaces, one can shift to three Eero Pro 6 systems for $599. So, it is highly noticeable that Amazon's Eero tri-band mesh WiFi system can be easily expanded as per the user's needs.
The Eero system is blessed with an Alexa feature that supports voice commands and allows you to activate/deactivate various things with it. In addition to the Zigbee features, Amazon Pro 6 minimizes the user's task to nearly zero with its $599 Eero Pro 6 system. "Hey! Alexa" can solve all your queries and listen to all your commands.
The steps to install Eero Pro 6 are easy and, therefore, user-friendly. The activation process starts with the help of Eero's smart app, which is both Android and iOS compatible. First, the user needs to build an account, resulting in the Eero Pro 6 application commanding the user for a secure node installation and confirming it through an LED turn-to-blue feature(on the node). While installing the nodes individually, the Eero application will also ask you to rename the node with a password.
The Eero Pro 6 system consists of a primary router and two other meshed nodes. Their configuration measures 2.2×5.3×5.3 (HWD), with each node capable of 2,000 square feet of range, in total covering 6,000 square feet. Amazon's Eero Pro 6 is available in only white color. The reason behind their wide range coverage and excellent performance is the 1.4GHz quad-core CPU. It has got ample storage, including 1024MB RAM and 4GB of flash memory. The smartest feature is the Zigbee radio which makes this already smart wide-range WiFi meshed system more intelligent.
Yes, to manage the features settings of Amazon Eero 6, the user needs to install its application which is compatible with both the Android and iOS systems and has the 2019 Eero system. One can check the client's access, alter the parental control settings, rename Eero's node, and much more. It has a simple Amazon WiFi system that connects with the smart devices quickly, also, the settings here are the same as Amazon ECHO devices and Fire TV sticks.
After encountering various fascinating features in Amazon's Eero Pro 6, it would be interesting to know the various loopholes in this highly rated WiFi router meshed system.
Various Loopholes in The Functioning of Amazon Eero Pro 6 System
The Amazon Eero 6 system is highly appreciated among the masses for its unmatchable features, but it also has got some drawbacks, turning it rather as a second choice among competitors. Let's get to know these negative features.
The Anti-malware and parental control features in the Eero Pro 6 system are not free as other WiFi mesh systems like TP-LinkDeco X60AX3000 Whole Meshed WiFi system and ASUS ZenWiFi AX XT8 provide. Preventing the access of malicious pages and harmful sites and disturbing advertisements is done free of cost by the competitors, leading the audience to choose other options in the market.
Although the Amazon Pro 6 system covers a wide range of up to 6000 square feet with its Eero Pro 6 system, competitors in the market like ASUS ZenWiFi AX XT8 are considered as much more capable with a wide range of strength.
This WiFi system is very expensive in the market at more than $200 price even though the features presented by Amazon's Eero mesh WiFi system are quite limited in comparison to other WiFi router meshed systems available in the market.
These were the only loopholes that were found in the Eero WiFi system. Ahead, let's find the pros and cons of this WiFi meshed system.
Pros and Cons of Amazon Eero Pro 6
The table below illustrates the various strengths and weaknesses that have been found in the functioning of Amazon's Eero Pro 6 system. This brief will help you find out if Amazon Eero 6 is a worthy smart device or not.
Wide connectivity range
Parental control system
Anti-Malware tools
Both Android and iOS-compatible applications
Easy installation
User-friendly Eero Pro 6 application
Zigbee feature for supporting a smart home hub
Highly expensive even after having limited features in comparison to competitors
Do not contain Z-wave support
Unable to separate radio bands
Next, let's move to the price and availability of the Eero Pro 6 system in the market currently.
Price and Availability: Amazon Eero Pro 6
Amazon's Eero Pro 6 system is scarcely available in the market currently. It is available in the market with varying prices from $299 to $399. The user can look into various retailing sites like Amazon, Walmart, and BestBuy to get this excellent WiFi solution. Whereas to get a cheaper deal in Eero Pro 6 users must look into Walmart, which saves straight $95 from the user's pocket.
The other competitors in the market like ASUS ZenWiFi AX XT8 and TP-LinkDeco X60AX3000 Whole Meshed WiFi system, are $100 more expensive than Eero Pro 6 but have more user-friendly features.
Competitors of Amazon Eero Pro 6 in The Market
The market has kept several challenges ahead for Amazon Pro 6 with products that are more efficient and demanding. Let's get to know some of these products and find out how they compete.
TP-Link Deco M5 WiFi System: It has got a stylish finish and outstanding features that turn it into a big competitor of Amazon Pro 6. First of all, it is $110 cheaper than Eero Pro 6 meanwhile also helping you turn the lights ON/OFF through its in-built application. Whereas it also detects the user whenever a new device is detected within anti-malware and parental control tools.
ASUS Zen WiFiAX: Being rather $120 more expensive than Eero Pro 6, the Asus WiFi system has nevertheless got some beating features against it. With WiFi-6 technology Asus has got the latest 802.11ax hardware. It also has USB connectivity and has been reported with a wide range of network support than Eero Pro 6.
Netgear XRM Nighthawk Pro gaming WiFi System: This is a powerful gaming router with superior range performance to facilitate the smooth gaming performance of users. The drawback of this wireless system is its bigger size configuration and inability to parental controls.
Our Verdict: Should You Buy Amazon Eero Pro 6?
Amazon Eero 6 gets comfortable with any space and has an easy installation process that is held with the help of its Eero Pro 6 application. With robust features, this WiFi mesh system has got commendable range strength but has still got competitors in the market, like the TP-LinkDeco X60AX3000 Whole Meshed WiFi system and ASUS ZenWiFi AX XT8, with more pleasing features.
The anti-malware tool and parental control system in it are not free, whereas its build is bigger than the previous Eero model, taking many corner spaces. This Wifi mesh system has got various reasons not to choose it as the wide room WiFi companion.
Closing Thoughts
In the article, Amazon Pro 6 was found to be rather a smart WiFi tri-band router with easy installation and management rates. It has got several amazing features but is a little more expensive than various same-functioning models in the market. The review of Amazon Pro 6 was done by with assisting the specification table, pros & cons, comparison with competitors, and discussing the loopholes.
FAQ
Is Amazon Eero 6 any good?

Yes, this tri-band mesh WiFi system allows the cover of a vast range of up to 6,000 square feet through its router and assisting nodes. It has also got a Zigbee feature to help in a smart home hub.
What does Eero Pro 6 do?

Eero Pro 6 brings vast WiFi connectivity through its tri-band mesh system. With easy installation, one can get connected to a highly efficient, less hindrance-based safe network protected through anti-malware and parental control features.
What's the difference between Eero Pro and Eero Pro 6?

The Amazon's Eero Pro is a dual-band mesh system, whereas the Eero Pro 6 is a tri- band mesh WiFi system. The latter system supports a 4,200Mbps speed, with a wide range of 5GHz.
Does Eero use a lot of electricity?

Eero uses about 5-7W when in use; while being idle, it charges up to 3-4 W of electricity.
Does Eero improve WiFi?

Eero helps in providing strong networks throughout the wide spaces, with zero hindrance. With a wide range of connectivity, users also get a good range of speed to cover their daily needs.
---