In this technology-laden world, things move at a faster pace. This transformation makes people smarter and enables them to explore several avenues in the IT sector.
They may now enjoy and experience mind-blowing features in every industry, from smartphones to luxurious cars. Now we see the same shift in the monitors' industry.
Hence smart people require smart monitors -portable monitors that won't weigh them down while they're on the go.
Now we have fetched a detailed review of the Mobile Pixels DUEX Max portable monitor.
What are Mobile Pixels?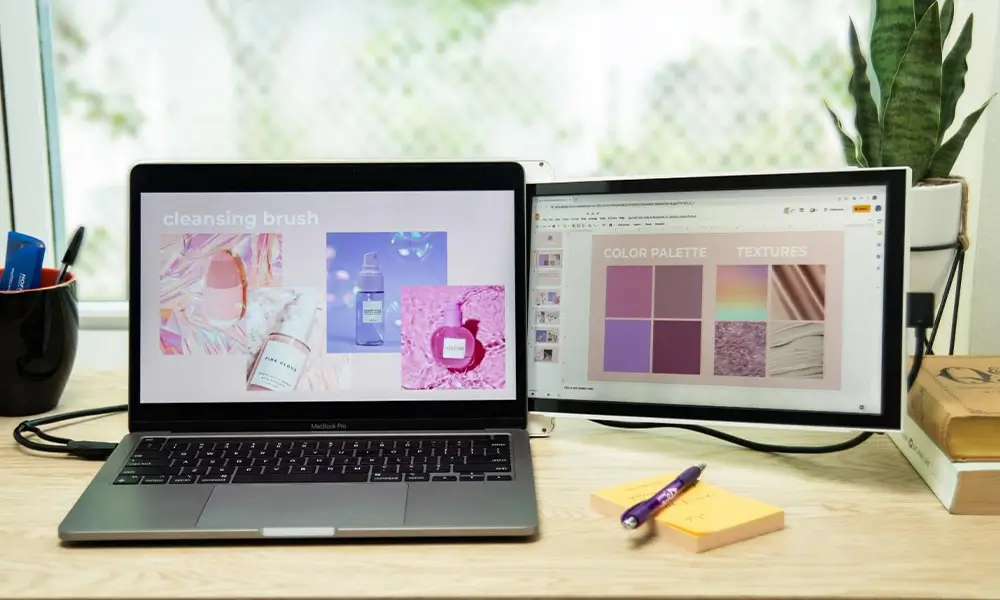 It's a trusted name in the industry, and its portable displays are top-notch.
On the other hand, the Mobile Pixels DUEX max Portable Monitor has 4.5 stars from customers.
In my opinion, a high rating is what really distinguishes this lightweight, dual-screen laptop as outstanding.
Its positive points overshadow the negative aspects.
Let's throw a glance at its features:
The Screen Size, A Huge 14.1 Inches
DUEX Max has a bigger 14.1-inch full-HD display that you can slide to either side of your laptop for convenient viewing.
Everything you view will be crystal clear thanks to the exact 1080p resolution and 85% screen-to-body ratio.
The screen is a massive 14.1 inches; that's enough space to make out even the most minor details.
This is extremely useful for audio workstations since each pixel represents a different rhythm.
The DUEX Max's 1080P ultra-high definition (UHD) display is the second most significant reason to purchase it.
It allows you to see every shade and color in its entire range.
Photoshop professionals, editors, and designers may benefit from this monitor style to the optimum level.
The impressive sleek design of this portable dual-screen laptop impresses all.
This monitor has just 1.8 pounds, but it will feel much lighter due to its small shape and lightweight.
The device's primary benefit is that you may take it anywhere in the world, making the Mobile Pixels DUEX Max an excellent choice for the traveling professional.
Portable Monitor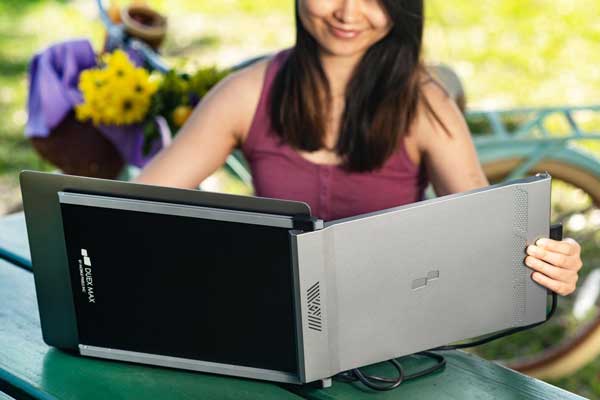 It's crucial to think about while shopping for a portable dual-screen laptop.
As the most portable alternative, the Mobile Pixels DUEX Max is hard to beat.
With the included bag, you can take it with you wherever.
It's versatile enough to serve as a primary or secondary source of entertainment, whether you're watching a film for business, school, or pleasure.
The nicest thing is how quickly and easily you can set it up for usage.
Plug and Play
The DUEX Max comes up with a lightweight, portable dual-screen laptop with an easy plug-and-play setup.
A USB cable will allow you to hook it up to your computer, smartphone, or gaming console.
You can get this monitor up and running in about a minute.
Simply connecting it to an available USB port is all required to get it up and running.
We believe this function will entice you to purchase it for your next venture.
Auto-rotation (Use It Left or Right)
What makes it more impressive is the ability of portable displays to rotate automatically. This feature makes this portable monitor dominant among all the other portable monitors in the market.
DUEX Max still has auto-rotation, so you can utilize it in landscape mode, portrait mode, presentation mode, eye care mode, or kickstand mode—ideal for any situation.
You may use the DUEX Max as an external monitor in the same way that other portable displays can.
This monitor, however, has an integral battery, which is a major plus.
So, it's possible to utilize it independently of a power supply.
Multi-Signal and Blue-light Filtering Technology
Featuring cutting-edge hybrid-signal technology, the DUEX Max is compatible with both analog and digital gadgets.
The Mobile Pixels DUEX Max Portable Monitor gives you the flexibility of two screens wherever you go, allowing you to work more efficiently.
The blue light filter on the screen reduces exposure to potentially damaging blue light.
Displaying in Portrait and Presentation Formats
The DUEX Max is the most amazing portable monitor available, making it ideal for use in presentations.
It has a portrait orientation that makes presentations seem more polished.
Furthermore, we recommend portrait mode using social networking sites such as Instagram or Facebook.
Eye Comfort
Get the most out of your secondary screen by adjusting the brightness and color temperature to your liking.
Read, type, and engage in other low-light activities without straining your eyes.
Thanks to their vivid gaming display, there's no need to worry about getting headaches during marathon gaming sessions.
Easily Carried and Long-lasting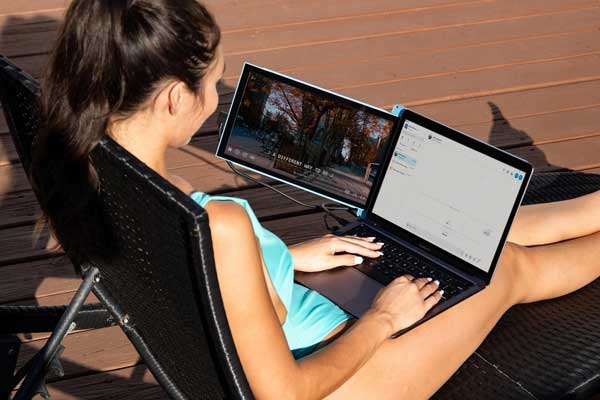 DUEX Max is 23% lighter and provides genuine mobility thanks to its use of the strongest materials while weighing just 1.8 pounds.
Besides being environmentally friendly, it saves power and extends the life of your laptop's battery.
To top it all off, they made DUEX Max from durable materials like ABS and aluminum so that it can resist the rigors of being a laptop bag.
Compatibility
You may connect it to any computer or mobile device with USB-C or USB-A ports, including a Nintendo Switch and some Android phones.
A wide variety of software and hardware can work with this laptop.
It is compatible with Mac and Windows computers because of its thoughtful design.
Use it to surf the web, view videos, or play games.
The coolest thing is that you can use it with your Android phone or Nintendo Switch.
Simple USB-C or USB-A connectivity facilitates rapid pairing.
You may use it for various tasks because of its adaptability.
Also Read: Heart Monitor Watches: Suunto T3c Review
FAQs:
Can you use Mobile Pixels DUEX Max monitor in Windows 10?
With Windows 10, you can add a monitor and have it serve as another display simply by plugging it in.
Computer display settings allow for the management of additional displays.
You may use the DUEX monitor as a second display by being plugged into a computer (for that, you need additional driver software if the DUEX does not detect the driver automatically).
What size laptop (inches) can DUEX support?
Every laptop screen size may use the DUEX.
However, the DUEX won't work with laptops 14 inches or below in screen size, so you'll need to buy a separate kickstand for them.
To have two displays, how many portable monitors would you require?
You'll need only one DUEX screen.
One screen would be the DUEX, while the other would be the computer.
Can you use DUEX monitors to divide a single display into two?
Once the DUEX is connected and functioning as an extra monitor, you may adjust your computer's display settings to enable split screen mode.
Do you notice a performance hit with a second screen?
Unless you're doing graphically heavy work (like gaming, streaming, or video editing) on many screens at once, the answer is no.
Takeaways
If you need a portable dual-screen laptop, go no further than the Mobile Pixels DUEX Max.
This lightweight, portable monitor is easy to transport.
It comes with many tools that will help you get things done conveniently.
---