Winter season is the perfect time to invest in an electric scooter. Not only do they offer hassle-free transportation, but they also allow you to save on daily commute costs while bringing immense joy.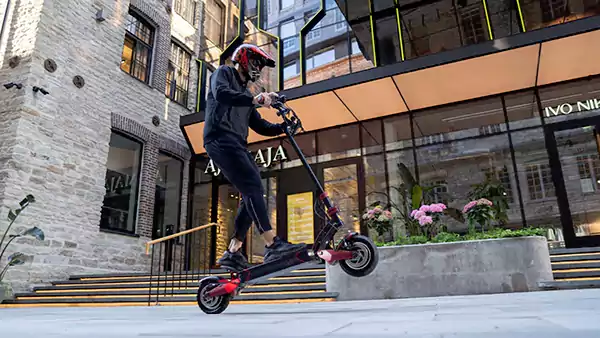 Did you know that dual motor electric scooters are ideal for heavier adults? With these kinds of scooters, your ride will be more secure and comfortable.
Dual motor electric scooters offer more powerful motors and a higher weight capacity than their single-motor counterparts, making them ideal for heavier adults.
In this guide, we'll discuss why heavy adults should consider dual-motor electric scooters this winter and provide an overview of the features they should look for when shopping around.
Get ready to experience the joys of e scooter for adults and see your city in a new light.
What is a Dual Motor Electric Scooter?
Dual-motor electric scooters are the ideal choice for heavier adults, as they offer speed and power and deliver superior torque compared to single-motor scooters. This provides a smoother ride with added stability while quickly going up hills or turning corners. With dual motors, you can be sure that your journey will remain safe and comfortable no matter what terrain comes your way.
The two independent motors of dual-motor electric scooters boost their stability and translate to remarkable maneuverability on off-road terrain. This makes them an optimal choice for those who are heavier and need a reliable means of transportation that is both swift and secure.
Dual motor electric scooters are the way to go when it comes to winter riding. With two independent motors, you'll have much better control and stability on slippery, icy surfaces than single-motored models; that means increased safety while gliding through snow and ice with minimal slipping or sliding around.
Varla's Eagle One and Eagle One Pro models provide the perfect solution for heavier riders and those looking to enjoy electric scooters for adults in hostile winter conditions. Both models are equipped with two powerful dual motors, a durable battery pack, front and rear suspension, off-road tires, and an impressive weight capacity – all of which combine to create a highly reliable ride regardless of terrain or weather.
Things to Consider When Buying an Electric Scooter For Heavy Adults
For heavy adults looking to buy an electric scooter, there are a few essential things you should consider:
Weight Capacity
Most e-scooters for adults have a maximum weight capacity, and it's essential to ensure your chosen model can support your weight. Consider going for higher-capacity models if you're heavier than 160 lbs.
Output Power
The peak output power will tell you how well the best electric scooter will perform when navigating up hills and other inclines. Particularly if the rider is of a heavier weight output power is important for better performance.
Top Speeds and Range
Always check with the manufacturer on realistic top speeds and maximum range for heavier riders – as advertised figures may not apply in this instance.
Brakes
Look for dual braking systems, as they offer better performance. Hydraulic brakes are best for high-speed fastest electric scooters, but the disc and drum brakes are also popular.
Suspension
For more significant adults, the suspension is essential to improve ride quality and comfort. Pneumatic tires offer more breaks and are an excellent choice for heavier riders paired with other suspension features.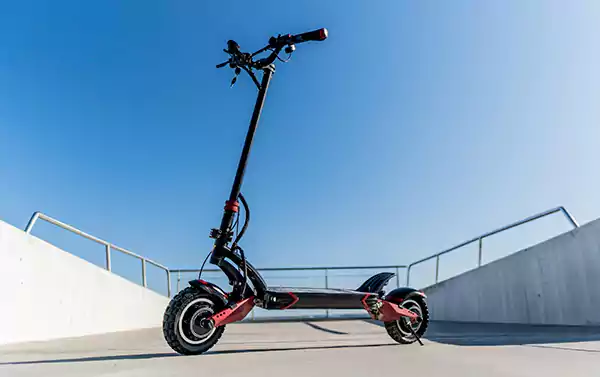 Strong Frame Materials
Metal or aluminum frames offer more significant support, stability, and durability. The sturdier the frame material, the better it can handle a higher weight. Aluminum frames are lighter and less expensive than steel frames, making them a good choice for those on a tight budget. Some aluminum frames are just as strong as steel frames, but it's important to carefully check the specification of the structure to ensure it has been made from quality aluminum.
The above features are essential for heavier adults when buying an electric scooter for adults. The weight capacity needs to be high enough to support your weight, and the output power must handle inclines easily.
Higher top speeds and range will allow you to get where you need to go faster, while dual braking systems provide safety. A robust frame material is necessary for added stability and comfort, while suspension ensures a smoother ride. These features are essential for heavy adults who want to ride safely and comfortably.
Safe Riding on Electric Scooter in Winter
Cold weather can make riding an electric scooter for adults a treacherous journey. Still, with the right combination of safety tips and winter accessories, you can remain in control no matter what the weather has in store.
Riding electric scooters during winter months requires extra safety precautions. Wear appropriate clothing such as windproof and waterproof outer layers, gloves, a face mask, and a neck warmer to keep your extremities warm while controlling the motor scooter.
Choose a high-quality helmet with thermal protection padding, ventilation, and an anti-fog visor for more protection.
Maintain the battery by not charging it when cold and bringing it indoors after riding. Cleaning your best electric scooter will help prevent corrosion due to the mud, slush, and snow you may encounter on the roads.
Finally, it is essential to follow a safe and steady riding style. This means avoiding any sudden or jerky movements while controlling the fastest electric scooter and paying attention to cars and people on the road. 
Why Varla Eagle One & Varla Eagle One Pro are Good Choices for Winter Riding
The Varla Eagle One electric scooter and Varla Eagle One Pro electric scooter are excellent choices for winter riding, as they both come equipped with powerful motors, solid frames, and long-lasting batteries.
The Varla Eagle One 40 mph electric scooter has two 1000W motors that provide enough power to tackle any terrain, while the beefier Varla Eagle One Pro all-terrain electric scooter is also equipped with a powerful 1000W dual motor and slightly bigger 27 Ah 60V Lithium-ion battery that can handle even the most challenging roads.
Both motor scooters feature dual suspension for better shock absorption and stability and front and rear brakes for quick stops.
Features that make the Varla Eagle One ideal for winter riding
The Varla Eagle One 40 mph electric scooter is perfect for winter riding, thanks to its
Powerful dual hub motors with 1000W x 2 of power
Strong 6061 aluminum alloy frame
It has a long-range lithium-ion battery with 52V / 18.2Ah capacity that can reach up to 40 miles per charge.
It's equipped with 10-inch x 3-inch pneumatic tires for extra stability in slippery winter conditions.
The independent front and rear suspension also absorb shocks from bumps and uneven surfaces, making your ride as comfortable as possible, even in cold weather.
With Varla Eagle One, you get all the power you need for winter rides and safety and comfort. So go ahead and enjoy winter riding on your Varla Eagle One electric – it's the perfect choice for safe and enjoyable winter rides!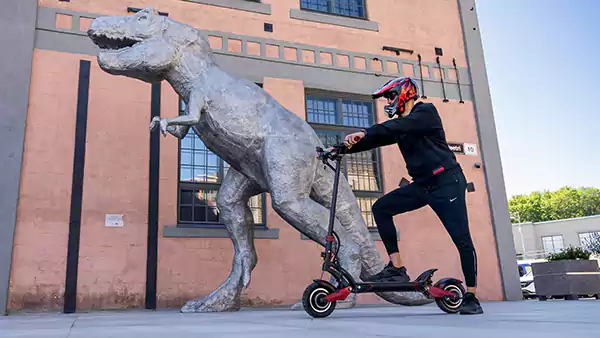 Features that make the Varla Eagle One Pro ideal for winter riding
The Varla Eagle One Pro electronic scooter is the perfect combination of potent performance and winter-ready features:
Its dual 1000W hub motors provide a peak power output of up to 2600W.
The sturdy 6061 aluminum alloy frame and long-lasting 1620Wh battery with an impressive 45 miles of range give you the power and stability to conquer winter roads.
The 11-inch air tubeless tires feature a grooved surface for superior traction in icy conditions.
Dual shock absorption and independent suspension work together to reduce impact and smooth your ride.
You'll also benefit from the 10W headlight that helps you see clearly in the dark, and the rear red light will let other vehicles know your position when you pull the brake.
With all these features, you can rest assured that the Varla Eagle One Pro electronic scooter will get you safely through winter riding conditions.
Conclusion
Dual motor electric scooters are perfect for heavier adults in winter, as their two independent motors provide increased stability, power, and torque, enabling them to easily handle snow or icy conditions.
Varla's electronic scooter models – the Eagle One and the Eagle One Pro – feature dual motors, a powerful battery pack, and front and rear suspension, making them perfect for heavier riders and winter weather.
Investing in a dual-motor electronic scooter is a great way to get around this winter while having fun and saving money on your commute.
---