The Amazon Fire TV Stick is a versatile streaming device that plugs right into your television's HDMI port. With its help, you can enjoy Netflix, Hulu, and many other streaming apps on your big screen. Setting up this streaming device is super easy — just plug it into your device and a power source, connect to the internet, and you're set!
The Amazon Fire TV Stick (the Firestick) looks similar to a USB flash drive, fits into your ordinary televisions HDMI port, and turns most televisions into a 'smart' TV to watch HD and 4K small screen shows from Hulu and Netflix on your 'dumb' box. Then, link your other Amazon smart devices together without the cost of a brand-new TV!
So, close your laptop and power down your clunky desktop. Here's everything you need to know about the Firestick, including how to set one up, add personalized apps, and make sure you connect safely to prevent eavesdroppers from spoiling your fun.
What Can You Do with an Amazon Fire Stick?
The Amazon Firestick is a streaming device for bringing the contents of streaming platforms to your television. It also has a few extra functions to get the best entertainment to the big screen.
The device has a Bluetooth-connected remote control unit with a built-in microphone. That's for the Alexa Voice Remote, which allows you to control your TV and soundbar with your voice, search for shows, and launch them with a voice command. And you can command all your Alexa-connected products just as if you were talking to your Echo. You can connect your Ring doorbell, Ecobee thermostat, Philips Hue lights, and other Alexa-enabled gadgets.
You can watch the weather, play games (with a special gadget), check your data consumption, and select higher or lower viewing quality to manage data use while binge-watching your favorite series.
The below graph shows the frequency of Amazon Fire TV usage, based on the survey conducted in 2018 in the United States.
Some features of the Amazon Firestick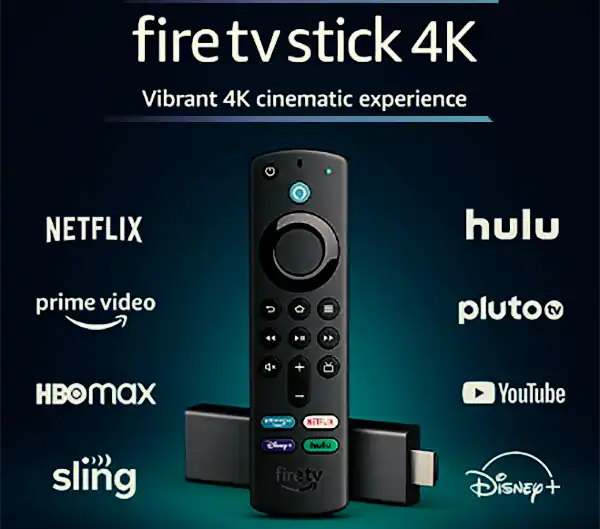 You can access thousands of apps and channels like Netflix, Disney+, Hulu, and BBC iPlayer. You can also access Spotify, Prime Video, YouTube, Pandora, and thousands more. Remember that you'll still need a subscription for some channels without free access.
● If you don't mind a few ads, you can watch more than 200,000 free movies and television episodes from ad-supported streaming apps like PlutoTV, Freevee, or Tubi.
● The Guide button makes it super-easy to see what's available on live TV, news, and sports. You may need a subscription to channels like SLING TV or YouTube.
● Use the preset buttons to quickly get you to your favorite apps with just a click.
● Are you into big sounds? The Firestick supports Dolby Atmos audio on certain titles. Connect your home audio system and blast away!
● No need to get up from the couch to check the weather or play games: the Alexa connection allows you to control your smart home devices.
Do You Know: Fire TV is the most popular streaming device in Japan, Germany, India, the United States, and the United Kingdom.
What's the Difference Between a Firestick and a Fire TV?
"Fire TV" is Amazon's name for all their streaming devices. There are four different versions of the Firestick, each with slightly different features and different price tags. But remember, you can always find discounts and deals if you do a little research!
This streaming device is the basic model. It lets you stream all your favorite apps in HD. Cost from $29
It also streams in HD, but the remote that comes with it can't be used to change the volume or turn your television on and off. Cost from $39
The Fire TV Stick 4K lets you stream in 4K resolution and offers Dolby Atmos. You'll need a 4K-capable television and an appropriate sound system for this. Cost from $49
The Fire Small Screen Stick 4K Max also streams in 4K, but it's the best solution for avid gamers because it supports Wi-Fi 6. Cost from $59
Gamers may also be interested in Amazon's Fire television Cube. The Cube is a 4K streaming device that can connect to the internet with an ethernet cable. That makes it a fantastic solution if you want to place your 4K screen somewhere where your Wi-Fi signal is not strong enough.
How to Set up an Amazon Fire TV Stick
Setting up an Amazon Firestick takes just a few minutes.
Plug the Firestick into its power adapter. Next, plug the stick into your television's HDMI video input. Turn it on. Check if it's correctly set up for HDMI input.
Use the remote control to start navigating through the welcome and setup instructions on the screen. If you don't have one, use your television remote or the phone app to set up Wi-Fi.
Go to Settings in the main menu >> Network >> Enter your Wi-Fi password. >> Connect. If your VPN offers an app for the Amazon Fire, you can download it directly onto your Firestick
Next, log into your Amazon account. After that, you just need to select the correct app and log into any streaming channels you use (like Netflix, Disney+, Hulu, and so on).
How to Add Apps to Your Amazon Firestick
One of Firestick's most versatile features is that it runs on the Android platform, which opens new opportunities for a personalized entertainment center. Since Firestick arrives with many preinstalled apps, you must connect and activate each app. But the possibilities are endless.
Wondering how to jailbreak a Firestick? Want to play your favorite games? You can transfer Android apps from your mobile device to your Fire TV Stick using the Apps2Fire app. You can also use Downloader or AppStarter.
This app will also work if your VPN has an Android app but not a dedicated Fire app. But the easiest way to connect via VPN is to install the VPN on your router and connect your streaming device to the same network. You can even get apps to turn your mobile into a keyboard.
Conclusion
If you want the functionality of a smart television without the price tag, Amazon FireStick is for you. Stop streaming on your phone and computer and move to the TV. But one of its best features is that you can take it with you when you travel and plug it in to gain instant access to all of your favorite videos.
---