The Amazon Firestick is a fantastic gadget that makes it simple to stream content and watch Live TV from any streaming platform directly to your TV. The Amazon Fire TV app store and Amazon's Luna game streaming service both include a big selection of games too. This article will assist you, nevertheless, if your Firestick stops working properly.
Imagine! You think about binge-watching your preferred TV show. But your FireStick won't turn on, and you are unable to get it to respond. It's an extremely annoying situation. Isn't it?
There is no doubt that Amazon Fire Stick is an awesome gadget, but like all gadgets, it occasionally has problems. The good news is that you can typically attempt a few things to get back on track and start viewing your preferred television series or movies right away.
So that you can quickly get your Fire TV Stick back in working order, let's look at some fixes for common issues.
Why is My Firestick Not Working?
There are a number of potential causes for your Firestick not working issue, from a bad WiFi connection to a software issue. In most cases, restarting the device and WiFi router can often be helpful.
Power problems can also prevent a Fire Stick from turning on or functioning, albeit these are less typical causes than choosing the wrong HDMI input or improperly turning on the TV. All of the typical Amazon Firestick problems today, such as black screen issues, signal problems, and media loading issues, have a number of fixes. We will look into the detailed solutions on how to fix possible setbacks with your Fire Stick in the next section.
How to Fix A Firestick When It Is Not Working?
Before contacting a specialist to help you with your Amazon Fire TV Stick, you can attempt a number of DIY solutions.
You can either go try the ways given below step-by-step in the order we've attempted to list them, from the easiest to the most complex, or you can go right to the method you believe is best for your problem.
The following options can help you resolve your problem quickly.
Let's get going.
Solution 1: Make sure the Firestick has been Configured Correctly
First things first, double-check that the Amazon Fire TV Stick is configured correctly. Your device might initially function flawlessly, but over time the connections or cords may weaken, rendering the device unresponsive. You can try a different HDMI cable if the Fire TV Stick is still unresponsive despite connection adjustments.
To connect the device to a power strip or wall outlet, it is recommended to use the Amazon Power Adapter, but you must ensure that it is securely connected. It is advised against using the spare USB port on the TV for power as the gadget may work up, reboot itself, or cause other problems.
Solution 2: Restart the Amazon Fire TV Stick
The device is made to always be able to be plugged in and connected. However, the time-tested fix of simply restarting your device is harmless.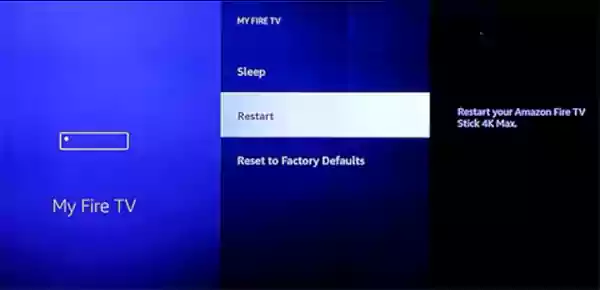 The connection problems or failed updates may only be resolved by the occasional restart. Three methods that work well to restart the Amazon Fire Stick are described below:
Restart your Fire TV by going to Settings, then My Fire TV. Click OK to confirm after that. Before rebooting, it is preferable to shut down all running programs.
Long pressing the Play/Pause button on the remote control for a few seconds is necessary if the device stalls while operating and you are unable to access Settings. Before any confirmation, this would restart the Fire TV Stick right away.
The power supply can be disconnected and then reattached as a final resort if the previous option doesn't work. The Amazon Fire TV Stick will be forced to restart as a result.
Keep in mind that rebooting the device during an update could corrupt the files and cause additional issues.
If you have done everything indicated above and are still facing the firestick not working problems, try the next solution.
Solution 3: Check The Devices' Internet Connection
The internet connection may be to blame if the problem is laggy video, buffering, or the absence of the default interface. Yes, the problem may be with the smart device, but the internet network is to blame. The following methods make it simple to check a device's internet connection.
Click the Network button under Settings.
Verify that the WiFi is functioning properly, and if it is connected, check the signal strength. You will notice a difference in the video quality if your network is unstable.
The issue can be resolved with a quick trick, try moving the router and Fire TV Stick closer to one another.
You can simply restart the router to see if the issue is resolved or if the issue still exists.
Solution 4: Check the Remote's Batteries.
Although it may be the simplest, quickest, and easiest solution, people frequently forget about it. It's possible that your Amazon Fire TV Stick is in perfect working order and that the only issue with the gadget is a set of dead batteries.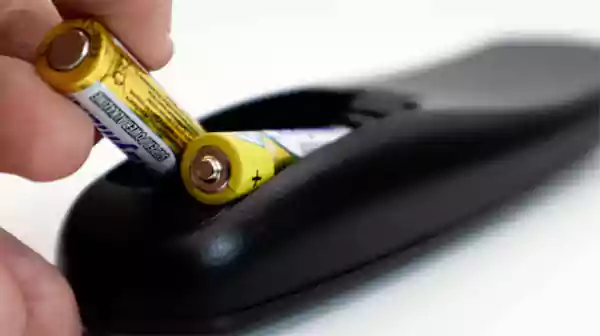 There is no indication as to when the batteries need to be changed, so if you can't remember when you last changed them, try a fresh set to see if that is the issue.
Hot Tip : Keep a spare pair of batteries on hand at all times because the Fire TV Stick's batteries tend to drain more quickly than you would think.
Solution 5: Install Every Update for Your Firestick
Not every Fire Stick issue is specific to your model. The performance of the software may be impacted by defects in it. Make sure the software on your device is current to avoid this.
You should always keep your Fire TV Stick plugged in and connected, according to Amazon. This makes it possible for upgrades to take place in the background without running the risk of unplugging the stick in the middle of one.
Updates should occur automatically, but if you need to, you can check to see if any updates are available and start the process manually. Navigate to Settings, My Fire TV, and About. To begin, click Check for Updates.
Solution 6: Reset all of the Amazon Fire TV Stick's Apps
On the Fire TV Stick, almost all wonderful applications are available for download. However, occasionally you can find that the apps continually crash or stop functioning altogether. We have three solutions listed, you can give them all a try.
You must make sure that all the apps are updated to the most recent version for this one. The apps should automatically update thanks to the integrated Amazon software, but you can also do it manually. Go to Settings, followed by Applications, and then Manage Installed Applications to do that. If you see an update, click on the problematic app and install it.
Try resetting the application if the first method doesn't work. To do this, simply choose the app that needs fixing and select Clear Cache. Since the application's data may also be the cause of the problems, it deletes all connected data and files.
Go to the menu and select Clear Data if neither of the aforementioned fixes works. The app will be fully reset as a result, and the login process must be started from scratch.
Solution 7: Check The Connections and HDMI Cables
It's possible that the Amazon Fire Stick is not working correctly and your device has a blank screen because it is not connected to the HDMI port. You must correctly connect the device and check the connection.
Try connecting the device directly to the TV instead of using an adaptor if you are currently doing so. Since most televisions have more than one HDMI port, it's possible that you're connecting to a broken one. Connect to a different HDMI port and try the process once more.
Solution 8: Try a Different HDMI port or TV
You can just connect to another TV to see if the issue is with the Amazon Fire TV Stick, the TV, or the HDMI connector. Only FireSticks and not Fire TVs are eligible for this troubleshooting technique. If you don't have a spare TV, you might try connecting to one of your TV's other HDMI ports. If the Fire TV Stick still malfunctions, there is an issue with the hardware.
Solution 9: Check The Fire TV Stick's Device Compatibility
Compatibility issues can occasionally contribute to the Fire TV Stick's malfunction, although this is not the device's fault. You can consult the Amazon Fire TV Stick's user manual or get in touch with Amazon Support to verify the device's compatibility.
Solution 10: Clear the Cache Of The Fire TV Stick
Cleaning the cache on the Amazon Fire TV Stick can help if you frequently have app crashes, stuttering, buffering, and streaming problems. The Fire TV Stick stores the cache for the apps to install and run without any issues. However, the cache occasionally causes a device to bloat. It can cause the Fire Stick to slow down or malfunction. You can clear the cache by doing the following actions.
Step 1: To access settings, click on the Home Screen.
Step 2: Look for the Applications option, then select it.
Step 3: Choose "Manage Installed Applications".
Step 4: Select the Clear Cache button in each app.
For optimal performance, it is best to restart the Amazon Fire TV Stick after clearing the cache of every application.
Solution 11: Watch Out For VPN Issues
The Amazon Fire TV Stick can be linked to a VPN. You must confirm that the VPN is compatible with the Fire TV Stick before attempting to connect to it.
The Fire TV Stick won't work properly if you attempt to connect to any of the VPN services that Amazon has prohibited.
Final Words
One of the most popular items on the Amazon website is the Fire TV Stick, although using it can be problematic in several respects. FireSticks can have a variety of issues, including connectivity problems, poor audio, and remote control issues.
You are in the right place if your FireStick wasn't working. I addressed all of the typical FireStick problem causes and their fixes in this article. I'm hoping that one of these fixes took care of the issue preventing you from using your streaming device.
Enjoy streaming!
FAQ
hat if none of the solutions worked for me?

If none of the fixes for common FireStick issues worked for you after trying them all, you can contact Amazon's Firestick customer service for more experienced assistance. Even then, you might have to buy a new gadget, but at least you'll know there's nothing more you can do.
How do I fix my Fire Stick remote?

If your remote isn't working, first make sure the batteries are in working condition, and then try pairing it with your Fire Stick once more. Make sure there are no obstructions and that you are close enough to the TV. You can also operate a Fire Stick with the help of your smartphone.
Why does my FireStick turn on and Off by itself?

You must turn off HDMI-CEC if your Fire Stick starts up on its own and if your Fire Stick shuts off on its own, then there is probably a bug which is causing this issue. A different HDMI port or TV may work better. If the issue still persists, try restarting and resetting the device.
DO Firestick devices wear out?

They do, indeed. Your Firestick will ultimately start to wear out, just like any other device, which can cause further issues. The good news is that this frequently requires a lot of time. You should be able to use your Firestick for a number of years before wear and tear start to cause problems because it is a sturdy device.
HOW do I fix buffering on my Fire Stick?

To stop your favorite content from buffering, try to restart your device. If the problem still exists, your Wi-Fi signal needs to be improved.
HOW do I fix the sound delay on my Fire Stick?

Go to Settings > Display and Sounds > Audio > AV Sync Tuning if you observe a delay between the sound and the picture. To sync the video and audio output, adhere to the instructions provided on the screen.