Thinking about starting your own online business? Many people have been exploring their entrepreneurial side in recent times with the rise of remote work.
These days, there are all kinds of businesses that you can start online while operating entirely from home. This could be a side hustle and a way to supplement your income or even a new full-time job.
There are a number of perks to creating an online brand, but there are also challenges involved, and it is relevant that you treat it like opening a regular store.
With this in mind, here are a few tips for starting an online business that should help.
Make Sure There is Demand
First, you need to make sure that there is demand for your business idea. Many people like the idea of building an enterprise but will rush into the process without checking to see if their idea has the potential to succeed. You want to make sure that your idea is not too niche so that you can attract customers with ease from the start.
Carry Out Thorough Market Research
Following this, you also need to spend a lot of time conducting market research. Market research is a relevant stage when starting any kind of new company, as it gives you the knowledge required to build a successful company.
Market research helps you to learn about the industry, including who your target market is and who your competitors are. In this way, you will be able to create a brand that appeals to your target market while standing out from the competition.
It is also a good idea to extensively research the market leaders – there is a huge amount that you can learn from them that could help you hit the ground running and leapfrog your closest competitors.
The graph below shows how there has been a continuous shift from offline to online stores since 2020. The COVID pandemic has not stopped businesses but allowed them to grow online sales even more which will continue to see growth in the coming years.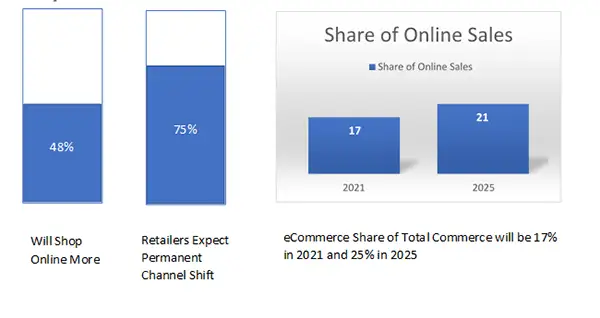 Write a Business Plan
You do not want to fall into the trap of thinking that you do not need to go through the process of writing a business plan because you are beginning an internet venture. It is not just a formality – it is a key document that allows you to outline your vision.
It also establishes the steps needed to achieve your goals and bring stakeholders on board. It can be tough if you have not written a business plan before, but there are handy guides and even templates that you can use online.
Secure Enough Funding
Following this, you may also need to secure funding for your online business. Costs are often much lower due to the fact that you can run the brand from your home. There are still likely to be various costs that need to be covered. There are a few different funding options available to you, including:
Bank loans
Angel investors
Venture capitalists
Loans from loved ones
Personal savings
Crowdfunding
Create a Dedicated Home Office
It is also necessary that you have a dedicated home office space. Being able to run a company from home can bring convenience to your life and keep your costs down.
You still need to have an area that allows you to work free from distractions. You need to choose a quiet area of the home that is spacious enough for your operation and create a comfortable home office with a high-quality office chair.
DO YOU KNOW?
Research by IBM says six in 10 consumers are willing to change their shopping habits from offline to online stores to reduce environmental impact. Nearly eight in 10 respondents indicate sustainability is important for them.
Stock Up on Supplies
Leading on from this, you should also stock up on office supplies so that you can be productive each day. You should know that you can make big savings on supplies like printer ink by shopping around online.
You can find award-winning suppliers that can supply your home-based business with ink and toner cartridges from the top brands at affordable prices. Having a reliable and affordable supplier is key so that you can always make sure that you have enough ink for your needs while also keeping your company's costs down.
Build a High-Quality Website
A good website is valuable for any kind of business these days, but particularly for an internet store. This is how you present your brand to the world, so it is vital that you have a high-quality website that is attractive to your target market, easy to navigate, and informative.
You need detailed information on the products/services that you provide, and it should be quick and easy for visitors to purchase from you/get in touch with you. You can build your own professional-looking website without any previous experience, but you could also hire a professional if you'd prefer.
Hire a Digital Marketing Agency
Leading on from this, you also need to develop a strong presence online for your company. As a brand that's established on the internet, you need to generate traffic to your website, but this is not easy in such a competitive arena.
Therefore, it is always worth using the services of an experienced digital marketing agency that is able to deliver results.
Digital marketing agencies can use their expertise to help you get noticed online with the use of methods like SEO, PPC, social media marketing, and email marketing. It is a smart idea to hire a digital marketing agency well in advance of your launch so that they have enough time to boost your visibility, which will allow you to start attracting customers from the start.
Keep Track of Finances
One of the key areas that you need to focus on before launching your business is keeping track of your company finances. You should always keep your business and personal finances separate, even if you are operating as a freelancer.
It is then a good idea to use accounting software or outsource to an accountant so that you can maintain accurate financial records from the beginning. This is the key in terms of managing the company and searching for ways to improve your bottom line, but also in terms of paying taxes.
Get Insured
You also need to have protection in place in the form of insurance from the beginning. Insurance can provide financial protection in the event of many different threats and hazards that your business faces. The type of insurance that you need depends on the type of products and services that you run, but a few common types for online businesses include:
General liability
Professional liability
Cyber liability
Business property
Business interruption
Protect Against Cybercrime
It is equally relevant that you know how to protect your business and home from cybercrime. Cybercrime is fast on the rise and can be a serious issue for home-based brands as both your personal and company data could be at risk from one attack. Therefore, you need to take cybersecurity seriously and develop robust protection. A few ways to do this include:
Installing high-quality antivirus software
Securing your home network
Using a VPN
Using a firewall
Backing up data externally
Using random and complex passwords
Using MFA
Learning how to spot common scams
If you are thinking about starting an internet venture, you should find the advice in this post to be useful. There are a number of perks to starting an online business, but you also need to be prepared for the challenges and make sure that you treat it like a proper business.
Hopefully, the advice in this post will help you manage a few of the common challenges and improve the chances of you hitting the ground running.
---