Have you also forgotten your Hulu account password? Do not worry, it is easy to recover, and you are not alone who just keeps forgetting its password! There are thousands of people on the internet searching 'forgot Hulu password' and there are even more people who are searching for ways to reset it.
'Forgot Password?' option, which is usually present in every login form, was introduced to assist people in getting into their accounts when they forgot the password to it. Nowadays, knowing that this option is present, people no longer bother to remember the password.
Have you ever noticed the irony in this whole situation?
Whatever it is, I also don't give my brain the ache of remembering the passwords. The same is the case with my Hulu account. Every time I log in to my Hulu account through its web app, I have to reset my password. 😅
However, changing the password of the Hulu account is a bit different. Hulu has its dedicated page for dealing with 'forgot password' issues. Don't you know about it? Read the below section to find out.
Have you Forgotten Your Hulu Password?
Nothing can be worse than forgetting the password of your favourite streaming platform. It's terrifying to admit that you will not be able to watch characters for whom you have developed so much liking, just because you have forgotten your account's password.
Tip: Use closed captions and subtitles to better connect with the characters of shows and movies.
Nevertheless, I have got you covered.
You just have to follow the steps listed below to recover your Hulu password:
First, you have to visit the Hulu Forgot Password page.
After reaching there, you will see a text box where you have to enter the email address using which you have signed up for Hulu.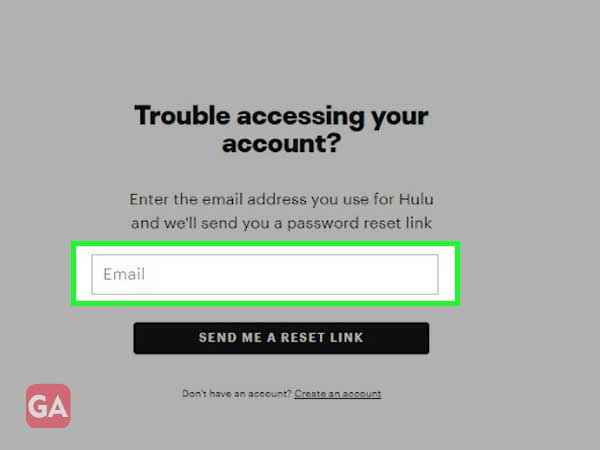 Then, click on the Send Me a Reset Link button.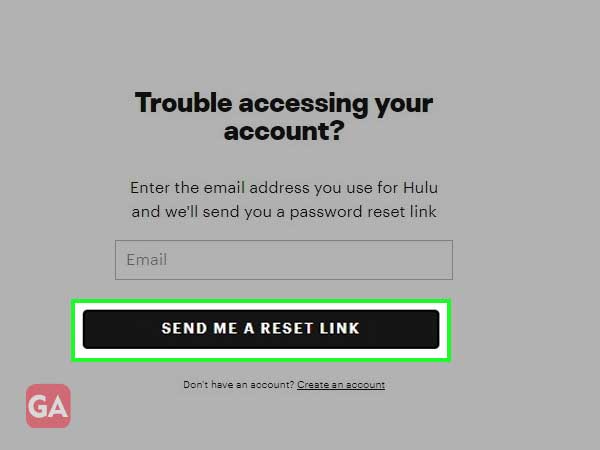 Thereafter, you will receive an email from Hulu that will contain the password reset link. You have to click on it.
Now, you will be directed to the screen where you will get to change your Hulu password to a new one. Enter your new password there.
Click on the Submit button.
A few things to keep in mind:
Hulu password recovery email may take up to 15 minutes to reach the designated email address. Therefore, be patient if you didn't receive it in the first few minutes.
The link for resetting the password in the recovery email remains active for only 3 hours. Therefore, if you don't change your Hulu password by then, you have to again go through the whole process, so, it's better to change it then and there.
However, if it's above 15 minutes and still there is no sign of that email, then check your spam or trash folder. If it is not there, then refer to the 'If the recovery mail is not received…' section below.
If the Recovery Email is Not Received…
The first thing is that you need to make sure that there are no typos in the email address you have entered. If the typos are there, then Hulu will not recognize the email address, and obviously, you are not going to get any email.
However, if you have correctly entered the email address and still haven't received the password recovery email from Hulu, then you can contact Hulu support. By visiting the link provided, you will be directed to their support page, where you will get their support number, and you can inform them that you have forgotten your Hulu account password and failed to recover it because you don't receive the password reset email. Then, the customer support executive will walk you through the further process.
If the Password Reset Link is Not Working…
Sometimes, it may happen that the link you received in the password recovery email from Hulu, does not work. It can be due to some simple network problem, or the link might be expired by the time you access it. Whatever be the reason, do not worry, Hulu suggests some simple troubleshooting methods that can resolve the issue, jotted down here are these:
Close the browser window, open it again, and now try to access the link.
Clear the browsing data or cookies and cache files from your browser.
Switch to a supported browser. Browsers in which Hulu works best are Google Chrome, Microsoft Edge, Mozilla Firefox and Safari.
However, if the Hulu password reset link still does not work, then go through the password recovery process again and get a new link.
How to Get Your Hulu Password Changed?
Sometimes, sharing your streaming platform, like Hulu, password with your friends can backfire on you. How? As you know, Hulu has a screen sharing limit, so if your Hulu account details are shared with a number of people and all decided to watch at the same time, then it can happen that you may not get to access the Hulu account which is yours because the maximum limit is already reached.
This usually happens when you share your Hulu password with your friends, and they share it with their friends.
It has often happened to me, and what I do is change the password of my Hulu account, and just go by saying 'I haven't redeemed my subscription plan' 😬. Mean or not, but I need my 'Me time' when I demand it.
So you can also get rid of the situation by changing your Hulu password through the below-mentioned method:
On Desktop
First, you have to visit the Hulu login page and log in to your account.
Then, select any of the account holders' profiles.
Click on the account holder's name visible in the top right corner of the screen.
From the menu that appears, select Account.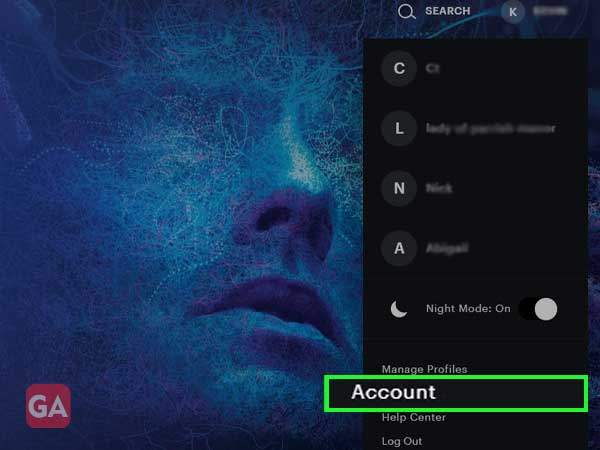 Thereafter, select the Change Password option present adjacent to Password.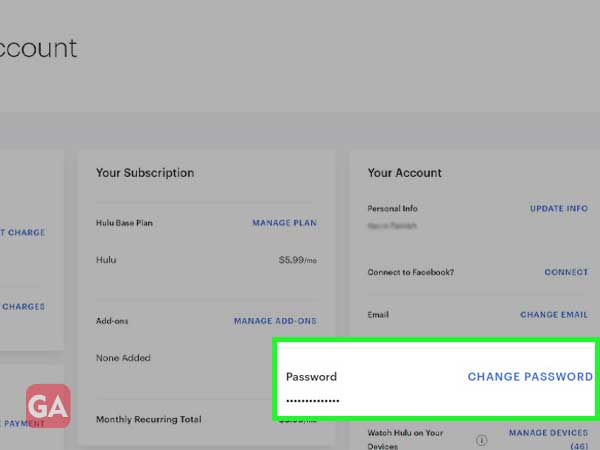 Next, you have to enter your Current Password, and then fill in your New Password in the designated field.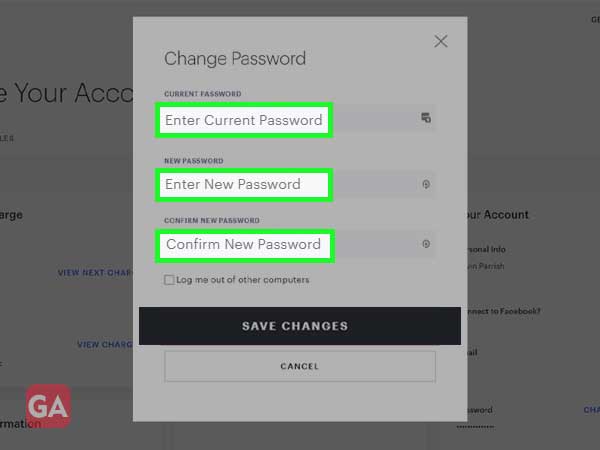 If you want to log out of other devices in which you are logged in, then simply select the 'Log me out of other computers' option.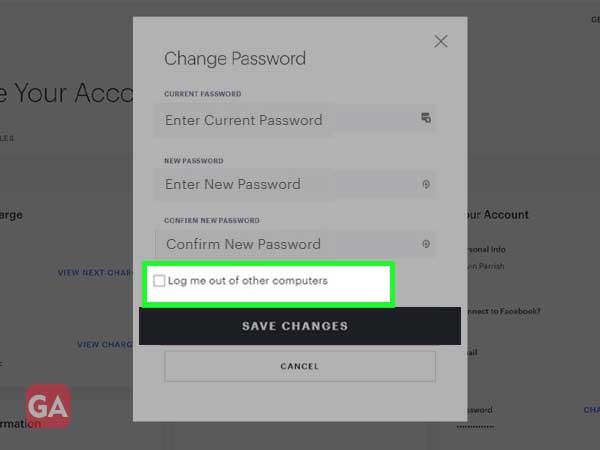 At last, click on the Save Changes button and your Hulu password will be changed.
On Android/iPhone App
Open the app on your phone and log in to your Hulu account.
Tap on any of the account holders' names.
Once you get inside the Hulu dashboard, select the Account option present in the bottom right corner of the screen.
From the menu that appears, select Account, again.
Thereafter, scroll through the options and tap on the Your Account section.
Then, select the Change Password option.
Fill in your Current Password and then, New Password.
At last, tap on the Save Changes button and your Hulu password will be changed.
Don't Remember the Email Address Linked to Your Hulu Account?
If you don't remember the email address that is linked to your Hulu account because it's been a while since you last used it, then you will not be able to reset your Hulu password if you have forgotten it. However, you do not have to worry, Hulu has found the solution to that too, you just have to follow the steps listed below to get your Hulu account recovered:
To begin with, you are required to go to the Hulu login page.
Inside the login form, you will see the 'Forgot your email or password?', click on it.
Thereafter, select the 'I don't remember my email address option.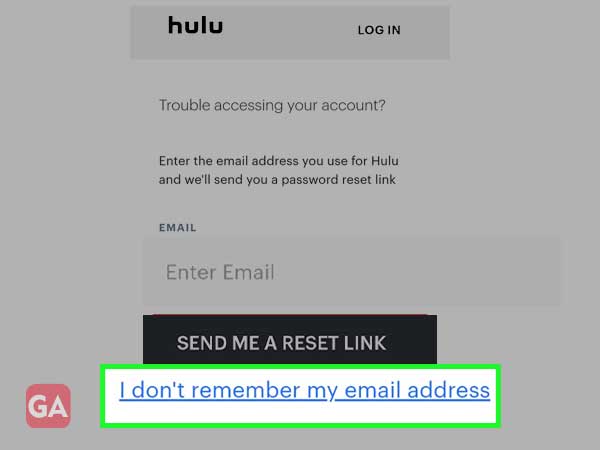 On the next screen, you will be required to enter some of the following information related to your account correctly:

Last four digits of your credit/debit card linked using which you paid for Hulu subscription.
The expiry date of the card
Billing zip code
Your year of birth
Click on the Continue button.
If you enter the information correctly, then you will be shown the email address that is linked to your Hulu account, using which you can recover your Hulu password and account as well.
FAQs
A1. Hulu password is not visible inside your account. If you go to the Password section inside your Account settings, then you will know that your Hulu password is hidden under asterisk symbols and cannot be seen or known. If you have forgotten it, then you have to change it by following the Forgot Hulu Password steps to know it. Refer to the 'Forgot Your Hulu Password? Here's what you need to do' section above.
A2. In order to get the email address associated with your Hulu account, you have to go through the process stated in the 'Don't remember the Email address linked to your Hulu account?' section of the above article. Also, there is no specific process or steps to know the Hulu password, as it remains hidden. You have to change it, to know it.