The evolution of the business-to-business e-commerce marketplace is reaching new heights.
The sale of goods and services through digital platforms between businesses has improved buying efficiency and effectiveness among wholesalers, manufacturers, distributors, and other B2B marketers. This forum provides a gathering place for corporations to connect, buy and sell merchandise, and grow their access among consumers from all over the globe.
So, we are going to analyze how online B2B marketplaces are impacting organizations and how the rise of these digital forums are changing the competition for traders. So, let's get started.
Impact of Online B2B Marketplaces
B2B e-commerce exercises have a great impact on the marketplace. Several benefits, like flexible time zones, greater transparency, etc. are the primary factors of it. So, we will discuss how this practice has impacted the way trades work.
Increased Access to Global Markets
The primary impact of online B2B marketplaces is that they have made businesses access global markets faster and easier. Earlier, these firms used to rely on trade shows, industry events, or personal connections to reach out to their target audience worldwide.
But now, businesses get connected easily with buyers and sellers around the globe with a few taps and clicks. This has not only helped companies reach out, but also helped in increasing revenue, decreasing dependency on a single market, and expanding sources of growth.
Though doing thorough market research and understanding the trends before entering a new field is still essential, it requires an organization to adapt to new cultures, regulations, and consumer demands.
Lower Transaction Costs
Lower business transaction costs are another significant factor of this online portal. Now, traders don't have to invest massive capital in marketing sales, and logistics to approach their new customers or to deliver their products or services.
Businesses can now leverage the platform's virtual infrastructure, logistics facilities, and customer base to reduce the costs of delivery. This place also provides companies with access to valuable information and insights about their targeted audience and marketing trends.
This info can be used to improvise the corporation's whole workaround, like the services or product features, price optimization, marketing, sales strategies, etc., meeting the buyer's needs.
Improved Efficiency and Speed
Since the utilization of B2B e-commerce increased, the speed and efficiency of commercial transactions have also been boosted. Companies now can find their ideal business partner digitally, negotiate contracts online, and close a deal in a few hours or days (according to their trade needs).
While traditional dealings could take several weeks or even months to identify, an ideal business partner is ideal. This platform gave firms access to the tools and technologies required to simplify their operations, automate their functioning, and cut down on the number of errors and delays they previously experienced.
E-signatures, online contracts, and digital payment systems are one of the few examples of how businesses can streamline their transactional process while reducing the amount of admin work at the same time.
Increased Competition
With greater benefits comes greater competition in the industry. While B2B e-commerce eases the business process for companies, the competition for them has also raised.
The start-ups and small-scale firms that used to struggle around large enterprises are now accessing the same global markets, consumer base, and marketing tools, giving them tough competition.
Now, the only way to be in a race in the B2B marketplace, businesses are required to serve unique assistance, offering valve propositions, superior consumer services, and innovative products and services.
It is also important for them to stay updated with the current marketing trends, mechanisms, and consumer demands to stay ahead.
Improved Trust and Transparency
The development of digital B2B marketplaces also resulted in a boost in the level of trust and acceptance of commercial transactions. While dealing through a digital marketplace, organizations can get assurance from the built-in trust and verification procedures of the forum to make sure they are connected to a real and credible partner.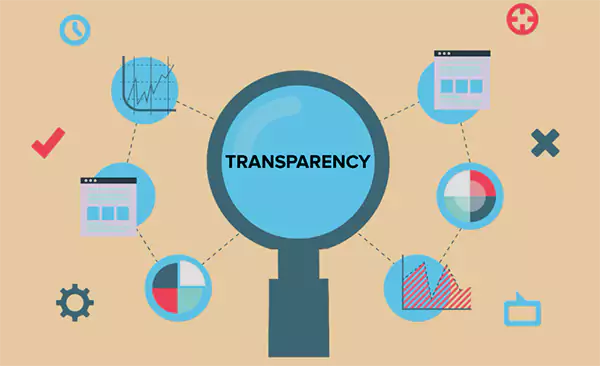 Unlike, the traditional way of marketing where to find a reliable partner or supplier, businesses needed to rely on personal sources or referrals from word of mouth from other customers and business associates.
Types of B2B E-Commerce
B2B e-trade falls into a few categories, let's take a brief look at all of them.
B2B2C – In this type of trade, there's no middleman, hence, the process follows as, business-to-business-to-consumer. For example, a wholesaler and manufacturer interact in a B2B model and sell their final product to the consumer.
Wholesale – When goods or services are bought in bulk and at lower prices and are directly sold to a consumer at the retail price, this form of marketing is called wholesale.
Manufacturer – The company manufactures finished goods for other manufacturers or wholesalers on a large scale, and is a part of manufacturer B2B marketing. For example, an engine manufacturing company produces engines for cars and sells them to the other car manufacturing company.
Distributors – Though the manufacturer can sell their end product to the customers directly, it takes an additional process of managing orders, packaging, delivering, etc. This is when distributors help manufacturers in selling those products after buying them.
These were the types of B2B trades that are adopted by businesses.
Conclusion
According to a study, most of the U.S.A.-based related professionals believe online B2B markets to be the most effective sales channel. With the business-to-consumer market already moving swiftly, the B2B e-commerce industry is not far behind.
---