If you've been wondering how to get verified on Instagram, you've come to the perfect place.
Verification on Instagram is the best form of validation for brands and social media creators. Getting that "blue tick" confirms your authenticity and offers you more control over your online presence by making sure only your profile is the one promoting your business.
Instagram verification is one of the elusive social media status symbols you can't buy, making it highly sought-after and incredibly valuable. While you can always increase your advertising budget to generate more leads, it is one of the status symbols that you can't buy on Instagram.
This article will explain how to apply for the Instagram blue badge (that's the simple part) and offer advice on how to meet the requirements (that's the tricky bit).
What Does Instagram Verification Mean?
By becoming verified, your profile is recognized by Instagram as "the authentic presence of the public person, celebrity, or worldwide brand it represents."
To avoid viewing a fake, unofficial, or fan account, look for Instagram accounts with a blue tick in their bio. This indicates that the account you are viewing is the official one for that brand or person.
Here is an illustration of an Instagram profile that displays the blue verified badge: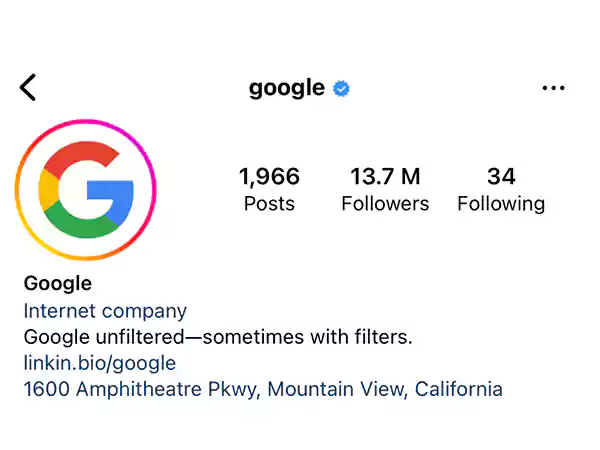 The verification badges on Instagram assist businesses and content providers to stand out, projecting credibility, and preventing impersonation. In addition, they assist Instagram users in locating the correct profile while looking for their preferred personality or business.
However, there are requirements that must be met in order to be eligible for Instagram verification.
Requirements to Apply For a Verified Badge on Instagram
On Instagram, a verified badge can be requested by anyone. But when it comes to who actually gets verified, Instagram is infamously selective (and in some ways mysterious). How do you determine if your account meets the requirements if it's on the verge of becoming "notable"?
It's not guaranteed that you'll obtain a blue checkmark on Instagram just because you have one on Twitter or Facebook, for instance. Only a small number of prominent personalities, celebrities, and corporations have verified badges on Instagram, according to Instagram.
Here are the eligibility-related facts that we do know:
The network's Community Guidelines and Terms of Service are important and must first be followed. Additionally, your account must satisfy each of the following requirements:
Authenticity: Does your account reflect an actual person, a legitimate company, or a recognized brand? A fan account or a meme page cannot get the badge.
Unusual: With the exception of language-specific profiles, only one account per person or company can receive Instagram verification.
Private Instagram profiles are not eligible for verification.
Complete: Do you have a comprehensive bio, a profile photo, and at least one post?
Notable: Are you a notable or prominent personality? However, Instagram defines a prominent name as one that is "well-known" and "frequently searched for." This is where things get arbitrary.
If you feel confident that you meet these standards or if you simply want to take a chance, it's time to verify your Instagram account.
How to Get Verified on Instagram?
Click "Account" inside Settings.
Then choose "Request Verification."
Simply complete the necessary fields, hit send, and the evaluation process will start.
According to Instagram, your notifications page will provide a response when they've reviewed your application. Instagram makes it quite clear that they will never email you, ask for money from you, or get in touch with you in any other way due to the troubles that scammers have had in the past and continue to have.
Within a couple of days or a week, you'll receive a direct yes or no (others say it can take up to 30 days). Commentary and justification are not present.

So be careful to pay attention to your Instagram notifications, but bear in mind that you might not hear back right away.
If your request is declined, you can submit another application using the same procedure in 30 days or anytime you satisfy Instagram's requirements for verification. 
Best Tips to Get Verified on Instagram in 2023
After knowing how to get a blue check on Instagram, it is also important to know what to do if your verification request gets denied. It is easier to send a verification request but what is difficult is to get approved or verified. So for your next attempt, you can consider the following dos and don'ts to ensure complete chances of success:
Don't Try to Buy a Badge

Let's start with this one and get it out of the way: the commenter who claims his pal works for Instagram? Please don't give him any cash.

The same is true for any unrelated third-party app or account that advertises "100% refunds". Additionally, any random account that DMs you with the request to buy your badge because they "no longer need it" is to be avoided.
Increase More Authentic Followers

It occasionally seems that you need an absurdly high number of followers to be confirmed, but we don't have the statistics to back this up. Despite the lack of any data to support it, it can't hurt to try, right? Or is it possible that correlation need not always imply causation?

In reality, it's more likely that follower counts will increase as individuals or businesses become more well-known on and off Instagram.

To increase your Instagram followers, you need to have a proper promotion strategy in place. Watch this video to know more:
Be Genuine

Your account must be of a real person, an established organization, or a registered business. So if you are running a fan account or inspirational account, you are not going to get the verification badge. Also, use the real name whether it's yours or your business, select the right category, and upload an original document with the correct information.

As per Instagram guidelines, they can also delete your account as a consequence of providing misleading or false information.
Stay Active on Your Account

Although it may seem obvious, it's doubtful that you'll ever have your account verified if you don't use Instagram frequently. When determining whether or not to verify your Instagram account, administrators will check for regular activity. Starting the verification process if you aren't using the platform has no benefit. The opposite is also true. If you don't often use Instagram, what use is verification? Your chances of getting the blue Instagram-verified badge will rise if you do the following:

Stock up on good images.
Benefit from Insights.
Get your audience involved.
Remove cross-platform Links in Bio

Instagram insists that verified accounts cannot have so-called "add me" links to other social media services in their Instagram profiles, which some may see to be a rather petty move (we would never dare).

Links to your YouTube or Twitter account are obviously not appropriate, but you may include links to your website, landing pages, or other internet domains.

On the other hand, Instagram does expressly encourage you to connect to your Instagram account from your Facebook page in order to help confirm your legitimacy. If your Facebook profile has a blue checkmark but your Instagram account does not, please link them.
Be Newsworthy

If you want to get Instagram verified, you need to be someone who gets featured in multiple news resources, but how to do that? You can try to be a part of press releases or reach out to local news organizations and provide some relevant stories.

But remember, 'Instagram never verifies those who get featured in paid or promotional content'.

Make sure you are highly searched or the general public knows you.
Finish Up Your Profile

Complete profiles are a feature shared by all verified accounts. Each of them has a succinct and compelling Instagram bio, a potent profile picture, an outside link (to their website or a Linktree, linking to numerous sites), and tastefully crafted Story Highlights.

Making a good first impression on behalf of your brand and persuading people to follow you is possible with a solid profile.
Follow the Community Guidelines

If your brand is consistent and you only post your unique content that is safe for public viewing, you are most likely already following the community standards and checking this box for verification.

Instagram may penalise accounts that violate these core guidelines, regardless of whether you represent a significant company or a normal person.
Hire an Agency

Consider working with a seasoned PR or digital agency that has access to Facebook's Media Partner Support resources if you'd prefer to employ someone to assist you with the process.

Through the industry-exclusive site, they have access to, they will be able to submit requests on your behalf for validating your account, claiming usernames, and merging accounts.
Final Words
Getting verified on Instagram can be a tough task for those who are not a celebrity but have built their brand. You may need to go through a lot before you finally get that blue tick mark.
So once you get yourself verified on Instagram, make sure you don't see it taken away by not adhering to the Community Guidelines and Terms of Service. Instagram can take away your badge anytime and can also disable your account if you transfer or sell your badge.
Hope by the end of this guide, all your doubts regarding Instagram verification will vanish away.
Happy Instagramming!
FAQ
Can an individual person get verified on Instagram?

One can become verified on Instagram as an individual or small business. It must be the sole authorized Instagram account used to represent you or your company, and the profile must reflect a real person or a real company.
How many followers do I need to get verified on Instagram?

The official number required for verification is not provided by Instagram. According to one study, verification badges were present on accounts with as few as 1,000 followers. Additionally, it was discovered that an account is more likely to have a verification badge the more followers it has.
How much does it cost to get Instagram verified?

The Instagram app offers a free verification application. There are companies you can pay to assist you in getting verified, but that is not advised.
Do verified accounts receive preferential treatment?

Instagram is clear that verified accounts (just like commercial accounts) do not receive preferential treatment when using the platform. In other words, if verified accounts do, in fact, receive greater engagement rates overall, it is likely because they consistently publish high-quality content that appeals to their target demographic.