While cutting corners, have you ever accidentally deleted important files permanently? That sounds like a nightmare. Right? Well, you must have encountered a situation like this once in your lifetime. But sit tight as I have something exciting to tell you. So stop scratching your head and read this; with emerging technologies, while everything is getting possible, you can even recover permanently deleted data, including documents, graphics, video, audio files, emails, and other files, through software like Recoverit.
Although, you must be wondering how it is possible. We are here to present a detailed writing on methods to recover permanently deleted data using Recoverit software in minutes or independently. Recovering data is not rocket science. Read the article to know how.
Before getting into the ways to recover lost data, first have an eye at the writing on the importance of having data recovery software.
Importance of Having a Reliable Data Recovery Software
Data recovery software is equally important as they recover data and any other media files efficiently. Here are a few critical pointers to justify the importance of having reliable data recovery software, "Recoverit":
Recover Crucial Files
Recoverit retrieves data from a device. Moreover, Recoverit gets back the data from lost scenarios. We base our views on Recoverit, which can recover data from emptied recycle bins, formatted discs, partition loss, virus attack, system crash, and many more.
With Recoverit, you can maintain a copy of data and servers. The practice of maintaining copies can be fruitful for businesses. Furthermore, businesses can keep records of transactions, even after they are deleted from the local folder.
Provide Security
Recovery software is way more advantageous in terms of security. This is because it is important for physical safety. Encryption methods of Recoverit are significantly designed to protect the data.
It's a well-established reality that since you are accessing this software, there is no need to panic in case of lost data and media files.
Revive Confidential Data
You must have heard the saying that "every cloud has a silver lining". This demonstrates that there is always a good aspect to a bad situation. Thus, it is proven that Recoverit stands still as an ideal tool while dealing with confidential data.
What Storage Devices Can Recoverit Recover
Find yourself fortunate; its free data recovery plan revolves around the recovery from various storage devices, that too without any cost.
To answer your question, Recoverit can recover data from the storage devices noted below:
Computer Internal Hard Drives
Recoverit permits you to recover data from your computer's internal hard disk. This includes data from HDD (Hard Disk Drive) and SSD (Solid State Drive). The best part, get the data from the hard drive, even if it's uninitiated, unallocated, or crashed.
Flash Drives
Recoverit fetches data back from USB flash drives, pen drives, thumb drives, and flash memory sticks regardless of FAT16, FAT32, exFAT, NTFS, HFS, APFS, etc. file systems.
Computer & Laptops
This software does the trick, even with lost data on computers and laptops. Nonetheless, computer operating systems or brands such as Dell, IBM, HP, Toshiba, Sony, Lenovo, and many more.
Memory Card
Recoverit supports all kinds of memory cards, including CF cards, SD cards, MMC, SmartMedia, xD-Picture cards, MiniSD cards, MicroSD cards, etc.
External Hard Drive
Few people would know, Recoverit permits you to get back lost data from external hard drives, whether they are corrupted, damaged, formatted, or undetected, that too regardless of their brands.
SD Card
It's important for you to hear that you can revive the data, including pictures, videos, and other media files from SD/SDHC/SDXC cards. Not only this, Recoverit does wonders on devices with SD cards like Android phones, audio recorders, music/video players, etc.
Cameras
This software is well known for recovering data from digital cameras from different brands like DJI/GoPro Drone cameras, action cameras, camcorders, and many more.
Now that you are known with the storage devices supported by Recoverit. Move ahead and jump onto the steps to revive data with Recoverit.
Steps to Recover Lost Files with Recoverit
Follow these easy steps listed below to recover your lost files with Recoverit:
Step 1: Get your hands on your Window device and choose the location. The location must be where you have lost data
Step 2: Launch the Recoverit program and select "Hard drives and locations" from the default interface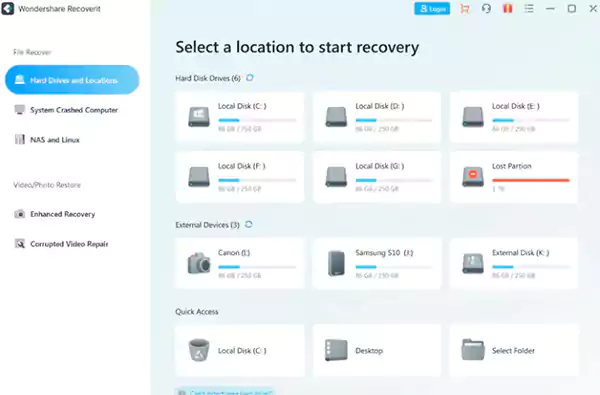 Step 3: There, proceed by opting for hard disk under "Hard Disk Drivers" or Desktop under the "Quick Access" tab
Step 4: Once made the selection of a hard drive, hit on "Start" button to move with the scanning on the selected location
Step 5: Here, Recoverit will automatically scan files
Step 6: Afterward, preview the recoverable files before heading to the recovery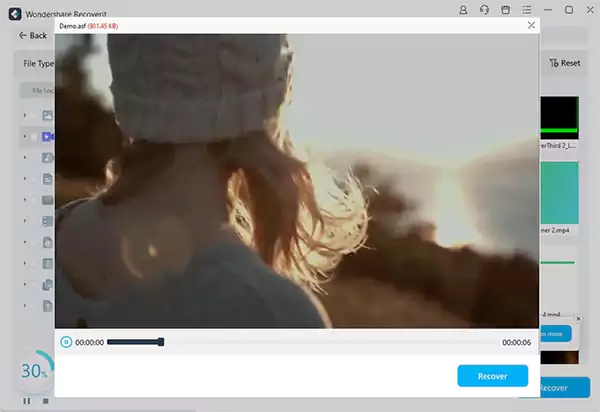 Step 7: At last, from the following page, click on the "Recover" button.
Why Choose Recoverit?
Since 2003, they have been the most reliable recovery experts.
They provide 24×7 free tech support. In case of emergencies, don't hesitate to connect with them.
Their services are tested and proven with a 96% recovery rate.
You will get a superior picture and video recovery experience.
You can recover data from more than 1000 types of file formats, 2000+ storage devices, and 500+ scenarios.
Free scan and preview.
Completely compatible with Windows 10/8/7/Vista/XP. Moreover, compatible with SD cards, cameras, hard drives, etc.
With Recoverit, you can witness improved scanning speed, program stability, and file preview speed.
Spontaneous interface and straightforward recovery process.
Advantages of Recoverit Free Data Recovery Software
Have sight of a few advantages of using Recoverit to revive lost or deleted data:
Save Time
While in a rush, lost data makes the situation worst. Therefore, Recoverit comes in handy and restores data. This data recovery platform advocates immediate restoration and minimizes losses.
Ease of Mind
Pat Riley says, "If you have a positive attitude and strive to give your best, eventually, you will overcome problems and find you are ready for great". The statement proves that you know you can get the data back, which helps you focus on other things, not on what "might" happen.
Supports Advanced Algorithm
Recoverit processes deep scanning. Deep-scan algorithm indicates that scanning goes deeper into the data structure and extracts high-recovery data. Recoverit records a more than 96% recovery rate.
User-Friendly Platform
Apart from this recovery software, it won't be possible to restore data with internal capabilities. With their user-friendly interface, they are sustainable and hence can be used by anybody manually.
Conclusion
Taking everything into consideration, the usage of "Recoverit" adds value. Although efficient in restoring videos, files, photos, and audio from varied storage devices.
Before you regret your actions, Recoverit puts you in safe hands. Installing this data recovery program on your devices does the trick instead of hiring an expert and spending great value. Nonetheless, accessing the Recoverit program listens like a great opportunity for the restoration of permanently deleted files.
---