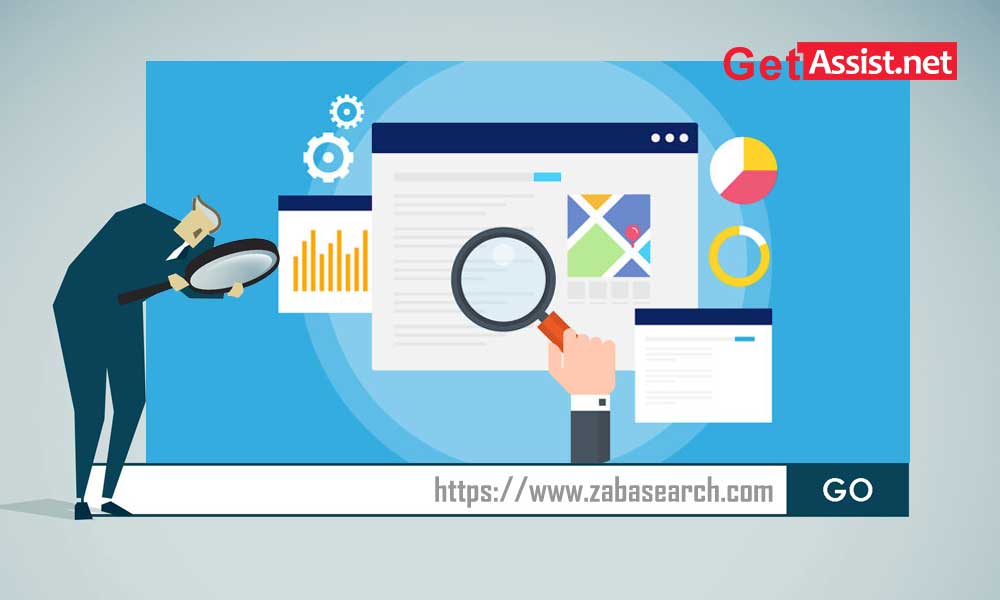 ZabaSearch- Just a Search Engine or More?
ZabaSearch, a leading people search engine that finds information related to individuals such as names, addresses, phone numbers, and other related data. To find someone online or verify your details about someone, you can use ZabaSearch.
Using it is quite easy and you can perform the searches with the help of name, phone number, or address. There are advanced search options as well that can give you detailed information about the person you are looking for.
The information provided by Zaba search is collected through different sources and then the data is made publicly available. So there is no authenticity of the data provided by it and if you find the data incorrect, you can get your personal data removed if you no longer want it to revolve on the internet.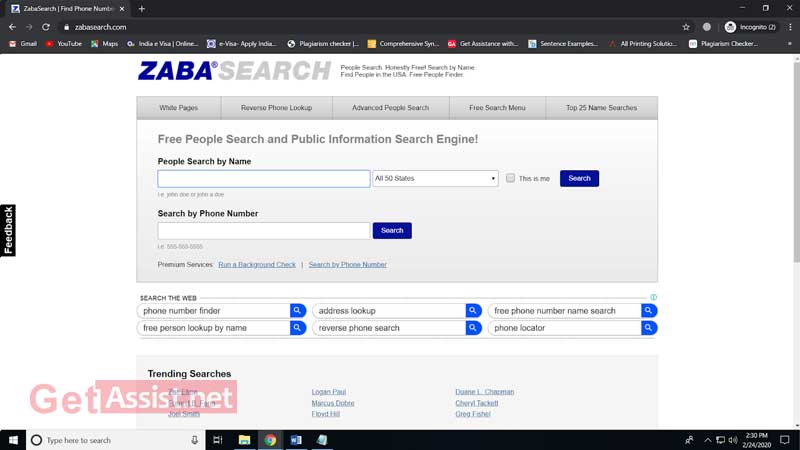 What is ZabaSearch?
Zaba is a Greek word that means 'Free' or 'at no cost'. Zabasearch.com is a website that was founded by Nick Matzorkis and Robert Zakari. This website looks for and gathers information regarding United States residents and the information includes name, present and past addresses, phone numbers, as well as birth years.
ZabaSearch doesn't generate information and only accesses public information and then shows the information available in the public domain.
Most of the people have an interpretation about Zabasearch that it decides what information will show up in the search results, however, it is not true. It is only a search engine that helps in locating public records and retrieve the information already available there. The information made available by ZabaSearch is collected from a variety of sources such as phone listings, real property records, court records, subscriptions, etc. Also, sources vary from state to state and region to region. Several companies generate, gather, collect, and sell public information and this practice is common in the United States and is also legal there.
So, ZabaSearch is just a popular tool that you can use for free to find information about people across the U.S., such as their names, addresses, phone numbers, and ages. ZabaSearch.com is a better option if compared to white pages as the former has three times the number of residential listings than the latter one. Moreover, you need not go through any registration and can start searching anytime.
What Information Does ZabaSearch Offer?
The information ZabaSearch offers includes a person's complete details such as their name, address, phone number, and other similar information. When you search for someone on zabasearch.com USA, you will get a complete list with similar names and the option to explore their profile. You can get to know about their address, their location on the map as well as directions to their home.
To find more information about the person, you will get options like another phone lookup, public records, or property records but if you decide to go for them, you will be directed towards the website of Intelius, ZabaSearch's parent company, and to retrieve the information, you will be required to pay some amount.
From Where Does Zabasearch Obtain Information?
ZabaSearch undoubtedly provides a lot of information, however, there's a catch. The information provided by this search engine depends on a variety of factors and is collected from several sources. There is no exact evidence about from where it gathers the details but it goes through several public record sources to collect the information. Moreover, it cannot change or edit the information and only the person who has provided his details online can make the changes.
How Does ZabaSearch Work?
www.zabasearch.com works similar to Google's phone number lookup but in a slightly different manner. The website helps in obtaining personal information by the way of public means. The information will include yellow pages, white pages, marketing forms, social networking profiles, personal websites, property records, and much more.
ZabaSearch doesn't host any such information; it only makes it easier to find the required data by organizing it in one place. The search engine has also been in controversy for providing private information but in fact, it is only showing that much of what is already there on the internet and available to access by anyone.
Even if you have made possible efforts to not allow access to your personal information, still if you have ever participated in a political campaign, got married or divorced, purchased a house, some of your information will definitely be out there on the internet.
ZabaSphere
If you have ever used ZabaSearch, you must be aware of ZabaSphere. It is a free personal online monitoring and tracking service and lets users manage the information that shows up when they enter their name in the search engine.
It emails an alert whenever someone's name is searched in ZabaSearch, Google, Bing, or other search engines.
You can get the information about the person searching for you. It also lets you view your personal monitoring page where you can view your historical ZabaSphere activity as well as manage ZabaAlert email notifications.
Search Options Available on ZabaSearch for Free
If you are wondering what sort of searches can be made, ZabaSearch offers a number of search options out of which some are available for free and others are premium ones

You can search for someone by their name as well. Just enter any first or last name, add a middle name if you want to. The results will display all the persons with the same name including their registered addresses, phone numbers, etc., whatever information is found in their online records. To filter out the results further, you can select a specific state, city or zip code.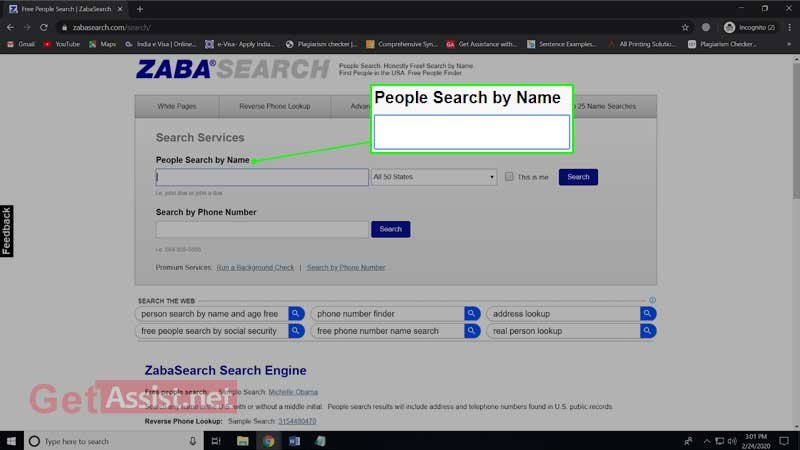 Received an email from an IP address and want to find out the owner of the IP address? Just enter the information in the search box of ZabaSearch and you will automatically get the relevant results such as the address, geographical location, ISP owner, map of the region related to it.
In the search box, enter any 3-digit US area code to get the detailed info related to the geographical location, data of the area code, map of the area and phone number exchanges within that area.
You can even look through zip codes. Enter the code and you will get the required information in the search results such as zip code region and other relevant geographical data.
Use the Reverse phone lookup option to get the information about the names, and addresses that are related to the phone number. Enter the 10 digit US phone number in the search box and it will match the phone number with the publicly available online records. You will even get the information about the location linked to the number.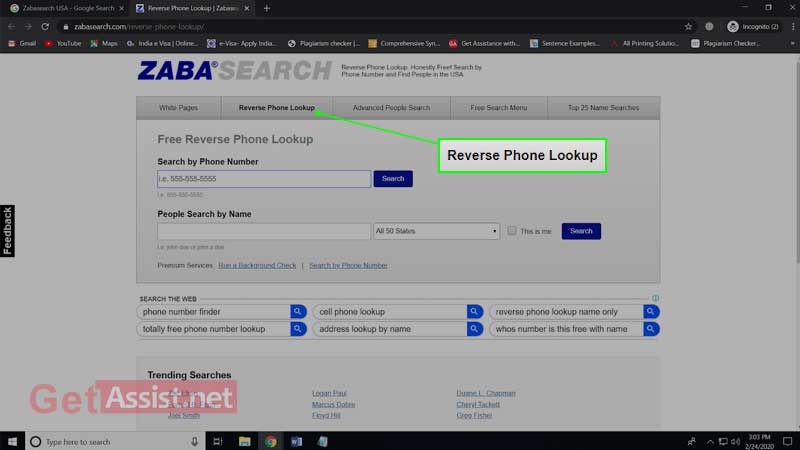 ZabaSearch even allows for advanced search where you can search for someone by name, middle name, last name, city, state, or zip code.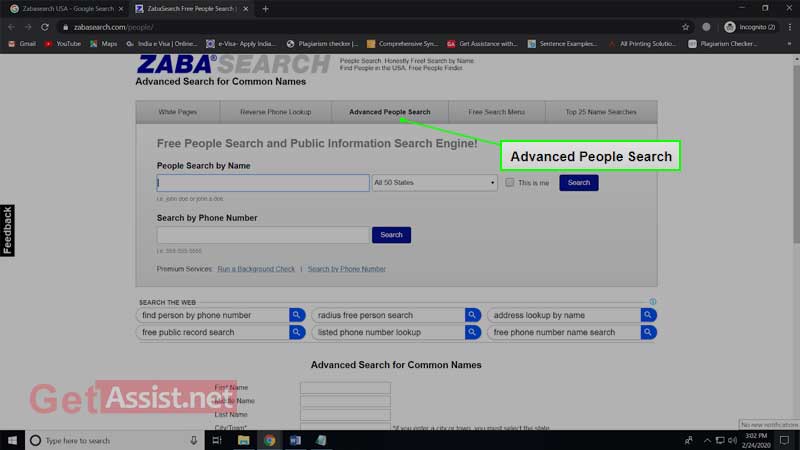 Using this option will let you lookout for anyone who has been looking for you online. The search engine may take some time to go through all the messages and entries and will provide you with the existing information regarding the name you are searching for.
Another useful option provided by ZabaSearch. You can surf through the top 25 largely searched names for the last hour.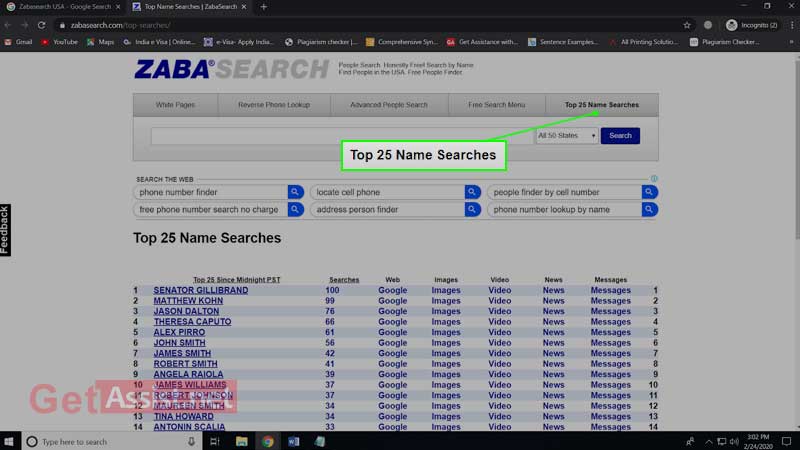 Premium (Paid) Search Options Available on ZabaSearch
Social Security Number Search
With the paid services of ZabaSearch, you can use SS# Search to find a person using their 9-digit social security number. In the results, you will get all the information like name, address, phone numbers, and others.
Reverse Cell Number Search
Use the Reverse Cell Number Search option to find a person linked with a specific phone number in the US. It is another benefit of using the premium version of ZabaSearch.
Using this paid option, you can search for a person by name, age or address. The results will include such information that you will not get for free on ZabaSearch.
Premium services also give you the option for a background check that means you can search for someone's history for the past 20years. The information will include all the changes in the phone number or address for the last two decades.

How to Take Your Information Down From ZabaSearch?
ZabaSearch has also faced several complaints by users through the agencies like Federal Trade Commission (FTC), the Privacy Rights Clearinghouse (PRC), and the California Office of Privacy Protection (COPP) as ZabaSearch was accused of sharing email messages that have personal information and that was a complete violation of privacy.
So, If you don't find your information correct or just want to prevent it from being accessible to others, you can submit the request for the same. However, doing this will not remove your information from all the platforms and only from the ZabaSearch website.