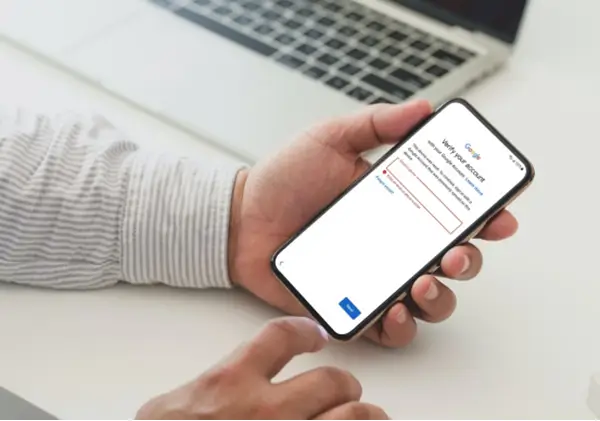 We need to remember the essential but crucial codes like passwords of mail IDs. For example, suppose you factory reset your Samsung phone, and when it starts, you forget the password of the google account you've set. Now what? If you face a similar situation, do not panic, as we will show you how to bypass Google lock on Samsung phones with or without Samsung FRP bypass tool.
Bypass Google Account on Samsung with iToolab UnlockGo (Android)
Suppose your Samsung smartphone gets locked and you cannot unlock the FRP. In that case, iToolab UnlockGo (Android) comes in handy and provides you with the necessary service through bypass factory reset protection on Samsung.
iToolab UnlockGo is equipped with advanced technology that can remove the screen lock from an Android phone, whether you lock it with a Pin, Password, Fingerprints, Face recognition, etc. Further, the tool ensures no data loss on some early Samsung devices. Compatible with all the renowned brands available, including Samsung, Motorola, Huawei, Xiaomi, Google, and many others.
Unlock your Samsung phone whether you're using Windows 11,10,8 or 7; the tool can perform well with any of these Windows versions as well as macOS 10.11 and newer.
Key Features of iToolab UnlockGo (Android)
l Bypass FRP on Samsung smartphones and tablets on Android 5-12.
l Removes various screen locks from Android easily without a password.
l Free to one-Click factory reset on Samsung devices.
l The tool supports 15 brands and 2000+ Android phones and tablets.
l Customised business plan is available.
How to Bypass Google Lock on Samsung with UnlockGo for Android?
You can remove the Google lock from your Samsung phone within a few clicks. Follow the steps.
Step 1: Install iTools UnlockGo for Android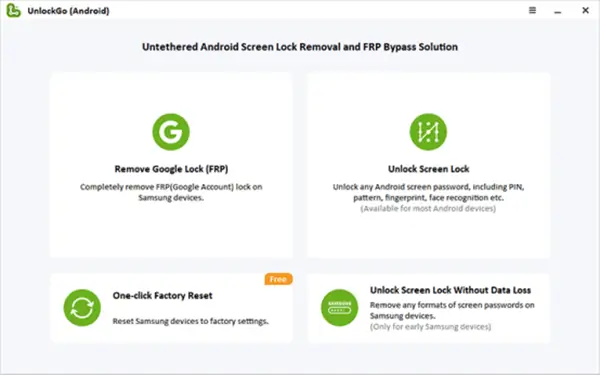 Install the program on your PC and run it. Now open the tool on your device and tap the "Remove Google Lock (FRP)" option.
Step 2: Choose the method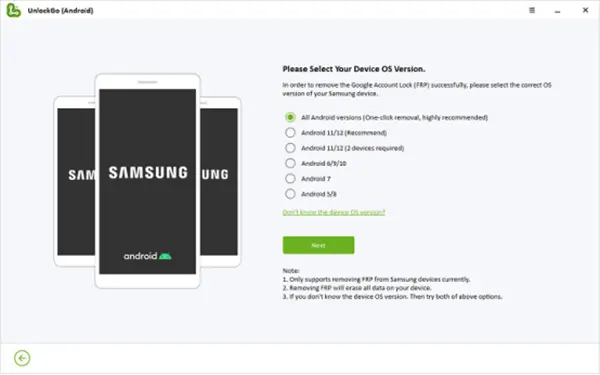 Now connect your Samsung phone to your PC using a USB cable. Tap on the "Start" button and choose the first option that works for all Android OS.
Step 3: Remove the Google FRP lock
Now, the tool will guide you through enabling USB debugging on your locked phone. You do not need to do anything; instead, leave everything to UnlockGo (Android).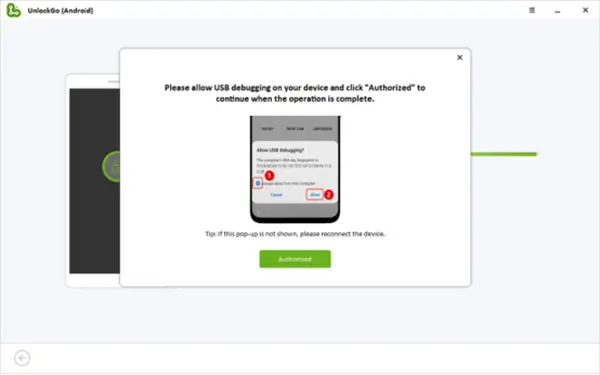 Within a minute, UnlockGo (Android) bypasses Google lock on Samsung, and your phone will be ready to access further.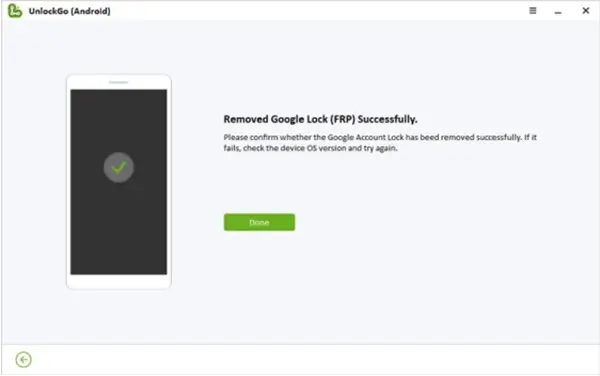 Bypass Samsung Google Account without Computer via Google Keyboard
There's another way to bypass Samsung without a PC. With the help of Google Keyboard, you can remove the Samsung FRP lock without Computer. So let's check out the process.
Step 1: Get the Help Page
l Choose your language and connect your Samsung phone to Wifi once it starts after the factory reset
l Now the phone will ask you to enter the login details of your Google account. Here you need to tap on the text field and hold the "@" Key once you see the virtual keyboard option. It'll direct you to the Settings menu.
l Select the Google Keyboard Setting option, next click on the three dots icon in the right-hand corner, and choose "Help & Feedback" from the drop-down menu bar
Step 2: Visit Setting Menu
l Choose the "Use Google Keyboard" Option from the Help page
l Press and hold the phone screen to choose any text on the page, next click on "Web Search" at the upper right corner
l When a Search bar appears, you need to enter "Settings" to find and access the Settings menu.
Step 3: Bypass the FRP
l Choose "About Phone" From the Settings menu
l Click on Software Information and locate the Build Number option. You can use the search box to get the Build Number.
l Now click on the "Build Number" 7 times and turn it on the Developer Mode
l Go back to the previous menu, click on the Developer option
l You will get "OEM Unlocking"; enable it and click " Back" twice.
At last, restart your Samsung phone after connecting with the WiFi again. Now your phone may ask you to enter a new Google Account. You need to add it and let your Samsung phone return to its function.
Tips: This option bypasses Google Account only on previous Android OS 5-10 but won't work out on the later versions.
Make the Smart Choice to Bypass Samsung FRP
The above two methods can provide you with similar results. Both will give you the Samsung phone where you need to enter a new Google Account and use your Samsung device. But is it worth your time to spend long hours bypassing Google lock on Samsung? Perhaps no. Savvy users always pick the convenient way to perform the task: remove the pin, password, or FRP. Check the table below for an idea about the two methods and which is best to save time and effort.
| | | |
| --- | --- | --- |
| Bypass Google Lock | iToolab UnlockGo( Android) | Google Keyboard |
| Supported OS | Android 5-12 | Android 5-10 |
| Installation Required | Yes | No |
| Easy & Quick option | Yes | No |
| Time Saver | 3-5 minutes | 20-30 minutes |
| Success Rate | 99% | 67% |
Remove the FRP lock on Samsung before Selling or Pawn
If you're planning to buy a new handset and sell out the old one, you need to remove the FRP lock so your buyer can use the phone without difficulty. Android 11 offers simple steps to bypass factory reset protection on Samsung. Check them below and apply them before selling or pawning your Samsung handset.
Before performing the task, connect your Samsung phone to the WiFi or mobile data. Now follow them:
Step 1: Visit "Settings" > "Accounts and Backup".
Step 2: Choose "Manage Accounts".
Step 3: Click on the "Google Account" you want to remove.
Step 4: Your phone will ask for your reconfirmation by selecting and clicking on "Remove Account".
To Sum Up
Modern-day life would not be the same without smartphones. But unwanted situations happen anytime, and you must be ready to deal with them. If you do not need help from professional tools, you can bypass your Google account Samsung without a PC. But if you respect your time and want to save it, try a simple and quick option, install iToolab UnlockGo for Android, and do not let the FRP tense you anymore.
---