Earlier, there weren't as many options when it came to downloading videos or converting them into different formats. Cut to today; there are plenty.
Are you someone who prefers downloading songs to listen to? Or do you simply want to watch videos without using the internet? Well, we have something that may help you.
For YouTube users who prefer offline viewing, one way to go without having to compromise on the audio quality is via a YouTube to WAV converter.
And the first step is selecting the right tool! But is it possible to get just the one you're looking for? Maybe!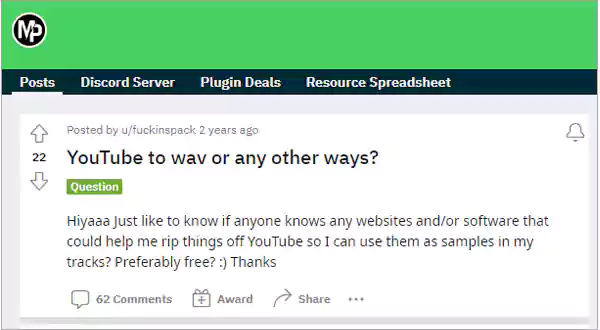 The good part is you can download YouTube videos without any software. So to make the selection process more accessible, we will be listing the best 15 YouTube to WAV converters. But first, let's learn what is WAV.
What is WAV?
WAV stands for Waveform Audio File Format, also known as WAVE. To put it simply, it is an audio file format that stores uncompressed audio data. Developed by Microsoft and IBM, it is the main format used for uncompressed audio on Microsoft Windows.
It is also an application of the RIFF (Resource Interchange File Format). WAV audio format is best suited for those audio applications that are professional; in comparison with other compressed formats, their big file sizes, and high-quality audio.
While YouTube's recommended file format is usually MP3 when someone is downloading a video, the media player somehow ends up not being compatible. So this is where the WAV audio format comes into the picture, with the plus of keeping the original audio's quality intact.
Top 15 Most Popular YouTube to WAV Converters
As the WAV format is widely used and works well in all operating systems, the sound quality it offers is really good. Since it does not compress the audio data, the quality of the original audio stays maintained.
So if you use YouTube often to listen to songs or any podcast and want to have an enhanced experience, go through the list given below for YouTube to WAV converters:
The reason YTBTO is on top of the list is that it worked pretty smoothly out of the whole list that we have tested so far. Without causing any bug issues in the conversion process, YTBTO surely does the task swiftly compared to other WAV converters.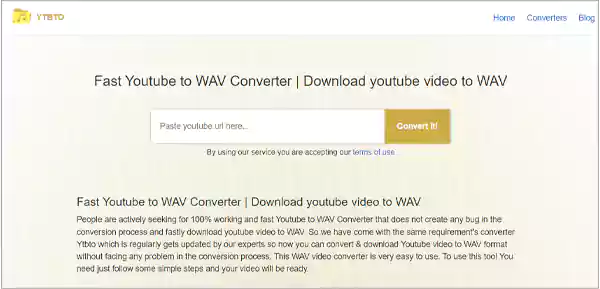 Features:
Gives high-quality WAV.
Registration is optional.
Easy to use, performs quickly.
It gets updated regularly to prevent viruses or bugs.
For downloading videos from different platforms like Instagram, TikTok, Twitter, etc., and converting them into various WAV formats, Save the Video is one good option to consider. It offers a bulk download in HD quality and lets you edit the videos as well.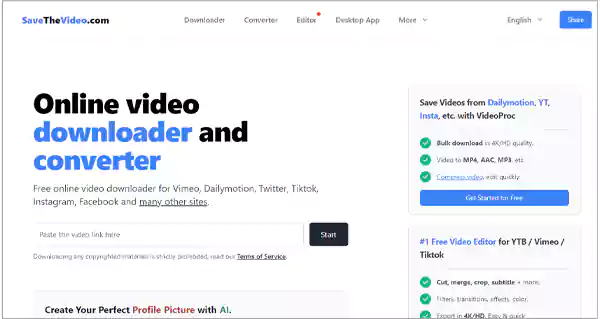 Features:
Totally free of cost.
Compatible with any device.
No need for installation.
Offers downloads and conversions from various other websites.
The ByClick Downloader tool allows users to download videos from different platforms like YouTube, Facebook, and Vimeo (over 40 sites, and keeps an online backup. In addition to the conversion of videos in various formats, it even lets the users download full YouTube Playlists and channels and download an entire Instagram page.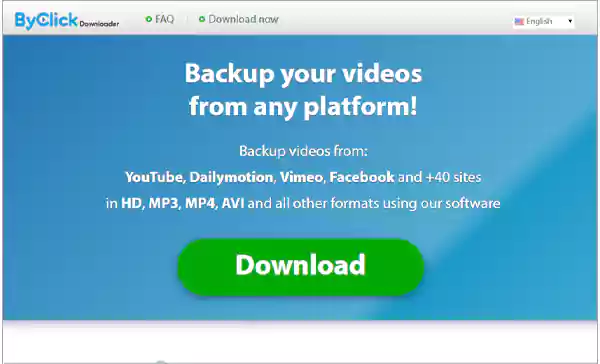 Features:
It is totally free.
Offers unlimited downloads.
Supports multiple formats.
Provides good speed in downloading and converting.
Just like the other tools discussed so far, Ontiva is another software that lets users do the process of YouTube to WAV. But what makes it different from the converter mentioned in the list is the feature of listening to music offline with no pop-ups and annoying ads. On top of that, the data gets deleted from it once the conversion is successfully completed.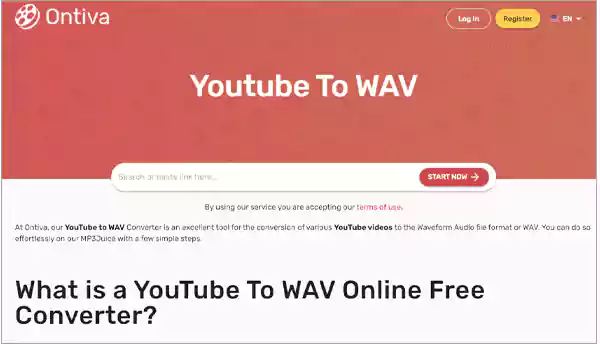 Features:
No limitation in downloads.
It does not contain any malware or Trojans.
Offers access for sharing converted files.
Large files can be stored easily on the hard disk.
Released nearly a decade ago, Freemake is not only one of the oldest but also the first among the few to come out as a converter. It can also extract videos from discs, DVDs, and other online platforms. You can also do linear video editing like rotating, merging files, cutting, etc.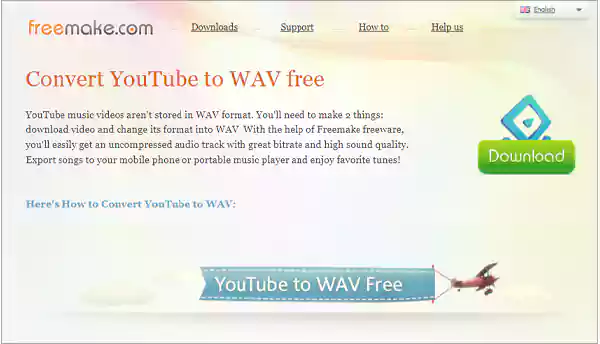 Features:
An added feature of editing.
Transition effects and slideshows with background music.
Can convert videos on local drives as well.
Various formats, like MP3, WAV, AVI, MPEG, etc., are supported.
Your all-in-one solution – from downloading videos and converting them to editing the audio of any video, Video Proc is a jam-packed tool that offers a lot. You can download videos, channels, and playlists in bulk and get various audio formats for conversions that include M4A, MP4, WAV, MKV, etc. Whether your video is 4K or 8K with HD or SD, it does not matter. So you can go for it!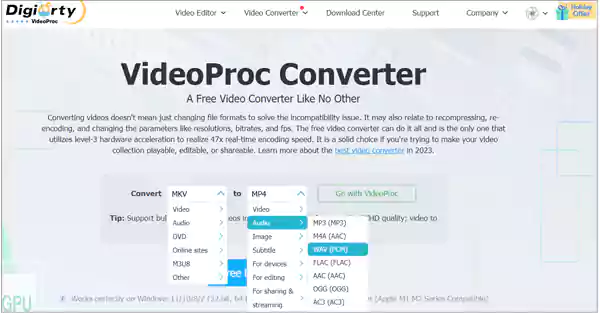 Features:
Original quality gets enhanced.
Smooth conversion in 4K/8K.
Reduces file size by 90%.
Record screen or webcam, even both in PiP mode.
When it comes to downloading YouTube videos and converting them, 4Kdownload.to has a lot to offer. You can convert YouTube videos to MP4, AAC, and FLAC as well. It is free and has a pretty simple interface that is too easy to understand. Apart from that, it not only works on almost all devices but also different browsers like Google Chrome, Microsoft Edge, Safari, and Mozilla Firefox.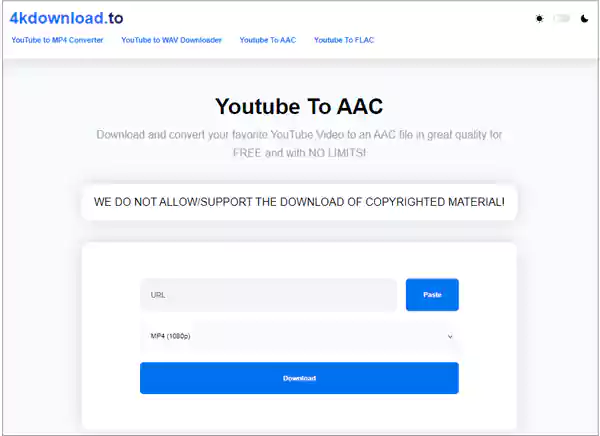 Features:
There is no download limit.
Easy to use with good speed.
The downloads are free of cost.
Secured with no need for additional apps.
YT Converter is an online tool that is free of cost and lets users download YouTube videos in different formats. For offline viewing or downloading videos in various formats, the YT Converter lets users do it all. There are no limitations, and it is easy to use.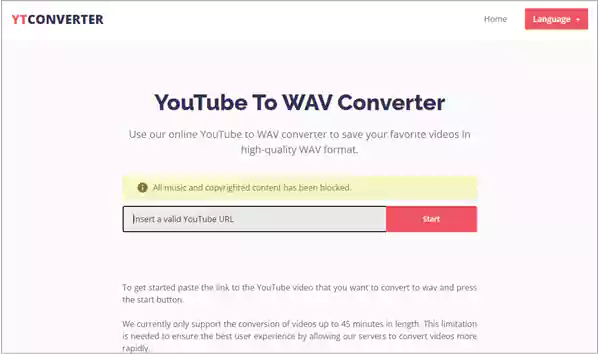 Features:
Offers multiple formats.
Allows batch downloads to users.
Downloads YouTube videos quickly.
High-quality downloads.
If you want to go for a YouTube WAV converter that has a simple and straightforward interface, Yttowav.top can be the right choice for you. Not only is it well-designed and neatly made, you can convert videos up to 2 hours long with its help.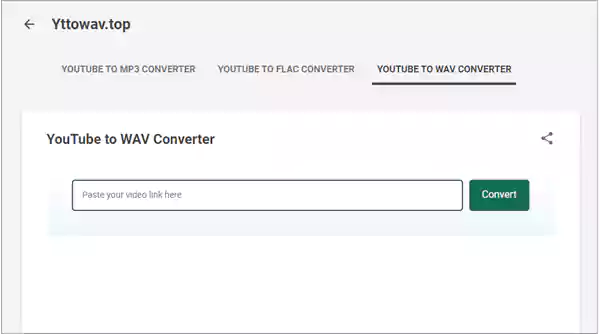 Features:
Free online converter; you can choose any format.
No registration is needed.
Gives high-quality WAV.
Supports various platforms.
Offers video conversion like MP3, MKV, AVI, and more.
Joyoshare is a powerful tool that offers an all-in-one video toolkit and helps you get almost every task done in videos. From editing and recording to converting videos, Joyoshare has a lot to offer with its smooth functioning. While it has a free trial, one can go for the paid version if they are happy with the tested trial.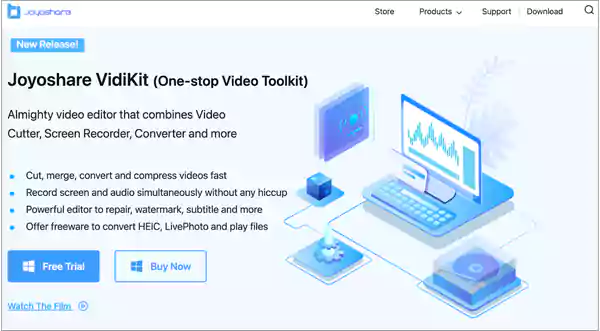 Features:
Helps to cut and merge videos quickly.
Record audio and video simultaneously.
Offers editing for repairing, subtitles, and removing watermarks.
Compress video and get freeware.
Being one of the oldest services for converting files, Zamzar provides 1200 different types of conversion formats. It is a trusted website and is used by many due to the big amount of types it offers for the converting process.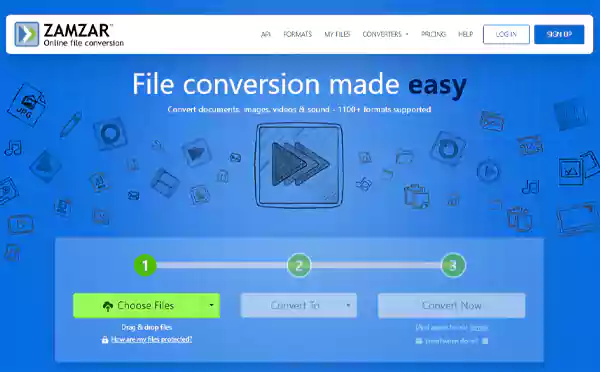 Features:
Registration is not required.
Supreme quality audio downloads.
Downloading the software is not needed.
Conversion process is simple and easy.
If you are looking for a converter that does not stay limited to only audio conversion, iTubeGo may do the work for you. Apart from converting audio into different formats, it also lets you convert video and offers up to 40 formats. Not only that, using iTubeGo, you can extract the background audio from the video. It works on both Android and iOS.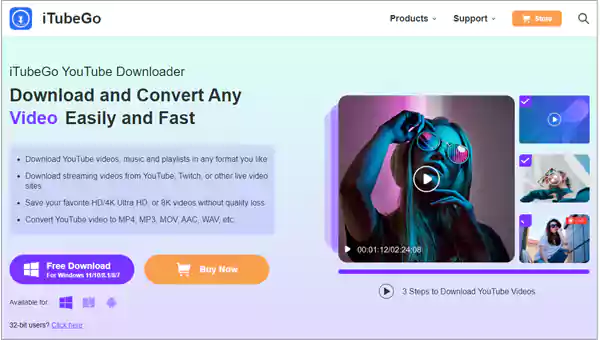 Features:
Supports up to 10k sites.
Privacy and batch download.
Downloading speed is turbo-fast.
30-day money-back guarantee.
Download4.cc is a free online YouTube to WAV converter that is totally free and reliable to use. It lets you do the conversion in various formats, be it on your Android or Desktop. Apart from that, you can download videos with subtitles, download thumbnails, and much more.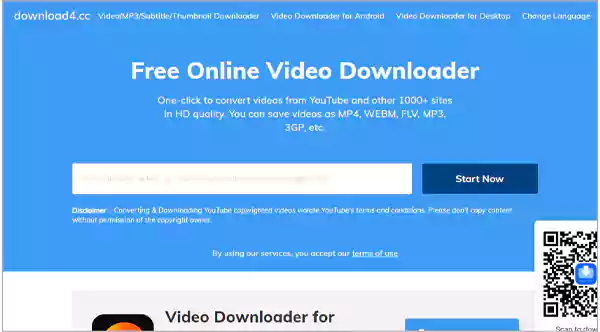 Features:
Supports downloads from over 1000 websites.
Does not include external advertising.
Completely free with no limitations.
Does not add a watermark to videos.
If you want to download and convert videos into different formats for free, Youtube MP3 can be a good choice for you. Just like in most of the alternatives of yt to wav, all you have to do is copy the YouTube video's link and paste it on the bar given below. Then tap on Convert, and that's it!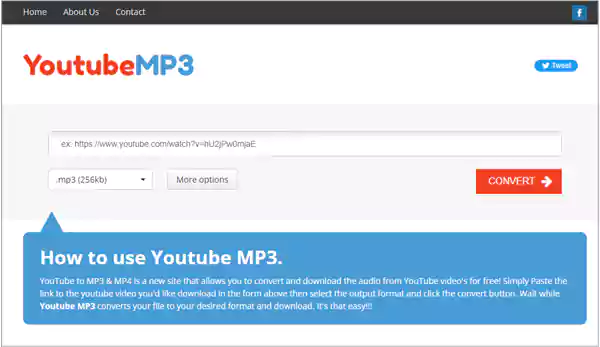 Features:
Easy to use and simple interface.
No registration required.
Free with unlimited conversion.
Compatible will all browsers.
Download videos and music directly.
An online application that can convert YouTube or Vimeo videos quickly and is also free of cost is YouTube2Video. It supports various formats and also lets users select the output format of audio and the resolution of the video. One can easily download the application on their Android and convert the videos.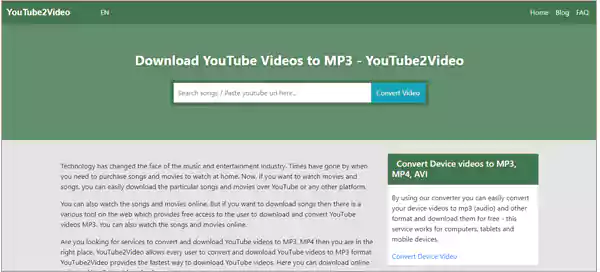 Features:
Offers over 2000 conversion formats.
Supports Android devices.
Converts YouTube videos to WAV, 3GP, WAV, and MP4 formats.
YouTube and Vimeo are supported.
After going through this list, you may have decided on a few options that you want to go for. But first, there are some things that you should know about – the pros and cons of these converters!
Suggested Read: Top 10 Free Video Downloaders for PC Windows 10 in 2023
Pros and Cons of Top 15 YouTube to WAV Converters
As you now have a brief of the different YT to WAV converters given in the list, you might as well learn about their pros and cons before making the final call.
Now you may have an idea about which one you want to go for. Well, if you want a superior-quality in audio while watching the video, that's when YT to WAV converter comes into play. For converting videos from YouTube to Wave, you need to select the right one for yourself.
Just like you can convert YouTube videos to MP3, you can convert them to WAV as well. So what is the process for it? The answer is here…👇🏻
How to Convert YouTube to WAV?
Now that you know different YouTube to WAV converters, let's understand what is the process of converting YouTube to WAV. Given below are the simple steps that you have to follow for the conversion of format:
Launch YouTube and go to the video you want to convert. Then click on the Share button.
Now tap on Copy, and the video's URL will get copied.
After that, go to the selected YouTube to WAV converter's website and paste the link there. After that, hit Paste.
Once you are there, Select the audio format as .WAV and hit Convert.
And that's it! You're all set to have a good experience while playing the downloaded video. But what is the need to do so? Why do you have to use one?
It is possible that you may face issues while using a YT to WAV converter. But why is that the case? Let's take a look at the list of helpful points that we have curated for you.
Helpful Hacks for Enhanced YouTube to WAV Conversion
While there isn't always a perfect right way to do something, in the case of choosing the right YT WAV converter, you may require some help. And to leave no chance of making mistakes in the conversion process, here is a curated list of pointers that may help you as a trick or two up your sleeves.
Understanding Formats: Before starting with the conversion into any format of the files, make sure that you understand the different types. And remember that every format offers a different set of advantages, so pick wisely.
Using Updated Tools: It is a must that whichever converter you choose, you must use its latest version available. Doing so will not only give better results, but other benefits like new features as well.
Quality of Source: This one goes without a doubt that in order to get a high-quality result, you also have to get your file from a premium quality format itself like YouTube.
High-Quality Conversion: If you are going ahead with the WAV format to convert your file, remember that though they offer higher quality, they may take some time as well. So to get the good version, you have to have some patience as they download!
Securing of Files: If you are in between the conversion process and something comes up, don't worry. There are some converters that save your files for a limited period of time. And if your chosen one has this feature, you can save the downloaded file after conversion for a limited time.
Keeping these points in mind and selecting the right tool at the same time can be a handful. And in case you are facing issues in the conversion, the next section covers some things that you need to keep in mind.
Possible Corruption Reasons for WAV Files
The process of the conversion of YouTube to WAV is not always as simple. There can be times when you may get a corrupted WAV file after downloading. And there are some possible reasons that may have caused that to happen. So we are going to list down some below, so you can understand why this may have happened:
Viruses and bugs.
ineffective compression software.
Shutting down the device in between the process.
Storage is full.
The transfer process was unsuccessful.
Now you know the reasons for a corrupted WAV file, but what's next? We will be discussing how you can get rid of the issue of corrupted WAV files and hopefully get better versions of them.
Fixes for Corrupted WAV Files
For the reasons given in the previous section of the article, there are some steps that you can try to get the issue of corrupted WAV files resolved. They are as follows:
Go to YouTube to WAV converter and upload the damaged file.
Now click on Repair and start the process.
After that, save it and take a look at the file.
The damaged WAV file might be okay to go now.
If you are satisfied with the audio file, you can repeat the same steps for other WAV files as well. But this issue may only occur if the chosen converter isn't the best. So now the question that remains is how do we go for the best one? Let's find out.
Also Read: Best Facebook Video Downloader Apps for Android in 2023
How to Choose the Right YouTube to WAV Converter?
By now, you probably have an idea about the WAV converters with the help of the list we have provided in the article. Before you decide on getting any of them, make sure that you're choosing the right one that works the best for you.
So how do we figure that out? There are some features that you may want to check out before finalizing one and ensure they fulfill the requirements you are looking for in a YT WAV converter.
Free and Easy to Use: It is no doubt that the tool you are going for should not be difficult to understand and use. And if it is free, it can be the cherry on the cake!
Versatile with Security: If the YT to WAV converter lets you download videos in various formats on different devices along with multiple platforms, it will make it a versatile tool.
High quality: For any tool that compromises the quality of the audio after conversion, there is no point in getting it. After all, it is the audio itself that one is getting the tool for.
Bulk download: If you are someone who would want to use the YouTube to WAV converter to batch download videos and then convert them, it is recommended that you go for the one that allows downloads spontaneously.
Various formats: It is expected that the converter that you are going for also offers other formats and isn't limited to just one. So make sure that you check the number of formats it gives and whether it has the one you're going to use.
Quick downloads: In some cases, one may need to get the task done as soon as possible. So to say, 'the sooner, the better.' And if you prefer the same, see the speed of the converter and check if it matches the amount of time you want.
Additional features: Having added benefits would not be something you would want to say no to. So if you are also one of those who want to enjoy the icing on the cake, make sure the tool has more to offer.
So keeping these points in mind, you can go for the YouTube to WAV converter tool that includes the features you are looking for, not to forget that it is easy to use and includes various functions.