Doesn't it fascinate you how one element can be so versatile yet, hold so much power? From enhancing a web design and reinforcing the SEO strategy to telling stories and designing an entire promotional campaign – you can use this feature to connect with the audience in many ways.
Yes, we are talking about images! In fact, they have so much capability that even a stand-alone image can resonate more with people than huge blocks of text.
While a lot of effort and time goes into creating the perfect piece of writing, a powerful, expressive image can replace it and even bring more traction. However, many marketers struggle with photography as it requires specific endeavors and skills. But thanks to the availability of stock images, website owners can quickly get brilliant visual assets without putting in any effort.
This article will talk about some amazing stock photo websites, both paid and free, that offer high-quality images.
iStock (Paid)
If you are looking for some creative and stunning visual assets for commercial or non-commercial purposes, iStock is hands down, the best option. The content on this website is backed by a royalty-free license and allows you to use the images in any preferred format.
Here are some of its outstanding features:
Although a paid site for stock resources, unlimited freebies are up for grabs on iStock weekly.
iStock's online image editor lets web designers add their own creativity to the images they purchase for use.
With its iOS and Android applications, you can download images straight to your mobile devices for handy use.
What's more, you can also access a special promo code for purchasing your favorite visual content!
Pexels (Free)
This repository website is nothing short of a treasure chest for unique pictures. Pexels has user-friendly search features and filters that make it a highly accessible platform for all types of images. And that too, for free! But, there are few things that you should know before using free stick photos.
Some more qualities of this fantastic website include:
The images available on the website are registered under Pexels' license, letting you edit them freely for a personalized touch.
Images are well-curated and categorized.
Pexels offers excellent templates for web designers to create mockups for their projects!
Shutterstock (Paid)
With 360 million images available for professional use, Shutterstock is one of the most extensive stock repositories online. This platform is home to various visual assets, including images, illustrations, videos, and vector images. Let's shed light on some of the great features that this website boasts:
The curated collections on this website boast visuals showcasing the latest and upcoming trends.
You can also check out the most famous and award-winning images in their Offset collection.
Shutterstock offers pay-as-you-go plans to those who have a tight budget.
Unsplash (Free)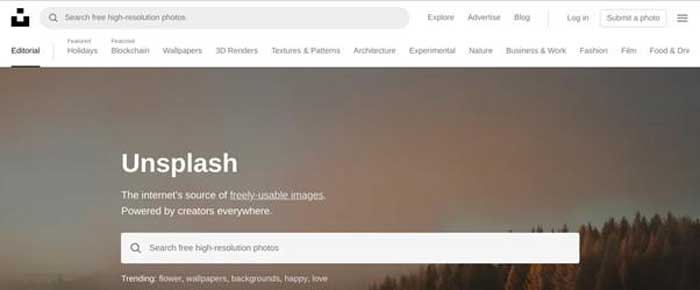 With more than 50,000 contributors delivering content to Unsplash, this stock image website offers you top-notch material. The collection may not be vast compared to what other such platforms provide, but it is outstanding in quality.
The best part is that you can find great visual resources on Unsplash without spending a penny. Here are some more features that make this website so great:
The website showcases only the best submissions for the digital platforms. The editors put in a lot of effort to ensure the audience is offered the best-quality pictures.
Its user-friendly interface and search feature makes it easy to find the right pictures.
You can locate relevant images quickly by checking out different theme categories.
Adobe Stock (Paid)
This stock photo website belongs to the makers of the famous Photoshop software. The visual content available on Adobe Stock ranges from simple images to 3D visual assets and so much more. This website is a reliable platform to purchase licensed stock photos.
Here's why we suggest this stock photos site for your projects:
You can easily access this platform and your visual assets through Adobe Creative Cloud applications.
Adobe Stock offers several subscription plans that you can choose according to your budget.
Every day, new visual content is added to the website to provide users with the most trendy images.
Gratisography (Free)
Gratisography undoubtedly stands out among its peers with its peculiar visual content. You may not find the broadest range on this platform. But if you want to spice up your project with bizarre and quirky pictures, Gratisography will not disappoint you.
Let's see why we like this stock photos site so much:
The pictures on this platform are available for personal and commercial use under Gratisography's own license.
All the images demonstrate one guy's photographic genius and artistry, Ryan McGuire.
Alamy (Paid)
This stock images site packs 145 million visual assets, including pictures, vectors, and videos. Alamy's platform is updated every day with around 100,000 new images and visuals. What else makes this platform a hit? Here's what:
More than 60,000 photographers from 173 countries have submitted images on this website. The vast reach of Alamy makes it a top-class curator and distributor of versatile visual content!
The price might seem a bit too much, starting from $19.99. But, once you behold what quality content they provide, you will not regret the price tag!
Pixabay (Free)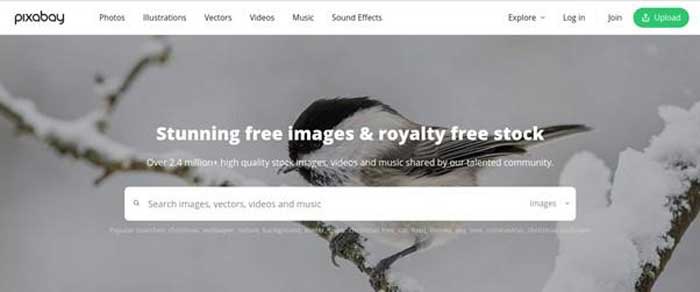 Another great stock images site that curates millions of excellent-quality images and offers them for free is Pixabay. If you have a blog or want to use images with a corporate feel, Pixabay is just the right choice! Below are some of the significant aspects of this website:
Not just images, Pixabay also offers engaging illustrations, vector images, and graphics to boost your web design game.
We absolutely love their SafeSearch, which lets you steer clear of explicit content that could populate your search results.
Even though the content you get is for free, the contributors don't require any credits or attributions.
Dreamstime (Paid)
Boasting 184 million photos and 41 million users, Dreamstime is a splendid paid stock photos website. They offer royalty-free images for as little as $0.20 but have a separate database for free collection as well. So, this website serves those who can pay for stock images and those who have a rather tighter budget.
Here's what more you need to know about this stock images platform:
The website caters to all your web design needs, in addition to providing static images. Whether you need illustrations, logos, icons, or clip-arts, Dreamstime has got you covered!
All the content is nicely organized in different categories for users to reach what they require in no time.
Burst by Shopify (Free)
Shopify powers this fantastic stock images platform to offer unlimited stock images for free to entrepreneurs. So, if you are looking to promote your new business, Burst will provide you with the visual resource you need! We have listed Burst among the top stock images websites because:
All the pictures are captured in-house and have a business aura, making them perfect for your promotional campaigns.
While marketing is Burst's primary aim, the platform also offers great images for general purposes.
All photos are published under the Creative Commons Zero (CC0) license or Shopify's own photo license. This subtracts the probability of any copyright conflict.
Conclusion
With the ever-increasing importance of imagery in the cyber world, stock image websites are gaining popularity every day. There are more such great repository platforms out there that are worth mentioning. But the ones talked about in this article are the best, in our opinion, owing to their vast collection and diverse visual assets! Give them a try and enhance the visual appeal of your web page. Good luck!
---