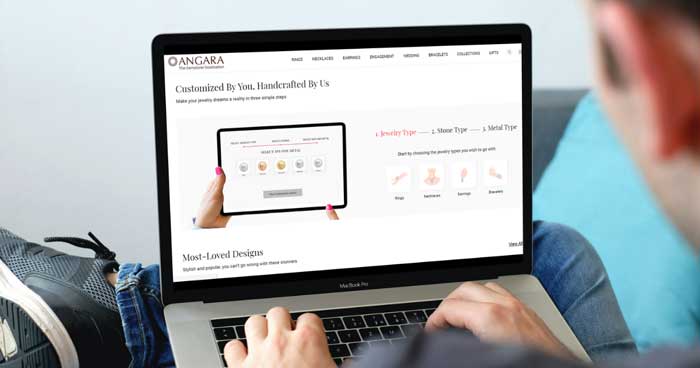 I have a thing for bracelets. I do not wear any other piece of jewelry on the regular, but I love having a few bracelets or bangles and cuffs stacked on my wrist. For a long time now, I have wanted to get a bracelet that is personal to me and customized to my liking. Don't get me wrong, there are plenty of options in the market that I can choose from, but I wanted a piece that looked a certain way. I found that in the pieces of jewelry I liked from stores, often there would be one tiny little detail that always made me rethink the purchase. I wanted a piece of jewel that was personal to me, unique to my taste, and yet luxurious to satisfy my Leo soul.
I was recommended Angara brand jewelry by a friend who had used their customization service. I have never got jewelry customized before, but going by the easy experience my friend had, I really wanted to give it a try. Plus, you can even try it if you are looking for gifting a piece of jewelry. This is how it went…
I am, by no stretch of the imagination, either tech savvy or a designer of jewelry. The idea of customizing a piece of jewelry was daunting. I went on the Angara website and found a section called 'Craft Your Own Jewelry'—easy enough, right? But little did I know that this would be a deep dive into a world that would offer endless possibilities and options, which would happily occupy me for several days. Apart from offering a wide variety of designs, Angara also lets you customize to metal, carat weight, and gemstone quality of the piece you like.
Jewelry Type
The first thing that you would have to decide is what type of jewelry you want to customize. The Angara offers custom jewelry in four broad categories. Rings, earrings, pendants, and bracelets are the options you get. I wanted a bracelet and although I did not know what style was right for me, I definitely knew what I liked in terms of utility and design, and this was a good place to start. I wanted a minimalist, everyday design that could be stacked with my existing set when I wanted to dress up and also be able to wear on its own on days I was more active.
Metal Type
There were many things playing in my mind when it was time to decide what metal I wanted for my bracelet. The Angara offers plenty of options. You can choose from platinum, white gold, yellow gold, rose gold, and silver. If you cannot decide on one gold type, you can also opt for two-tone or three-tone gold jewelry. Another factor to keep in mind is your skin undertone. Cooler undertones look great with silver, white gold, and platinum. Warmer skin undertones will do well with yellow gold and rose gold. The two options I was considering were yellow gold and platinum. Platinum is tough, scratch resistant, and hence great for daily wear, however, it is on the pricier side. So, finally, I decided to go with yellow gold.
Gemstone
I thought choosing a gemstone would be relatively easy, but the number of options Angara offers had me in a fix. There are precious stones like diamonds, emeralds, rubies, and sapphires, which are the elite ones. Then there are semi-precious gemstones like tanzanite, opal, topaz, peridot, onyx, citrine, tourmaline, garnet, and amethyst. I was drawn to colored diamonds. The Angara offers coffee diamonds, enhanced black diamonds, and enhanced blue diamonds. In the end, I stuck to good old diamonds as they would go with any outfit and look.
Style
There are a host of styles to choose from. Each category of jewel type has options to suit every requirement. Rings have options like classic solitaires, three-stones, eternity bands, and vintage-inspired and side-stone styles. Earrings have options like hoops, studs, danglers, and drops. Necklaces are available in strands and with dangling and initial pendants. Since I was looking at bracelets, I had to choose between bangles, slider bracelets, tennis bracelets, charm bracelets, and chain or link bracelets. Since I wanted something for everyday wear, and I lead a pretty active lifestyle, I opted for a bangle.
Price Point
The greatest advantage of shopping at the Angara is that you have absolute control over your spending. This can be done by choosing the cut, clarity, carat, and color that suits your budget. From the 4Cs to the certification of the stone, its current demand and industry trends, all dictate the price of the jewelry piece. Another way you can control the final price is by deciding what setting you want for your gemstones. I narrowed it down to pavé or channel settings and I picked channel setting as I felt that would keep the stones protected. At the Angara, you can also customize pieces by choosing the metal, gemstone quality, and carat weight that suits your budget.
Gemstone Cut
Whether you choose a traditional cut or a one-of-a-kind cut, there is something for everyone at the Angara. Each gemstone cut has a unique character and I would advise you to do a little research about which cut you would like in your jewelry. The classic round cut lets light shine most brilliantly and is elegant. While the princess cut resembles a square and looks refined, the emerald cut is unique and glamorous. The asscher cut is more suited for vintage designs, whereas the cushion cut gives a softer, feminine feel. The oval shape has the same brilliance as the round cut but is more whimsical, and then there is the marquise cut which is striking and offers the best depth of color. I wanted small diamonds, but maximum sparkle. So, I chose round stones.
Gemstone Quality
The Angara allows you to choose the gemstone quality in terms of color and clarity, and this is a great customization option, as it allows you to work within your budget. Color refers to the hue, tone, and saturation. For colored gemstones, the purer the hue and stronger the saturation, the higher the value. Angara grades colored gemstones as good, better, best, and heirloom.
On the other hand, the value of a diamond increases significantly when it is colorless. The highest color grade in diamonds is when the stone is colorless. The scale starts at D, and goes on till Z. D to F represent colorless diamonds, G to J are near colorless, K to M have faint inclusions, N to R have a very light color and S to Z have a light brown, yellow or gray color.
Another deciding factor for gemstone quality, especially for diamonds, is clarity. A diamond can be graded from being flawless to having inclusions. This is a measure of the number of inclusions and the location of these inclusions inside the stone. An inclusion is an internal or external flaw that is a result of the natural process of diamond formation. This also has a scale, and goes from flawless (FL) and internally flawless (IF), very very slightly included (VVS1 and VVS2), very slightly included (VS1 and VS2), slightly included (SI1, SI2, and SI3) to included (I1, I2, and I3).
Gemstone Carat
The last customization factor to decide upon is the carat weight of the gemstone. This, of course, depends on careful consideration of your budget and preferred style. Depending on what item of jewelry you are getting made, a quick consult with a jeweler will help you decide what carat weight you should go for. The size and consequently the price of the piece increases with the carat weight and this should be kept in mind.
After much consideration, I opted for H, SI2 diamonds in 3 carats. This was the step-by-step process I followed to finalize the bracelet/bangle design that I wanted. I did not want diamonds to run all along the circumference of the bangle. Hence, I chose a design that had gems placed halfway around. This turned out to be more affordable and I was able to treat myself to another simpler, plain gold bangle that would work beautifully when stacked with the diamond bracelet.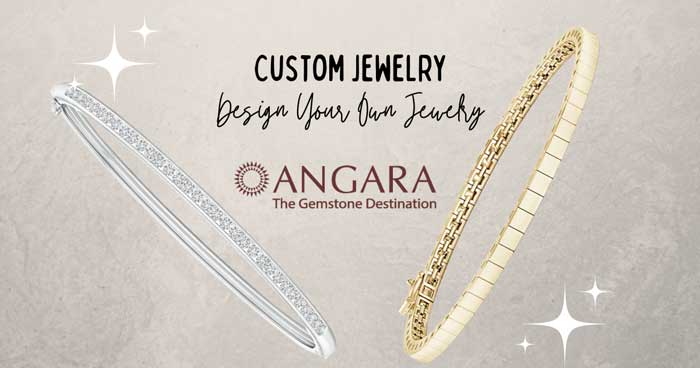 Both the bangles turned out great and fit my budget perfectly. With online jewelry shopping becoming more popular and reliable, this is one thing every jewelry enthusiast must try. And with a brand like the Angara, you can customize your piece in just a few simple steps!
---