Whether you want to enjoy your favorite movie or play FIFA and chill with your friends and family, the size of the TV matters to enhance your experience.
One of the most common TV sizes is 55-inch TV dimensions. , But Users should measure their area to find the optimal TV size while deciding on the appropriate TV size to purchase.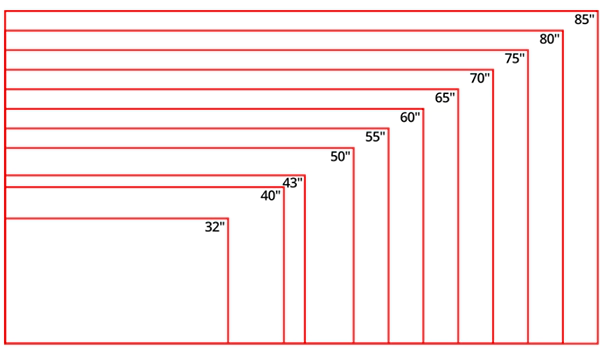 Understanding a TV's measurements, especially the width, is crucial when deciding. Some individuals incorrectly combine the TV's width and diagonal. For instance, a buddy of mine wanted to purchase a 55-inch TV. He only decided on a 55-inch TV, a little smaller than he had anticipated.
Consequently, users may require some formulas or charts to understand the estimate of the height and breadth of the screen to better grasp how wide a 55-inch TV is.
Do you want to know whether a 55-inch TV is the best size of TV for your home or not?
If yes, this article might be a must-read for you to understand the dimensions of a 55-inch wide TV. Here, I will talk to you about 55 Inch TV width, length, and all other measurements.
55-inch TV Dimensions
55-inch TVs are not 55 inches wide. I won't bother you with calculations or lengthy explanations; you must be aware that 55-inch TV dimensions will never be exactly 55 inches wide because the width is always smaller than the diagonal.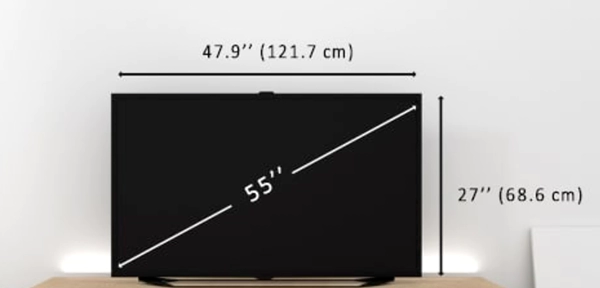 It's a frequent misperception that TVs that are 55 inches long are also 55 inches wide. How long is a 55-inch TV, then? Let's find out in the sections that follow.
55-inch TV Width
The majority of TVs have a 16:9 aspect ratio, which means that if either side of the TV were divided into equal parts, two of those parts would equal 16 (the TV's width), and the other two would equal 9 (this is the length of the TV). Therefore, most TVs will have a width of 47.94 inches (121 cm).
Of course, you must realize that the size of 55''TV indicates that its screen measures 55 inches. The frame will result in a small increase in the size of the TV itself, but modern TVs have extremely narrow bezels; therefore, their impact on the screen's total size is minimal.
55-inch TV Length
The TV screen's aspect ratio also affects the height. The typical height with a 16:9 TV will be around 27 inches (68.5 cm). But this is the TV's height without the stand. The height of a 55-inch TV will be 3 inches (7.62 cm) greater if you're using a stand.
55-inch TV Thickness
Although thickness or depth is not as crucial as height and width, it is still a significant measurement. The hardware, not the diagonal, determines the thickness, and the TV must be thick enough to accommodate a CPU, HDMI ports, and other connectors.
Modern TVs are generally about 2 inches thick (about 5 cm). It varies depending on the TV model, but the typical thickness ranges from 1.7 to 2.2 inches. Remember that the TV's depth will be roughly 12 inches with the stand, which counts toward the device's thickness (30.5 cm).
Ideal Viewing Distance For a 55-inch TV
For TVs, some manufacturers have published recommendations for the best viewing distance. The quantity of space the screen should occupy in your field of vision and the distance at which the eyes can see the screen's image are two factors that affect this distance.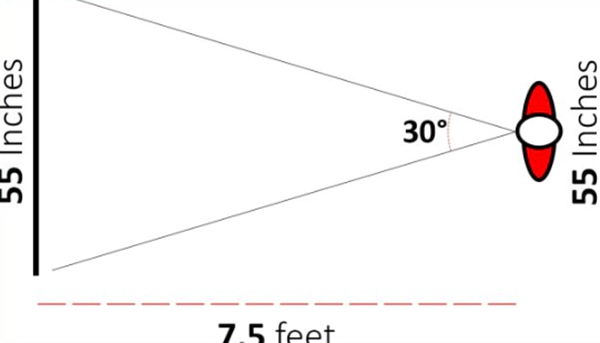 The suggested viewing distance for a 55-inch TV is approximately 7.5 feet. Nevertheless, people should remember that this recommendation is only an estimate.
You might start at about 7.5 feet away and walk around to find the right distance to find the best viewing distance.
55-inch TV Dimensions V/S Other Sizes
Here is a comprehensive breakdown of screen dimensions from 32″ to 85″ TVs, broken down by width, height, and area (in centimeters and inches).
| | | | |
| --- | --- | --- | --- |
| Size | Width | Height | Area |
| 32″ | 27.9″70.9 cm | 15.7″39.9 cm | 438 in²0.283 m² |
| 40″ | 34.9″88.6 cm | 19.6″49.8 cm | 684 in²0.441 m² |
| 43″ | 37.5″95.3 cm | 21.1″53.6 cm | 791 in²0.511 m² |
| 50″ | 43.6″110.7 cm | 24.5″62.2 cm | 1068 in²0.689 m² |
| 55″ | 47.9″121.7 cm | 27″68.6 cm | 1293 in²0.835 m² |
| 60″ | 52.3″132.8 cm | 29.4″74.7 cm | 1538 in²0.992 m² |
| 65″ | 56.7″144 cm | 31.9″81 cm | 1809 in²1.166 m² |
| 70″ | 61″154.9 cm | 34.3″87.1 cm | 2092 in²1.349 m² |
| 75″ | 65.4″166.1 cm | 36.8″93.5 cm | 2407 in²1.553 m² |
| 80″ | 69.7″177 cm | 39.2″99.6 cm | 2732 in²1.763 m² |
| 85″ | 74.1″188.2 cm | 41.7″105.9 cm | 3090 in² |
55-inch TV: Features
Users may search for a variety of features offered by 55″ TVs. Here are some of the available features in the market that come with 55-inch TV dimensions.
Increased brightness of the white areas on the screen is another benefit of HDR. Higher contrast and improved details are made possible when paired with full-array dimming.
4K refers to the image resolution on the screen when referring to television. The term "4,000" (sometimes known as "4K") refers to the number of pixels along a 4K TV's horizontal axis. The size may not be exactly 4,000 pixels, but it's very close.
Because each pixel represents a portion of the image, the visuals displayed on the screen of a 55-inch TV benefit from the high pixel count.
Full-array local dimming is another image-enhancing feature that buyers can discover on a 4K TV. The placement of the backlight on a liquid crystal display is referred to as this characteristic (LCD.)
There are other backlighting styles available, but full-array local dimming offers the best contrast between the brightest and darkest areas of the screen.
A lot of consumers search for smart TVs in the 55-inch size. As cable and satellite subscriptions are less common, users may find this feature to be important. Consumers can also watch content from their streaming services on their TV screens thanks to the smart TV feature.
Final Thoughts
A 55-inch TV dimension is among the most widely used TV models due to its adaptable size. Many people enjoy the size and quality of the screen, but they overlook the TV's dimensions.
A 55-inch TV screen that is 48 inches wide, 29 inches tall, and 2 inches thick can also be easily mounted on the wall. Consider sizing your television if the distance between you and the screen is greater than 7 feet. The size of the TV can also vary depending on the brand and model.
I hope that this comprehensive guide on 55-inch TV measurements will help you in making an informed decision.
Ans: The diagonal length of a TV screen is measured from one corner to the other. A 55-inch TV, for instance, is 55 inches when the screen alone is measured.
Ans:The weight of a 55-inch TV with its stand varies based on the model or brand and ranges from 25 to 50 pounds.
Ans: A 55-inch TV is typically a decent fit for a typical living room. You might think about upgrading to a 65- or 60-inch TV screen. You should avoid 75-inch TVs because they are only suitable for large living rooms.