If you are a rider or driver, who has had their account disabled by Uber and don't know why, then we have got you an all-out easy guide. You will be able to understand what happened and how you can get your account reactivated.
It can be troublesome if the above message prompts saying "Account Disabled" when you rely on Uber for traveling or earning. And it can be even worse when you are not sure of the reason. But looks like there's really always a solution for everything and since you are here, you will get the fixes you're looking for. These days it seems as if Uber has become a go-to for many.
In this article, we will briefly discuss the possible reasons why your account was disabled and how you can recover it back or get it reactivated.
Why is My Uber Account Disabled?
Uber goes with the motto of Safety and Respect for All. For a driver or a passenger, if Uber has disabled their account, the possible reason for that can be a violation of Uber's community guidelines. However, most importantly, not following the three major guidelines can cause disabling or deactivation of an Uber account. And breaking those guidelines can even lead to permanent deactivation. Let's see what those guidelines are set by Uber and how they work:
Treat Everyone with Respect: Uber strongly believes that both the driver and the passenger should show mutual respect towards each other regardless of their race, gender, or any unnecessary means of discrimination. This also includes no physical contact, sexual assault or misconduct, or threatening and rude behavior.
Help Keep One Another safe: Uber has always made sure to keep a check on the security and safety of riders and drivers as well. It is a must for both to wear their seatbelts until they reach their destination or drop-off at least. And not just that, the rider must never share account or login information with anyone, and the rider must be 18 years or above of age in order to have an Uber account.
Follow the Law: Uber promotes and encourages everyone to follow the laws and the set of rules and regulations while traveling. Like going according to the traffic rules, and making sure the passenger is comfortable. The use of drugs and alcohol is strictly prohibited, and the drivers can't decline riders if they are carrying a service animal along with them. However, it's the driver's wish in the case of pets other than service animals.
Apart from these guidelines, there are some more reasons which can lead to the deactivation or disabling of your Uber account. They are given as follows:
Wrong Credit Card Details
Logged in from multiple devices
Times of Cancellation by Riders are high
Different accounts logged in on the same mobile
Use of the same email for more than one account
You were offline for 90 days
Creating multiple accounts to claim credits using the same bank account.
Low Rating and Bad Reviews
How to Find Out Why your Uber Account is Disabled?
Uber doesn't always provide an explanation in the case of deactivation and so if you think your account got deactivated without any reason, you can do the following to clear your query:
Contact Uber's driver support line: 1-800-593-7069
Tweet @Uber_Support
Send a message in the driver app
Visit: Uber Greenlight Hub
Use contact forms provided in the app or get help at help.uber.com.
How to Reactivate an Uber Account?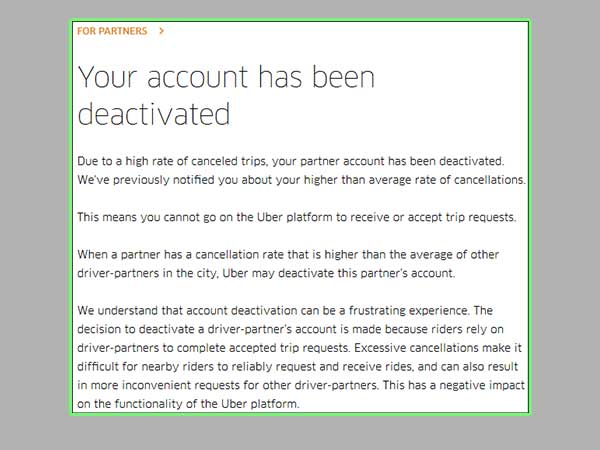 Even though there is no surety whether you will certainly get your account back or not, you can raise a query to Uber if you think you haven't violated any terms and conditions or community guidelines of Uber. However, if you have got it deactivated because of your own fault, then there will be no way of getting your Uber account back. If your account has been deactivated, it will look something like this:
To start with the process and try to get your account reactivated, then follow the given steps:
Go to your Mail.
Compose an email to support@uber.com.
Describe your issue to them and explain the situation.
Include an attachment of any Identity Card issued by the government to keep your account activated.
Set the subject as My account was suspended.
Send the mail.
Now, here are some easy tips which might help you in the reactivation of your Uber account:
Tip 1: Go to Uber's Help Page and enter your query with information.
Tip 2: Reinstall the Uber app and enter your account's login details.
Tip 3: Create a new Uber Account using a new number.
Tip 4: Select the query "I can't sign in to my account" and you might be able to get your account reactivated this way.
Tip 5: Leave your account idle for 2 months and log in again using the same number.
How to Prevent Disabling of your Uber Account?
Nobody wants to get their Uber Account disabled and in order to not let that happen, one has to follow and maintain the terms and conditions and guidelines set by Uber. If you want to prevent the disabling of your account, then make sure that you follow the points given below:
Do not disrespect anyone and follow the rules of safety.
Always pay for your ride and avoid the situation of skipping or delay.
Do not provide incorrect or as good as expired credit card details.
Make sure your contact number for all details is the same.
Using different accounts with the same phone number will be considered an unusual activity.
Avoid using two different Uber accounts on the same device.
How to Improve Uber Ratings?
One of the main reasons that get your account disabled or deactivated by Uber is not being able to maintain a good rating – both as a passenger and as a driver. If you are wondering how you can improve your rating as a driver or a rider, then the first and foremost thing you can do is to follow the set of rules and regulations set by Uber. There are some ways how you can improve your Uber rating:
Uber recommends the riders take their belongings or (if any) trash with them, wear their seat belt, be on time, treat drivers with respect, and don't slam doors.
Provide less waiting time.
Respect other people's privacy and personal space.
Don't create chaos even if unforeseen circumstances occur.
Help out the rider with the luggage and be polite with one another.
Keep your information and documentation up-to-date.
These are some common and basic ways by which you can improve your ratings on Uber whether you are a driver or a rider.
FAQ
After how long does the Uber account get disabled or suspended?

Your account gets automatically suspended if you were logged out or not online for 90 days. However, you can log in to Uber again whenever you wish to come back for taking rides.
How to know if your account has been suspended on Uber?

Your account has been temporarily deactivated due to unusual activity on your profile.

Your account has been temporarily deactivated due to unusual activity on your profile.
Your account has been locked due to security reasons.
Your account has been disabled because of an activity that violates our terms and conditions.
Please contact support about your Uber account.