We all remember the 'Share a Coke' campaign of Coca-Cola for obvious reasons.
For those of you who don't, here's what the campaign was all about.
Coca-Cola replaced logos on packaging with names, encouraging customers to find their name or a friend's. Each bottle had a unique QR Code for scanning. By scanning, customers could access a personalized web page to create a virtual Coke bottle with their chosen name and even share it on social media.
The campaign was a viral sensation that generated immense engagement and millions of social media posts and hashtags.
But here's what. Would the campaign have gone viral if Coca-Cola had used a website link instead of a Quick Response Code? Highly unlikely, isn't it?
So, undoubtedly the winning formula of this campaign is QR Codes.
If there's a customer experience strategy that has a 100% chance of working out, it is a convenience. As the industry evolves, retailers seek ways to make life easier for their consumers by saving time and effort. That's where these Codes come into play.
By simply using your phone to scan a product, you can instantly access its information, promotions, offers, and authenticity, even provide feedback, reach the support team, and whatnot. And let's not forget the fact that these codes on packets are also appealing and curiosity-inculcating, nudging users to scan and know what's inside.
So, if you are looking for a holistic solution like QR Codes for the packaging, you have arrived at the right place. In this article, we will share the five best QR Code generators that can help you revamp your product packaging and take it up a notch. 
Top 5 QR Code Generators for Product Packaging In 2023
Here is a breakdown of all the tools that made it to our top five list for QR Code generators for items. The breakdown will include features, pros, cons, pricing, and rating.
Beaconstac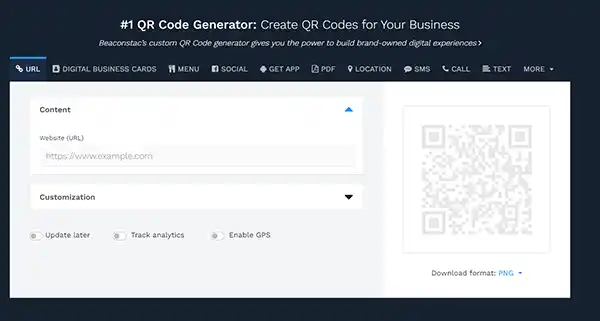 Beaconstac's QR Code generator is the #1 QR Code solution available out there for both individuals and businesses. Perfect for product packaging, you can create them in print-ready formats of SVG or EPS. The platform lets you customize them to align with your brand style. You can edit the colors, backgrounds and add your brand logo as well. You even have the option to customize it so it looks unique and attractive.
There's more – Beaconstac supports dynamic QR Codes allowing businesses to update the content behind them without changing the physical code on every parceling.
It is extremely user-friendly and easily accessible on both desktop and mobile devices. Once you have customized it, you can preview it in real time before you generate it.
Pros
Free QR Code generator if you want to create only static Codes.
Highly customizable.
Reports and analytics with in-built data and Google Analytics integration
Multi-user access
Real-time scannability score
Super-responsive customer support
Integration with 5000+ CRMs, sales, and HR tools.
Multi-lingual.
Bulk creation capabilities
Enterprise-grade security with GDPR and SOC-2 Type II compliance
Advanced retargeting and other enterprise-level features
Cons
Logo size and placement inside the Code could be better
More variations in the templates/design could be added
Pricing: Beaconstac offers a 14-day free trial where you can explore the solution in detail. The paid plans start at $5/month and go up to $99/month, billed annually. They also provide enterprise plans, for which you can get in touch with theIR sales team directly.
Rating: 4.9 out of 5
The QR Code Generator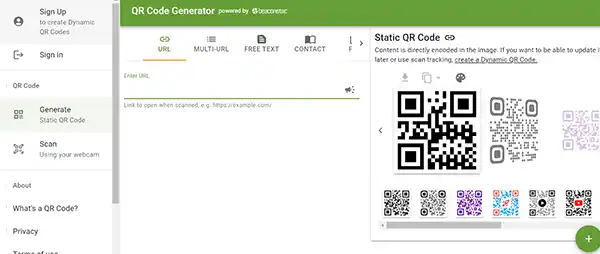 The QR Code Generator provides a straightforward and intuitive interface for generating them quickly and efficiently. With this maker, you can create scripts for your packaging needs and embed different types of content, including URLs, text, phone numbers, SMS messages, email addresses, and Wi-Fi connections. 
The tool offers several customization options to personalize your Codes. You can choose from different options types depending on your specific needs and also customize the color, size, and error correction level of the program to match your branding or aesthetic preferences.
Once it gets customized, you can download it in PNG format or any other high-resolution format that meets your product distribution requirements. Now that The Generator is acquired by Beaconstac, you can also benefit from their advanced features on upgrading to a paid plan. You'll be redirected to Beaconstac once you sign up.
Pros
Build a static program for free
Multiple templates to choose from
Campaign URL builder
Margin customizations
All dynamic features of Beaconstac are available upon upgrading
Cons
The UX of The QR Code Generator is not that great
No way to track the analytics of free scripts
You can't add your brand logo to the without upgrading
Most customizations are available with dynamic options
Pricing: The solution is completely free if you are looking to create only static QR Codes. For dynamic ones, the pricing plans of Beaconstac apply here.
Scanova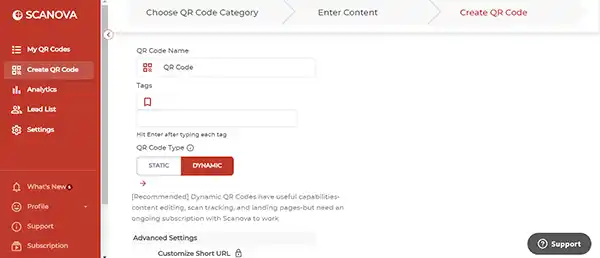 Scanova is a comprehensive generator and management platform that offers a wide range of features to build, customize, and track campaigns. Businesses can generate them for different content types, with website URLs, text, contacts, social media profiles, etc. 
Scanova also provides analytics and tracking options to monitor performance. You can track scan data, like the number of scans, locations, and devices used to scan it on your product packaging. The platform has extensive customization options for them, including adding logos or icons and opting for different shapes. But to do all of this, you'll need to create an account which doesn't take much time. You can download them in various formats, such as PNG, JPG, SVG, PDF, and EPS.
Pros
Multiple templates to choose from
Extensive customizations, logos, colors, and shapes
Have different tags
Password protected
Multi-user access
Detailed analytics, with the GPS Location of scans
Collect user data using lead forms
Cons
You have to keep the account active to keep the code live
Users face issues with logo-based QR Codes
Limited data can be analyzed at one time
Sometimes the exact location of the scans can't be figured
Pricing: The paid plans start at $9/month and go up to $75/month, billed annually. They also have an ultra-lite plan that lets you create a single Dynamic good with lifetime validity. 
Rating: 4.5 out of 5
QR Tiger 
QR Tiger offers a straightforward interface that allows users like you to create custom scripts quickly and effortlessly. Like the other reliable generators out there, you get plenty of customization options with QR Tiger too.
It offers analytics and tracking capabilities to monitor performance, where you can track scan data, including the number of scans, geographic locations, and device information. You can also build them in bulk, a perfect product packaging feature, and download them in PNG or SVG formats.
Pros
Simple user interface
Great customer support
High levels of security and privacy of data, including GDPR compliance, ISO 27001, and SSL certification
Create them in bulk
Save them as templates
Actionable data and insights
Cons
Users experience lags and glitches
There's a slight learning curve
The interface could use some updates
Pricing: The paid plans start at $7/month and go up to $37/month, billed monthly. It has a free trial period, but the program generated during the trial will include the QR Tiger logo.
Rating: 4.8 out of 5
Canva QR Code Generator

We are sure Canva doesn't need any introduction. The Graphic design tool, Canva also offers a generator to create customized codes easily. It seamlessly integrates with Canva's existing design features, allowing you to directly incorporate them into the packaging design. 
With Canva, you can create scripts only for URL content types, including website URLs, email addresses, social media profiles, and more. You can modify the background color, foreground color, margin, and QR Code size.
The real-time preview feature in Canva lets you see the changes to their QR Codes as they make adjustments. Once the program is generated and customized to your satisfaction, you can download it in various formats such as PNG, JPEG, SVG, and PDF.
Pros
It is a free tool
Easy-to-use interface
Download available in multiple formats
Integrates seamlessly with package design
Cons
No built-in capability to track analytics
You can't add a logo
Only one Code shape is available
Limited customizations
Can't create dynamic ones
Pricing: There are no paid plans. It's a free tool for QR Code creation.
Rating: 4.7 out of 5
Checklist for Choosing the Right QR Code Generator
Picking the right platform can be challenging, with a lot of options available in the market claiming to be the best. But here's a checklist you can use to choose the perfect fit for your packaging needs.
Customization
That one platform offering good customization options for product parceling is a good option. This includes adjusting the size and adding logos and colors based on your brand guidelines.
Dynamic QR Codes
Dynamic ones are vital for item wrapping as they allow you to update the destination URL or content behind them without changing the physical distribution. This flexibility is necessary for future updates, promotions, or redirecting customers to different landing pages based on campaigns or regions.
High-Resolution Output
Since they are printed, it's vital to ensure that it allows downloading in high-resolution formats suitable for printing. When scaled down to fit the packaging dimensions, the codes should be sharp, clear, and easily scannable.
If you are trying out an item, you must test the generated scripts by printing them on a sample of your parceling material to ensure the codes maintain their readability and functionality.
Automation
Automation capabilities are fundamental when dealing with large-scale production or frequent updates to your product parceling.
Look for the one that offers automation features, such as bulk code generation or integration with your existing systems through APIs (Application Programming Interfaces). This allows you to streamline the process of creating and managing them on your item, saving time and effort.
Analytics and Tracking
When choosing a generator for your goods, ensure it offers relevant analytics and tracking features. This way, you can measure the performance of the programs, including how many times the code gets scanned, how engaged users are, and even conversion rates.
These insights into customer behavior help you evaluate the success of your campaigns and make smart decisions for future strategies.
Also, we have gone ahead and compared these makers for product packaging against the checklist, so you can easily choose one without much hassle.
| | | | | | |
| --- | --- | --- | --- | --- | --- |
| | Customizations | Dynamic QR Codes | High-Resolution output | Automation | Analytics and Tracking |
| Beaconstac | ✅ | ✅ | ✅ | ✅ | ✅ |
| The QR Code generator | ✅ | ❌ | ✅ | ❌ | ❌ |
| Scanova | ✅ | ✅ | ✅ | ✅ | ✅ |
| QR Tiger | ✅ | ✅ | ✅ | ✅ | ✅ |
| Canva | ✅ (Limited) | ❌ | ✅ | ❌ | ❌ |
Scan Your Way Into the Future of Product Packaging!
QR Codes have gained mass popularity among businesses since the pandemic hit. Incorporating these scripts in your product packaging can open up a world of opportunities for you to connect with consumers on a deeper level.
And to achieve Coca-Cola-like success, the right generator will make all the difference in your business. Just as you would test-drive a car before making a purchase, it's basic to sign up for a trial of these, to get a firsthand experience of how they work.
Now, figure out your business needs, try out various QR Code creators, and choose the one that aligns most with your requirements.
---
---