Are you a newcomer to the financial world and would like to build a successful trading career? Then we are here to provide in-depth reviews of the top brokerage companies. There are tremendous chances of getting successful results if you get your hands on these brokers since they are specifically established for novice traders.
In this guide, you will find out about the core aspects of Forex brokers and learn what prominent features they provide. We are going to point out several brokerage firms and talk about the single most important quality that they offer to traders. The following list has been built using InvestFox website's analytical tools and capabilities for finding the best matching brokers.
AvaTrade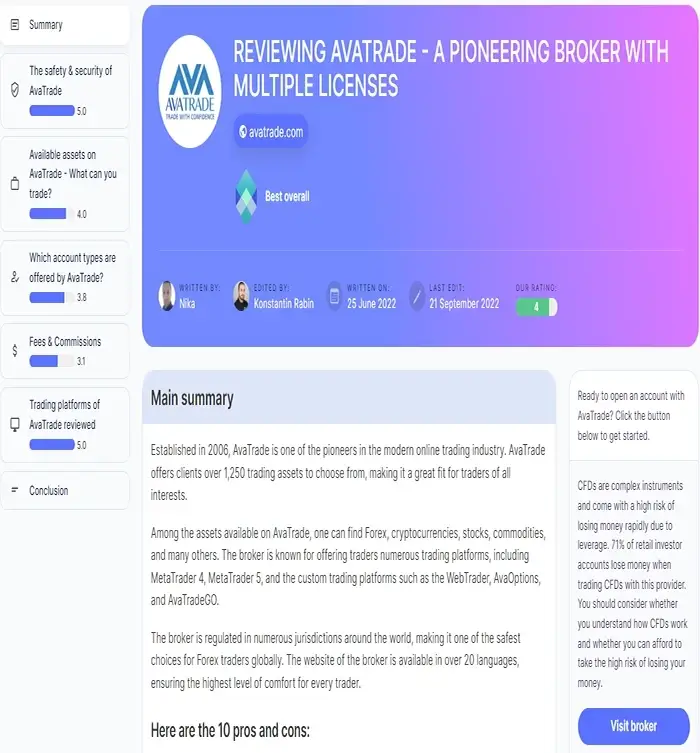 AvaTrade is one of the most popular Forex brokers launched back in 2008 and has retained huge customer engagement ever since. The most notable attribute of AvaTrade is that it offers a wide range of financial instruments such as indices, commodities, bonds, ETFs, cryptocurrencies, stocks, CFDs, Forex pairs, and FXOptions.
Also Read :- Choose the Best Options for Brokers Expert Recommendations by Traders Union
The Forex section is represented by the major currency pairs such as EUR/USD, GBP/USD, USD/JPY, EUR/CHF, EUR/JPY, EUR/GBP, USD/CAD, and so forth. In terms of stocks, the leading spots are taken by the following companies – Apple, Amazon, Intel, Microsoft, Teva, Netflix, Tesla, Caterpillar, etc…
When it comes to commodities, you will come across well-known instruments including Gold, Crude Oil, Silver, Platinum, Copper, Brent Oil, Natural Gas, Heating Oil, and so on. As for digital coins, there is an array of options starting from Bitcoin, Ethereum, Ripple, Litecoin, Stellar, and other cryptos. Indices feature the following instruments – US-500, US-TECH100, US-30, CAC-40, DAX-30, FTSE-100, etc. When it comes to ETF trading, AvaTrade offers you a wide selection of the Most Traded ETFs in the market, and what's more, spreads start from just 0.0013 on ETFs.
Lastly, AvaTrade provides a focused range of U.S, European and Asian government bonds to trade as CFDs on the industry's leading software.
Read the full review here: https://investfox.com/reviews/forex-brokers/avatrade/
XM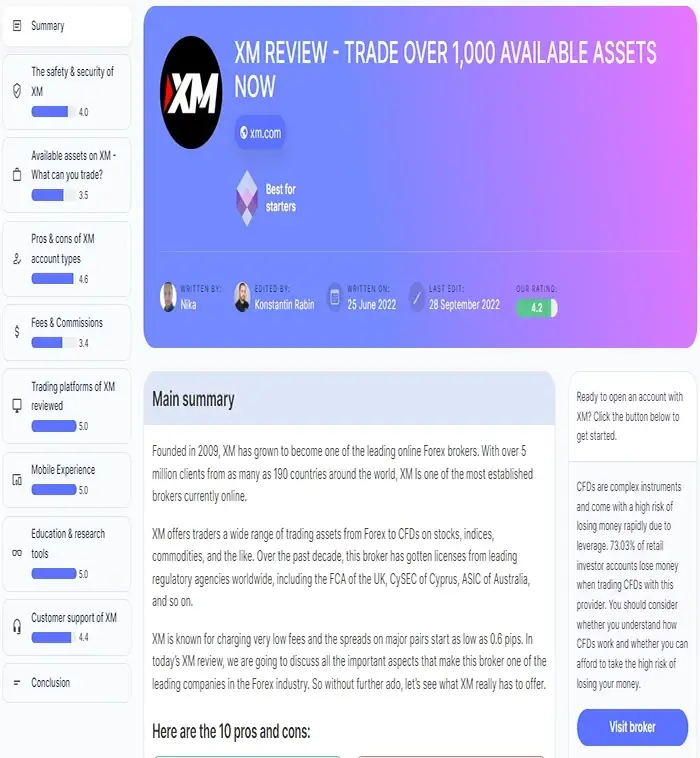 XM is also a famous Forex broker established in 2009 and operates at high levels to this day. There are various options in terms of trading accounts on this broker, and we would like to review each one thoroughly.
The micro account consists of various base currency options such as USD, EUR, GBP, JPY, and so on. Leverage can go up to 1:1000** and in terms of contract size, 1 lot equals 1,000 here. Spreads for micro accounts start as low as 1 pip on every major pair, and you are able to open a total of 300 positions.
Standard accounts come with pretty much similar characteristics, but the main difference is that 1 lot equals 100,000 for this one. Also, the standard account includes a total of 50 lots per ticket and the minimum deposit you can provide is $5.
XM Ultra Low Accounts contain relatively small currency options and the spread on all majors starts as low as 0.6 pips for this one. Hedging is allowed here and there is no commission for ultra-low accounts.
When it comes to the Share Account, we have to note that it provides only USD as the base currency and the contract size is 1 share here. There is no leverage in shares accounts and commission is included. There are no swaps as well and hedging is not allowed, but the minimum trade volume is 1 lot here.
The major distinctive quality of shares accounts is that they include $10,000 as a minimum deposit. There are also demo and Islamic accounts on XM in order to give Muslims the opportunity to trade.
Read the full review here: https://investfox.com/reviews/forex-brokers/xm/
3 Exness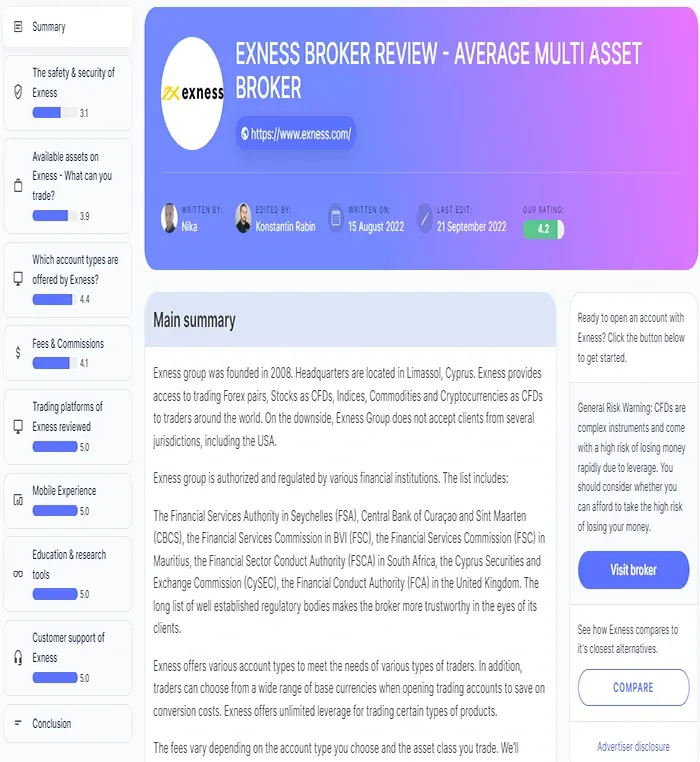 Exness was launched back in 2008 and today, it is one of the most popular Forex brokers. Exness is recommended to novice traders for various reasons, but mainly because it offers the industry's leading trading software. You will come across the two most famous trading platforms on this broker, such as MetaTrader 4 and MetaTrader 5, as both of them are developed by a company called MetaQuotes. The main features of MT 4 are analytical tools, trading flexibility, security, automated trading, and availability of over 200 financial instruments.
As for MT 5, it is also a powerful tool consisting of high-class attributes such as MetaQuotes Language 5, MetaEditor, Hedging System, Fundamental Analysis, Charts & Timeframes, Indicators, and Analytical Object Tools.
What's more, apart from the above-mentioned software, Exness provides a web-based Exness Terminal and Exness mobile app. The terminal itself offers over 50 tools and 100 technical indicators. Also, if you wish to trade directly in your browser, you can take advantage of MetaTrader WebTerminal on this broker.
Read the full review here: https://investfox.com/reviews/forex-brokers/exness/
4. Saxo Bank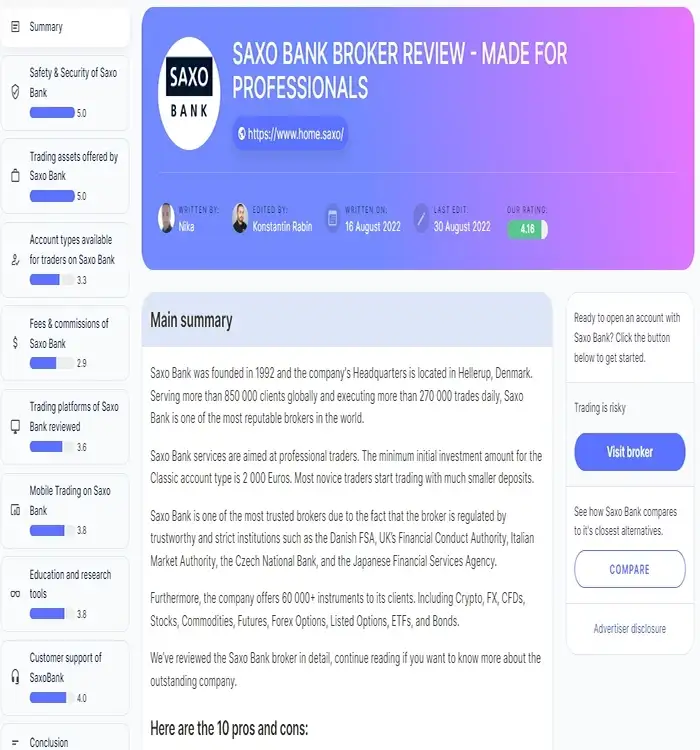 Saxo Bank is one of the pioneers of the financial world since it has operated at high levels ever since 1992. The most appealing feature of this Forex broker is that it is regulated in more than 10 jurisdictions such as Australia, Belgium, Denmark, France, Hong Kong, Italy, Japan, The Netherlands, Singapore, Switzerland, and the UK. This fact speaks volumes about the safety and reliability of Saxo Bank, which should be the number one priority for every brokerage company.
Funds of every customer are kept in segregated accounts, which is a great thing since some brokers easily access them by mixing accounts. Given the fact that there are numerous fraudulent instances and financial traps in this market, it has become crucial to ensure legitimacy, and Saxo Bank has a lot to offer in this regard.
As a result, you will be able to save a lot of time, energy, and money when you are assured of safety. Furthermore, Saxo Bank uses negative balance protection, which means that it will close every active position in case your account balance is getting closer to zero.
This is a significant quality of the broker, especially for novice traders as they are often hit by high liquidity when major news is announced and prices experience rapid movements. Lastly, it is worth noting that Saxo Bank is involved in the compensation fund, which acts pretty much like financial insurance for investors.
Read the full review here: https://investfox.com/reviews/forex-brokers/saxo-bank/
---