In multimedia systems, where bandwidth is still a critical asset, video compression techniques are of prime importance for lowering the amount of data required for a frame sequence without losing much of its quality. And the continued evolution of video content and resolution over the past decade has sparked breakthroughs in video compression methods, leading to the birth of many video compression software. Thus, in this post, we compiled the ten best free video compression software featuring the most up-to-date compression algorithms with the maximum compression efficiency for you to leverage.
Best Free Video Compression Software for Desktop
Equipped with a Max-Quality Compression Engine, VideoProc Converter, a one-stop solution to video processing for Windows and Mac, enables you to free compress large video files with the highest image quality retained. Incorporating a high-tech coding algorithm, the video compressor is armed with all compression options, including decreasing GOP, bitrate, and frame rate, downscaling the resolution, converting to a more aggressive codec, etc. You can shrink your video over 90% of the original size with a few simple clicks while maintaining the maximum file data.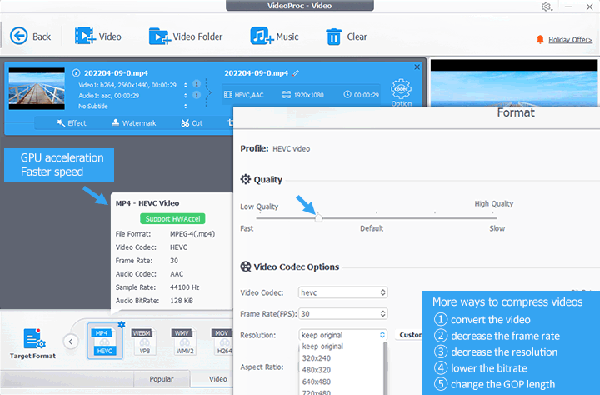 Also Read:-5 Mistakes to Avoid When Reselling Your Mac
Features:
The Max-Quality Compression Engine retains the maximum quality of the video.
Cover all proven compression methods with refined and flexible control for both the audio and video properties
47x real-time faster compression thanks to the Full GPU acceleration.
One-stop video solutions for macOS and Windows: convert, resize, fix, edit, download
Pros:
Estimated output size for compression ratio control in real-time.
Combination of compression efficiency and ease of use.
Support 370 input codecs and 420 output formats.
Fast compression speed, full-featured editing suite, UHD video converter.
Intuitive interface with user-friendly tools all in one place: converting, recording, editing, downloading, etc.
Cons:
Not working on a Linux system.
HandBrake
Originally crafted for ripping DVDs on Mac, HandBrake has infiltrated the PC market and has pushed forward its ability to expand into new fields, with one being video compression. Incorporating some of the leading-edge compression techniques into its design, HandBrake allows users to compress video in all popular codecs like MP4, AVI, MOV, H.264, HEVC, etc., and reduce the video to over 80% of the original without compromising much data. But a steep learning curve is required to get hold of the customized compression settings, and thus it is suggested that beginners go with the preset options for the direct compression output.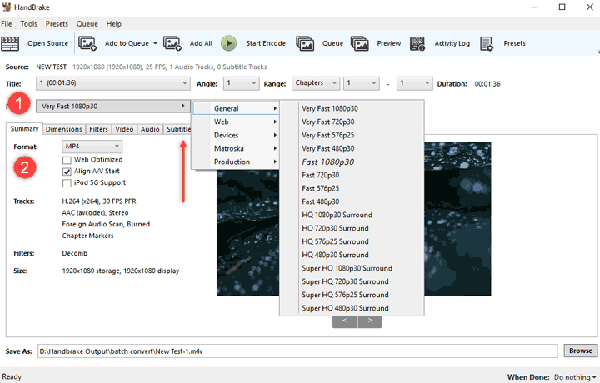 Features:
Outstanding format support to compress videos in virtually all types.
Well-stocked setting presets to help compress video size by lowering video bit range, frame rate, resolution, converting codecs, etc.
Hardware Acceleration to expedite the compression speed while retaining large amounts of the image data.
Pros:
Batch processing support
Free and open source with a plethora of tutorials to dive in
A decent compression efficiency
Cons:
Intricate user interface
Something of a learning curve
Only allows exporting videos in MKV, WebM, and MP4 format
Freemake Video Converter
Featuring the capabilities to convert, compress, and edit videos on Windows only, Freemake Video Converter can handle up to 500+ formats and quickly reduce video files like MKV, MP4, H.264, etc. Packed with versatile compression presets, you can compress your video file to the desired size without further adjustment. Yet, the video compressor has stopped renewing the service since the last update in December 2020 and thus is short of some trending compression techniques.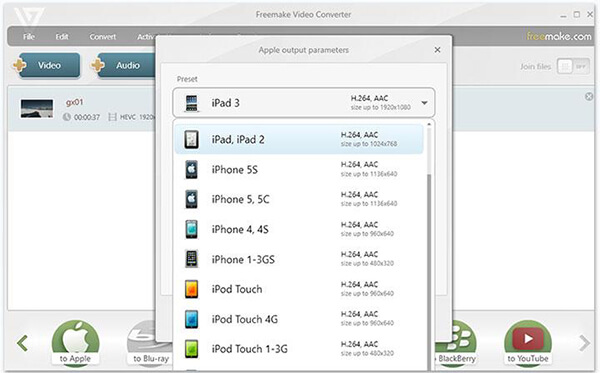 Features:
Reduce the video size by setting the desired output file size while maintaining the top-notch video image
Flexible media parameter settings to adjust bit rate, frame size, and more.
Pros:
Intuitive user interface
Make slideshows, add SRT/ASS/SSA subtitles
Rip and burn home or unprotected DVDs
Cons:
Accessible only on Windows systems, and short of the recent devices and video formats.
A subscription fee is required to remove the watermark added after compression
Sluggish compression speed
No support for HEVC and AVI codecs
Frequent crashes and other errors
VLC media player
Programmed as a free and open-source media player, the VLC media player supports a load of audio and video compression methods and file formats. The interframe & intraframe coding algorithm enables you to cut video size up to 80% off with imperceptible quality loss by downscaling bit rate, frame rate, video resolution, downsizing audio, and more, with ready-make presets to streamline the compression workflow. But note that the sophisticated interface might not be a preferred option for the beginner.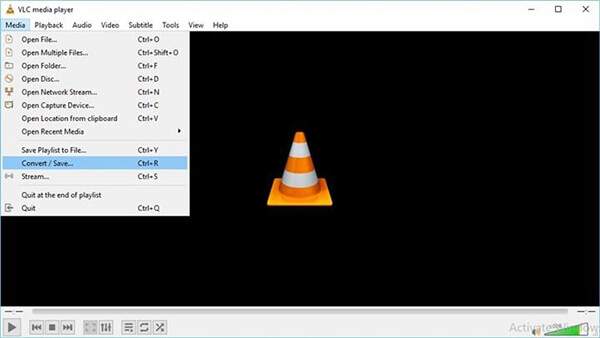 Features:
Customized encoding parameters to compress video size
Support large videos in all popular formats
Lower CPU usage rate compared with most other free video compression software
Support Direct3D11 and DirectX hardware accelerated decoding.
Pros:
Works on all platforms
Preview option is available
A wide range of input formats
Cons:
Sluggish compression speed
System crashes and undesired output file size after compressing
The interface is hard to work with
FFmpeg
As a free and open-source software project with a suite of libraries to handle video, audio, and other multimedia files, FFmpeg encompasses a collection of video and audio compression algorithms and features multiple switches to customize output bitrate, video codec, etc., which allows you to reduce video size from GBs to MBs without losing much quality. At its core is the command-line utility, part of the workflow of many other compression software like VLC and HandBrake. It is also included in core processing for YouTube and Bilibili.

Features:
High compression efficiency to reduce the large video to the target size
Reduce video bitrate, downscale video resolution, crop, deshake, denoise, blur, etc.
Pros:
Leading multimedia framework to decode, encode, transcode, mux, demux, and play pretty much anything
Support the most ancient format up to the cutting edge
Accessible on Windows, macOS, Linux, and other operating systems
Cons:
Requires a deep learning curve for the beginners
Relative slow compression speed
Shutter Encoder
Designed as a limit-free professional video converter, Shutter Encoder, though lacking the one-click compression feature, allows you to use its all-round parameters to adjust settings for resolution, bitrate, file size, resolution, and more to shrink video files over half to 90% of the original with sounding output quality. Better yet, developed based on FFmpeg, the tool packs an impressive amount of formats, including AVI, HEVC, VP9, and GoPro CineForm, able to handle almost everything you throw at it.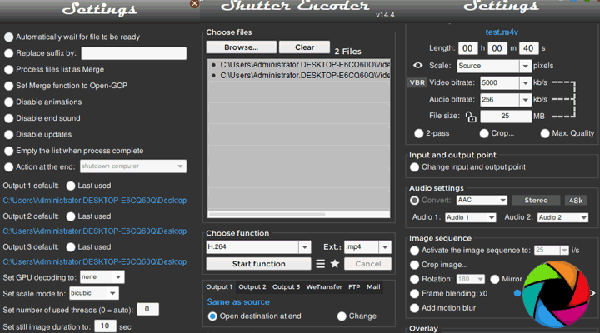 Features:
Convert video to a format with higher compression efficiency to reduce the file size
Transcode, remux, download, compress, edit, rip DVDs, and more
Pros:
Strong technical support with stable service update
Free, no ads or watermark
Cons:
Intense CPU usage
Relative slow compression speed
Complicated user interface is hard to dig in
Best Free Online Video Compression Software
FreeConvert
As a web-based free video compressor, FreeConvert enables you to free-reduce video files to around 45% of their original content while retaining large amounts of the image data. Integrating a basket of compression options, the tool allows you to adjust the size, change the maximum bitrate, tune the picture quality, and more to shrink your video file to the wanted height. But the compression ratio leaves much to be desired, and you are not permitted to compress a size larger than 1GB.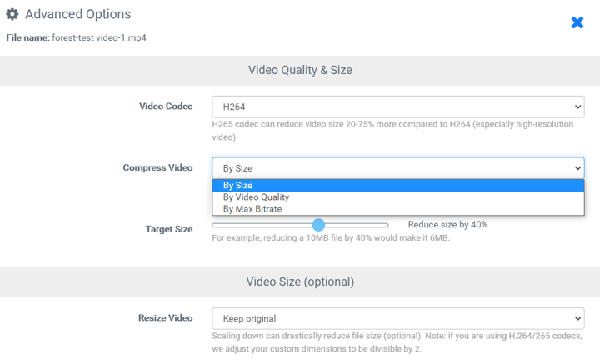 Pros:
Free MP4, MOV, WEBM, MKV video compressors
Compress video file without registering, no ads or watermark
Convert video to H.264 or HEVC codecs which offer greater video compression
Secure video compression via HTTPS protocol
Cons:
Limitation on the file compression size
Dissatisfactory compression ratio
Unworkable for large file compression
CloudConvert
Presenting itself as the Swiss army knife for all document and file online conversions, CloudConvert is also characterized by its ability to compress video, removing redundant and unnecessary data. The straightforward user interface makes it easy to upload a video file and reduce file size without installing any extra video compressor software.

But note that the program supports only up to 1GB in its free version and restricts the number of files you can process in a row. And a subscription must be made to unlock its unlimited potential.
Pros:
Compress or convert video, audio, ebook, picture, and document files.
Tons of high-quality file conversion options to work with
The advanced API design allows the incorporation into other cloud-based services
Effortless, fast, and easy to use
Cons:
Free usage limit is 25 conversions per day.
Slow compression speed under the undesired network connection
Zamzar
Zamzar, one of the leading web-based file conversions, is also capable of compressing video with only up to 50MB free compression size, or a subscription fee is requested to make. With an easy-to-navigate and ads-free interface, you must import your video file, click on the compression button, and then leave the rest to the program. But what seems to be a little irritating is that the service gives no extra control over the compression settings, which may not be a preferred option for users after a specific compression size.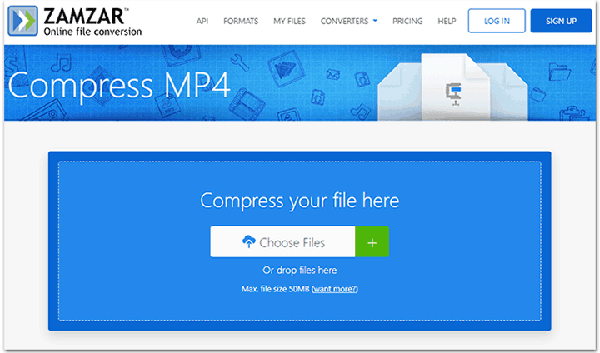 Pros:
Free from ads and watermark
Compress small video, audio, picture, and documents files
Cons:
Only supports AVI, MOV, and MP4 files
The maximum free compression size is up to 50MB
No estimated compressed size displayed
Clideo
Claimed to be the top online compressor, Clideo lives up to the exceptions from the followers. With simple clicks, you can reduce your video file size by up to 20% and keep the quality as much as possible before sharing it on WhatsApp or other social media platforms. But a watermark is inserted in the compressed video.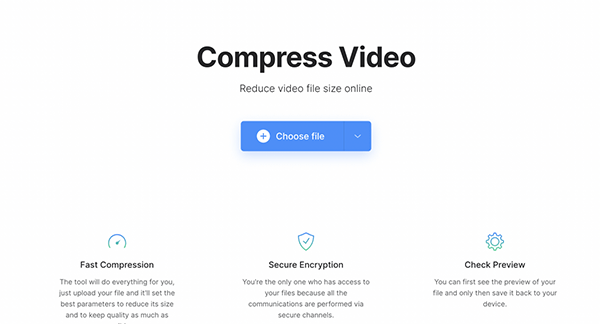 Pros:
Secure encryption to safeguard your files from leaking.
Check preview before exporting the compressed file
Works with any popular format, including MP4, WMV, MOV, VOB, AVI
A simple user interface to work with
Cons:
Unable to choose the compressed video file format
Watermark is added to the compressed video in all the accessible versions.
---