Are you looking for a way to make a big impact in your workplace? Why not try creating a white paper? White papers are documents that present an argument or position on a particular issue. They can be used to introduce new ideas to your team or to rally support for change. In this blog post, we'll discuss how to create a white paper for the workplace, and provide some tips on making your document as effective as possible. Let's get started!
Creating a white paper for the workplace is a great way to get your ideas noticed. But before you start writing, there are a few things you should keep in mind.
Creating a White Paper Project for the Workplace
Decide on Purpose
First, decide what purpose your white paper will serve. Are you trying to introduce a new idea to your team? Or are you looking to build support for a particular proposal? Once you know the purpose of your white paper, you can start crafting your argument.
Choose a Topic
Once you have decided on the purpose, time to choose a topic. If you're struggling to come up with ideas, here are a few topics to get you started:
The future of work
The changing nature of jobs
The rise of the freelance economy
The power of employee engagement
The benefits of workplace flexibility
Strategies to Improve Productivity

Target Your Audience
Next, think about who your white paper is for. Who will be reading it? What kind of language will they understand? Keep your audience in mind as you write, and tailor your argument accordingly.
Make it Easy to Read
Once you've decided on the purpose and audience for your white paper, it's time to start writing. But before you do, keep one thing in mind: white papers should be easy to read. That means making use of short paragraphs, clear language, and helpful headings and subheadings in the presentation. By making your white paper easy to read, you'll increase the chances that it will actually be read!
Be Persuasive
Of course, the ultimate goal of any white paper is to persuade its readers. To do that, you'll need to make a strong argument. Start by laying out the problem that your white paper is addressing. Then, present your solution in clear and concise terms. Be sure to back up your claims with data, examples, and expert testimony. By making a persuasive case, you'll increase the chances that your white paper will actually be read and acted upon. Be sure to back up your claims with data and research. This will make your white paper more persuasive and credible.
But Be Neutral
While it's important to be persuasive, it's also important to maintain a neutral tone. Don't take sides in your white paper – instead, let the data speak for itself. If you can make a strong argument without resorting to emotion or personal opinion, you'll be more likely to achieve your goals.
Give a Conclusion
Finally, be sure to give your white paper a strong conclusion. Summarize your argument, and remind readers of the benefits of following your proposal. By ending on a positive note, you'll leave readers feeling motivated and inspired to take action.
Present a Call to Action
Finally, don't forget to include a call to action at the end of your white paper. What do you want your readers to do? Vote for a particular proposal? Sign a petition? Contact their representatives? By including a clear call to action, you'll give your readers the tools they need to help make change happen.
Proofread
Last but not least, be sure to proofread your white paper before you publish it. This is especially important if you're aiming for a professional welcoming of your work. Typos and grammatical errors can make your white paper look unprofessional and unconvincing. So take the time to proofread your work carefully, and ask for feedback from others before you publish.
Now that you know how to create a white paper for the workplace, it's time to get started. Use these tips to write a document that will get your ideas noticed – and maybe even help make your workplace a better place.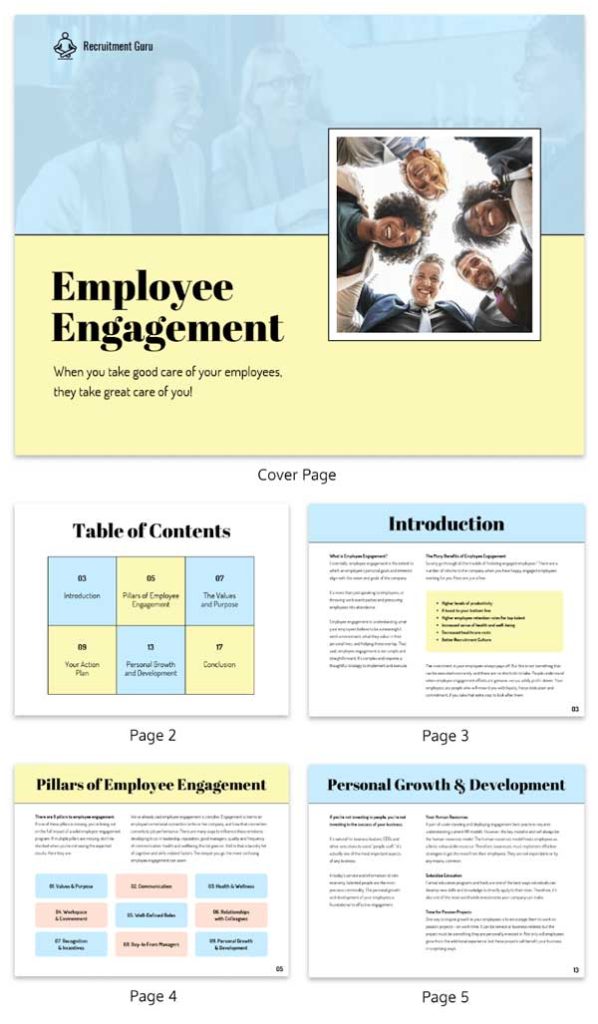 Also Read: What is the Impact of the Pandemic on Today's Workplace?
Venngage is an online tool you can use – it has lots of white paper designs and templates to help you get started.
Venngage is a user-friendly online tool that can help you create beautiful, professional white papers. With over 1,000 templates and designs to choose from, you're sure to find the perfect template for your needs. And if you don't find what you need, Venngage offers easy customization options so you can make your white paper look exactly how you want it to look. Sign up today and start creating stunning white papers with ease!
---