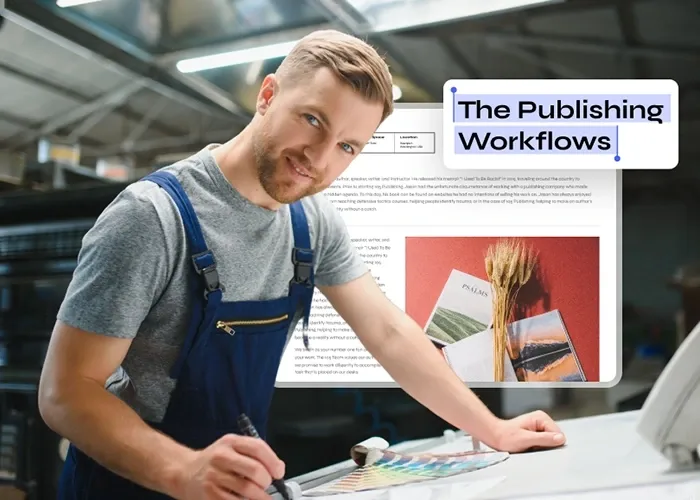 The user base of PDF files is huge all around the globe. Sharing documents with the help of PDF file formats is simple and it doesn't take too much time. However, creating an editable PDF file is not as easy as creating a non-editable PDF file. It can prove to be quite hectic if you are not aware of the suitable tools that you can use to create editable PDF files hassle-free.
We are going to look into one of the best PDF editor tools that allow users to create PDF documents with ease. The name of this tool is, Wondershare PDFelement. If you are willing to create an editable pdf document, you don't need to worry. Here, we will also introduce you to the process of creating editable PDF files with the help of PDFelement. Before going further, let's get to know about Wondershare PDFelement in brief.
Introduction of Wondershare PDFelement
PDFelement is an all-in-one solution for all your needs related to PDF files. This PDF editor app is compatible with Windows, Mac, iOS, and Android as well. The user interface of the PDFelement is quite simple and anyone can easily edit PDF files in a few seconds. Creation of editable PDF documents is also very simple with the help of PDFelement as you won't need to use your brain or look for any other app to do the work. In this article, we will be discussing the different methods of creating PDF files with the help of the best PDF maker, PDFelement. 
You can also covert your pdf without hassle.
Create PDF Files in Several Ways
Wondershare PDFelement allows its users to create high-quality editable PDF files. You are just required to upload a suitable PDF file to make it editable. Here are a few methods of creating PDF files with the help of PDFelement.
Create PDF from any Microsoft Office file
Creating PDF files from any Microsoft Office file has been simplified by the PDFelement app. You can just simply convert Microsoft Office files like, .doc, .xls, .ppt, .gif, .log, .config, etc to PDF files without any difficulty.
Also, Read: How to Convert PDF to Excel?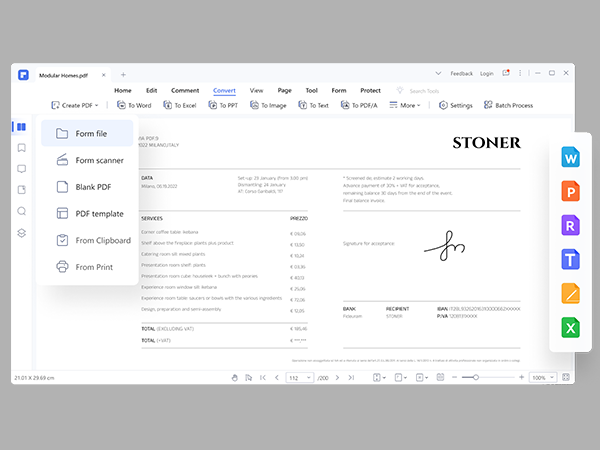 Create PDF from Clipboard
Do you know that you can create a PDF of any article/blog that you have seen or liked on search engines or any other social media platform? Yes, it is possible with the help of the clipboard feature of PDFelement. You just need to select "Create" in PDFelement and then tap on "From Clipboard" and your work is done.
Create PDF from Images and Convert it to a Searchable and Editable PDF File
A PDF file can also be created with the help of a scanned document or an image available in the file formats like JPEG, TIFF, or PNG image. These images can easily be converted into searchable and editable PDF files.
Read This Also: The Best PDF Converter with OCR Included – UPDF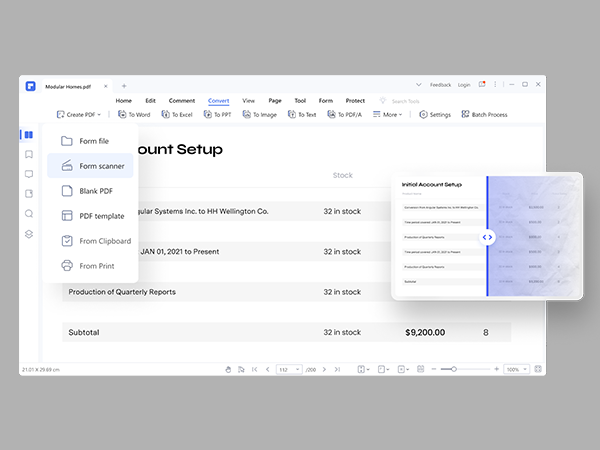 Create PDF from the Print function
Are you frustrated with switching from one application or web page to another while creating a PDF through the print function? The problem can be resolved by just choosing PDFelement as the printer after clicking on "Print" to create an editable PDF file effortlessly.
Create Blank PDF
Creating blank PDFs is also quite easy with the help of PDFelement. Now you can zoom the part of any drawing section to make your decision and fill in the accurate detail.
Batch Create PDF Document
PDFelement helps its users in creating batch PDF documents. The process of adding or editing comments, texts, images, links, PDF forms, watermarks, backgrounds, headers, and footers has been simplified with the introduction of batch creation of PDF documents. This is going to be very useful for future searches.
How to Create PDF Files With PDFelement
Here are the steps that you need to follow to create PDF files with PDFelement. However, before going further make sure that you have successfully installed PDFelement on your device.
Step 1: Open PDFelement
In the first step, just open the PDFelement app on your device. Look for the option "Create PDF" available in the home window and tap on it.
Step 2: Create PDF
As soon as you are done with selecting the "Create PDF" option, search for the PDF file you wish to change into a new PDF file. Click on the "Open" button to proceed with the process.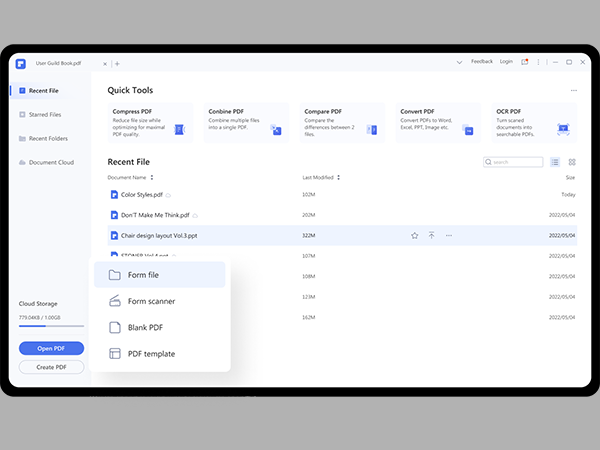 Step 3: Save the Created PDF Document
Once the creation process gets completed, click on the "Save" option to download the newly generated PDF file on your device to use it the way you wish.
Other Features
Apart from just creating PDF documents, PDFelement has other amazing features as well. Below we have made a list of some of the best features of PDFelement.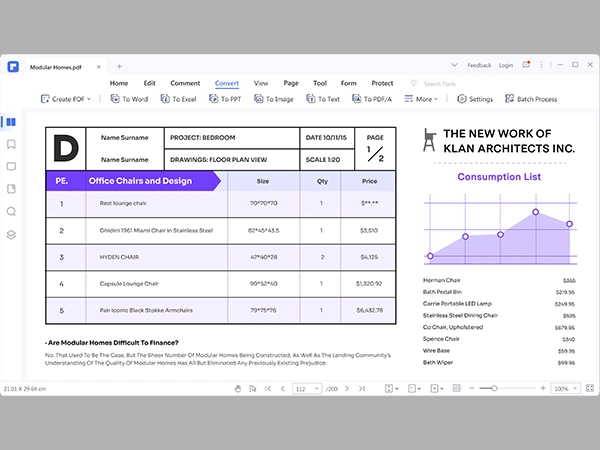 PDFelement can be used as a Pdf filler which can help you in editing PDF forms with ease.
You can edit, annotate, and organize PDF documents with the help of PDFelement.
PDFelement can compress, OCR, and combine PDF files.
Read and extract data from PDF documents to use in the future.
Sign PDF files using the PDFelement app in no time.
You can also protect PDF files through the PDFelement app to keep your crucial documents protected from any kind of risk of data theft.
Verdict
Generating an editable PDF document of your choice can be hectic and time-consuming. PDFelement is a wonderful PDF editor app that can work as a one-stop solution for every kind of problem concerned with PDF files. You can simply create and edit top-quality PDF files with the help of PDFelement without any difficulty. An easy-to-use PDF tool for everyone to use seamlessly anywhere.
---