Updating the legacy system is relevant as it can bring a lot of value to your business. Sometimes, the current structure becomes outdated and can't get the job done, so a software update is required. As well-established companies are rehauling themselves completely or partially and small businesses are growing, there is a need to maintain brand consistency.
It can only happen when the companies take the initiative to modernize their software network and compete aggressively providing more value to brands. Legacy modernization streamlines the entire process efficiency as well as satisfies customers' and clients' requirements.
Here is the ultimate legacy software modernization guide.
What is Legacy Software?
A legacy system is usually old software that cannot meet the growing demand of today's advanced business sectors. These methods were very helpful in the past, but as the new features are available, they are outdated to the extent that you can't update them.
This procedure improves operational productivity by introducing new products as per changing market trends and it also addresses technical constraints that may be slowly disintegrating the business ecosystem. Consumer needs should always be prioritized and therefore, if companies do not update their programs, it can become a roadblock to a company's success.
Why Modernize a Legacy Software?
Modernization of legacy applications can be expensive and requires some time, so you may think that is why modernize the format. However, the growth of a company depends on providing efficient and unique services before anyone else, It is significant to look at the points below and make your decision.
You can get ahead of your competitors by updating the legacy software.
The new systematic process will reduce the overall cost eventually.
If the security of your legacy structure is outdated it can pose a threat to your data and services. The updated software will boost security.
With the new software that features a better user interface, your business will attract more customers.
EXPERT ADVICE
You can redeploy company data to other infrastructure components (physical, virtual or cloud) without modifying its code, features, or functions.
How to Modernize a Legacy Software?
To streamline legacy software, you should take a step-by-step approach to avoid problems and complete the procedure as soon as possible. Here are the steps to modernize legacy applications without too much hassle.
Check the Current System
To check the system, analyze it thoroughly. It will also give you an idea of what are your requirements from the new programming model. Assessment can be easily completed in no time, but it's totally worth the effort.
Conduct a detailed assessment of the technology, as this will act as the foundation for your new programming system. Once the assessment is complete and you have the results, it is time to decide on the right modernization path.
Choose the Right Approach
There are many approaches when you are modernizing programming applications. By deciding on the right approach, you can remodel the legacy software in less time. Here are some of the best approaches that you should consider.
Replace – You can replace the entire legacy system, but it isn't recommended.
Rebuild – Rebuilding approach means building a system from the foundation.
Re platform – You can also bring the legacy system to a new platform.
In the graph shown below, you can assess the importance of modernizing legacy software for removing barriers to the success of a business.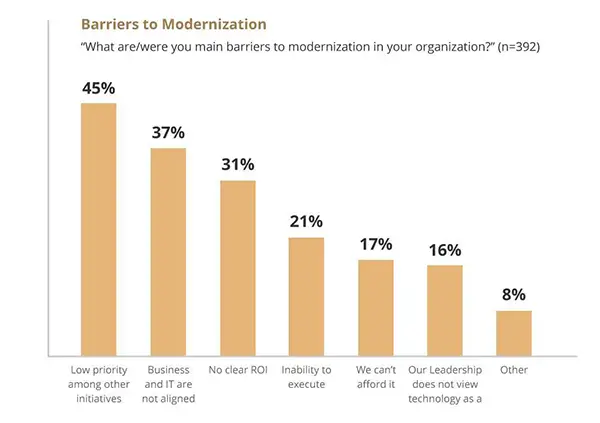 Choose a Timeline
Now, your old technology is replaced and remodeled with custom software, and you should choose the appropriate timeline. You can't simply redevelop the entire programming structure one day. This is an extensive process. By creating a timeline and a roadmap, you can choose the correct strategy.
Implement the Plan
When everything is complete, it is time to implement the modernized legacy system. Don't forget to document the whole process for future reference. Set milestones and communicate with your team to motivate them to achieve more success in less time.
Share information with your team to keep them updated about the progress. The documentation is necessary as you may need to change things in the future. This will be done using specific documents related to your enterprise. It is highly recommended to follow your plan at all costs to avoid problems.
Do you need more information about it? Check www.scalosoft.com
FAQ
The cost of modernizing legacy software is complex and challenging. Why do I need to update it?

The need to update your company program is directly related to the maintenance of records and efficient functioning. The continuous burden of system failure due to overload or old applications is much more than the cost of updated legacy software. Thinking long-term for your business and moving ahead with futuristic technology is a better way to stay ahead of your competitors. 
How can I accelerate the success of my company by updating software?

Integrating business with the IT sector is not just a trend but a requirement for the new model of business. While updating your software, your entire company structure will be modernized. This in turn will accelerate many production and manufacturing processes. In this way, your company will be recognized as satisfying the demands of the consumers. 
How do I assess the type of requirements for my business and choose appropriate advanced software?

Each business model is unique with its features differing extensively from others even if the niche is similar. Assessment of your business model means focusing on specific requirements and also considering any programming weaknesses. A detailed report should remove any complex structures and at the same time an upgraded system that adds more value to your brand. 

Moreover, the cyber security risks should be prioritized as the entire foundation of your business process depends on it. Any bugs and technical glitches should be removed that could have a negative impact on your existing operations.
---