Neck fans have become an essential purchase as they promise to stay intact with users' necks to provide cool, breezing air so that the sweltering heat doesn't melt them. They are sometimes confused with neckbands but are quite different due to their intact fan feature. They have become trends due to the effectiveness of bladeless technology. One of the primary reasons to choose them is that the current model contains dual speakers, too, so you can have fun with two cool features.
Whether it's about running on the treadmill or being sluggish on the office couch, Neck Fan never leaves you disappointed because they provide cooling service with their effective technology. If you are confused between the various options present in the market and are asking for a guide before buying one, here is a list of the 15 best portable neck fans that can be trusted for efficient performance and long-lasting battery support.
Compatible Features in a Reliable Neck Fan
This article represents a list of portable neck fans that are currently on trend and which do not miss a chance to impress their users. Before bringing up the list of neck fans, we would like you to know the features that have been considered by us before choosing the neck fan itself.
Portability: There are various neck fan options present in the market with different promises, but portability cannot be compromised in either the built or sound quality. Plastic, rubber, and silicon metal are some of the neck fan-built materials, and they are preferred individually for various reasons, including lightweight or trusted material type. I prefer the Silicon metal type neck fans because even though they give a heavy look, they still sit perfectly on the neck, have got no sweating issues, perfect for the gym or while traveling.
Battery Power: As Neck Fans have got rechargeable batteries, they need to be charged when their battery dies. Interestingly, their battery notification is easily available on the Bluetooth settings when you connect it to your phone. Neckfans with long-lasting battery support are more useful as they will help the users in the long run, so we prefer them highly.
Design: Yes, the design does matter when we pick any technical equipment, and so is the case with the neck fan. The list below consists of eye-catching designed neck fans which are both attractive and efficient. They are designed to rest on users' necks comfortably while a cool external look is also necessary.
Power: The neck fan should contain high power to beat the heavy summer stress. This is one of the significant features to be looked at. It should contain the strength to hold both fans and dual speakers safely, giving users a peaceful experience throughout the day. While it is also important to know that not all neck fans contain the speaker's options along with fans and outlets.
After knowing the various important features, let's get to know some portable neck fans.
Best 15 Neck Fans in The Market
Neck fans are a necessity in summer, as their lightweight design plus the bladeless fans sway away all the sweat and help the users survive in hot weather. Here is a list of 15 budget-friendly neck fans that are renowned for their best services.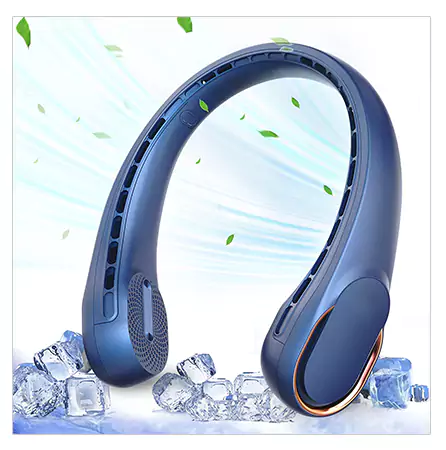 ASNUG Neck fans have 3 adjustable bladeless fans to ensure impeccable cooling service to their users. It has a fantastic air outlet design with turbine blades that provides users with instant cooling in just 3 seconds. These are the most convenient options, with a brushless, silent motor, a stylish design, and a superb, long-lasting battery of 4,000 mAh. Within a three-speed adjustment setting, ASNUG presents a sturdy look neck fan with exciting color options that include Avocado Green, Black, Pink, White, Blue, Green, and Purple.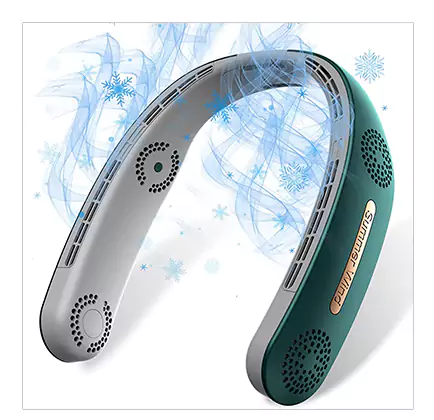 These neck fans have got a premium look with a freestanding mounting type. MSEVC Neck Fans are your real summer friends because they promise a comfortable, quiet service noise level lower than 25 dB. With a rechargeable 6000mAh battery, you will feel comfortable with its user-friendly ABS material and powerful airflow ensured through twin ducts and four turbine motors, providing seamless service. Consider it a trustworthy product because the MSEVC neck fan has appreciative customer ratings on its features.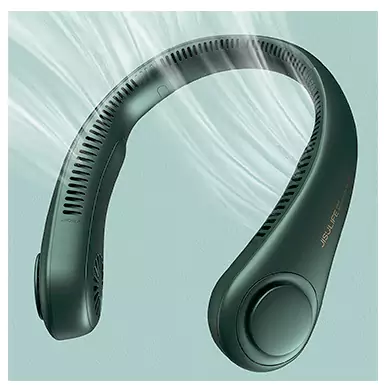 JISULIFE neck fans are a budget-friendly option that contains both fans and headphones(speakers). A fashionable construction was kept in mind by its inventor, as the bladeless 78-air outlet wings are the features of a real summer companion. With a powerful battery strength of 4000 mAh, this silicon and ABS material-built neck fan stays up for 4-16 hours with 3-adjustable speeds. It's a safe option for both children and adults, but only for indoor use and not for many physical activities.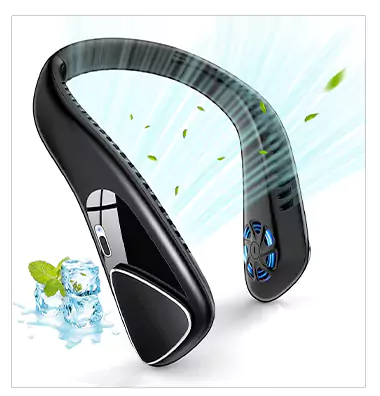 These are high-speed neck fans with elegant designs and are currently Amazon's Choice products. Its fans have got a 360-degree airflow property with upto 62 air outlets that are ready to bestow fresh air service to its user. The bladeless fans keep safety as the priority and hence don't tangle hairs or cloth. With this premium design GOSEAR neckband, there are rechargeable batteries that can be charged after long hours of their cooling services using a USB-C outlet.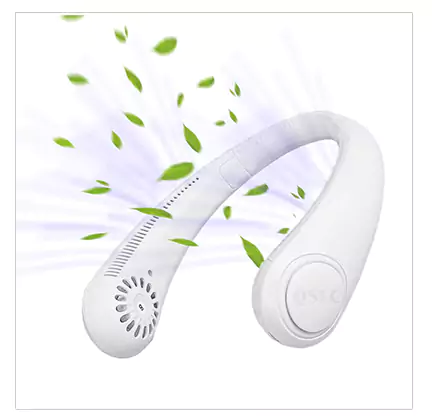 QSEC calls its neck fans mini coolers, and why not? They are the most convenient options present in the market, with strong battery strength due to 6,000 mAh batteries. These hands-free neck fans with a bladeless design give cooling support for up to 20 hours, making a perfect summer companion for their users. The product dimensions are 12W×12D×3H, sit comfortably in the user's neck, and give a commendable performance.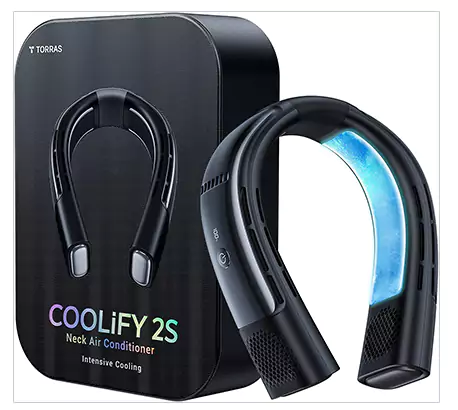 COOLIFY 2S is the best-designed neck fan on the planet Earth. Not just its breathtaking looks, but its functioning is unmatchable. The effective functioning of the TORRAS neck fan is due to its advanced NTC chips that effectively bring lower temperatures up to 30F even in the surrounding temperature of 90F. Providing 360 degrees of cooling effect, this neck fan never fails to impress and comfort, therefore a satisfying product. Well, the only disappointment is its high price of $226. The battery strength of 5,000mAh plus the HyperVortex technology in the neck fan brings an impactful impression.
If you were searching for a budget-friendly neck fan, the VAGAU cooling neck fan is the product where you should stop. Other than providing a 360-degree cooling fan effect, the cooling fan also contains fun and colorful LED lights, a feature to compete with the other available options. With 180g of weight, these are the lightest option you can pick. Also, the copper build supports less noise and robust wind operation for better service. The battery power is of 2000mAh, which can give peaceful 3-10 hours of satisfaction in burning summers.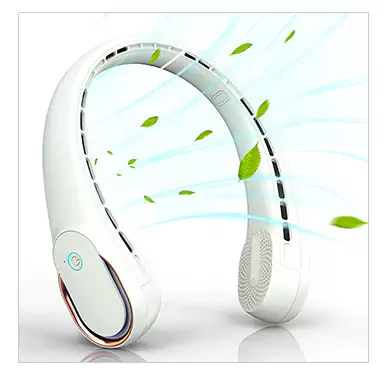 Various reasons make FrSara NeckFan the prior choice among all available neck fans in the market, whether it's the design, performance, battery, or everything. This fashion-styled wearable fan runs its 60 intact blades fastly with the help of a 5200mAh battery to help its user have an unmatchable experience. With an effective 3 seconds cooling facility, this wearable neck fan has got an amazingly unique design that withstands summer jolts and is a portable mountain-type battery-powered electric fan. This product is appreciated highly among the audience due to positive customer reviews on the Amazon website. Interestingly there are about 14 color combinations available in the market.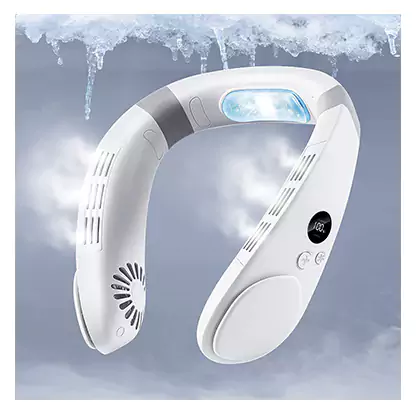 HomePlus technology has raised customer expectations in the market for sure because of its epic design, comfortable build, and user-friendly features. It ensures protection from heating summer days through its semiconductor refrigeration technology. They can be charged easily in 3 hours with a type-C USB cable and give their memorable service of at least 10 hours. HomePlus neck fan can run at 5000rps speed and give soft breezes to its customers. The best part is the control options present in it which are very convenient and give an effortless, flexible performance.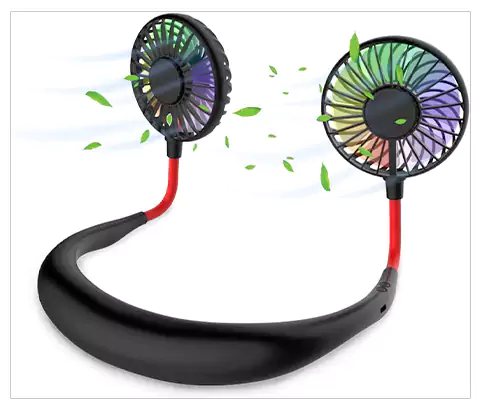 This is another portable, lightweight neck fan that is highly budget-friendly. Also, if you want to grab a neck fan for your outdoor activities, GULAKI does the best service. Interestingly it has also got LED lights in addition to the 360-degree rotation bladeless fan. You can prefer to wear this neck fan for up to 5-6 hours with an amazing breezy air feel, with three adjustable fan options. Also, they are the best present to gift in the summer. Perfect product for goodbye to irritating summers.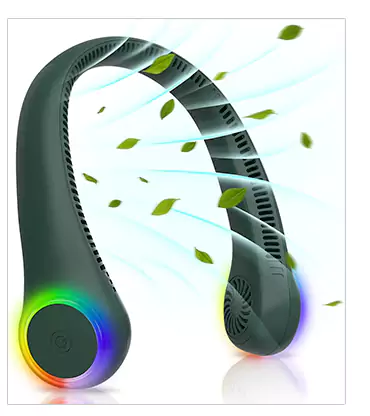 Neck Fan by WOWGO is the Amazon Prime service suggestion. It is constructed with 72 air outlets fixed in its design dimensions which can be easily controlled with the assistance of 3 adjustable wind speeds. Whether it's the suitable TPE material built or the fast charging 4000mAh lithium battery, the product is comfortably satisfying, ready to solve your summer sweat issue in just 3 seconds. They have got a cool look, ensuring the best cooling breeze experience, even in the summer.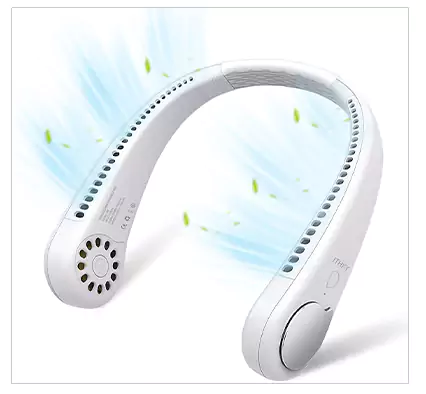 An air conditioner for your neck that is suitable for both children and adults. The 48 wind outlets and 60pcs twin-turbine fan-blades bring out the best cooling in just 3 seconds. It is powered by a 1800mAh battery that ensures awesome service for 3-10 hours. This is a lower-noise neck fan that is constructed of ABS and Silicone material type, perfectly suitable to enjoy freezing air anywhere in the summer. The lightweight size of this wearable neck fan has a fashionable construction, therefore, can be preferred for any outdoor use, like the office or a walk.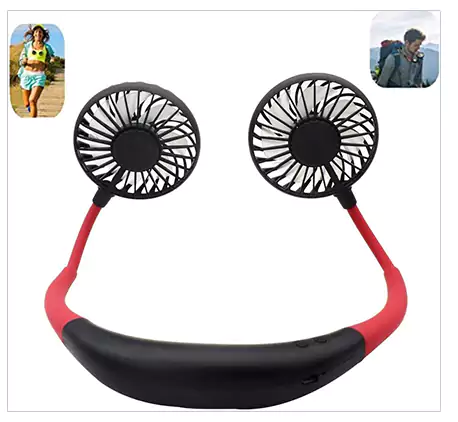 A 2000mAh battery-powered neck fan that only takes 4 hours to get fully charged and later provides 4-12 hours of working with adjustable speed. In these wearable hanging designs, users get a copper brushless motor that stays quiet for a peaceful environment and also does the best job of relaxing its user. It has got only a single button on its surface to ON/OFF the neck fan and ensure an easy setting with an adoptable curved design at the back to adjust easily at necks. The neck fans have a 360-degree rotating capability with 3 different speeds, easily adjustable.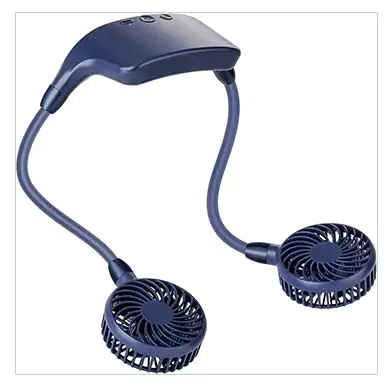 A highly efficient neck fan option that can ensure a memorable 22-hour of breezing air service with the help of its highly efficient 5000mAh battery. These neck fans ensure safety, whether it's the user-friendly build material or the high-quality polymer battery. The 3-adjustable speed allows changing the fans at varying speeds. This product has also got an outstanding features rating at Amazon and is currently one of the best summer companions, thanks to its highly efficient motor, battery, and settings.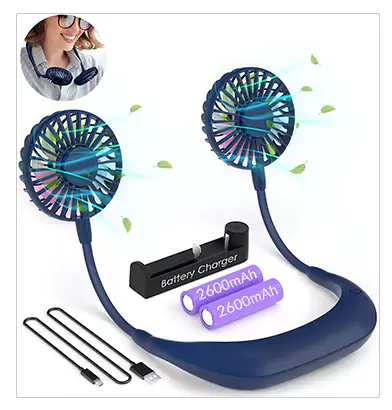 Efficient, lightweight, and long-lasting battery neck fan that delivers unmatchable cooling air, supported by a 2600mAh battery that can last 24 hours. The copper brushless motor makes zero noise, and the cooling strength can be altered easily with adjustable 3-fan speeds. An easily rechargeable, 360-degree surround air conditioner that is easily wearable and one of the most demanding products in the market.
FAQs
Also Read:
How Air Conditioning Technology is changing to meet the needs of the post-pandemic world
What to you do before you turn on the air conditioner?