Amidst the outbreak of Coronavirus, Apple has launched a website and app using which the users can do the screening for coronavirus themselves. The screening doesn't require an Apple account. The tool offers resources for screening, information about the disease, and guidance on how to seek medical treatment. The website and the app have been developed in collaboration with the Centers for Disease Control and Prevention (CDC), Federal Emergency Management Agency (FEMA), and the White House.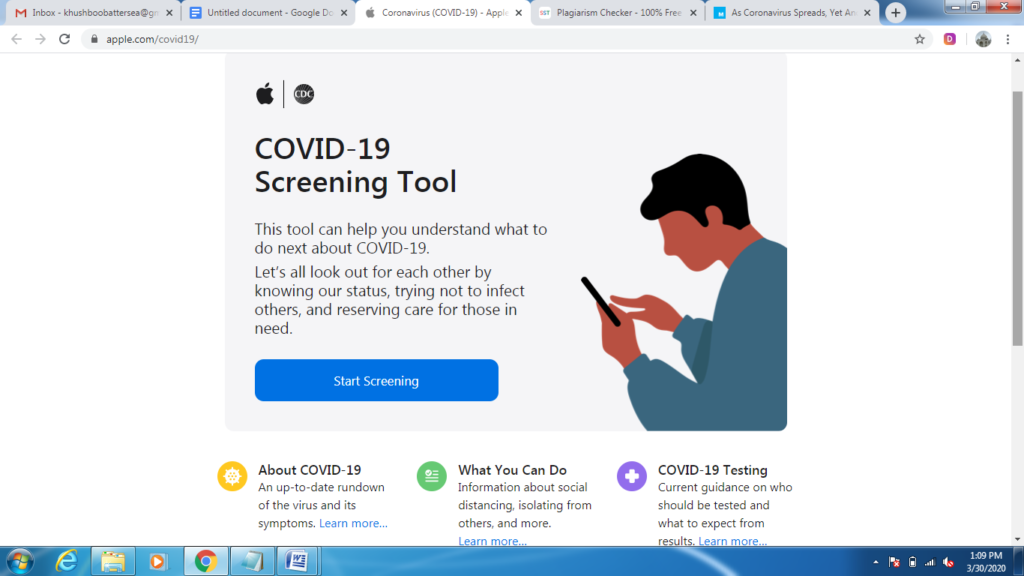 Both the tools i.e. the app and the website will offer you information about the pandemic along with a questionnaire. You will be asked some questions about your symptoms, recent travel or if you have been in contact with the persons who have been infected with the virus.
Once the screening is over, you will be directed to a page that will suggest the next steps and you will be suggested whether you need to be tested for Covid-19. Also, the tool will not share your information with Apple or CDC without your consent. It will only collect the information required to improve the site.
If your screening results suggest you to take a Covid-19 test, 'Apple' will not advise you on where to get tested and only suggest you to talk to someone about it. Also, the CDC has urged to contact the primary doctor before heading out somewhere to get tested. However, in the US, if someone experiences difficulty in breathing, they are urged to immediately call 911.
Additionally, you can even ask Siri "How do I know if I have Coronavirus?" Siri will ask you a few screening questions and you will get all the related information.
Not only Apple, but there are also some other tools available to help you assist with the information regarding the pandemic. Amazon' Alexa can also help users in diagnosing Covid-19.
Verily has also launched a Covid-19 testing and screening website.
An online assessment chatbot is available on Microsoft's Healthcare Bot Service