Contributed by accessiBe
Key Takeaways

accessiBe aims to transform the internet into a universally accessible, inclusive, and fair platform.
They are also dedicated to empowering the disability community by partnering up with disability organizations.
They offer various solutions such as accessWidget, accessScan, accessFlow, and many more.
Some benefits of working with them include improved user experience, organic reach, etc.
They are committed to fostering an inclusive society.
accessiBe's Aspiration: A Web For All
Envision a digital universe where the internet, our most expansive reservoir of resources, is within everyone's reach, irrespective of their abilities. This is the dream that accessiBe, a front-runner in web accessibility solutions, is ardently pursuing.
They are dedicated to transforming the Internet into a universally accessible, inclusive, and fair platform. Their mission is to offer a comprehensive suite of accessibility solutions that enable businesses of all sizes to build and sustain accessible websites.
accessiBe is not enabling commerce. Its technology also empowers users with disabilities. They are at the heart of its mission. The company works side by side with the disability community, partnering with hundreds of disability organizations to educate the business community and the general public about the significance of diversity, equity, and inclusion of persons with disabilities.
This collaboration is a testament to the enterprise's commitment to creating a more inclusive digital world, where everyone has equal access to information and opportunities.
Do You Know?
accessiBe was founded in March 2018 and its headquarter is in Tel Aviv, Israel.
Delving into accessiBe's Ecosystem of Web Accessibility Solutions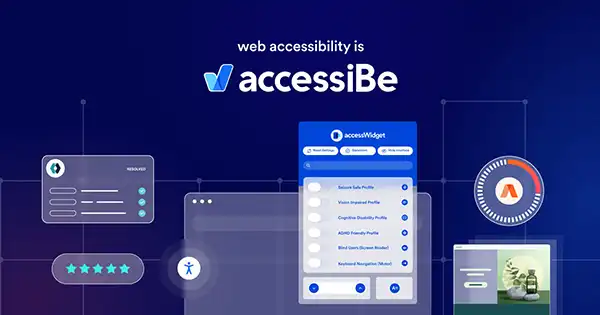 accessiBe offers a suite of solutions that are part of a process towards achieving greater accessibility. These solutions include:
accessWidget: An automated and AI-powered web accessibility solution that enables websites to meet legal standards without making any changes to the original code.

It improves organic reach, user experience, helps comply with accessibility laws and can assist with tax benefits. This tool is a testament to the power of AI in making the network more accessible.
accessFlow: An all-in-one development platform to test, monitor, and remediate the readiness of websites and web applications. This platform empowers developers to ensure that their websites are accessible on a native coding level, making availability an integral part of the development process.
accessServices: Professional services that bring the knowledge of the industry's leading experts to take the next step in digital accessibility.

These services provide businesses with the guidance they need to navigate its complexities, ensuring that their efforts are effective and compliant with legal standards.

accessScan: A free tool that can analyze any website's approachability and deliver a report with issues that need remediation to comply with legal requirements. This tool provides enterprises with a clear roadmap for improving their website's readiness so that they can approach it in a manageable and straightforward way.

These solutions, when combined, form a comprehensive ecosystem that addresses all aspects of web accessibility, from design and development to monitoring and remediation.

This ecosystem approach ensures that organizations have all the tools they need to make their websites accessible, regardless of their size or the complexity of their websites.
The Business Perks of Web Accessibility with accessiBe
Web accessibility is not just about inclusivity. It's also good for business. Here are some of the benefits that they can enjoy with accessiBe:
Improve Organic Reach: They can widen their customer base to include the 16% of the population that has a disability. Their website will rank higher on search engines and experience increased visibility because of enhanced SEO.

This can drive more traffic to the website. In a world where online visibility is significant for business success, this increased reach can be a significant advantage.
Improve the User Experience: A clean user experience, as a result of web accessibility, will offer users consistent page headers and structure, making navigation easier. The easier it is to navigate a website, it's more likely that conversion rates will lift and bounce rates will drop.

This improved user experience can lead to higher customer satisfaction and loyalty, which can translate into increased sales and revenue.

Help Comply with Accessibility Laws: Owning and operating an accessible website means that your enterprise will mitigate legal risk and potentially save valuable time and money that could be spent on lawsuits. To do this, businesses can rely on AI-powered tools such as accessiBe's to conform with WCAG in compliance with the ADA.

This legal compliance can protect them from costly lawsuits and reputational damage.
Help With Taxes: For the ones who invest in it, a tax credit of up to $5,000 is available. The tax credit can be received annually for those who qualify and can be spent on further web accessibility practices. This financial incentive can make the investment in this more affordable and attractive for commerce.

These benefits show that web accessibility is not just a matter of social responsibility. It's also a smart business strategy that can lead to increased visibility, improved user experience, legal compliance, and financial incentives.
Do You Know?
At the latest, the company has raised $58.5 million.
The Legal Map of Web Accessibility: ADA, DOJ, and WCAG
It is not just a matter of inclusivity but a legal requirement. The Americans with Disabilities Act (ADA) and the Department of Justice (DOJ) play vital roles in implementing web accessibility laws.
The Web Content Accessibility Guidelines (WCAG) is the de facto standard for the same. Businesses need to educate themselves on these laws to ensure they are in compliance and to avoid potential lawsuits.
The DOJ is the body that enforces web accessibility adherence, ensuring that they provide equal access to their websites for all users. The WCAG provides a set of guidelines that businesses can follow to make their websites accessible.
Enterprises can ensure that they are compliant with the ADA for web accessibility by complying with these guidelines.
accessiBe's Ethos: Respectful Language and Inclusion
accessiBe is committed to fostering a sense of inclusion and using respectful language. They believe in putting the end-user at the center of the message and speaking about disability communities with respect.
The business works with hundreds of disability-focused non-profits as partners in their mission to make the Internet an accessible and inclusive space for all.
This commitment to respectful language and inclusion is reflected in all aspects of the company's work, from its product development to its marketing and customer service. They strive to create an environment where everyone feels valued and included, and where the language used reflects this commitment to respect and inclusion.
---