The modern world offers many opportunities for making money and profitable investments. We are talking about cryptocurrency projects and funds that can bring significant profit. The problem is that hundreds of different funds and more than a thousand projects exist. Therefore, an ordinary user needs to spend a lot of time analyzing a startup, evaluating its prospects, etc. We decided to help you and tell you about the best crypto projects available to crypto traders.
Each startup has its characteristics and prospects. You should get as much useful information as possible, and the Chainbroker portal will greatly help. On the site, you will find a huge number of crypto projects to watch and various funds that have a high ROI and invest in quality projects. This information will help you to be the most effective crypto user.

Top Crypto Funds
The auditing firm PWC in its study, estimated the growth of the direction. Between 2018 and 2022, firms' total value of assets quadrupled. The return on investment is approximately 30%. The rate is much higher than that of traditional investment organizations. Such results are related to the volatility of digital assets. The main criteria for compiling the list of the best funds were:
reliability;
reputation;
profitability;
number of successful investments.
The cryptocurrency organizations industry is a promising area, and cooperation with the best crypto funds will significantly increase your chances.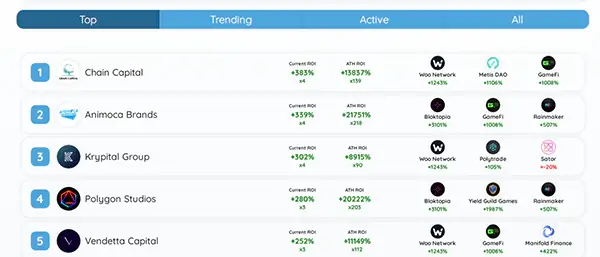 Chain Capital
The top fund ranked on the ChainBroker website. The company has a rich history and excellent experience. The fund started working about ten years ago (founded in 2013) and has since invested in more than 20 projects. The company's specialists track new crypto project ideas, evaluate prospects and make informed decisions. ATH's ROI was 13837% during the company's operation, and the current ROI is 393%. This is an excellent solution for those investors who want to entrust their money to true professionals and receive regular profits.
Animoca Brands
Another reliable company that ranks high in the crypto fund list on the ChainBroker website. The statistics are extremely high – current ROI is 342%, and ATH ROI is 21751%. Since its foundation in 2014, the fund has made more than 45 investments, which underlines its activity. Animoca Brands' largest investments are Chain of Alliance, DeFi Land, Dropp, Games Pad, Nova, and Goose FX. The company's clients receive stable profits thanks to high-quality solutions and careful control over the distribution of funds.
Crypto Group
A company that has earned a good reputation and become one of the leaders in the segment in six years of activity. The summary of the platform has good performance – more than 20 successful investments. Kryptal Group specialists analyze promising crypto projects to invest in and make informed decisions. It is worth noting such startups as DeBridge, Slope Finance, Polytrade, Sienna Network, Bunicorn, and Evanesco, brought profit to the participants. According to the ChainBroker website, the current ROI of Kryptal Group is 8195%, and the current ROI is 308%
Waterdrip Capital
This company ranks highly in the crypto fund list due to its quality and professional management. The platform launched in 2020 and made more than 20 quality investments. Nutbox, BitCountry, Ojamu, Blocto, Mama Protocol, Dexe Network, Soccer Hub, and others have become very profitable. Also, we noted good performance ATH ROI (9125%) and current ROI (182%). This fund is trustworthy and allows clients to receive a stable income.
Moonrock Capital
An active and high-quality fund capable of making professional investments in promising projects. The company has been operating for about four years and shows high activity. Since its founding in 2019, the platform has supported more than 30 projects, including Jenny Metaverse DAO, Launch X, Manifold Finance, Ojamu, SolRazr, and others. The latest investment was the support of the Drunk Robot project in the amount of 1.7 million. Also, the company has excellent statistics – the current ROI is 250%, and ATH ROI is 9846%.
Vendetta Capital
One of the best crypto funds on the ChainBroker website with excellent statistics and summary. The company was founded in 2020 and has already managed to become an investor for 33 large and promising projects. Royle Finance, BitCountry, HUSL, Lithium, Bunicorn, and others have proven highly profitable and successful. The Cross the Ages project is currently the latest to receive money from this fund. We note the company's very good statistics – the current ROI is 258%, and ATH ROI is 11149%.
Top Crypto Projects
Collaboration with crypto funds is one of the possibilities. You can also do this work yourself. The task of the fund is to analyze the best crypto projects to invest in and make the right decision. If you can do it yourself and are willing to take risks, you will invest in quality startups without intermediaries and make high returns. But remember that you need access to all project information and statistics.
In this case, the ChainBroker platform will be a great helper. After all, here you can find many crypto projects to watch. The site provides all the necessary information and offers a handy search tool with various filters. You can browse popular projects or opt for upcoming startups. We will tell you about the best crypto projects worthy of your attention.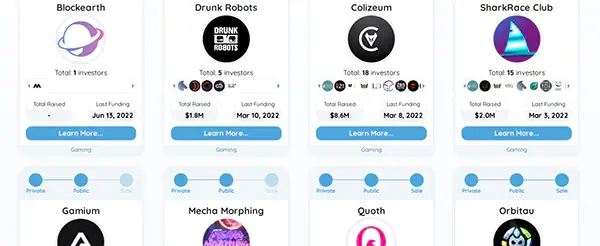 Drunk Robots
This is a play-to-earn game that uses robots as the main characters. The project appeared on the platform in March 2022 and managed to attract the attention of many users. Not surprisingly, such well-known funds as Moonrock Capital, Polygon Studios, Good Games Guild, and others became interested in the game. The project has already managed to raise about 2 million, which made it possible to launch the game and attract many players. This is a good chance for holders to invest their money correctly and get the maximum profit.

Colizeum
Another representative of the gaming genre, which was included in our list of best crypto projects. This is a game that offers interesting gameplay and also allows you to earn money in the process. The project became available to investors in March 2022 and has managed to raise more than 8.5 million since then. Most of the large funds also took part in this collection. X21Digital, Dutch Crypto Investors, ZBS Capital, Puto Digital Assets, and others have entrusted their money to this game. You can also study this project better and become a successful investor.
Mecha Morphing
The gaming segment is a very popular and promising crypto fundraising and investment direction. After all, a quality game attracts a lot of attention, which allows you to make good money. Mecha Morphing is an exciting combat strategy game developed on the Blockchain platform. The project started in February 2022 and has already managed to collect more than 5 million. It is worth noting that many funds (AU21 Capital, Momentum 6, Spark Digital Capital, 3 Commas, and others) have entrusted their money.
Metan Evolutions
Games are attracting a huge amount of attention from crypto funds and investors because this is a good way to make money quickly and get the first profit. Metan Evolutions is an excellent example of a high-quality and promising crypto project. The project began to collect investments in February 2023 and has already managed to get the first profit. Moreover, well-known funds (4SV, ZBS Capital, Shima Capital, Consensus Capital) believed in the game's prospects. Also, the project attracted funds from private investors, and the budget has already amounted to more than 2.5 million.
Metarun
Metarun is a blockchain-based P2E and P2W endless mobile runner game with NFT assets. The project started in February 2022 and attracted the attention of many investors and large funds. Moonrock Capital, Kairon Labs, Ice tea Labs, GenBlock Capital, Magnus Capital, and others funded the game with 4.5 million. This is a good option for private investors looking for promising projects. The game can become popular and bring great profits.
Conclusion
As you can see, the crypto segment is still attractive for investment, has high volatility, and allows you to make good money with the right analysis and selection of promising projects. On the ChainBroker website, you can find all the useful information about the best crypto projects or start cooperation with reliable crypto funds with an excellent reputation. The platform provides access to all important information and the necessary tools. Thanks to ChainBroker, you can become a truly successful investor.
---