Key Takeaways

Experts are speculating whether BTC will cross $100K or will come down to $10.
Based on the predictions, it is predicted to reach 26,645.88 in 2023.
Bitcoin acts like a trailblazer in the cryptocurrency market.
The only certainty in the Bitcoin market is its uncertainty.
What is the future of Bitcoin? Will BTC break $25K support or $30K resistance? Read this post to understand the scenario and expert opinion on the BTC journey ahead.
Recently, Bitcoin traders have been observing low volatility. BTC did not show any significant volatility in the last six months as Bollinger Band has also narrowed down. BTC has been trading within the $25,000 to $30,000 range, where both sides are strong support and resistance.
Sentiments surrounding Bitcoin are neutral right now. Experts are expecting momentum on either side. Will BTC cross $100K or come down again at $10K? In this post, we are going to tell you about it. If you are interested in learning Bitcoin insights, do not skip this post.
Could Bitcoin Go Even Lower to $25,000?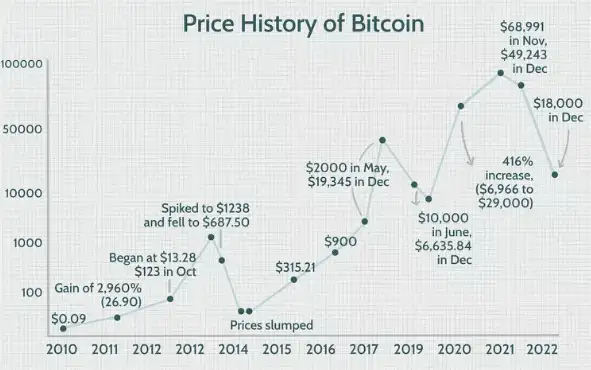 That is the big question on crypto enthusiasts' minds! Right now, it has been hanging around that range, and some folks are wondering if it might decide to take a little dip.
BTC is behaving like a bouncy ball – it might bounce back up or down a bit more. Keep an eye on the charts because the answer could be right around the corner!
Interesting Fact
In November 2021, the value of Bitcoin reached an all-time high of USD 65,000.
Bitcoin Present Momentum and Future Possibilities
At the time of writing this post, BTC/USD is trading around $29,600. Overall, the sentiment is neutral, but Bollinger Band lacks volatility, and candlesticks are forming just above the 50-day EMA, suggesting a bullish sentiment for the short term.
The Relative Strength Indicator (RSI) is around 53, which is not bearish. However, the BTC price has been consolidating, so we can expect a sideways movement for the next few months until the level of $27,000, where the BTC price will touch the 200-Day EMA. After that, the price of Bitcoin may shift to a bullish momentum.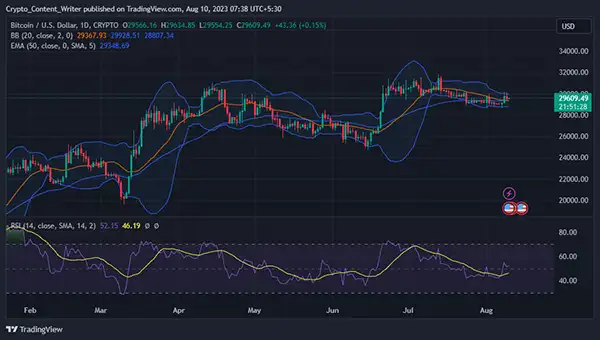 In the long-term, BTC will continue the higher highs and higher lows formation, continuing the upward journey. However, $25000 is strong support of Bitcoin; if it breaks the level, the coin price will consolidate in the longer time frame or go down further.
Bitcoin Future Predictions
Bitcoin is preferred as digital gold, so the BTC price will increase in the next few years. Based on our algorithmic BTC prediction, in 2023, it is expected to be around $26,645.88. However, things might get more exciting next year with the possibility of reaching about $50,998.60.
In 2025, you can expect Bitcoin to climb to around $65,711.29, while 2026 might take it even higher.
In 2030, we expect a BTC price of around $205,306.57. Please check out our Bitcoin price forecast to get a deep insight before investing in the king of crypto.
Experts Buzzing on Bitcoin
Plan B, Crypto Analyst, thinks that Bitcoin seems to be in the early stages of a bull market, just warming up. Keep in mind that big players like BlackRock might be eyeing this moment to buy in before the approval of ETFs and the full-blown bull market of stage 2. However, Crypto Rover expects that a breakout will happen in the next 72 hours.
Timothy Peterson, a reputed Investment Manager, said that there is a 50–50 chance that Bitcoin could dip below $25,000 by the end of September. If that happens, it might be the last major dip before the next big bull run kicks off.
However, the Fear & Greed Index on CoinMarketCap shows a score of around 50, which suggests a neutral sentiment in the market. It also suggests a time-wise correction or sideways movement in the next few months.
Do You Know?
Bitcoin saw its first halving in 2012 from a 50-coin reward for mining BTC to 25 coins.
Bitcoin's Rally: Lighting the Path for Cryptocurrency Success
The pioneering digital currency, Bitcoin, operates on peer-to-peer tech for instant transactions. Each Bitcoin stays as a file in a digital wallet, transferable via private-public keys. Transactions are recorded in the public ledger or blockchain.
Altcoins, like Steller, Dogecoin, and Litecoin, are other Bitcoin alternatives. These use similar or distinct algorithms. However, all altcoins are correlated to Bitcoin. In our cryptocurrency predictions, we have discussed the correlation and forecasted different other altcoins that you should consider in your portfolio.
Indeed, the upcoming BTC rally could guide the rest of the cryptocurrency world. Think of Bitcoin as the trailblazer in this digital economy- when it surges, it tends to pull other cryptocurrencies along for the ride, often creating a ripple effect of positive momentum.
Bitcoin is the pioneer of cryptocurrencies, and other altcoins often take cues from its behavior. When Bitcoin rallies, it ignites curiosity and confidence in the broader market. This positive sentiment can increase interest and investment in altcoins, resulting in a collective upswing.
Futures for Bitcoin: A Glimpse into What Might Be
Experts suggest that Bitcoin might continue its upward trend, with a potential rally that could send its value soaring even up to $313,600 by 2030. On the flip side, there is a scenario where Bitcoin maintains a more stable path, consolidating within certain ranges.
The current phase of trading between $25,000 and $30,000 exemplifies this. However, many experts also speculate a dip below $25,000 before a significant bull run. As an investor, you should prepare for any of these scenarios.
Bitcoin is a dynamic cryptocurrency, and no one predicts it confidently. The only certainty in the crypto market is uncertainty. You should check out the price action and consult with your financial advisor before making any investment-related decision.
---