YouTube is a popular platform for sharing videos online. It contains an enormous quantity of content, including educational lectures and music videos. You might discover helpful information while watching a video that you want to save for later or spread to others. One method to do this is by getting transcripts for YouTube videos.
A transcript is a written document that includes the spoken words from a video. Getting a YouTube video transcript is relatively easy and can be done in several ways. In this article, we will cover different methods to answer your question about how to get a transcript of a YouTube video.
How to Find the Transcript of a YouTube Video on Desktop?
Automatic transcripts for many videos may not always be of the highest caliber. However, some video producers produce their own subtitles, which are frequently more precise.
In general, the audio clarity of the video, accents, dialects, etc., affect the transcript's quality. If the video has closed captioning, here's how to open transcripts on YouTube:
Step 1: Open YouTube in your preferred browser and log in with your account.
Step 2: Play the needed video, then select the three horizontal dots to access the transcript.
Step 3: Choose Open Transcripts.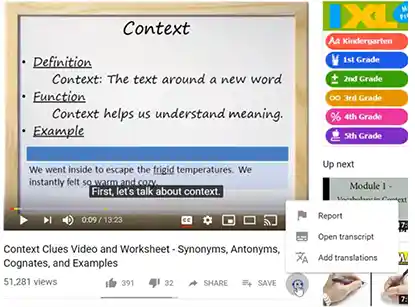 Step 4: You can see the transcript on the right side.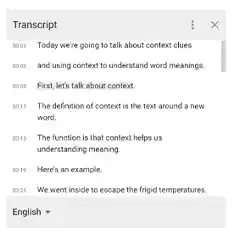 How to Get the Transcript of a Youtube Video on Phones?
On an iPhone or Android smartphone, follow these steps to get a YouTube video's transcript:
Step 1: Open the YouTube app and find the video you want the transcript for.
Step 2: To access the video details, click on 'more' next to the description.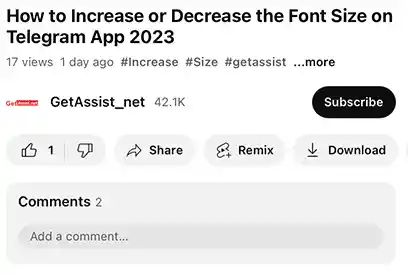 Step 3: Scroll down and Navigate to "Show Transcript".

Step 4: The translation will then appear beneath the video. By Clicking any of the timestamps, you can jump over to that part of the video.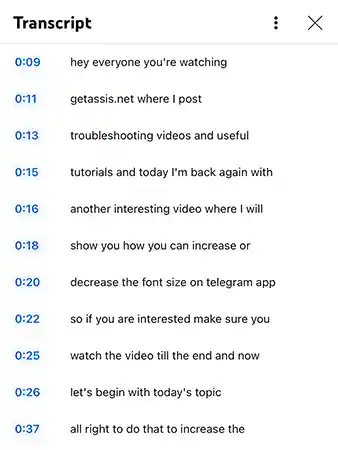 Step 5: Tap the three vertical dots to see the list of possible languages and choose one to translate your transcript into.

Additional Methods to Get a Youtube Video Transcript
Getting YouTube CC transcripts isn't an issue if there's an available transcript. But in case there isn't, you'll have to resort to other apps. Learn how to see the transcript of a Youtube video with these additional methods.
Using a Third-party Service
Trint, Happy Scribe, and Otter.ai are just a few of the softwares that can produce transcripts. How to get a transcript of a YouTube video using a third-party service is explained in the steps below:
Copy the video's URL after opening it on YouTube.
Visit the website of the third-party service you want to use.
Enter the video's URL into the search bar of the website, then select "Go"
Hold off while the service analyses the video and produces the translation.
Now just download the transcript as a text file or copy and paste it anywhere you want. Keep in mind that these services might not be free, and the transcript's quality might differ based on the quality of the YouTube Video.
Using Google Docs Voice Typing Feature
Follow these steps to get a transcript of a YouTube video using the voice typing function in Google Docs:
Create a new document in Google Docs by opening it.
Copy the URL of the YouTube video.
Return to Google Docs and choose "Voice typing" from the "Tools" tab.

Voice Typing">
To allow Google Docs access to your microphone, click on the microphone symbol.
Into the sheet, paste the YouTube video's URL.
Play the YouTube video by clicking the microphone icon once more. The recording will be transcribed by Google Docs as it plays.
Any transcription errors can be fixed afterward.
This is a simple and cost-free way to get a transcript of a YouTube video using the voice typing function in Google Docs. The audio quality and vocal clarity of the speaker, however, may have an impact on how accurate the transcript is.
How to Download the YouTube CC Transcript?
These procedures should be followed to download a YouTube video's closed caption transcript:
Open the transcript of a YouTube video.
Click on the "More options" icon once more and then choose "Toggle timestamp".
Copy (Ctrl+C or Cmd+C) the full transcript text after selecting it.
Ctrl+V or Cmd+V the transcript content into a text editor, such as Notepad or TextEdit, and save the transcript as a text file.
Why Video Transcripts are Important: Benefits and Uses
Transcripts of videos are significant for a number of reasons. Here are a few advantages and applications for video transcripts:
Accessibility: People with hearing impairments may find it challenging to follow the audio in a video without captions, so video transcripts make video material more accessible to them.
Convenience: Without having to watch the complete video, users can quickly search for specific information using video transcripts. For lengthy YouTube videos or videos with numerous topics, this is particularly helpful.
SEO: Transcripts of videos can assist a video's search engine optimization (SEO). Text material is easier for search engines like Google to crawl than audio or video content.
Language Translation: Video transcripts are readily comprehensible in other languages, expanding the audience for video material.
Learning and Retention: Users may learn and remember knowledge more easily with the aid of video transcripts. The learning process can be strengthened and comprehension can be increased by reading along with the audio material.
Conclusion
YouTube closed captions is a useful feature, but they only show up in real-time with the video. But you can read these captions at your own pace by getting a transcript of them.
We have discussed different ways to get transcripts for YouTube videos. Overall, each approach has benefits and drawbacks, and depending on the video you want to summarize and your particular preferences, you should select the one that works best for you to get YouTube transcripts.
FAQ
Can I edit a YouTube video transcript?

Yes, you can edit a YouTube video transcript. The transcript can be edited directly on YouTube if you are the video's owner. But, if you are not the creator, you can still edit it in a text editor tool.
How do I know if a YouTube video has a transcript?

Look for the "CC" button at the bottom right corner of the video player. If the button is in a different color, it means that captions are available. You can also just click on the "CC" button to see if the transcript is available or not.
Can I get transcripts for YouTube Live streams?

Yes, you can get transcripts for YouTube Live streams. YouTube automatically generates captions for Live streams, which can be downloaded and edited as needed.