Whether you're looking for music videos or any other types of videos, YouTube is a terrific resource. Normally, YouTube allows users to watch whatever music video they choose, but what if they only want to listen to the audio?
There are instances when you'll need to download songs from Youtube in audio format because videos can't be played in the background. You can download YouTube videos for offline viewing if you don't have a working internet connection. However, that defeats the objective. Is it not? You must download songs from YouTube if you want to listen to music in mp3 format.

Is there a way to do that on YouTube?
Absolutely not, and ripping music from YouTube also violates their terms of service. However, there are several approaches that can help you achieve your goals. You can take into account the options offered in this blog post if you're interested in learning How to download music from YouTube.
How to Download Music from YouTube to Computer or Phone?
You can download music from YouTube in a variety of ways. All users have access to web tools that allow them to download their favorite YouTube music. The steps for downloading audio from YouTube to your device are listed below.
Method-1 Using VD Youtube
This method will help you achieve two motives, one is to effectively download music from YouTube and other one is to get the videos downloaded on your device for offline streaming.
Here is how you can do that:
Open your browser on your PC or mobile and visit youtube.com.
The music video you want to extract the audio from can then be opened, and the video will begin to play. Go to the video's URL, insert "vd" before "youtube" and then hit enter.
You will see the music video and the options to download it.
There will be numerous links to download the song's audio or video from VD YouTube as you go down.
You can choose any of the 'audio only' webm, m4a, or mp3 file formats to download music from YouTube. Mp3 is thought to be the greatest format for getting the highest-quality audio. Select the "Download" link that is provided before the MP3 link.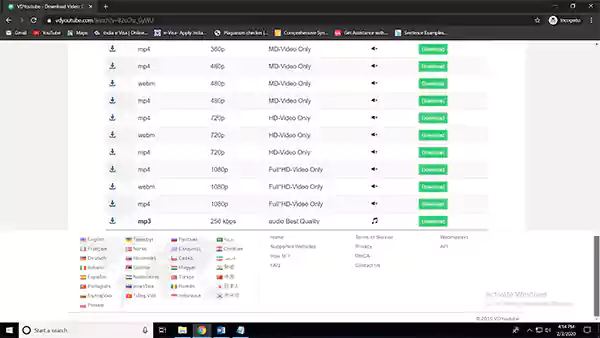 The audio will begin downloading once you click the icon with the three dots, followed by the word "Download"
Method-2 Using YouTube to MP3 Converter
You can also use YouTube audio downloader to get the song downloaded on your device. Here are the necessary steps that you need to apply one by one:
First of all, go to YTMP3 or visit the link https://ytmp3.cc/en11/ and you will see the screen as shown below.
Open the YouTube video for which you wish to download the audio in a new tab. By right-clicking and choosing "Copy" or by selecting the address and pressing "Ctrl+C," you can copy the video link from the address bar.
Paste the link in the provided space on the previous tab. Next, select "Convert"
The YouTube song will begin downloading after selecting the download option.
Method-3 Using 4K Video Downloader
Another effective way to download songs from YouTube is by using the 4K Video Downloader as explained below:
Visit https://www.4kdownload.com/products/product-videodownloader to access the downloader's link.
Click on the setup file to launch the installation procedure after downloading. Once the programme is installed, run it.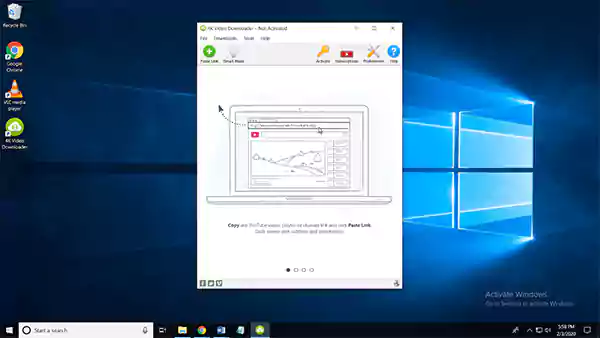 To rip music from a YouTube video, open it in a browser and copy the link.
Returning to the downloader, select "Paste link" from the menu. It will start getting ready to download the clip.
From the "Download video" drop-down menu on your device, select "Extract audio"The format drop-down menu will switch from "mp4" to "mp3" automatically. Additionally, you can choose any other audio format you like.
Additionally, select the audio quality you want to download. It is advised to choose original quality. After that, click "Extract" to begin the downloading procedure.
Method-4 Using Freemake YouTube to MP3 Converter
To rip off music from YouTube using this converter, here are the steps you need to follow:
Download the converter on your device. After downloading, complete the installation process to launch the program.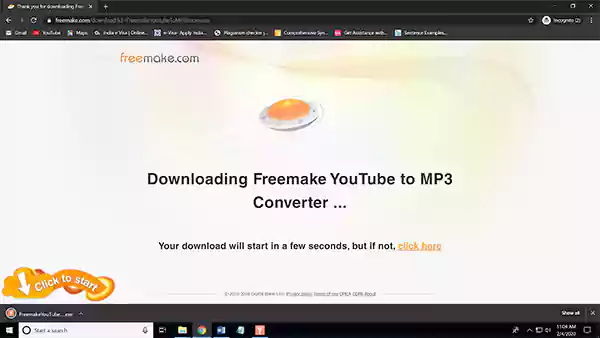 Next, copy the link of the video from YouTube for which you want to get the audio and paste it in the space provided and hit the search icon. It will start looking for the required audio and will take some time to parse the audio.
Once it shows the link of the audio, click on the 'Downward arrow' icon to start the download process.
You will be able to see the download progress in the top right corner of the converter's screen.
After it has been downloaded on your device, you will see the option to 'Show in folder' or 'Play' it there and then.
Method 5- Using Itubego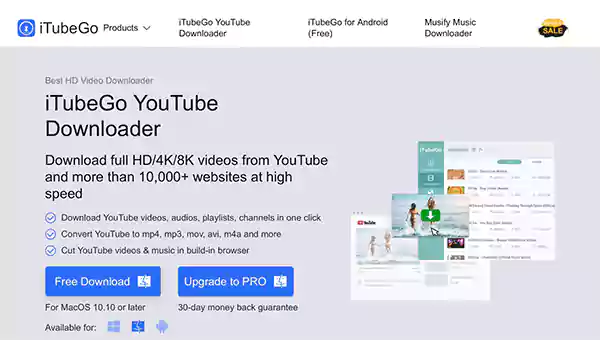 You can download YouTube videos with the use of a programme called iTubeGo. It contains an integrated YouTube converter that can transform videos into MP3, MP4, and HD MP4 codecs. When you download any video, this Chrome extension for video downloader automatically looks up online TV shows and movies for subtitles.
Using one of the finest free video downloaders, you may download videos from more than 10,000 websites.
Video and audio files can be converted to a variety of formats. You may store an entire playlist thanks to it. Multiple audio and video formats are also supported by this YouTube grabbing tool.
How Can I Freely Download Audio in Bulk From YouTube?
Installing one of the many Mp3 or video converter and downloader programmes on your system is preferable if you're seeking solutions to bulk download YouTube audio to your PC. This programme converts YouTube videos to Mp3 audio files quickly and easily.
Here's how to use this Free YouTube to Mp3 Converter to convert your YouTube videos to Mp3:
Step 1: Go to Free YouTube to Mp3 Converter and select the "Download" option as your first step. Both Windows and Mac OS systems can use this programme.
Step 2: Then, just click the 'Paste' button on your converter after copying the YouTube URL you wish to convert to Mp3. Your video will be visible in the workspace below.
You can use this procedure to add several YouTube videos for audio download.
Step 3: An Mp3 file will be created from your desired YouTube videos. The blue "Obtain" button can be used to download YouTube audio in bulk from the files.
Simply click the downward arrow next to each individual file on the far right to download it individually.
Depending on the size and duration of your YouTube to Mp3 converted video file, it could take some time to download, but this is a quick and simple way to download many audio files at once from YouTube.
Read More: Best YouTube Comment Finder Tools in 2023
Is Downloading Audio from YouTube Illegal?
There is no question that downloading your own private YouTube videos, videos in the public domain, and non-copyrighted videos is lawful. But without the owner's consent, you cannot lawfully download videos that are copyrighted.
The videos you've already submitted can be downloaded, according to YouTube Support. If you didn't upload the video yourself then you can't save it to your computer or any device. The YouTube app on your phone is the only one that allows you to download videos.
When downloading audio from YouTube videos, keep the following things in mind:
Downloading and transcoding videos without the owner's permission is against YouTube's terms of service, and it may also be forbidden by local or national copyright regulations.
Verify whether the copyright holder for a podcast, song, or video allows downloads from YouTube. It also makes sense to cite the original or source if you're using this audio for profit.
Downloading royalty-free music is a far better strategy to avoid breaking all those copyright restrictions.
Conclusion
These are a few of the efficient YouTube music downloaders that can be used to download music from YouTube. In addition, YouTube has released the "YouTube Music" app, which allows for limitless song listening. Although you cannot download music from YouTube using this method, some users may find it to be rather beneficial.
If you're interested, you can sign up for "YouTube Music Premium" to listen to music without advertisements while offline or with your screen off. Basically, this programme allows you to create your own universe of your favorite music while listening to audio and video tracks.
Frequently Asked Questions (FAQs)
Ans: Applications called YouTube Audio Rippers let you take off the embedded background music from YouTube videos. These tools allow you to get songs from YouTube or other websites and add them to your own custom video clips.
Ans: Although it is permissible to view YouTube videos, it is against the law to convert any of the videos to MP3. Anyone can convert YouTube videos to MP3 as long as there is no need to obtain music videos that are protected by copyright.
Ans: Usually 320kbps audio quality conversion is supported by most of the audio rippers.