Kik, a free messaging service was launched in 2010 and since then there is no halt to its ever-increasing popularity. The reason is simple; this app not only made chatting simpler but also offered an easy way to download and share videos. The app is so engaging that you may find yourself stuck with it. Even if you remove the app, your account will still be active. It can also happen that your friends no longer use it and you also want to get over it or as a parent, you are concerned about your child's activities and therefore want to delete the account.
No matter for whatever reason, if you want to delete or deactivate your Kik account, this guide will take you through all the available methods, so make sure to read till the end. Also, Kik doesn't let you delete the account on the phone through the app, so you can do this through their website only.
Before You Delete or Deactivate:
Make sure to note down your Kik username and email address as you will need it later, for this:
Open Kik Messenger and tap on the 'Settings' icon.
Then, tap 'Your Account' option.
There, you will find your Kik username and email address; note it down.
Temporary Deactivation
Temporary deactivation applies you just want a break and have no intention of getting rid of your Kik account. Using this method, you can easily get your messages back whenever you want if you remember the username or email address.
Here is how to deactivate Kik in a few simple steps:
In a browser, navigate to the website link- https://ws.kik.com/deactivate.
Next, enter the email address that is linked to the Kik account you want to deactivate and then tap 'Go'.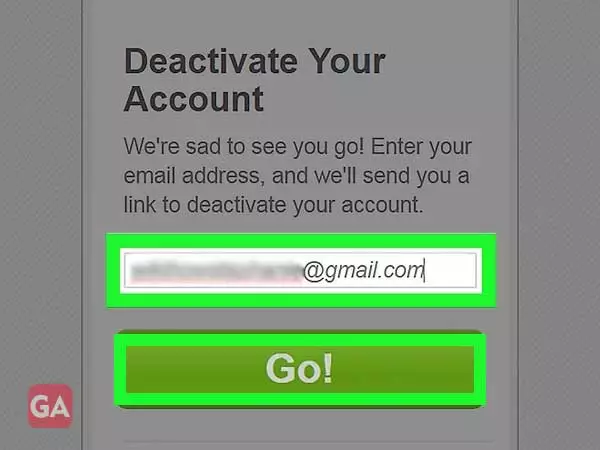 This will send an email to the address that you have just entered. Go to the inbox and look for the email sent by Kik. Open the email and click on 'Deactivate' as a confirmation to deactivate your Kik account.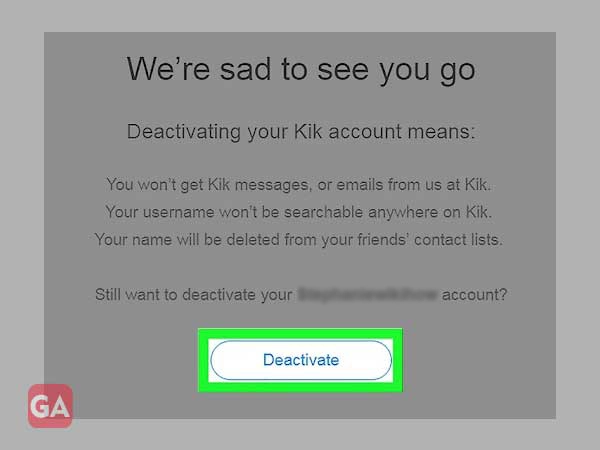 You will be asked about the reasons to deactivate your account before it is finally deactivated.
Note- After temporarily deactivating your account:
You will not receive messages or emails from Kik.
Your username will not show up anywhere in Kik searches.
Your username will be removed from your friend's list.
Deactivation will not automatically uninstall Kik's app from your phone.
If you want to reactivate your Kik account anytime, simply login to Kik Messenger.
Permanent Deactivation
As the name suggests, it gets your Kik account permanently deleted or removed from their platform. Before you delete your Kik profile, keep these things in mind:
You will not receive any messages or emails from Kik or your friends.
Your Kik account will no longer be reachable.
Your Kik username will no longer appear in the search results.
Your Kik profile will no longer appear in your friend's contacts lists.
After deleting permanently, you will no longer be able to reactivate your account; you can only create a new one.
Once you are ready, here is how to delete Kik account:
Kik username
Email associated with your Kik account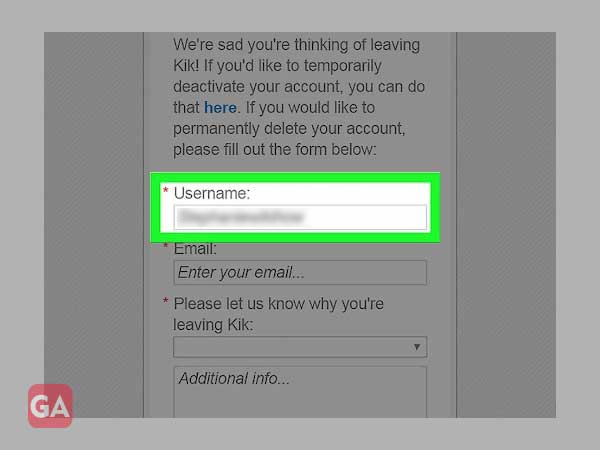 Next, from the drop-down menu, select the reason for which you are deleting your account.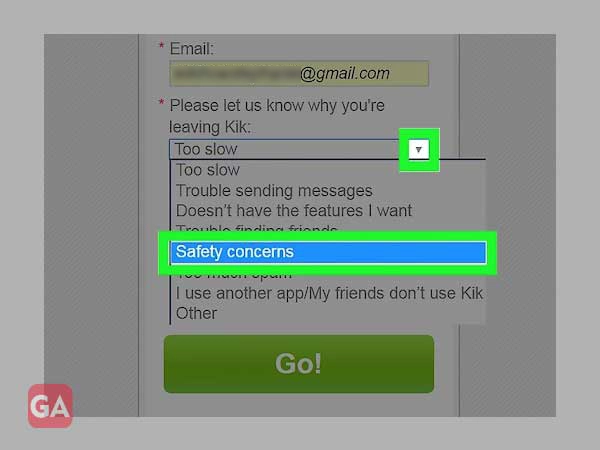 Select the checkbox that says 'I understand I am permanently deactivating my account and I won't be able to log in again to reactivate it' and then tap 'Go'.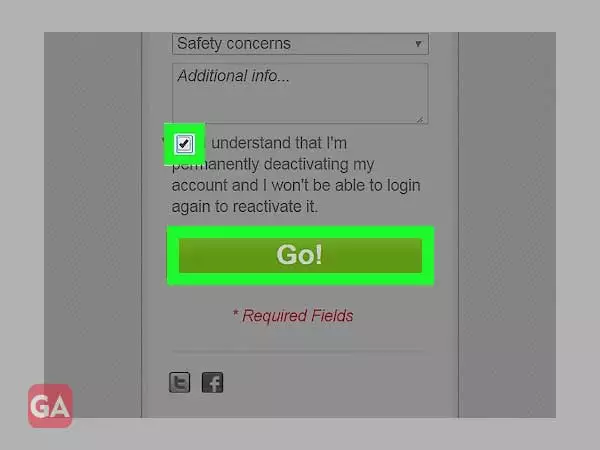 You will receive an email from Kik; open the email and click on the 'Permanently Deactivate' button. Doing this will delete your Kik account permanently. You can only cancel the deletion of your Kik account before pressing this button.
This is how you can permanently delete or disable your Kik account.
You can also watch this video:-
How Parents Can Deactivate their Child's Kik Account?
In case you want to delete your child's account, the procedure is the same; you only need to know their username. If you have access to their phones, you can get the username by launching the app.
After launching the app, tap the icon at the top of the screen to go to settings where you will get to see both the teen's username and bold-faced display name.
If you also chat with your teen on Kik, you can get their username from their chat.
Kik suggests parents to use their kid's device to check the communication and should not use their device to check the kid's chats as the Kik's security features will clear their chat history and doesn't store their chats.
Parents can also request Kik to deactivate their kid's account by submitting a deactivation inquiry to Kik via email at [email protected] and in the subject line, mention Parent Inquiry including the teen's Kik username and age in the email.
Deleting Kik's Account is Very Easy
If you consider all the following points, it is very easy to quit Kik whenever you want:
You must have the email address that you entered to sign up for a Kik account.
Make sure to enter the right information while you are trying to deactivate the Kik account.
You will get an email from Kik with a link to follow to permanently deactivate your account.
After deletion, if anyone will search for your username, they won't be able to find you.
After deletion, simply uninstall or remove the app from your phone.
FAQs
You will not be able to delete your Kik account in case you don't have access to your email address that you used to create your account or your username. You can contact Kik's Help Centre in such cases where you want to delete your account but have forgotten your email address or Kik's username.
Kik doesn't notify its users when any of their contacts delete their accounts; however, there are ways that can be used to know if a contact is no longer available.
When a user deletes his profile, the profile picture is no longer visible; so to confirm you can visit the person's profile and check if you can see their profile picture.
Also, when a person deletes the Kik messaging application, their number gets disconnected. So when you search for a contact and their number shows disconnected, this clarifies that their account is no longer active.
Kik doesn't have a policy for "inactive" accounts and they do not automatically delete user accounts. While looking for a phone number, if you are receiving an error that the number is disconnected, it means that the app has been deleted, the user's phone is off or the user has closed his account.
Kik lets you delete both individual messages as well as entire chats. To delete Individual Messages: Press and hold the message and tap Delete. However, deleting a message of your chat won't delete it from your friend's chat unless he himself deletes it.
Yes, when you delete your Kik account, it will remove or delete everything including your profile, messages and your username will not be searchable anymore. However, you will not be able to undo this action and can only create a new Kik account once it has been deleted.