Key Takeaways

Higher education is highly important for refugees, offering hope, opportunities, and a path to a better future.
Challenges include language barriers, lack of documentation, and cultural adaptation.
Scholarships play a vital role in enabling them to excel in higher education.
Collaboration between governments, institutions, NGOs, and individual is significant to improve accessibility.
In the quest for knowledge, no boundaries should impede the eager learner. The discourse around extending higher education opportunities for refugees has gathered momentum in recent years, and it's high time we translate these discussions into substantial progress.
An investment in knowledge pays the best interest. This becomes particularly determining when we consider that for refugees, education signifies more than mere intellectual growth—it is a beacon of hope, a passport to opportunities, and a lifeline to a better future.
Do you know that today on average 6% of the refugees have access to higher education as compared to 1% in 2019?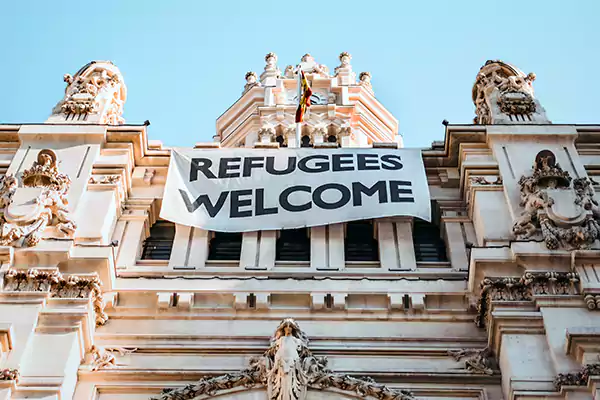 The Importance of Higher Education for Migrants and Refugees
The power of education cannot be overstated. For displaced individuals and refugees, it's more than just a quest for knowledge; it's a lifeline—a ray of hope and a gateway to opportunities. It bridges the gap between learning and earning. Yet, it remains an elusive dream for many.
In the face of adversity, these individuals show incredible resilience and determination. For instance, as you can cite this Syrian refugees crisis essay, despite harrowing experiences, refugees exhibit a fervent desire to pursue schooling and rebuild their lives. Moreover, such essay samples can help you understand their lives better.
War in Syria created a refugee crisis with over 5.6 million people displaced from their homes, seeking comfort in neighboring countries. An estimated 20% of young people were involved in higher studies. Now they face troubles in arranging for finance and hunting for schools that can provide them with the necessary resources to pursue further studies.
Are You Aware of the New York Declaration for Refugees and Migrants?On 19 September 2016, the General Assembly adopted a resolution that recognized the significance of access to Higher Education for refugees.
The Challenges Refugees Face on the Path to Higher Education
Even when refugees escape the immediate perils they face and land in host nations, the journey to higher schooling is fraught with significant difficulties. The education systems in these new environments often drastically differ from what they're accustomed to, creating a steep learning curve.
Language barriers are among the foremost challenges. The academic terminology, local dialects, and unfamiliarity with the language of instruction often impede their academic progress.
The lack of proper documentation, such as academic records and certificates from their home country, further complicates their admission process in higher education institutions. Refugees frequently flee under urgent and dangerous circumstances, leaving them no time or ability to gather the necessary paperwork.
Moreover, the cultural shock of adapting to a new society, coupled with the emotional and psychological trauma from past experiences, can be significant obstacles to their academic pursuit. In the face of such challenges, accessing and excelling in higher studies becomes overwhelming for refugees.
Knowledge Bubble!
Over 200 pledges for education were made through the Global Education Forum in 2019. Out of which, 58 were for higher studies and covered topics like financial aid, career readiness, and skill development.
The Role of Scholarships in Promoting Higher Education for Refugees
Higher education scholarships for refugees offers a ray of hope in this grim scenario. These scholarships help refugees overcome financial obstacles and provide them with the necessary support to thrive academically on campus. For instance, the DAFI (Albert Einstein German Academic Refugee Initiative) scholarship program offers financial support, psycho-social and academic preparatory courses, and language classes.
Examples of Universities and Institutions Supporting Refugee Education
Universities worldwide are also taking active roles in fostering higher education opportunities for refugees. Here are a few notable examples:
University of the People: This online institution offers tuition-free degrees to refugees.
Scholarship at Home Initiative, Germany: A program enabling refugees to attend university without leaving their host communities.
Refugee Student Scholarship Program, Australia: This program provides financial assistance to refugees pursuing a higher teaching degree.
How Can We Facilitate Better Higher Education Opportunities for Refugees?
While significant progress has been made, more needs to be done to bridge the gap to college for refugees. In 2019, the United Nations High Commissioner for Refugees (UNHCR) and its partners set certain goals to achieve high enrollment of young women and men to 15% by 2030, also called 15by30.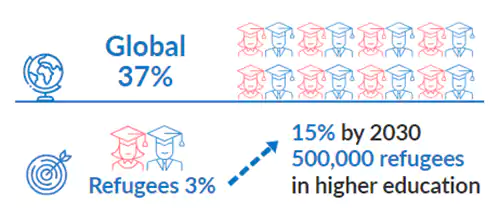 It involves a combined effort from government bodies, educational institutions, NGOs, and individuals alike.
Policy Changes: Policies should be updated to accommodate refugees, such as waiving language requirements or accepting alternative proof of previous education.
More Scholarships: Increased funding for scholarships can dramatically improve accessibility.
Research and Advocacy: In-depth research and informed advocacy can shed light on areas needing urgent attention and help shape policies.
Their participation in education is also necessary to achieve Sustainable Development Goals. The majority of studies frequently neglect higher studies in favor of ensuring that everyone has access to inclusive, high-quality basic education.
Although they miss out on the fact that for migrants access to it can be a lifesaver because, not only does it offer internationally accepted skills and credentials but also avoids marginalization, isolation, and the waste of human capital.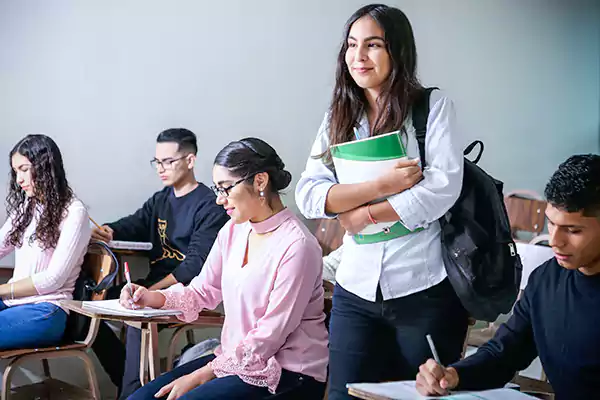 Conclusion
Ensuring higher education opportunities for refugees is not just a matter of providing access to learning; it's about empowering these individuals to rebuild their lives and contribute meaningfully to their new communities. Their journeys, marred by adversity and displacement, are filled with resilience and tenacity that deserve recognition and support.
As global citizens, we must proactively advocate for inclusive policies and educational reforms that facilitate higher education for refugees. Scholarships are instrumental in these efforts, helping refugees surmount financial barriers and providing them with the necessary academic support. Yet, it's vital to remember that financial aid alone isn't sufficient. Universities, colleges, and institutions must actively work towards creating welcoming environments, offering psychological support, and fostering cultural integration.
In essence, bridging the gap to college for refugees is about reshaping societal attitudes, fostering empathy, and building robust support systems. As we progress in their education, we enrich our global society, underscoring the invaluable power of knowledge in transcending borders and transforming lives.
---