The Wondershare Filmora has shown repeatedly that it is the video editing software of choice for people worldwide. It had a lot of features that both beginners and pros could use. Now, the company has introduced the Text-to-Speech tool, which could change the digital media business in a big way.
Text-to-speech software has become a handy tool in the digital age, and it can be used in a wide range of areas. This technology turns the written text into a voice that sounds completely real. This makes the content better and easier to understand.
In this review, we will look into how the text-to-speech (TTS) function of Wondershare Filmora works. Also, we will see how it is distinct from other similar software available on the market.
What is Wondershare Filmora?
Wondershare Filmora is a simple software for Mac and Windows users alike to edit videos. The TTS capability is one of the many useful tools and functions it provides.
It also stands out because of its easy usability. Even people who have never edited before can use it, and professional editors can use its advanced features. The feature has become valuable because it makes video editing easier, making it faster for people to witness their own ideas come to life.
The Wondershare Filmora started its journey in 2013. Since then, it has grown into a trusted and widely used video editing tool worldwide.
Elevate Your Content with Filmora's Dynamic Text-to-Speech Advantage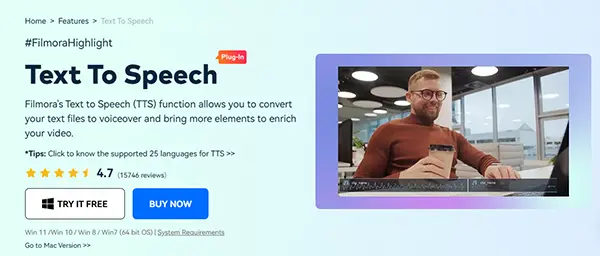 Filmora's New Text-to-Speech Feature
Wondershare Filmora is known for its easy usage and video editing tools. The updated version of the software has a strong TTS function. Thanks to this new feature, users can now speed up editing their written work and turn it into compelling audio stories.
Filmora's Text-to-Speech Feature Offers Exceptional Natural-Sounding Voices
One of the best things about Filmora is that its text-to-speech tool uses voices that sound like real people. In contrast to other similar tools, the voices sound human and not robotic or fake. This makes the audio experience more interesting.
Multilingual Text-to-Speech Capabilities
The TTS feature of Filmora is available in several languages. This is a huge benefit for content creators who want to connect with people from all over the world and break down language boundaries. It can be used to create material in any language, such as English, Spanish, Mandarin, and many others.
Diverse Applications of Text-to-Speech in Video Enhancement
The TTS can be put to a wide variety of practical work. People can use it to generate voice overs that are of a professional level, increase the overall quality of video material, and make videos more accessible for those who have visual impairments. Imagine being able to provide your videos with voiceovers that are crystal clear and full of expression without having to pay a voice actor.
Provision of Access for All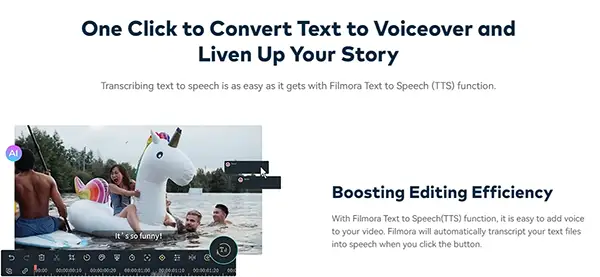 The ability of TTS to improve accessibility is one of the most persuasive arguments in favor of this technology. Some people have trouble seeing, others have trouble learning, and a few others don't have the time to read as much as they want to.
This problem is fixed by TTS, which turns written text into words that can be heard. This makes the information available to a much larger audience. It gives people with disabilities access to written material, making them more included in school, work, and fun.
Improved Capture and Use of Content

TTS offers a reviving alternative to the plenty of textual material in the modern world. It can convert articles, books, and written papers into spoken words, so users can take in information no matter where they are or what they are doing.
TTS lets you connect with text without having a screen. In this way, you can do work even when you are driving, studying, working out, or doing many things at once. This not only saves time but also lessens the pressure that is placed on the eyes contributing to general wellness.
Communication in Many Languages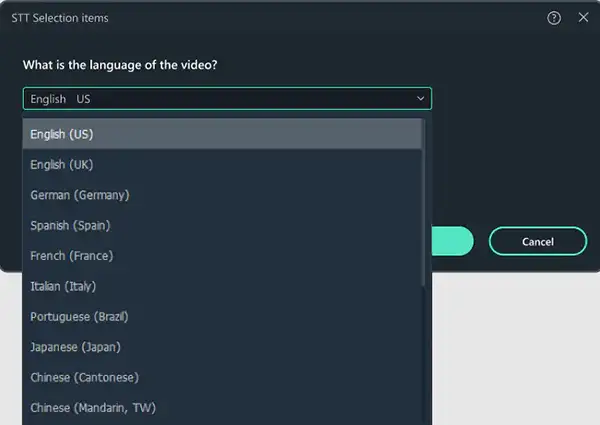 Communication should never be disturbed by a lack of understanding of one another's language. TTS software provided by Wondershare Filmora, supports many languages, making it easy for content makers to reach viewers worldwide. It also communicates effectively in various linguistic settings.
This works especially for those working in a global organization, an instructor, or a vlogger starting on YouTube. It is an effective method for overcoming linguistic obstacles and promoting cultural awareness among people of different backgrounds.
Content Creation and Its Modification

TTS is not only for those who want to consume material; it is also a helpful tool for people who want to create educational and informative videos. It makes creating engaging audio narratives and voiceovers possible, which can be added to movies, presentations, and podcasts to give them a more dynamic aspect.
Combining speech synthesis technology with video editing tools offers new creative possibilities. The content can be personalized using a variety of voices, tones, and accents to cater to the target audience and convey the desired message.
Higher Level of Productivity

TTS has the potential to increase productivity in professional contexts significantly. It makes proofreading and editing of written work much easier because hearing the text read aloud may help find mistakes. Also, TTS can be used in voice assistants and chatbots, allowing better customer service and getting valuable information.
Comparing Text-to-Speech Software
It is vital to investigate how Wondershare Filmora stands apart from other major text-to-speech software solutions that are now on the market if one is to fully comprehend the benefits of these features.
Filmora vs. Speechify:
| Aspect | Filmora | Speechify |
| --- | --- | --- |
| Content Creation | Offers a complete way to mix TTS with advanced tools for editing videos for easy and smooth operation. | Primarily focused on TTS conversion, lacking the comprehensive tools for editing videos of Filmora. |
| Integration | Seamlessly incorporates TTS into video projects, allowing users to enhance multimedia videos effortlessly. | Does not offer integrated video editing tools for content enhancement. |
| Pricing | Pricing varies depending on the chosen subscription plan. | Offers a free limited version and a premium version priced at $139 per year. |
| Accessibility | Facilitates accessibility and content improvement through its multimedia capabilities. | Focused mainly on TTS without other content development features. |
Filmora vs. Murf:
| Aspect | Filmora | Murf.ai |
| --- | --- | --- |
| Type of Software | Video Editing Software | AI-based Speech-to-Text Software |
| Main Purpose | Video editing and post-production | TTS and Singing Generator |
| Voice Options | Limited to voice overs and narration | Offers 120+ AI-generated voices |
| Real-time Voice Modification | Limited voice manipulation features | Real-time voice modification |
| Music Integration | Yes, supports adding music to videos as it is a proper tool for editing videos with different features.  | Aligns voice with music for singing |
| Language Support | Supports various languages | Supports 20+ languages |
| Cost | Free – Various pricing tiers available | Pricing for Murf.ai includes a free trial and several different packages, with prices ranging from $29 to $99 per month for a single user. |
| Compatibility | Windows, Mac | Web-based |
Filmora vs. NaturalReader:
| Aspect | Filmora | NaturalReader |
| --- | --- | --- |
| Text-to-Speech | Offers TTS as part of a comprehensive video editing suite. | Specializes in TTS conversion and related features. |
| Video Editing | Provides a wide range of video editing capabilities alongside text-to-speech. | Primarily focuses on text-to-speech and lacks extensive features for editing videos. |
| Voice Options | Offers a diverse library of voices, accents, and languages for customization. | Provides natural-sounding voices but may have fewer choices compared to Filmora. |
| User-Friendliness | Known for its user-friendly interface, making it accessible to beginners. | Offers a straightforward TTS experience but lacks advanced tools for editing videos. |
| Content Creation | Allows for versatile multimedia content creation with the integration of text-to-speech. | Focuses mainly on text-to-speech without the capacity for comprehensive content enhancement. |
| Pricing | Offers various subscription plans to suit different budgets and needs. | NaturalReader has a free plan and several paid plans that range in price from $99.50 for personal use to $1299.95 for professional service. For an extra $199.50, you can get the ultimate plan. |
| Accessibility | Enhances accessibility and content quality through multimedia capabilities. | Primarily serves users seeking TTS conversion without multimedia content enhancement. |
Conclusion
Wondershare Filmora's TTS feature is a game-changer in the world of content creation and accessibility. With natural-sounding voices, multilingual support, and powerful video editing tools, Filmora surpasses its competitors. It empowers users to create engaging and inclusive digital work effortlessly.
As you explore the world of TTS software, consider Filmora as your go-to solution. Embrace the potential of this technology to enhance accessibility, break language barriers, and elevate the quality of your video content.
With ongoing support and resources from Wondershare Filmora, you can harness the full power of text-to-speech to take your content to new heights. Try Filmora today and experience the future of content creation.
---