"A single Rose can be your garden…. a single friend, your world" who will not be pleased when this single rose becomes eternal. Roses are known to be the enduring symbol of love, but the withering and droopy petals after a few days make you sad. Why don't you go for a timeless flower?
You must be anxious; what are we talking about?
Have you ever heard of a Galaxy Rose?
Its beauty is beyond an ordinary Rose, which could be the best gift for your loved ones. You won't be able to ignore it. The looks when your special one will receive this crystal-like rose are just amazing. It leaves the fear of falling and fading of petals behind. Its colors are so glistening and shine like a prism under sunlight.
It seems as if it is made of delicate crystals that can be broken with a lighter blow. Fears away, It is just to describe its delicacy.
A Timeless Beauty
This galaxy rose is crafted with magnificent precision that its petals gleam in scintillating brightness that has no age. Even, you love to smell the rose and can't take your eyes off the glamour, your allergy to flowers breaks you off from getting close to it… this Galaxy Rose is for you.
"A Thing of Beauty is a Joy Forever" probably, Keats didn't mean to say this about Rose, but the universality of his saying can't be ignored.
A Perfect Gift
Simple is the best strategy. Sometimes out of a thousand opportunities, the simplest one seems catchier. The unique gift one can give to the prestigious ones can be a Rose, the well-liked among all the other flowers you can find under the sun. Your loved one will fantasize it when your given flower looks so glamorous and long-lasting apart from being a Rose.
In a year, many occasions might remind your closest people of you by looking at that Galaxy Rose that would be placed on their side tables or in their bedrooms. The flowers' colors would not fade away, so it will not let them forget about your care and love. The Galaxy Rose is a Perfect Gift for Rose Day, anniversary, wedding, Valentine's Day, Friendship Day, Christmas, or parties for housewarming can be decorated with these
Galaxy Roses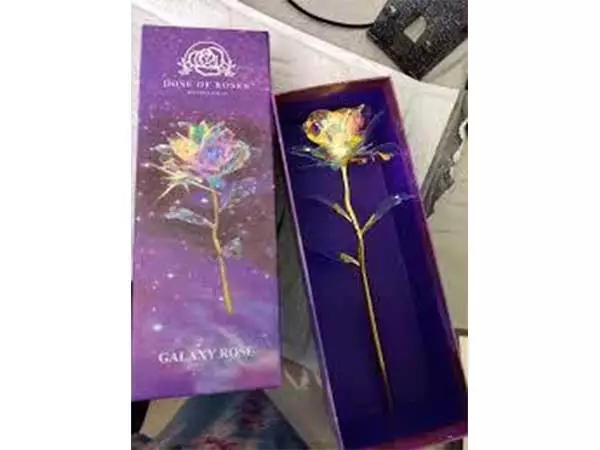 How is it made?
To calm the curiosity, how is it made? Read this article.
Special roses grown in Ecuador's gardens, after their bloom, the crafters take them and freeze them using a special technique and then put them into molds. These frozen molds are used to make thousands of duplicates of these galaxy roses. These molds work as models for them.
When they take the desired shape, the designers coat them into holographic material that gives it a lustrous look and eternity. This rose of eternity fascinates your eyes like a pleasant arena. You can't deny its mesmerism.
Next step, after holographic coating, the crafter places every Patel by hand that gives it an imposing look. There is not any better gift for your special one than something made by hand. It is not a product of machines. It is carved with care and love; that is what it casts on other hearts.
It is not an over the counter product: you cannot find it in local markets and shops. It is available online.
Care instructions
How can you keep such a delicate thing without taking any pre measures?
Obviously, you don't want to lose such a precious gift that gives you a sight of the Galaxy. What you have to do is:
Do not place it directly under sunlight for long hours.
The maximum temperature that is safe for this handmade galaxy rose is 18° to 22° C.
Water can destroy its holographic coating, so make sure it is away from moisture and water
Its petals are intricate in design; they need utmost care. Continuous toying can break it. Keep this in a given box for good protection.
Keep away from kids who can desire to chew them up. Losing its petals or stem is better to avoid.
Although the colors used for its making are food colors or somehow fabric colors. Another material is non-toxic and non-abrasive. It is healthy and environmentally safe.
What is hypoallergenic?
The ingredients can cause any kind of allergic reaction on the skin, and the manufacturers claim that the mentioned product contains fewer. The makers confirm that these Galaxy Roses are hypoallergenic.
What is meant by Holographic?
A thin elastic fiber made up of polyester, Oriented Polypropylene, and Nylon, also known as Bonyl. These components are impregnated in such a nice pattern that gives a colorful combination that reflects the white light into different wavelengths and produces a colorful spectrum.
Buy this Galaxy Rose online and feel the glee for you and your special ones. It is a lifetime companion for buddies.